Want an awesome, unique and high quality modded case? Then you should take a look at what CrazyPC has to offer. In this review, I take a close look at their laser cut Stealth Case Mod. Packed with lots of pics, this review should help you decide if something like this is for you.
Introduction
---
When an online PC parts and mod accessories store is named CrazyPC, it better offer something "crazy" or unique, right? I mean there is nothing "crazy" nowadays about just selling LED fans and cold cathode tubes. A hundred other boring sites exist for that, right? I'm not sure how crazy the people are at CrazyPC, but they do offer some very unique modded cases that you won't find anywhere else on the Internet. Often this uniqueness doesn't come cheap, but the amount of oohs and aahs you can expect while showing off one of these puppies is off the charts.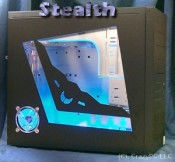 The modded cases I'm talking about aren't your typical "some guy pulls out a dremel and cuts stuff up and then sells it for a ridiculous premium" modded cases. These have laser cut designs and go through timely, careful processes to ensure the case you receive turns out flawless and looks great. Although this review is only covering the newest design (the Stealth pictured above), let's take a quick look at the CrazyPC modified case lineup.
As you can see, it's a very attractive group of cases, and if you are an aluminum case aficionado, you may have noticed that the cases are Lian-Li PC-6x models. The PC-6x line is a highly regarded group of cases and deservingly so. I have a PC-60USB, and it is an awesome case. In this review, I plan to quickly cover the features and specifications of the CrazyPC Stealth Case Mod, briefly go over the Lian-Li PC-61 (since it is the base of this modded case), discuss the laser cutting and case preparation process and then focus my attention on the design. So read on to learn about this unique and eye-catching design from the folks at CrazyPC.com.
Features and Specifications
---
For a quick warm up, here's the description of the Stealth Case Mod that is listed at CrazyPC's site.
Our Stealth Mod is features a unique design of the USAF Stealth Bomber. This modified case is based on the Lian-Li PC-61 Aluminum Mid-Tower ATX case. The case comes standard with 2 front fans, and 1 rear fan installed. The aluminum body is light weight and sturdy, and offers superior cooling performance. Each Stealth Mod features our original laser cut Stealth Window Panel with 80mm side fan and Wings Fan Cover. The construction of the case is high quality aluminum with a beautiful and durable anodized finish. Our CrazyPC modified cases are original case mods only found at CrazyPC.
These unique window panels are currently produced in limited quantities and are only available here. Each anodized aluminum panel is precision cut by laser, producing a completely professional and high quality look that is virtually impossible to duplicate by hand. Last but not least, the panel is backed by 100% clear acrylic that is affixed to the panel using high quality clear 3M adhesive that will not budge.
Features
All aluminum construction
Includes Stealth Window Panel with Wings Fan Cover. You can choose the desired color from the "Side Fan Cover" option. (Fan Sold Separately)
Anodized brushed aluminum finish
Fan filters for front fans
Front fans are controlled by a three speed switch
Removable motherboard tray
Easy access side panels with thumbscrews
PCI Slot covers with thumbscrews
USB ports on front of case
Side panel entry with thumbscrews
Additional fan options are available with this case.
When ordering one of these modded cases from CrazyPC, you can choose a number of different options.
Cold Cathode Kit -Your color choice of a Cold Cathode Kit.
Top Window Options – Order this option and we will install a clear top window with an 80mm blow hole. This option includes your choice of a Mirrored or Blue Mirrored Fan Cover. (Fan Sold Separately.)
Side Fan Cover -The Stealth Window panel comes with your choice of an regular Mirrored Wings Fan Cover or Blue Mirrored Fan Cover. The default is regular.
Side Fan Option – 80mm 4 LED Blue/Red Fan for side panel.
Specifications
Drive Bays: 4 x 5.25″ external, 3 x 3.5″ external, 5 x 3.5″ internal
Case Entry: Easy access side panels are removed with thumbscrews
External switches and lights: HDD LED, power LED, power switch, reset switch
Motherboard Supports ATX, Pentium 4 compatible
NO POWER SUPPLY BY DEFAULT
Case Fans: 2 x 80mm fans in front of case (with speed switch), 1 x 80mm fan in back of case
Dimensions: 19-1/4″L x 8-1/4″W x 17-5/8″H
The Lian-Li PC-6x series of cases has been reviewed about a million times, so I'm only going to briefly discuss the highlights of the PC-61. As I mentioned before, I have a PC-60USB and have been using it for over two years, so I am very familiar with what the case is like. The two cases are almost identical. Only a few minor differences exist between the two.
I think it was a good choice for CrazyPC to use such a great case for the Stealth Case Mod. The PC-61 has many sought-after and convenient features, such as the inclusion of thumbscrews throughout (including the PCI slot covers and hard drive cage), a removable motherboard tray, a front fan filter and front USB ports.
| | | | |
| --- | --- | --- | --- |
| Inside of Case | Inside of Case – Back | Inside of Case – Front | Removable HDD Cage – Note the Two Thumbscrews |
| Removable HDD Cage – Removed! | Case LED/Power Connectors Can Be Detached for Convenient Installation and Mobo Removal | Speed-Adjustable Front Fans | Outside of Case – Back (Lots of Thumbscrews) |
The case is always very easy to work in thanks to the removable motherboard tray and hard drive cage. I very rarely feel cramped while working in the case and trying to plug cables in. It is also relatively light thanks to the aluminum construction. Speaking of the aluminum, the brushed aluminum finish looks great in both silver and black.
If you want to read thorough reviews of the PC-61, just Google it, and start reading. There are plenty of good reviews of it out there. It might not be the newest case on the block, but it's a classic. It looks great, and I've never regretted spending $190 on my PC-60USB a couple years ago. Now that I've covered the PC-61 briefly since it is the foudation of this case mod, we can now discuss the mod. Let's first take a look at the process and then put the design itself under the microscope.
Preparing and Cutting the Panels
---
CrazyPC doesn't use a dremel to create the unique modded cases they offer. The modded side panel actually goes through an extensive and careful process. Before we take a closer look at the design, I'm going to quickly run through most of the side panel creation process. Extreme care is taken throughout the process to prevent damaging or scratching the side panel and acrylic in any way.
As you might expect, design is the first step in the process. The art for the side panel is selected and created on a computer or by hand. This design is then imported into AutoCAD where it is prepared for the laser cutting process. After artwork is prepared and approved, the side panels are prepared. This preparation starts with a good cleaning and degreasing. Next, a sheet of 3M double-sided adhesive that is specifically designed for acrylic-to-metal applications is applied to the inner side of the panel. CrazyPC has found this adhesive to be basically impossible to safely remove, so you won't have to worry about that acrylic getting loose or falling off the panel.
So, we have a design, a side panel and acrylic adhered to it. What's next? Well, the panels get to take a little trip. They are carefully packaged and then delivered to the laser cutter for processing. Are you wondering what kind of machine it takes to do this work? Try a $700,000 Bystar 4000 Watt, which is one of the newest, most technologically advanced laser cutting machines in the world. This machine can cut steel up to 3/4″ thick, but it can also cut something as fragile as cardboard, both to tolerances of +/- 10 thousandths of an inch! Impressive to say the least! After the cutting process is complete, the panels are each individually and carefully packaged and returned to CrazyPC.
CrazyPC then takes the newly cut panels and applies the acrylic window, which is 1/8″ thick. The acrylic is machine-cut to meet precise specifications to prevent any problems with the acrylic, such as it interfering with removal or replacement of the side panel on the case. After the acrylic is installed, the panels are cleaned one final time. Then they can be sold individually or as part of a modded case, such as the Stealth Case Mod featured here today, which we will now take a closer look at.
The Packaging
---
We've already taken a quick look at the highlights of the PC-61 aluminum case that this mod is based on, and we've covered the basic process behind the creation of these mods. Now, what's left are the most important parts of this review. How does the design and case as a whole look? Is it worth the money? I'm going to answer these questions by presenting a bunch of pictures and a little commentary. The pictures might do a little more talking than me actually. 🙂 First, let's take a look at the packaging (afterall, it's important that the case or side panel gets to you looking as perfect as possible), take a closer look at the design and then light it up. Sound good? Good.
I was pretty excited when the Stealth landed at my pad. Not surprisingly, it arrived in the standard Lian-Li box. Like most cases, the PC-61 comes wrapped in plastic and protected on the top and bottom with styrofoam to hold it in place during shipping.
Cut some tape, open the cardboard flaps, carefully pull or dump out the case, remove styrofoam and plastic… drown in bubble wrap!? Okay, maybe not drown in it, but CrazyPC really does go the extra mile to protect this puppy from getting scratched. The Stealth Case Mod I received was obviously very carefully packaged. The laser cut side panel was wrapped on both sides with bubble wrap (at least two layers in most places). The bubble wrap was taped to the panel using very easy to remove tape that left no sticky residue. Since the case I received also includes the top window option, the top was also protected in a similar manner. The case was actually filled with bubble wrap, and inside the bubble wrap were the two fans and acrylic blue wings fan grills.
| | | |
| --- | --- | --- |
| CrazyPC Uses Protection | The Acrylic Shouldn't Get Scratched During S&H | The Stealth is Loaded With Bubble Wrap |
| Top Window… and Some Beezy Wreezy (Bubble Wrap) | Open Its Guts and… | Bubble Wrap and Fans/Grills Fall Out! |
The Design and Overall Look of the Case Mod
---
I have been wanting a Lian-Li case with a window for quite some time now, and the panels available at CrazyPC have been tempting me for many months. So, I was extremely excited when I was able to get one for review. They all look great on the site, but I really wanted to see one in person. The design and quality of the cuts looked amazing in the pictures I had seen. Now, it's time for me to take a close look at the Stealth Case Mod and determine just how good it is. First, here's a little pic that I accidentally took with the flash on in the dark. I like how the brushed aluminum look really shows up and looks great.
Thanks to that laser cutting machine and its advanced technology, the cuts on the side panel are very clean and straight. Take a look at the pictures below to see what I'm talking about. You can also see more bubble wrap on the Stealth panel in the first pic.
| | | | |
| --- | --- | --- | --- |
| Bubble Wrap On the Inside of the Panel to Prevent Scratching | A Naked Stealth Side Panel | A Close Look at the Stealth | A Slightly Closer Look – Check the Clean Cuts |
Needless to say, my first impressions of this case and its laser cut side panel were quite positive. It makes me want my own laser cutting machine. The designs I could come up with! Lottery, here I come!
| | | | |
| --- | --- | --- | --- |
| Inside of the Side Panel Minus Bubble Wrap – You Can See the Window Adhered to the Panel | Another Close Up of the Stealth Design | Closer Look at the Small Cutouts – Trying Doing That at Home! | Another Closer Look at the Cockpit's Small Cutouts |
| Zero In On the Wing and Corner – It's Flawless | 80mm Side Fan Cutout | Closer Look From the Outside at the Fan Hole | Zoom In On the Acrylic and Adhesive Attached to the Panel |
The package I received included two acrylic Blue Mirrored Wings Fan Covers, one for the side and one for the optional top window that was included. I also received two optional quad-LED 80mm fans. One thing that is important to note with acrylic fan grills is to not use regular fan screws. Too much twisting or pressure can easily break the acrylic grills, which I unfortunately experienced. After receiving the correct hardware (machine screws, nuts and rubber washers), I had no problems.
| | | | |
| --- | --- | --- | --- |
| Blue Mirrored "Wings" Fan Covers and Blue LED Fans | Close Up of the Blue Mirrored "Wings" Fan Cover | Use Regular Fan Screws and This Happens; Correct Hardware On the Right | Here's How You Use That Hardware |
| | | |
| --- | --- | --- |
| "Wings" Fan Guard Installed On Side Panel | Looking Down on the Installed Fan and Fan Guard in the Side Panel | Fan and Fan Guard In Top Window |
We've seen a lot of pictures so far, but we still haven't seen what it looks like all installed, which is what I know I was most anxious to see. These pictures really don't quite do it justice, but it really looks great with the two blue LED fans and the CrazyPC UV cold cathode kit.
| | | | |
| --- | --- | --- | --- |
| A Look at the Stealth With the Lights Out | Doesn't It Look Awesome?! | Another Look | And Yet Another… And Yes There's More |
| | | | |
| --- | --- | --- | --- |
| Imagine Showing This Off At Your Next LAN Party! | I'm Pretty Sure It Would Attract Attention | Top Blue LED Fan and Window | Side Panel Blue LED Fan |
Conclusion
---
The Stealth Case Mod (and other laser cut designs at CrazyPC.com for that matter) undoubtedly looks great. When looking at the price of these cases and side panels (currently, you can buy the Biohazard, Fire Dragon and Inferno laser cut Lian-Li PC-6x panels by themselves here), you must keep the saying "you get what you pay for" in mind. The edges of the Stealth Case Mod laser cut side panel are as clean as they could be, and they are perfectly straight.
The costs for the Stealth Case Mod that I received are as follows:
$177.95 = Stealth Case Mod (case with laser cut side panel and one Wings fan guard)
$30.00 = Installed top window kit with one Wings fan guard (optional)
$9.90 = Two blue LED fans (optional)
$217.85 = TOTAL COST
So, you can see the base cost of the Stealth Case Mod is $177.95, which seems to be a fair price to me. You get a great Lian-Li PC-61 case and a great and unique mod design for your money. As I've already mentioned, mine came with the optional top window and LED fans, which added about $40 to the cost, bringing the grand total to $217.85. Because of my complete lack of experience with modding a case and therefore inability to create something like this, I feel it is worth every penny, especially considering I paid almost $200 two or more years ago for a stock Lian-Li PC-60USB case.
I can't stress the high quality of this mod job enough. The laser cut Stealth design is a flawless, and just having a laser cut side panel is pretty cool in my books. Plus the job on the top window was top notch as well. The black molding and acrylic look great, and the fan hole was cut precisely. I had no issues with any of the modding aspects of this work of art.
Spending the money on a case mod like this obviously comes down to your budget and your personality. If you're the type to spend money on extras to pimp out your case, then you might see how it's worth it. But if you still like plain beige cases that "just get the job done," then you are probably scratching your head wondering how anyone could slap down the dough for such a creation.
| | |
| --- | --- |
| | The overall design and look of the Stealth Case Mod really surpassed my expectations. For those of you considering the purchase of a modded case that will definitely get tons of compliments, look no further than those offered by CrazyPC! They are without a doubt some of the most unique and best modded cases around, and they are reasonably priced. I'm awarding CrazyPC's Stealth Case Mod a 9.5 and the Bjorn3d Golden Bear Award. |
A big thanks to CrazyPC for making the review happen!