I have always been sceptical to all-in-one solutions but the AIW 9800 Pro has convinced me that you can get great multimedia features as well as great gaming performance in one package. Read our review to find out just how good it is.

Introduction
---
If there is one area that ATI always has been ahead of NVIDIA, it is the 'all-in-one' type of cards that include a TV-tuner as well as all sorts of video in/out connections. While NVIDIA has their Personal Cinema, one thing that has made it less of interest for enthusiasts like me is the fact that the OEM's always seemed to use slower GPU's, which made them less suitable for gaming.
ATI has done things differently. Their AIW (All-in-Wonder) series of cards were introduced back in 1996 and has constantly been updated with new versions running both the cheaper and slower GPU's as well as the top of the line GPU's. Today, I am taking a look at the new flagship in the AIW-series, the AIW 9800 Pro.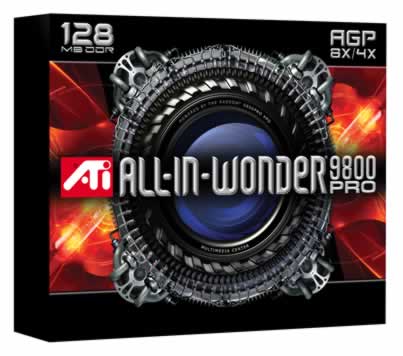 I've always thought that ATI makes great boxes.

Features and specifications
---
The AIW 9800 Pro is a well spec'd beast.
Specifications
| | |
| --- | --- |
| Graphics Chip | R350 |
| Memory | 128 MB DDR |
| Core Clock | 380 MHz |
| Memory Clock | 340 (680 DDR) MHz |
| Memory speed | 2.8 ns |
| RAMDAC Frequency | 400 |
| Heatsink on memory | Nope |
| Ports | VGA Out, S Video Out, CATV |
I'm a bit surprised that the card does not have any multi-monitor support, but considering they cram most connectors on the back of the card instead of a separate break-out box, I guess they just didn't have room for it. The new AIW 9600 Pro though has dual VGA, so if that is what you need, check that card out.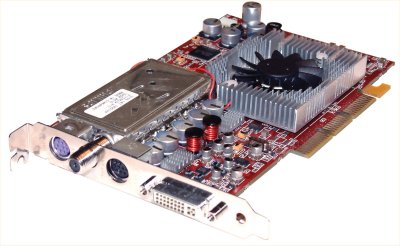 The AIW9800 Pro isn't as long as the FX cards and thus fits well into most cases.
The feature list is also impressive:
125 channel Stereo TV-Tuner


You can access up to 125 different channels.
TV-ON-DEMAND
TV-on-demand records programs onto your hard drive, pauses live TV and resumes broadcasts on your schedule.
Gemstar GUIDE Plus+
Gemstar GUIDE Plus+™ provides interactive programming guides to select, schedule and record favorite shows.
Thruview


Thruview lets you view TV, video or DVD through your word document, desktop etc., perfect if you want to work with something and at the same time keep an eye on the TV.
Wireless remote
The radio frequency wireless remote works up to 30 feet.
EAZYLOOK
ATI's new EAZYLOOK™ full-sized programming grid offers theme controls and single click navigation.
MulTView


If you have an additional ATI TV WONDER, you can use its TV tuner together with the tuner on the AIW 9800 and enable Picture-in-Picture and independent channel surfing (watch one program and record another at the same time).
VideoSoap
VideoSoap sharpens up the image by using advanced filtering.
Bundle
---
The bundle contains everything a budding multimedia producer would want:
AIW 9800 Pro VPU
Remote Wonder with 4 AAA batteries
ATI Catalyst CD
Morrowind
Matchware Mediator 7.0
Molex to floppy power splitter
DVI-to-VGA connector
S-VHS/Composite and Stereo Audio (RCA) input breakout box
S-VHS/Composite and Stereo Audio (Mini-Jack)/SPDIF output
RGB and Stereo Audio (Mini-Jack)/ SPDIF output
Composite Extension Lead
YPrPb component adapter (only in North America)
Morrowind is a great game, Pinnacle Studio is a very capable video-editing program, and muvee AutoProducer is … a strange program. It lets you add a videostream, either from a camcorder or from a video file and then by choosing a style creates a video with music. You can read more about it here: http://www.muvee.com. I actually had a lot of fun with this program! I captured some video from a DV-tape I made last christmas, added some Bing Crosby and then created a few different videos with different styles. It was quite amazing how the program managed to create completely different videos from the same source-material. I'm seriously thinking of buying the program since it would speed up spicing up all those home videos my father makes.

Benchmarks
---
While this is a card that is primarily used for multimedia, it also is very well suited for gaming.
Benchmark system
| | |
| --- | --- |
| CPU | AMD XP2500+ |
| Memory | 1024 MB DDR @ 333 MHz |
| Videocard 1 | AIW 9800 Pro |
| Videocard 2 | ATI 9800 Pro 256 MB |
| Videocard 3 | ATI 9700 Pro |
| Videocard 4 | BFG FX5900 Ultra |
| Motherboard | MSI K7N2 Delta nForce2 |
| Monitor | Dell 19″ |
We are currently in the process of changing the benchmarks we use when reviewing a video card. In this review, I chose these benchmarks:
3DMark2001SE – just to get a baseline score for everyone to compare with.
Papyrus Nascar Racing Season 2003 Demo (D3D) – Scott recorded a complete race, and we use Fraps to capture the mean framerate for the first 4 minutes of the race.
IL2-Sturmovik: Forgotten Battles v1.00 (OpenGL) – I use the Death… demo and record the average framerate of the first 2.10 minutes with Fraps.
Gun Metal benchmark (D3D) – Right now this is our current DX9 benchmark. We run Benchmark 1 with 4x AA (anti-aliasing) and Application AF (anisotropic filtering).
3DMark2001SE
Default

GPU

3DMark

AIW 9800 Pro
14650
ATI 9800 Pro 256 MB
14946
ATI 9700 Pro
14534
BFG 5900 Ultra
13234
The AIW 9800 Pro has no problems keeping up with its brothers at the default benchmark.
Nascar Racing Season 2003 Demo
1280×960 – 4xAA/8xAF

GPU

FPS

AIW 9800 Pro
32,2
ATI 9700 pro
29,1
BFG 5900 Ultra
28,1

1600×1200 – 4xAA/8xAF

AIW 9800 Pro
24,5
ATI 9700 pro
21,9
BFG 5900 Ultra
19,0
Once again the AIW 9800 Pro manages to come out on top. Of course the game isn't really playable at those insane resolutions, but it sure looks good.
IL-2 Sturmovik: Forgotten Battles
1280×960 – 4xAA/8xAF

 GPU

 FPS

 
AIW 9800 Pro
25,9
ATI 9800 Pro 256 MB
26,1
ATI 9700 Pro
24,1
BFG 5900 Ultra
31,5

1600×1200 – 4xAA/8xAF

AIW 9800 Pro
19,4
ATI 9800 Pro 256 MB
18,9
ATI 9700 Pro
15,8
BFG 5900 Ultra
23,4
This game is beautiful! The AIW 9800 has no problems hanging on to its brothers.
Gun Metal Benchmark 1
1024×768 – 4xAA / Application AF

 GPU

 Average FPS

 
AIW 9800 Pro
24,5
ATI 9800 Pro 256 MB
25,9
ATI 9700 Pro
22,2
BFG 5900 Ultra
30,6
Gunmetal is a benchmark that is very demanding. The ATI cards are very close, with the 9700 trailing. The FX 5900 Ultra draws ahead a bit which might not be so surprising since Gun Metal originally came out on the NVIDIA powered Xbox and thus is optimized for NVIDIA GPU's.
The AIW Features
---
Multimedia Center 8.5
Everything is controlled through ATI's excellent Multimedia Center 8.5. This utility adds a launcher that lets you quickly access all the different sub-programs.

The launcher can either sit like this or be attached to the side of the desktop.
Included with the card are players for DVD, SVCD/VCD, TV, etc. Each player can be skinned differently.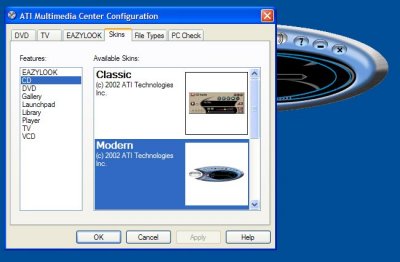 You can skin all players.
TV
First a warning. If you have an AIW card and install the DX9b update from Microsoft, you risk of losing the TV-Tuner capability. This happened to me. I no longer could get any channels when searching for them neither in ATI's own TV-Tuner program or Showshifter. The solution for me was to reinstall Windows and not install DX9b. More info about this problem can be found here.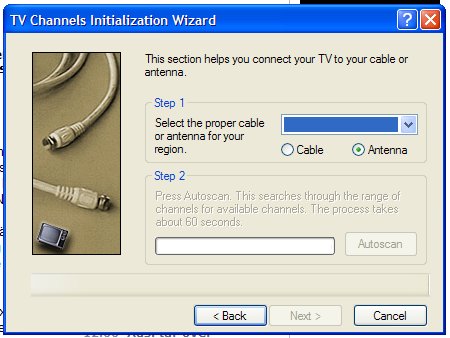 Due to some bug, I could not select Sweden as a region and thus could not start searching for my channels. It worked great in Showshifter though.
When I got it working, the TV-Tuner capabilities of the AIW 9800 Pro were excellent, easily matching that of the excellent Compro VideoMate Gold+ that I reviewed earlier. I did have a problem though – I couldn't set up ATI's own TV-Tuner program. At the setup, it just didn't let me choose Sweden as a region. I'm not sure why, and unfortunately I didn't have time to get this issue solved with ATI's support before I had to send the card back. I did however get Showshifter to work and thus used it to watch TV and record videos. Even though I couldn't get the included TV-Tuner software to work, I can give you some ideas of what kind of recording you can expect with it:
MPEG-1 is the lowest quality setting for the PVR. It records TV playback at a resolution of 352×240 and is recorded in MPEG-1 format.
ATI has their own format, VCR, which is the second lowest quality setting for the VCR. This setting records TV playback at a resolution of 320×480 NTSC (U.S. TV) and is recorded in VCR format. You can later convert this format to something else.
The Good setting is the third setting for ATI's PVR. This setting records shows in the ATI VCR format but at a resolution of 720×480 instead of the 320×480 of the previous setting.
The DVD setting is the "Best Quality" setting for the AIW 9800 Pro's TV recording. This records in MPEG-2 format at a resolution of 720×480 NTSC.
Using Showshifter I watched several programs, and as I said before the quality was great. I unfortunately have to use a 10m antenna-cable from the antenna jack in the other room so the quality is a bit grainy on my TV, but ignoring this graininess, the AIW produced a excellent image.

Here is a small capture I did. It has been encoded with WM9 with VHS quality down to 500 Kb and I removed the sound.
The Remote
The remote is quite large. In fact, I felt it was a bit too large for my liking. It does however have tons of buttons and can basically do anything except make coffee and wash your laundry. Among other things, it does allow you to control the mouse pointer with the remote, and it worked pretty well even though it takes some getting used to.

The remote is quite big and is filled with buttons.
The remote doesn't use IR but instead uses Radio Frequency. The benefit from this is that you do not have to be in line-of-sight of the receiver like you have to with a normal IR-remote/receiver. The receiver isn't connected to the serial port either but instead connects to the USB port.
It is actually possible to buy the remote by itself. It then costs $49.95.
TV-Out
I've never really gotten the hang of TV-out on my previous cards. This time however, I decided that I must get it to work. I hooked up the AIW 9800 Pro through the included cable to my TV through a SVHS => SCART adapter and started to play with the settings. Even though I still don't think using Windows on a TV is usable, playing DVD's was a completely different matter. I inserted the Season 3 DVD of Futurama and put the ATI DVD player into full screen mode. The quality on my TV-screen was excellent – in fact better than on my computer screen. I also played some BattleField 1942, and although you have to put the resolution down to 1024×768, it worked very well.
Conclusion
---
The AIW 9800 Pro is almost everything I would like to have in a complete solution. The only thing I miss is FM-radio, something they solved with the AIW 9600 Pro. The card is speedy, has great features and works as well as expected. This however comes to a cost – at least $370 and upward (according to Pricegrabber). Since the card effectively is a 9800 Pro plus a TV-card in one, and you get a card that is very future-proof, I think it isn't too expensive. If you want to get go a bit cheaper, either get the AIW 9700 Pro ($295) or the AIW 9600 Pro (have not found any price yet).
Final Score
---
Performance

9.5

This is a fast card. Except for the 9800 256MB Pro, there isn't anything faster out there.
Features

9

Not only does it pack a ton of multimedia features, it does this without compromising the speed.
Bundle

8

You get everything you need for editing videos, making videos and playing games.
Price/Value

8

Yes it is expensive but for the $$ you get a card that not only performs well today but also for the foreseeable future.
Final Score: 9
It is not often these days that I get impressed with a graphics card, but the AIW 9800 Pro really surprised me. If you can accept the price, then just get it! I might pick up one myself now.