With a plethora of features, like dual temperature controlled fans and a maximum of 460 watts of power, the EG465P-VE(FC) from Enermax is a great power supply for almost any PC.
Introduction
---
If the CPU is the brains of a PC, then the power supply can be thought of as the heart. Without it, the brain and everything else are not going to do anything. Of course, this means it is very important to have a very good power supply for your PC to perform up to its full ability. A healthy heart in a PC will allow it to be pushed harder by today's demanding video cards, processors, and other hardware. And with the current and future line-up of graphics boards from NVIDIA and ATI and processors from AMD and Intel, most PC users and manufacturers are starting to realize that the more power they have, the better off they are. A power supply that cannot handle the load placed on it can cause a PC to be very unstable or not perform as it should. A power supply problem can manifest itself in various forms, too. It can show up as lock-ups during some relaxing frag fest or as random reboots during late night web surfing. A lot of people do not look to the power supply when these types of problems occur. Often innocent CPUs or graphics boards get the blame. But, these components are not always the culprits, especially in PCs with generic power supplies. PC owners with high quality, meaning from a reputable manufacturer, power supplies can have more confidence that their power supplies would not cause instability issues.
One such example of a high quality power supply is the Enermax EG465P-VE FC. One of the highlights of this 460 watt power supply is that it automatically adjusts the fans' speeds based on the temperatures it measures. The bottom fan's speed is based on the temperature measured by a thermal sensor inside the power supply. However, the rear fan's speed is controlled by the temperature read by a thermal sensor that is attached to a short wire that can be placed anywhere it can reach to monitor the temperature at that location. Apparently, Enermax is also claiming that this is a very quiet power supply, since the word whisper appears on every side of the box. Read on to find out if this power supply can deliver serious power while keeping its cool without making a lot of noise.
Specifications & Features
---
A full list of features and specifications and a comparison of different models can be found at Enermax's website.
Specifications:
OUTPUT

Total Output Power

460W

+3.3V and +5V Combined Max Output

200W

INPUT

Input Voltage

115 / 230 VAC (selectable by switch)

Input Frequency Range

47Hz to 63Hz

Inrush Current

60A max/230V (at cold start)

Input Current

12A for 115VAC
7A for 230VAC
Hold-up Time

17ms min. at 230V full load

Efficiency

70% min. at full load

Unit Size

150mm(W) X 86mm(H) X 140mm(D)
CISPR22 Class

MTBF

100,000 hours at 25ºC, 70% full rated load

Features:
8 standard peripheral connectors (a.k.a. molex connectors) and 2 FDD connectors
Main power cables wrapped in black nylon mesh for neatness
Copper shielding on main power, +12V, AUX and additional +12V power connectors for better EMI reduction
Gold-plated connectors
Both fans are temperature controlled for minimum noise
FC Function allows motherboard with appropriate connector to shut-down rear fan in suspend mode
Support for latest CPUs from Intel and AMD

Package Contents:
Power supply unit
Power cord
Four screws
Small fan connector to molex connector converter
User Manual
Two "Enermax Power Inside" stickers
The Package
(click thumbnail for bigger pic)

The nice purple box

Power supply

Package contents

Installation
---
Installing the power supply was as uneventful as it should be. Fortunately, the layout of my mid-tower case (which, by the way, I reviewed a couple months ago) made removing my old power supply and installing this one a little easier than I thought it would be. The drive rails on my two optical drives allowed me to easily slide them out of the way, and, with a little careful pulling and pushing, the power supplies were swapped in less than 15 minutes. Once I got it installed in the case, I quickly noticed how nice it is to have the main power wires wrapped as Enermax has done (see pic below). Power supply cables can get messy quickly, so having at least a couple sets of wires bunched up neatly improves the tidiness, and more importantly, the air flow in the case. Enermax provides eight standard peripheral connectors with the EG465P-VE FC, and that definitely comes in handy when trying to feed power to an FX5600, two hard drives, two optical drives, a couple fans, and a floppy disk drive.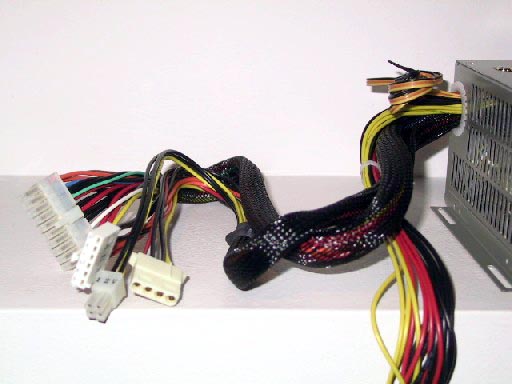 As I mentioned earlier, the rear fan's speed is controlled by its temperature-sensing feature. To provide the consumer with some flexibility, Enermax equips this power supply with a thermal sensor on a relatively short wire that can be put anywhere within its reach. That way the rear fan's speed will be controlled by the temperature in the region selected by the user. In my case, the best place seemed to be near the processor. And I'm guessing that is where most people would put the wire anyway. Actually, it probably is not long enough to be placed in very many other places. I tried to show the wire's short length below (the white wire with the green sensor on the end of it). (Sorry about the blurry image.)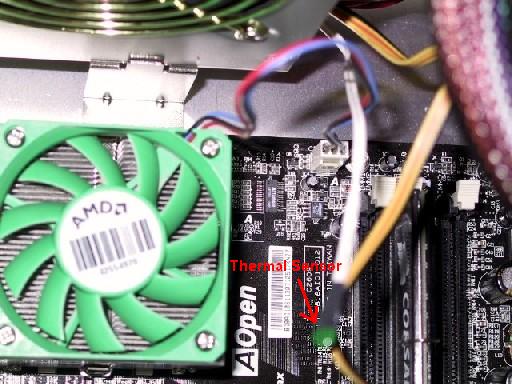 Performance
---
To check out the performance of the Enermax EG465P-VE FC, I obtained a couple measurements of the voltages using a digital multimeter and SiltenTek, a system monitoring application for AOpen motherboards. Unfortunately, I do not have any decibel meters or other such equipment, so I have to rely completely on the subjectivity of my ears for evaluating the noise level produced by this power supply. I also used SilentTek to check how the system and CPU temperatures are affected by the EG465P-VE FC, comparing the measurements taken with my old power supply installed with the new readings.
Voltages and Temperature Readings
Using my multimeter, I measured the 12V and 5V wires on a spare connector. I measured 5.05V for the 5V wire and 12.27V for the 12V wire. Both of these values are respectable and well within specifications. The readings that SilentTek shows are a little different and not as accurate, but they are still respectable and show that this power supply delivers proper voltages to whatever it is plugged into. Here is a screenshot of the SilentTek voltage readings:
I also used SilentTek to determine if the system and CPU temperatures would be improved by the superior two fan design of the Enermax power supply. I was surprised that the temperatures were basically the same; however, that may actually be an impressive feat considering the power supply can output 160 more watts than my old one.
Bring the Noise?
I must admit that I was pumped when I saw the word whisper on the EG465P-VE FC's box. I was excited to see if this new power supply could make my PC quieter. I always thought that one of the noisiest components in my PC was my old power supply, but now I know it must not have been the power supply. Or, the EG465P-VE FC is just as loud as the old one, which actually is not so bad, considering the Enermax power supply has one more fan than the old power supply. So, I guess I'm a little disappointed that it is not noticeably quieter but glad that it is not louder.
Conclusion
---
The Enermax EG465P-VE FC is a reliable power supply that can provide plenty of juice for almost anyone who is looking to upgrade the heart of his or her PC. Enermax provides plenty of connectors, wrapped main power connectors, temperature-dependent fan speeds, gold-plated connectors, and some copper shielding where it matters most. All this for around $85. That may seem high to some people, but people who know how important a power supply is realize that it is money well spent. I would recommend the Enermax EG465P-VE FC to anyone who is looking to buy a high quality power supply.

For its good quality and nice features, I give the Enermax EG465P-VE FC a score of 8.5 out of 10 and award it with the Bjorn3D Seal of Approval.