LED fans are great. UV light is great. So combine the two and you have great great… or greater. Well, what I'm trying to say is UV LED fans look great and help cool your case, which is great! Check out this article about Xoxide's UV LED fans, and I'll stop saying great.
Introduction
---
The popularity UV sensitive components and UV stuff in general seems to be on the rise for some reason. Maybe it's because of that cool eery glow that UV reactive materials give off. As can be expected, as UV reactive products' popularity increases, so does the popularity of UV light sources, like UV cold cathodes. For a long time, straight UV cold cathode tubes were about the only way you could find UV light available, but now there are several different options, such as round UV cold cathodes attached to fans and even LEDs.
That brings us to the focus of this article — UV LED fans from Xoxide.com. Not only are these fans fairly quiet, but they also look really damn cool and can add a lot of jazz to a case. Just keep reading and check out the pics below if you don't believe me! 😉 Thanks to Chris and Dan at Xoxide for sending these surprise goodies over!
UV LED Fan Goodness
---
First, let's have a quick look at the general specs of these fans.
Specifications
Basically, what we have here is a really great looking case cooling option. The fan casing and blade is made of UV reactive plastic, and the unit contains three UV LEDs that make the whole thing glow. Even when they are not powered on and lit up, they look really cool.
Xoxide UV LED Fans
(click thumbnail for bigger pic)
As I said above, the fans look great even when they aren't powered up. The wires are covered with a soft plastic sheath, they are very colorful, and overall the construction seems to be good quality. They also look good even if the room isn't completely dark. Check out these pics of a couple different fans powered up but with the room lights still on.
Xoxide UV LED Fans
(click thumbnail for bigger pic)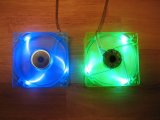 The only thing I see wrong with these fans is that they didn't come with a 3-to-4 pin adapter, so if you don't have any, you'll have to pick one up for each fan, unless of course you plan to use your motherboard fan headers for these fans. Then you don't have to bother; they'll work great. So let's see that they all look like with the lights off and the power on! I think they all look awesome, and I can't wait to get them in a case!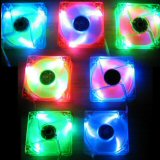 Here's a couple of cool pics showing you 1) a close up of the LEDs, 2) how well the UV LEDs can light up UV reactive material, and 3) how a couple of the fans look loosely "installed" in a case with the recently reviewed DFI LANParty KT400A, which has UV reactive slots, sockets and round cables.
Xoxide UV LED Fans
(click thumbnail for bigger pic)
And what better way to end this article than with some dumb fan fun!? Check out my cool little mini fan tower and pyramid! Now I'm off to figure out how to get them installed in that configuration…or maybe not… 😉
Xoxide UV LED Fans — Some Dumb Fan Fun!
(click thumbnail for bigger pic)