Plextor has a reputation of producing high quality and high performing CD-RW drives. Recently, Plextor decided to join the DVD recorder market and try to extend that reputation. This review takes a look at Plextor's PX-504A DVD+R/RW drive, which actually is also a CD-R/RW drive as well.
Introduction
---
For many years now, Plextor has maintained its reputation of having high quality and top performing optical drives. After receiving many awards for its CD-RW drives, Plextor has decided to enter the DVD recording market with a DVD+R/+RW drive. The PX-504A offers much more than just DVD recording abilities though. It's actually a 6-in-1 drive, offering the following functions: 4x DVD+R, 2.4x DVD+RW, 12x DVD-ROM, 16x CD-R, 10x CD-RW, 40x max CD-ROM. Pretty much everything you need is there, eh? Only thing missing is DVD-R/-RW and DVD-RAM.
Here's a little blurb from Plextor about the PX-504A:
The Plextor PX-504A delivers blazing-fast 4X DVD+R writing and 2.4X DVD+RW and 12X DVD-ROM read speeds. In addition to recording, rewriting and read DVD discs at multiple speeds, it also supports 16X CD-R write, 10X CD-RW rewrite and 40X CD-ROM read. Create a 4.7 GB disc on DVD media in less than fifteen minutes for work and play. The Plextor PX-504A will deliver top performance no matter how you spend your time, project after project, year after year.
Specs, Features & Box Contents
---
Features & Specs:
Part # (retail kit): PX-504A/SW (internal), PX-504A/SW-BL (black bezel)
6-in-1 drive: 4X DVD+R, 2.4X DVD+RW, 12X DVD-ROM, 16X CD-R, 10X CD-RW, 40X max CD-ROM
Buffer Under Run Proof technology prevents errors in CD-R/RW writing
Lossless Linking prevents errors in DVD writing
High capacity – Holds 4.7 GB of storage on DVD media
120ms Average CD Random Access
140ms Average DVD Random Access
2 MB Buffer
Black tray minimizes jitters
Flash ROM allows for easy upgrade over the Internet
Supports DVD+RW background format
Useable DVD Formats: DVD-ROM, DVD Video, Multi Border (closed disc read only), multi session
Useable CD Formats: CD-DA; CD-ROM Mode 1; CD-ROM Mode 2; CD-ROM XA, CD-I; Photo CD; Video CD; CD-Extra; CD Text; Multi-session, UDF
Recording DVD+R/RW Modes: Sequential write, Random access write and Disc-at-one
Recording CD-R/RW Modes: Track-at-once, Disc-at-once, Session-at-once, Multi-session, Fixed and Variable Packet Writing
Windows 98SE/2000/ME/XP Compatible
One-Year Full Warranty and Unlimited Toll-Free Tech Support
For more detailed specs, go here

I'm listing these mostly for you to note Plextor's recommended processor speed — Pentium 4 1.6GHz or equivalent! Minimum requirement is a PIII 800MHz or equivalent, which didn't surprise me, but I found the suggested processor kind of surprising. (By the way, it performed just fine with the 1.2GHz AMD processor I was using.)
Minimum System Requirements:
CPU: Pentium III 800 MHz or equivalent (minimum)
CPU: Pentium 4 1.6 GHz or equivalent (suggested)
RAM: 128MB
HDD: 800MB-1GB free space for copying CD to CD image
HDD: 6GB-10GB free space for DVD authoring
Monitor display resolution: 1024 X 768 16-bit color (requires a graphics card with minimum 16MB of memory)
Retail Box Contents:
PX-504A drive
Roxio Easy CD Creator 5 DVD Edition
Roxio PhotoSuite 5 SE
PowerDVD by CyberLink
Dantz Retrospect
1 Verbatim blank CD-R
1 Verbatim blank DVD+R
Drive manual
Quick Start Guide
IDE cable
Mounting screws
Emergency eject pin
Plextor PX-504A
(click thumbnail for bigger pic)
More About the Features and Software
---
More About the Features
Note: Information in quotation marks is taken from this Plextor PDF document.
Lossless Linking
"Lossless Linking technology enables users to perform basic editing tasks directly on the DVD disc, so there is no need to reload DVD content back to a PC to make minor changes, and no need to re-burn an entire DVD after making small edits."
PowerRec
"PoweRec (Plextor Optimized Writing Error Reduction Control) technology is a sophisticated write strategy for superior quality and stable recording at maximum speed."
BURN-Proof
"Buffer Under Run Proof technology prevents buffer underrun errors which allows you to multi-task during a recording session."
Black CD Tray
"Black CD tray minimizes jitter and reduces C1 error rates. Optimized PCB circuits near the power supply decrease noise and provide clean power to the drive, improving both jitter and deviation levels."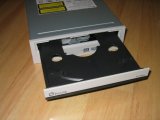 Nero InfoTool
InfoTool lists the read and write features of a drive, and you can find the screenshot of its findings below.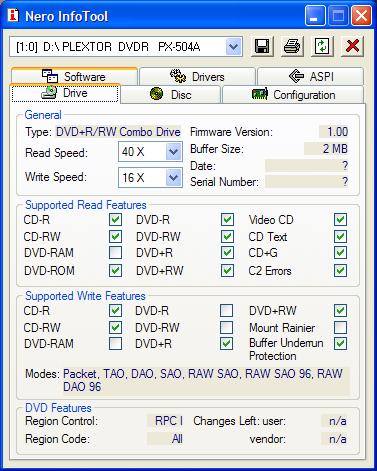 It's nice to see that the "Supported Read Features" include DVD-R/-RW even though the drive is only able to write to DVD+R/+RW media. The lack of Mount Rainier support is unfortunate, but that could be changed in a simple firmware update if Plextor ever chooses to add it.
More About the Software
Roxio Easy CD Creator 5 DVD Edition
As is typical with Plextor products in the U.S., Roxio software is included, which means we are given a simple version of Easy CD Creator 5 DVD Edition. Roxio makes decent software that is very friendly to newbies.
Roxio was thoughtful enough to include a brief tutorial explaining how to do basic operations in Easy CD Creator. This will be quite useful to people new to the CD/DVD copying/creating scene.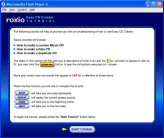 Easy CD Creator has a very easy to use interface and menu. After starting the application, you simply select what type of project you want to create. You can create a music CD, data disc, video disc or simply copy an existing disc.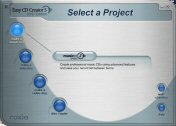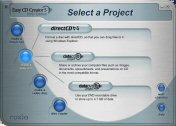 Although I usually use Nero, I really like the music CD creation interface. It is very easy to see how your tracks are arranged, and you can drag and drop tracks to rearrange them as desired. The color coding for each track in the listing and on the time line is a nice touch as well.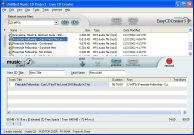 Roxio PhotoSuite 5 SE
"PhotoSuite makes it simple with a combination of automated tasks, professional-level editing tools, creative projects and CD burning fully integrated into one program."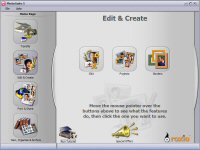 Just like Easy CD Creator, PhotoSuite is meant to be a powerful but user-friendly application. I found it easy to use, and it performs tasks quite well. Although I'm not sure I'd use it very often, it is a very nice program that I think many people would find useful.
PowerDVD by CyberLink
PowerDVD is a very popular DVD software application that is quite powerful and flexible. I've used it for a couple years now and have been very happy with it. It's definitely a nice inclusion with the PX-504A.
Dantz Retrospect
"Backup and restore solution designed for safety and security, Retrospect protects against loss due to viruses, newly installed software, user error and damaged hardware." Note: This is only a 30-day trial version!
Installation
---
Not surprisingly, installation was simple and problem-free. I hooked up the PX-504A as the master drive on secondary IDE channel. I made sure DMA was enabled and checked to see if the drive worked fine. Everything was set, so I moved on to the software installation.
Software installation was also quite easy. I put the provided software CD in the PX-504A and let it auto-run, which like most other install CDs brings up a menu. Here's a shot of the menu that pops up.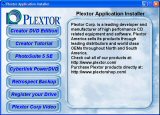 I continued to install Easy CD Creator 5 DVD Edition and PhotoSuite 5 SE, and both were very quick and straightforward installations. I already had PowerDVD installed so I didn't need to install it, and I opted not to install Dantz Retrospect because it happens to only be a 30-day trial version. With the installation complete, it's time to move on to the testing.
Performance / Benchmarks
---
Test System:
Motherboard: ECS K7VTA3 VIA KT333
Processor: AMD 1.2GHz Thunderbird with retail HSF
RAM: 768MB PC2100 DDR
Video Card: Visiontek Xtasy 128MB GeForce4 Ti4200
Hard Drive 1: IBM 40GB 60GXP
Hard Drive 2: Maxtor 120GB
CD/DVD: Plextor PX-504A
OS: Windows XP Pro SP1
CD Tests
Nero CD Speed
Blank 48x Verbatim CD-R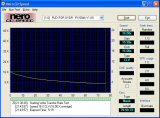 Well, the PX-504A is supposed to be able to write a CD at 16x speeds, and according to this CD Speed test, it's very capable of doing just that! Now let's check out some read speeds with Digital Audio Extraction (DAE).
Music CD with DAE Test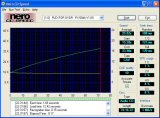 The drive starts at 15x, averages over 25x and ends at almost 34x. The PX-504A is rated to read at 40x, and I redid the test with a regular 700MB data disc with more data on it, and it did in fact hit 40x. The 25x average here though is quite good, and the DAE test passed with a perfect 10, so no complaints here. Additionally, you'll notice that CPU utilization stays reasonably low during the test.
SiSoftware Sandra 2003
I popped in a data CD and used Sandra's CD/DVD test to see how the drive would score in a basic read test. As you can see below, it performs quite well.
Sandra 2003 CD/DVD Test with Data CD

CD Writing Test – 690MB of MP3s
CD-R media = Verbatim 48x
Total Burning Time = 5:22
Again, the PX-504A performed as I expected it to. I played many of the MP3s off of the disc to make sure they burned successfully, and they seemed to be okay.
CD Rewriting
I did several tests for CD rewriting, and the drive performed as advertised consistently. I used Nero's InCD and Roxio's DirectCD, and the drive had no problems. I also ran a couple of other tests, and the drive was averaging between 7x and 10x CD-RW speeds.
Performance / Benchmarks (cont'd)
---
Obviously, this review wouldn't be complete without some DVD testing. Afterall, you wouldn't be buying this drive primarily for its CD recording and reading capabilities, now would you? 😉 I did the same basic tests that I did on the previous page but this time with DVDs of course.
DVD Tests
Nero DVD Speed
4.32GB Data DVD – Verbatim 4x
Here I used a DVD+R filled with 4.32GB of movie files. You can see that the drive tops out at just under 5x and averages 3.74x, not bad scores but not the 12x DVD read speed that the drive is rated at. I'm not sure why it didn't even get close to 12x, but I'm not sure it matters that much either. I could play and watch movie clips directly off the drive without any pauses or hiccups, so I really don't care what speed a disc is being read at. Plus, a firmware upgrade or different media might result in better scores. The low CPU usage is also worth noting and very impressive.
SiSoftware Sandra 2003
4.32GB Data DVD – Verbatim 4x

I actually expected the PX-504A to perform a little better in this test, like in the 5,000+ range since that's what I saw in other reviews of this drive. Once again, I'm not sure why it didn't score a little higher. From my experience with the drive over the last week or so, I'd say the read performance, whether its a CD or DVD, is top-notch. I have no complaints at all in that area.
DVD+R Recording – 4.32GB of AVIs
DVD+R media = Verbatim 4x
Total Recording Time = 14:09
That's right – 4.32GB of data burned to a 4x DVD+R in just over 14 minutes! Gotta love that! It sure did put a big smile on my face when I saw it finish and then tested several of the AVIs out, and they worked fine. One thing worth mentioning here though is that the lead in and lead out times combined for about 45 seconds, but I did not include that in the time above.
DVD+RW Recording – 4.32GB of AVIs
DVD+RW media = Verbatim 2.4x
Total Recording Time = 22:30
Once again, the drive's performance was excellent, and the burned movies played back just fine. Additionally, I did not include the lead in/out or formatting time that Nero used before starting to record.
DVD Movies
I popped in and watched about 20-30 minutes of several different recent movies. I played them with PowerDVD, and there was no stuttering or pauses at all. Additionally, I couldn't really hear the drive over the four 80mm case fans I have in the system.
Conclusion & Final Score
---
Plextor may have surprised some by entering the DVD recording market, and they probably made most of wonder, "What took them so long?" But it's not a surprise that Plextor has managed to put together another fine product. The PX-504A performs great when it comes to reading and writing. Not only can 700MB CDs be created in around five and a half minutes, but 4.3GB data DVDs can be created in just over 14 minutes. It really is great to have a solid performing CD-R/RW drive and DVD+R/RW all in one. Plextor also packages in some useful software that makes getting set up and burning quick and easy.
One interesting thing I haven't commented on yet is the style of the drive. I'm not sure why Plextor put the black line or stripe across the front bezel of the drive, but I think it helps the PX-504A look better with a black case than your average beige drive without such a stripe. The test system I used actually is a black aluminum case, and I think the drive looks fine installed in it. No doubt a totally black drive would look better, but for a beige drive, the PX-504A looks great. You can get the PX-504A with a black bezel by the way.
While the PX-504A does have quite a few strengths, there were some things I didn't like about the unit. For one, the lack of Mount Rainier support is strange to me. I'm not sure why all drives don't include it yet. As I said before though, it can be added any time with a firmware update. Another weakness that many of you probably noticed is that the drive only supports writing to DVD+R/RWs and is not one of the so-called "universal" DVD recorders. I hope Plextor's next generation of DVD recording drives does include the ability to write to DVD-R/RW media, especially since so many set top DVD players seem to only support DVD-R and not DVD+R (mine included).
— ed.
A reader informed me that I might be wrong in stating that DVD+R seems to not be supported in many set top players. After looking into the points he made, I'd have to agree that I may have jumped the gun. Quite a few players have been shown to support DVD+R, and you can check out a comprehensive list here. Thanks Gerard!
Weighing in all the pluses and minuses of the drive leads to a big plus from me. While it may not include every feature a hardcore user may want, it does have plenty of features and provides excellent performance. Plus its backed by a solid Plextor reputation and good support. Most importantly, it's available at a really good price — $220 according to our PriceGrabber search.
For being a solid performing, reliable and very capable drive, I'm awarding the Plextor PX-504A an 8.5 out of 10.