If you are building an AMD powered system these days chances are high that you will be using a motherboard using NVIDIA's excellent nForce2 chipset. Today we are taking a look at Biostar's second nForce2-based motherboard, the M7NCD Pro, a nForce2 motherboard with a $80 pricetag.

Introduction
---
If you are building an AMD powered system these days chances are high that you will be using a motherboard using NVIDIA's excellent nForce2 chipset. Today I am taking a look at Biostar's second nForce2-based motherboard, the M7NCD Pro (the first has been reviewed here).
The features and the bundle
---
The M7NCD Pro is one of the new nForce2 based motherboards that officially supports a 400 MHz FSB (front side bus) and thus also supports the new AMD AthlonXP 3200+ Barton CPU.
The feature list is:
Support for 400 MHz FSP
Support for 400 MHz Barton 3200+
DualDDR 400 memory controller which gives us up to 6.4GB/s bandwidth
AMD HyperTransport which enables 800 MB/s hi-speed bus between North and South bridges
6 USB 2.0 ports
Realtek ALC650 6-Channel Audio
10/100 MCP NVIDIA MAC + Realtek RTL8201BL PHY
2xATA133 IDE-ports
Something that disappointed me was that there is no FireWire support (IEE1394). Most won't use it, but I really need it for my DV-camera. You also do not get any Serial-ATA or RAID-support. Last but not least, even though it supports 6-channel audio, it only has 3 audio connectors, Speaker Out, Line In and Mic. The NVIDIA APU also seems to be absent.
As with most other motherboards, Biostar also has some of its own proprietary features on this motherboard:
Some nice ideas here. I like being able to flash a new BIOS without hunting for that damn boot-floppy.
So what is in the box?
The motherboard
1 IDE cable and 1 floppy cable
1 backplate with 4 USB ports
1 tiny manual
CD with drivers and utilities
CD with Norton Application Pack CD (Internet Security 2003( Norton AntiVirus™, Norton™ Personal Firewall, Norton™ Privacy Control, Norton™ Intrusion Detection, Norton™ Parental Control) and Norton™ Ghost 2003
CD with Biostar's StudioFun
Something that is missing is that little backplate you get with cut-outs for all the different ports. Fortunately, it looks like it uses the standard layout since I had an old backplate that happened to fit perfectly, but I still think it is cheap not to supply one.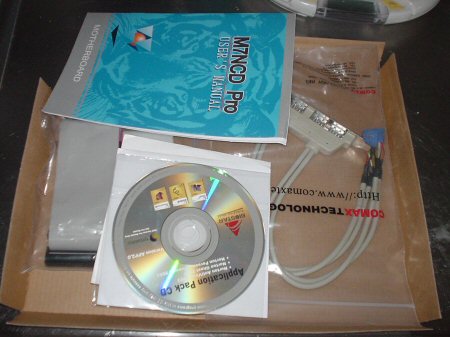 As for the bundle, it is a good bundle. You get an up-to-date Antivirus program; an up-to-date Personal Firewall and a disk-image program that helps you prepare your system.
Utilities
Biostar ships the motherboard with a few utilities. Winbond HWDoctor helps you monitor the fans, the temp and various voltages. It works well. WarpSpeeder is, as I wrote above, a program that allows you to change various settings from Windows instead of in the BIOS. You can increase the voltage, change FSB and even change the multiplier. Or you could if you could get it to run. Everytime I tried to run the program, it produced a memory access error and then a blue screen. The idea behind WarpSpeeder is great, but unfortunately I cannot verify how well it works.

Installation
---
Normally this section of the review is small. You rip out your old motherboard, insert the new one, reconnect everything and reinstall Windows. Unfortunately, it didn't work out that way with this motherboard. After putting in my XP2500+ and my memory and putting the motherboard in the case, I turned the computer on. The fans spun up, the HD spun up, and then nothing happened. No video signal, no beep, nothing. I removed everything except the memory and the CPU and still nothing. The motherboard was getting power. The fans proved that, but nothing else happened. I cleared the CMOS and tried again, still no luck. At that moment, I cursed my bad luck for getting a DOA motherboard, removed it from the machine and reinstalled the ASUS nForce2 Deluxe motherboard. As expected, everything worked.
The review could have ended here if Scott hadn't told me to try clearing the CMOS again, and try it out one final time. I went over to my father's house where I was building him a computer, took out the battery, let it sit for 30 minutes, returned the battery, installed an XP 1800+ CPU and some memory and tried again. And it worked! I took it home and put it in my own machine, and it worked.
So, a lesson learned by this is to never give up and to make sure to clear the CMOS for a long time before you send a motherboard back as DOA.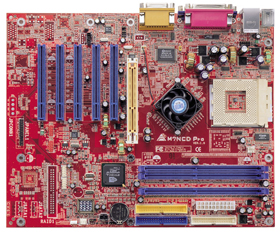 After this initial problem, the installation went fine. The motherboard has a good layout with the IDE connector, the floppy connector and the power connector located away from the CPU under the memory. One small issue is that just above and to the left of the CPU is a bunch of capacitors that could prevent a large cooler from being installed. I use an Arctic Cooler Super Silent Pro Copper, which isn't the smallest cooler and it was a tight fit.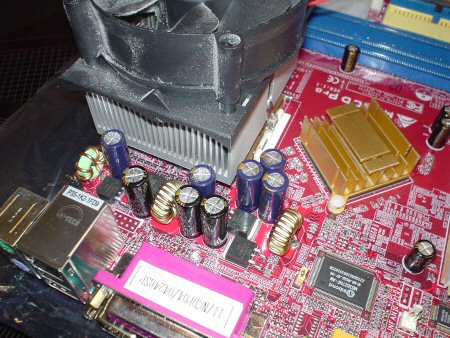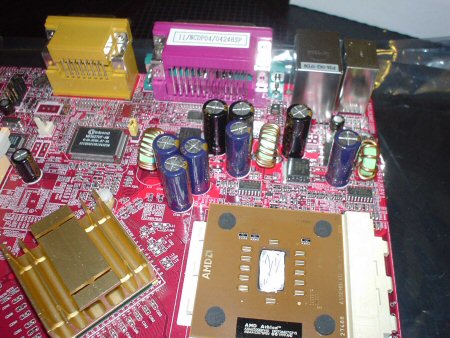 Those capacitors can make it hard to fit in larger heatsinks
Another small issue is the fact that the USB-backplate doesn't fit properly. The lowest screw gets caught in the back of the case and you cannot push the backplate in the bottom. This is no big deal but it annoys me.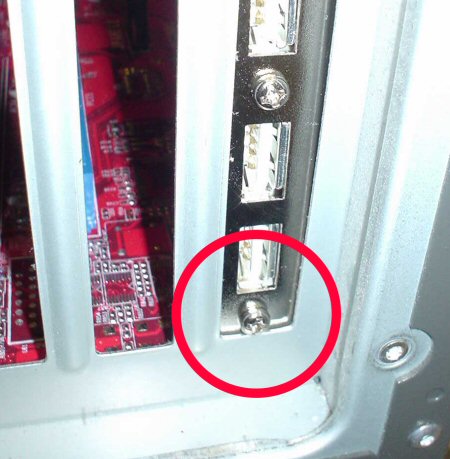 This screw sits a bit to far down which stops the backplate from fitting.
The included manual is tiny and barely covers the things you need to know when installing the motherboard. It completely ignores the BIOS settings. Luckily, there is a better manual for the BIOS included on the CD, and I recommend printing it out as quickly as possible.
Overclocking
---
To help overclocking, Biostar allows you to change a lot of things:
FSB from 100 up to 200 MHz
Memory timings
CAS
AGP frequency (from 50 MHz up to 100 MHz)
VCore (-0.025V, -0.050V, -0.075V, -0.100V, +0.025V, +0.050V, +0.075V.)
AGP voltage (1.5,1.6,1.6 and 1.7V)
DRAM Voltage (2.5,2.6,2.7 and 2.8V)
IGP Voltage (1.6,1.7,1.8 and 1.9V)
While I haven't done any extensive overclocking tests yet, I had no problems turning my XP 2500+ into an XP 2800+ by changing the multiplier and increasing the VCore a step. One thing that also should be noted is that while I have been having some stability problems on my ASUS (I had to increase the DRAM voltage a bit to get it to run smoothly at 166 MHz FSB), I had no problems whatsoever on this motherboard.
I did a search over at our affiliate nForcersHQ, and it does look like some people do have problems getting their machines to run smoothly at 200 FSB with a 'high' multiplier. Anyone who plans to do some heavy overclocking should check the forums over there first.
The Benchmarks
---
I have benchmarked this motherboard in PCMark2002, SiSoft Sandra 2003 and 3Dmark2001 and compared it to the ASUS nForce2 Deluxe motherboard. Except for the motherboard, everything in the computer was the same. Both motherboards also were set up the same except for the slightly increased DRAM Voltage in the ASUS (to keep it stable).
My machine
AMD AthlonXP 2500+ Barton CPU
1024 MB Corsair XMS DDR PX2700 (2×512 MB)
Compro GeForce4 Ti4800SE
SiSoft Sandra 2003
| | |
| --- | --- |
| Motherboard | Score |
|   | CPU Dhrystone |
| ASUS A7N8X Deluxe | 6815 MIPS |
| Biostar M7NCD Pro | 6852 MIPS |
|   | CPU Whetstone |
| ASUS A7N8X Deluxe | 2709 MFLOPS |
| Biostar M7NCD Pro | 2752 MFLOPS |
|   | Memory Int |
| ASUS A7N8X Deluxe | 2381 MB/s |
| Biostar M7NCD Pro | 2387 MB/s |
|   | Memory Float |
| ASUS A7N8X Deluxe | 2236 MB/s |
| Biostar M7NCD Pro | 2236 MB/s |
PCMark 2002
| | |
| --- | --- |
| Motherboard | Score |
|   | CPU |
| ASUS A7N8X Deluxe | 5632 |
| Biostar M7NCD Pro | 5632 |
|   | Memory |
| ASUS A7N8X Deluxe | 4926 |
| Biostar M7NCD Pro | 4980 |
|   | HDD |
| ASUS A7N8X Deluxe | 942 |
| Biostar M7NCD Pro | 817 |
3DMark 2001 SE
Settings: Default. no AA. no AF
| | |
| --- | --- |
| Motherboard | Score |
|   | 640×480 |
| ASUS A7N8X Deluxe | 14400 |
| Biostar M7NCD Pro | 14713 |
|   | 800×600 |
| ASUS A7N8X Deluxe | 13499 |
| Biostar M7NCD Pro | 13733 |
Overall, the Biostar and the ASUS run neck-to-neck in all benchmarks. Since they are using the same components, it is not surprising, but this means that you won't have to sacrifice any performance by going with a cheaper nForce2 motherboard.

Play it again Sam, but this time outside Windows
---
I mentioned a program called StudioFun when I listed the contents of the bundle. I feel that this is something so special it deserves its own section. StudioFun isn't really a program – it actually is a small Linux Distro. The idea with StudioFun is that it allows you to start your computer and use it as a multimedia station without having to go through Windows. The distro just needs a 128 MB partition and if there is no room it will automatically resize your FAT/NTFS partition on install.
When installed it allows you to play VCD's, SVCD's MP3's, AVI's and a lot of other formats in a small player.
Unfortunately, I have yet managed to get it to work. It did install right, but when I boot into it, I get garbled text on the screen. I do have a NVIDIA videocard, but the hardware compatibility list only states that it supports GeForce4 MX cards, so I am going to try to install it on my Shuttle XPC, which has an built-in GeForce4 MX to see if it works.
It is a neat idea, and I am very curious to see how it works. I think it might be better suited for a small computer like the Shuttle XPC, which you theoretically could put in the living room next to the TV, but it's a cool idea nonetheless (at least when it works). I hope Biostar works a bit harder in increasing the list of supported videocards.
The Conclusion
---
The M7NCD Pro is not a great motherboard but not a bad one either. It does have its strong points which are:
+ a good bundle
+ stable
+ same performance as the more expensive ASUS motherboard
+ good price
The bad points on the other hand are:
– lack of some features (no FireWire, no RAID, no SATA, only 3 audio connectors)
– Only Realtek audio, no NVIDIA APU
– some problems with the bundled software (WarpSpeeder and StudioFun)
– some problems with the audio
If you can live without the missing features (and they get the WarpSpeeder/StudioFun issues worked out), this may still be a mainboard worth considering since it's one of the cheaper nForce2 motherboards out there.
Final Score
---
Features

6

No FireWire, no RAID, no SATA, no NVIDIA Soundstorm – this is not the motherboard for the person who wants features. The amount of overclocking settings, though, is a definite plus.
Bundle

7

The set of Norton programs is a bundle that gives you great value for free. Add in the StudioFun Linux distro and the small utilities and you've got a good bundle.

Quality

6

While the motherboard did perform well in the stability department, the problems with both the WarpSpeeder and the StudioFun program do lower this score. My initial installation problems also are something you do not expect from a retail board..
Price/Value

7

This is one of the cheapest nForce2 motherboards you will find. At around $80 US (lowest price I could find), it competes against other motherboards from Chaintech and FIC, which offers roughly the same features. I personally would add a few bucks to get better audio and at least FireWire support, but it all depends on how important those features are to you.
Total: 7
Even with its flaws, the Biostar M7NCD Pro is a solid nForce2 motherboard with a good bundle.