DFI isn't leaving anyone guessing with their latest line of high performance, feature-packed boards. The LANParty family is quite obviously aimed at the enthusiast / gamer / modder who wants to show off his system. Dual LAN, UV reactive and RAID 1.5 are just a few of the interesting features found on the LANParty KT400A.
Introduction
---
I will give you approximately two seconds to figure out DFI's target market for their new LANParty line of motherboards…time's up! Hard one, isn't it?! Most enthusiasts' and LAN gamers' eyebrows probably perked up just from seeing the review title and product name (the acronym "LAN" seems to spark a lot of interest for some reason…could it be related to gaming or something?).
I know when I first saw the phrase "DFI LANParty" my curiosity was peaked, and I had to know exactly what DFI was selling so I started investigating. What I found definitely was not disappointing. DFI offers a Canterwood, nForce2 and KT400A LANParty board. On top of getting your choice of the hottest chipsets, you also get plenty of standard goodies in every LANParty box, like FrontX, UV reactive round cables, UV reactive slots, dual LAN, RAID 1.5 (yup, 1.5 — DFI has something new for the RAID world), and much more. I haven't seen a package this extensive since Chaintech's 7NJS Zenith… So, let's dig in and take a closer look at what the LANParty KT400A has to offer!
Specifications
---
Here's a long list of specs ripped from DFI's web site.
CPU

 

AMD Athlon XP 266/333+MHz FSB (max. 400MHz)  
AMD Athlon 266MHz FSB

CHIPSET

 

VIASUP>® KT400A and VT8235CD

SYSTEM MEMORY

 

Supports up to 3GB memory (unbuffered DIMM)  
Uses PC1600 (DDR200), PC2100 (DDR266), PC2700 (DDR333)or PC3200 (DDR400) DDR SDRAM DIMM,       2.5V type  
Three 184-pin DDR SDRAM DIMM sockets  
L2 cache memory       - Athlon XP / Athlon processor: built-in 256KB Level 2 pipelined burst cache

BIOS

 

Award BIOS, Windows® 95/98/2000/ME/XP Plug and Play compatible  
Genie BIOS provides:       - CPU/DRAM overclocking in 1MHz stepping       - CPU/AGP/DRAM/Chipset overvoltage  
4Mbit flash memory

POWER MANAGEMENT

 

Supports ACPI specification and OS Directed Power Management  
Supports ACPI STR (Suspend to RAM) function  
Wake-On-Events include:       - Wake-On-Ring (external modem)       - Wake-On-LAN       - RTC timer to power-on the system 

HARDWARE MONITOR

 

Monitors CPU/system temperature  
Monitors 12V/5V/3.3V/CPU/VBAT(V)/5VSB(V)/DDR/AGP voltages  
Monitors CPU/chassis fan speed  
Automatic chassis fan on/off control - this prevents system overheat and prolongs fan life  
Read back capability that displays temperature, voltage and fan speed  
CPU Fan Protection function monitors the CPU fan during system boot-up  
CPU Temperature Protection function monitors CPU  temperature during system boot-up

AUDIO FEATURES

 

AC'97 2.2 S/PDIF extension compliant codec  
Supports Microsoft® DirectSound/DirectSound 3D  
AC'97 supported with full duplex, independent sample rate converter for audio recording and playback  
6-channel audio output

LAN FEATURES

 

Uses VIA VT6103 Phy chip       - Integrated IEEE 802.3, 10BASE-T and 100BASE-TX compatible PHY  
Uses Realtek RTL8101L fast ethernet controller       - Integrated IEEE 802.3, 10BASE-T and 100BASE-TX compatible PHY

ATA RAID

 

RAID 0, 1, 0+1 and 1.5  
Two independent IDE channels support 4 hard disk drives (UDMA modes 33/66/100/133 or EIDE)  
Supports PIO modes 0/1/2/3/4, DMA modes 0/1/2 and UDMA modes 0/1/2/3/4/5/6 

PCI IDE INTERFACE

 

        

Supports ATA/33, ATA/66, ATA/100 and ATA/133 hard drives
UDMA Modes 3, 4, 5 and 6 Enhanced IDE (data transfer rate up to 133MB/sec.)

SATA IDE INTERFACE

 

Uses Marvell 88i8030 chip  
Supports one SATA (Serial ATA) interface which is compliant with SATA 1.0 specification       (1.5Gbps interface)

IEEE 1394A INTERFACE

 

Uses VIA VT6306 chip  
Supports three 100/200/400 Mb/sec ports 

CPU SOCKET

 

Socket A  
Equipped with a switching voltage regulator that automatically detects 1.100V to 1.850V 

ACCELERATED GRAPHICS PORT (A.G.P.)

 

Supports AGP 8x up to 2132MB/sec. and AGP 4x up to 1066MB/sec. bandwidth for 3D       graphics applications 

REAR PANEL I/O PORTS

 

4 USB 2.0/1.1 ports  
2 RJ45 LAN ports  
2 DB-9 serial ports  
1 DB-25 parallel port  
1 mini-DIN-6 PS/2 mouse port  
1 mini-DIN-6 PS/2 keyboard port  
3 audio jacks: line-out, line-in and mic-in 

I/O CONNECTORS

 

1 connector for 2 additional external USB 2.0/1.1 ports  
3 connectors for 3 external IEEE 1394a ports  
1 connector for 1 external game/MIDI port  
1 connector for external line-out and mic-in jacks  
2 internal audio connectors (AUX-in and CD-in)  
1 4-channel audio output connector  
1 S/PDIF-in/out connector  
1 connector for IrDA interface  
2 RAID IDE connectors  
1 connector for serial ATA interface  
2 IDE connectors  
1 floppy connector  
2 ATX power supply connectors  
1 Wake-On-LAN connector  
3 fan connectors for CPU, chassis and second chassis fans

EXPANSION SLOTS

 

1 AGP slot that supports 8x/4x AGP  
5 PCI slots 

PCB

 

4 layers, ATX form factor  
30.5cm (12") x 24.5cm (9.64")    

All specifications above are subject to change without prior notice.
Now that we're done with the boring stuff, let's move on to the more exciting stuff like package contents and features.
Features
---
DFI definitely loads this board up in a every way it can — specifications, features and package contents. It seems like if they thought about it, they decided to include it. Pretty simple idea, eh? "Hmmm… that sounds cool. Include it! This sounds good. Include it! Oh yeah, and include those too!" I'm speculating of course, but it could have happened like that, right? 😉
333+MHz FSB (max. 400MHz)
CPU thermal protection
AGP 8x
DDR400
6-channel audio
S/PDIF
ATA/133
RAID 0, 1, 0+1 and 1.5
Serial ATA
USB 2.0 (up to 6 ports)
IEEE 1394a (up to 3)

UV Sensitive
        — Pure and stylish black PCB
        — UV-sensitive illuminated round cables, slots and sockets
Round Cables
        — Replaces old, fat and flat cables
        — Unique and cool UV-sensitive illuminated colors
        — Round-shaped design minimizes the clutter and maximizes the space in your case
        — Optimizing the airflow and temperature control of your sytem
        — 2 HDD and 1 FDD cables included
Dual LAN Connections
        — Enjoy WAN connection while communicating with LAN at the same time via 2 separate LAN ports
        — Saves you money and trouble on installing LAN cards
        — Perfect for LAN party fun and home networking purposes
Round Corner PCB
        — Provides better durability with a round corner design
        — Helps prevent motherboard edges from cracking during accidental bumping
FrontX
        — Optimizes links between on-board headers and case front panel
        — Simply choose your desired ports and create your own FRONTX system
        — Unlimited expansion possibilities: MIC, USB, FireWire, Speaker, anything goes
Live Update
        — Automatic online update of the latest BIOS from DFI database
        — Real-time service exclusively designed for DFI LANParty series owners
Ultra Bright Diagnostic LEDs
        — By looking at the LED status and referring to the manual, the diagnostic LED codes can help the user pinpoint where the system is having problems
PC Transpo
        — A solid and handy PC system transport gear
        — Travel with your PC anywhere
        — Absolutely perfect for all types of LAN party occasions
        — Thermal paste included
        — Fits full ATX tower
        — Can hold other accessories, such as keyboard, mouse, Cat5 cable and other equipment all together
        — Exclusive and oustanding LANParty gamer ID kit (case badge and sticker)
InterVideo WinDVD and WinRip included
        — The most popular DVD and MP3 software for free
        — Dolby Digital supported
Genie BIOS
        — Perfect for optimizing system performance and overclocking desire
        — Ultra fine-tune for CPU clock / multiplier / voltage
        — Great fine-tune capability for AGP, chipset and DIMM
        — CPU fan protection: Automatic system shut down when CPU fan failure detected
        — CPU temperature protection: Automatic system shut down when CPU is overheating
RAID 1.5
        — Fully support RAID 0, 1, 0+1 and the magical 1.5
        — The ultimate RAID 1.5 integrates the advantages of RAID 0 and RAID 1 with only 2 HDDs instead of 4
        — Performance improved, data secured and money saved
EZ On and EZ Touch
       — Custom-designed on-board power and reset switches
        — Perfect for PC DIY fans and overclockers
        — Start and reset your system without a case

Needless to say, the LANParty KT400A (and the entire series for that matter) packs in a LOT of features. For those of you interested in a cool looking board, there's the slick black PCB and UV sensitive slots, sockets and round cables. In the case of the KT400A and nForce2 boards, the UV reactive material and glow is a bright neon green. It looks great, and UV light really helps it make a bold statement, a big plus for those wanting to show off that LAN rig! The round cables are great. Other companies are including round cables in their packages now instead of the boring, flat ribbon cables, but this is the first set of UV reactive ones I've seen included. I do sort of wish though that one of the AMD-based LANParty boards used a different color, like the cool looking orange used on the Canterwood board. I'm just being picky, but it's actually one of my few complaints about the board. I'd rather have orange slots, sockets and cables. Orange is one of my favorite colors, and I really like how it looks on the black PCB and under UV light. For now though, I'll have to scrounge up an 800MHz Intel processor and settle for the Canterwood board to get my orange I guess. 😉

One of the most interesting features included with the LANParty KT400A is LiveUpdate, which is supposed to automatically keep your BIOS up to date by checking DFI's database periodically for you. DFI set this service up exclusively for LANParty owners. Very cool idea no doubt, but I'm not sure if I'm ready to hand over my BIOS to some auto-online update service. I'm sure we'll see more companies offering this or a similar service soon though.

Another very intriguing feature standard to the LANParty series is RAID 1.5. DFI developed this new RAID option so that users could get the benefits of RAID 0 (striping) and RAID 1 (mirroring) but only have to use two hard drives. It definitely has me interested, but I unfortunately do not have two drives to test it on. If I ever do get a second hard drive, I'll update this review with RAID 1.5 tests. Here's a simple explanation of how RAID 1.5 works from DFI's FAQs:

RAID 1.5 works as mirrored disk array when writing data with 100% redundancy. It works as striped disk array when reading the data. RAID 1.5 provides users the safety in data storage as RAID 1; and enhances the performance in reading data as RAID 0. It gives consideration to both safety and performance with only two HDDs performing the perfect job that can only be done with at least four HDDs previously.

In addition to LiveUpdate and RAID 1.5, FrontX is also another great feature that adds significant value to the LANParty package. Instead of creating a proprietary front access break out box like Chaintech (CBox) and Soyo, DFI opted to partner with the makers of FrontX. You can learn more about and order additional components for the FrontX system at FrontX.com. Included in the LANParty package are the pieces for two USB connections, 1 FireWire port and a mic and headphone jack. The FrontX device is installed in a 5.25″ bay and provides convenient front access to these ports / connections. Each type of connection has a connector that corresponds to a header on the motherboard that you connect it to. It's very easy to set up and prevents a lot of hassle.

The final feature I want to highlight before moving on to the package contents is EZ On / EZ Touch. DFI cleverly includes two on-board switches with the LANParty — one power button and one reset switch. So, that means you can actually power on and reset a LANParty motherboard without having it installed in a case. This is obviously quite handy for anyone with a test setup that does not involve a case. I'm not sure if I'll ever use them, but it's a cool and unique idea.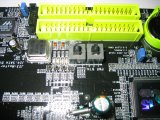 What's in the Box?
---
Opening the LANParty box is like having a mini-birthday party all to yourself. You get a bunch of great stuff, all tucked away in small boxes just begging to be opened up. The only thing missing was the wrapping paper and those stupid party hats! The box itself is very cool and really nice too! It has a handle, and the package design team did an excellent job making it attractive. The back shows off the cool UV reactive parts and displays the plethora of goodies to be found inside. And it's a really big box of course — has to be huge to hold all the great stuff neatly packed inside. Man, I thought the Chaintech Zenith boxes were big! This one is even bigger, easily the biggest I've ever seen. I put a DVD up next to it in one of the pictures below to give you an idea of its size. My compliments to DFI's packaging design and bundle team. They did an excellent job! The only bad thing is now I have to find a place to store that big box. 😉
DFI LANParty KT400A Box
(click thumbnail for bigger pic)
So exactly what will we find in the box? Here's the impressive list of "extras" bundled with the LANParty KT400A:
UV-sensitive round cables (2 IDE and 1 floppy)
PC Transpo (PC carrying gear for LAN parties)
FrontX front port access kit (includes 2 USB, 1 FireWire, 1 mic and 1 headphone connector)
S/PDIF bracket
Game port bracket
1 SATA cable
LANParty case badge and sticker
Thermal paste (small packet included with Transpo)
Quick Install Quide
Manual
Features booklet (covers WinDVD, RAID and RadarSync)
I/O shield
InterVideo's WinDVD and WinRip software
Drivers / utilities CD
RAID driver diskette



DFI LANParty KT400A Box Contents
(click thumbnail for bigger pic)
The round cables are very cool looking. In one pic above, you can see the colorful and handy Quick Installation Guide. Other companies include guides like this, but DFI's is thankfully in color and has many helpful images. Great little guide for newbies and for quick reference for some things. InterVideo's WinDVD and WinRip are great inclusions too. Thumbs up to DFI for including a case badge. Of course, it maintains the LANParty branding and theme, as does the included sticker. One thing I don't like is the simple and plain I/O cover. Why not color code it? Color would have been a nice touch, suited perfectly for such an excellent package. Both manuals are decent and fairly helpful.
DFI LANParty KT400A Box Contents
(click thumbnail for bigger pic)
PC Transpo is the main item featured in these pictures. PC Transpo is a PC carrying harness, and I'm sure LAN gamers can appreciate its inclusion in the package. It makes carrying around your PC much easier and less of a hassle. This one even sports the LANParty logo. There's also a shot of the motherboard itself. Those are some bright green sockets and connections, eh?
DFI LANParty KT400A Box Contents
(click thumbnail for bigger pic)
Last but not least, there is FrontX. This is a very convenient and flexible front port access kit that lets you choose what ports and connections you want. The kit included with the LANParty comes with two USB ports, a FireWire port, a mic input and headphone jack. All of these are great to have at the front of the case for quick and convenient access.
Installation and Board Layout
---
Overall, installing the LANParty KT400A went well, but I did discover some things I don't like about the board layout. There are several examples where some things just seem too cramped together, and they make me wonder why DFI engineers decided to put some parts so close together. Admittedly, I don't have any formal education about board layout and design, but I don't think there is a necessity for some of the placement choices.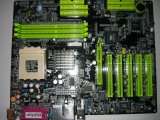 As you can see in the picture above, there is a lot of stuff on the board, but it is not overcrowded by any means. In the four pictures below, I broke the board up into four quadrants to give you a better look at the layout. In the first pic, you can see the DIMM sockets and IDE connections. Additionally, if you look closely, you can see that there are several capacitors located strangely close to the DIMM sockets. While they didn't really interfere with RAM installation, I didn't like them being so close, because the Kingston RAM's heatspreaders end up right against the caps. Now take a look at the second image. Once again, I can't figure out why DFI would put the battery so close to the RAID IDE connections. Maybe this was necessary in order to curve the board's corners? I'm not sure. Again, this won't cause any problems. I just don't understand the logic behind some of the locations of components. This picture also shows the RAID chip, the VIA VT8235 chip, a fan header, USB header (yellow, near top of PCI slots), the on-board power and reset switches and more.
The third picture (bottom, left) shows the CPU socket, big northbridge heatsink, the power connection, CD-in and AUX-in, CPU fan header, etc. A couple cramping issues can be found here I think. First, look at all the caps right next to the CPU socket. I'll get into this more in a little bit. The CD-in and AUX-in connections are right next to the back of the I/O panel's audio connections! It's a very tight squeeze and was a little bit of a hassle to hook up my CD-RW's audio cable. Also notice that the location of the power connection will more than likely lead to the main power cable running over your CPU heatsink and fan. In the last picture, you'll find the PCI and AGP slots. The AGP slot has an interesting retaining mechanism that I've never seen before, and it seems to work well.
DFI LANParty KT400A — Board Layout
(click thumbnail for bigger pic)
By now, you probably think that I don't like anything about the board layout. That's not true though. I'm just pointing out things you should be aware of before dropping your hard earned cash on this board. The layout is fine overall really. I just ran into some spots where extra caution was necessary to avoid damage, such as knocking off a cap. Every board seems to have issues though, and many of the same issues.
The next four pictures just show you some features a little more closely or at a different angle. The main thing I was trying to highlight in the first picture below was the small, light blue dip switch, which is used to set the front side bus speed. The next image shows the LANParty logo, which is located towards the center of the board. Notice that it's a white, shiny color that will react well to UV light! In the third pic, you can see those caps crowding around the CPU socket and check out that big hunk of metal on the northbridge. Finally, the last pic just shows the I/O panel.
DFI LANParty KT400A — Board Layout
(click thumbnail for bigger pic)
Enough about the layout; let's discuss my actual installation experience now. As I alluded to above, I did have some problems with the caps being so close to the CPU socket. Installing the CPU was simple, but trying to get my Volcano 9 on was a bugger! Look closely at the pics, and you can probably figure out the main problem. The three retaining hooks off the socket are lined up perfectly with three big capacitors and only millimeters away from them!!! Another really confusing decision to me. Why not orient the entire socket the other way (as in 90 degrees counter-clockwise) like the nForce2 boards I'm used to. Getting the Volcano 9 down and secured properly was a challenge, and I was convinced that I'd break off a cap before finishing. Luckily, I was patient enough to not damage the board and successfully installed the heatsink and fan without incident. Most of the rest of the components and hardware were much less challenging and quite easy to install.
DFI LANParty KT400A — Installation
(click thumbnail for bigger pic)
While I did run into some issues (well, one major one) during hardware installation, I had absolutely no problems installing software. Windows XP Pro installed like a champ, and I updated it to SP1 without even the tiniest hiccup. Moving on, I slipped in the included "Mainboard Utility CD" and installed what I needed from the straightforward menu that popped up after auto-running. I installed the included VIA service pack, both sets of LAN drivers and audio drivers. It was quite painless.
Here are some pics of the motherboard installed, including a shot with lights off and UV lights on. I used a small round cold cathode (from a UV cold cathode fan) and a couple UV LED fans to try to get the glowing effect. It would look a lot better with more UV light of course. The second pic shows the bright diagnostic LEDs on the board. There are several of them, and they actually add a lot of light inside the case.
DFI LANParty KT400A — Installation
(click thumbnail for bigger pic)
BIOS
---
DFI went with the Phoenix Award BIOS for the LANParty KT400A, and to provide CPU/DRAM overclocking and CPU/AGP/DRAM/Chipset overvoltage, they include Genie BIOS. Genie BIOS is just a menu within the main BIOS.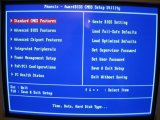 I'm not going to cover the BIOS in depth, but here are some pictures of the BIOS screens and a brief comment about each one.
DFI LANParty KT400A — BIOS
(click thumbnail for bigger pic)
Just your typical advanced BIOS features. Nothing too special here.
Go here for DRAM Clock / Drive Control, AGP & P2P Bridge Control and CPU & PCI Bus Control.
Here is where you can change RAM latency settings. This is slightly more complex than what I'm used to, but I have an idea of what most of it means.
CAS Latency can be changed to 1.5, 2, 2.5 or 3. That's interesting; I've never seen 1.5 available before!
Set up the onboard devices through this menu.
View current temps, voltages and fan speeds. Also can enable / disable CPU fan protection and temp protection.
Genie BIOS — where the real tweaking is done! 😉
Adjust the CPU clock from 133 to 165 in 1 MHz increments. 165 seems kind of low to me for the max CPU clock.
Adjust the CPU multiplier.
Adjust the DDR DRAM clock to "By SPD," 200, 266, 333 or 400 MHz.
System Performance
---
To test the system performance of the DFI LANParty KT400A, I used SiSoft Sandra 2002 and PCMark2002. I compare the board to the AOpen AK79G Max nForce2 motherboard. I found that the board scores a little higher in benchmarks with the memory set at 400MHz, so this is what it was set at unless otherwise noted. I left the front side bus (FSB) at the default 133MHz (266MHz).
Test System:
DFI LANParty KT400A
AMD Athlon XP 2100+ w/ Thermaltake Volcano 9 HSF
512MB Kingston HyperX KHX3500 (2x256MB)
Maxtor 80GB Ultra Series ATA/133 8MB Buffer
NVIDIA Drivers Version: 41.09
SiSoftware Sandra 2002
Sandra 2002 Scores
(click thumbnail for bigger pic)
DFI LANParty KT400A
AOpen AK79G Max

2012 Int / 1922 Float

2052 Int / 1953 Float

Drive Index 31286

Drive Index 30683

4816 Dhry / 2408 Whet

4800 Dhry / 2405 Whet
Futuremark PCMark2002
PCMark2002 Scores
(click thumbnail for bigger pic)
DFI LANParty KT400A
AOpen AK79G Max

| | |
| --- | --- |
| CPU: | 5130 |
| Memory: | 3280 |
| HDD: | 1243 |

| | |
| --- | --- |
| CPU: | 5164 |
| Memory: | 3604 |
| HDD: | 1148 |

| | |
| --- | --- |
| CPU: | 5247 |
| Memory: | 3940 |
| HDD: | 1226 |
In the SiSoft Sandra tests, the LANParty KT400A can't quite hang with the AOpen AK79G in the memory test, but it doesn't get beaten by much. On the other hand, the LANParty board edges out the AK79G in the file system test by over 600 points and barely surpasses it in the CPU arithmetic tests. PCMark shows a slightly different story. The two boards perform similarly in the hard drive test, but the AK79G wins over the LANParty KT400A in both the CPU and memory tests, with the AK79G's memory score over 300 points higher.
I didn't do any formal testing of the on-board LAN connections or sound, but I did pay attention to their performance during every day use. Both LAN connections work great. I had no problems with either one. The on-board sound is adequate, but like most integrated sound, you might want to replace it with a sound card if you are an audiophile or want the very best surround sound. I think it would be just fine though for the average LAN gamer and average user though.
Gaming Peformance
---
I tested the LANParty KT400A and compared it to the AK79G Max's gaming performance using Quake 3 Arena's four demo in Q3Bench and Futuremark's 3DMark2001 SE. When running these tests, anisotropic filtering was disabled, and performance was set to balanced. I chose to include the results for no AA (anti-aliasing) and 2x AA. The general trend displayed by the results provided below was maintained at other resolutions and different quality settings. I will also note for those unfamiliar with the Gainward Ti4800SE Ultra/750-8X that its clock speed is 275MHz / 550MHz (core / memory).
Futuremark's 3DMark2001SE
Setting: NoAA, No Anisotropic filtering
| | |
| --- | --- |
| Mobo w/ Ti4800SE | Score (3DMarks) |
| | 1024×768 |
| DFI LANParty KT400A | 10527 |
| AOpen AK79G Max | 10976 |
| | 1280×1024 |
| DFI LANParty KT400A | 8575 |
| AOpen AK79G Max | 8990 |
Setting: 2xAA, No Anisotropic filtering
| | |
| --- | --- |
| Mobo w/ Ti4800SE | Score (3DMarks) |
| | 1024×768 |
| DFI LANParty KT400A | 8467 |
| AOpen AK79G Max | 8804 |
| | 1280×1024 |
| DFI LANParty KT400A | 6440 |
| AOpen AK79G Max | 6526 |
Quake 3 Arena (Q3Bench, Four Demo)
Setting: NoAA, No Anisotropic filtering
| | |
| --- | --- |
| Mobo w/ Ti4800SE | Score (Frames per Second) |
| | 1024×768 |
| DFI LANParty KT400A | 180.9 |
| AOpen AK79G Max | 201.9 |
| | 1280×1024 |
| DFI LANParty KT400A | 163.3 |
| AOpen AK79G Max | 172.9 |
Setting: 2xAA, No Anisotropic filtering
| | |
| --- | --- |
| Mobo w/ Ti4800SE | Score (Frames per Second) |
| | 1024×768 |
| DFI LANParty KT400A | 166.4 |
| AOpen AK79G Max | 176.7 |
| | 1280×1024 |
| DFI LANParty KT400A | 126.8 |
| AOpen AK79G Max | 127.5 |
The AOpen AK79G performed better in every test, but as AA level and resolution is increases, the AK79G's lead decreases. The LANParty KT400A performed as I expected it to, and I think it would make one heck of a LAN rig motherboard, not only for its looks but for its solid performance as well.
Conclusion and Final Score
---
I really like what DFI is doing with the LANParty series, and the KT400A is a strong candidate for an AMD processor home when you consider its performance, features and bundle. I definitely recommend it for any VIA chipset fans wanting a unique and stable motherboard. Personally though, I'm more excited about the nForce2 and Canterwood LANParty boards as they will offer better performance and include all the great features and bundle as well (but at a higher price).
I'm awarding the DFI KT400A an 8.8 out of 10 and the Bjorn3d Seal of Approval!
Final Score Breakdown
Performance

8

Overall, the LANParty KT400A is a strong performing AMD-based board, but you probably won't see it beat out many nForce2 solutions. More than adequate for a LAN rig, which is its target purpose.
Features

9.5

DFI packs in more than just your average features like ATA/133, SATA, etc., and the extra features are actually innovative and useful, such as the on-board power and reset switches, RAID 1.5 and dual LAN. Then there's the not so useful but really cool UV sensitivity of the sockets, slots and round cables! LiveUpdate is also an interesting feature worth looking into more.
Bundle

10

A lot of value is added to this package by the bundle. The round cables, FrontX and PC Transpo are big pluses in my book. They add convenience and help you or your system in some way, i.e. better air flow (round cables) and convenient front port access (FrontX). Thermal paste, WinDVD, WinRip, case badge, LANParty sticker, and more and more. Great stuff!

Installation

7

I had some issues with physical, component installation due to the board layout, especially with the Volcano 9 heatsink, but software and driver installation was totally problem-free.

Value / Price

9.5

You can find this motherboard for around $150, which is a really good price considering the size of the bundle and the extensive list of features. If you bought, FrontX, PC Transpo and the round cables separately, you'd probably spend more than $50 in total. The bundle really does add a lot of value to the LANParty package. In addition, you get a great performing KT400A board that will look great in an acrylic case or a case with windows.
Total: 8.8
The DFI LANParty KT400A is a solid performing and feature-packed motherboard with an awesome bundle that can be found at a very reasonable price. PriceGrabber currently has it listed for about $150 (with S&H).