The popularity of dual channel DDR (DCDDR) memory configurations seems to only be increasing, especially as more and more Intel and AMD based boards are becoming available with chipsets that support DCDDR. In early 2003, Corsair introduced TWINX memory kits to meet the demand of enthusiasts wanting high quality and high performance matched pairs. Read the review to learn more about TWINX.
Introduction
---
As the popularity of dual channel memory configurations continues to increase, so does the demand for matched pairs of DDR DIMMs. Corsair was the first company I noticed offering tested and packaged pairs of RAM with their TWINX line, which was introduced back in January of this year. The main idea behind this is to eliminate the guess work and luck involved when consumers go out to buy two sticks of RAM for their new dual channel DDR motherboards. Some people found when they bought two of the same brand, size and speed of unmatched RAM that one stick would significantly outperform the other, which can be a real bummer. Corsair decided to simplify this process and eliminate the headache by rigorously testing pairs of the popular XMS line and then packaging and selling the pairs that passed the tests as TWINX memory kits. TWINX — as a twin, I'd have to say that's a brilliant name. 😉
Corsair takes the TWINX line very seriously and makes sure every set passes numerous tests before shipping them out. The XMS line also goes through very stringent testing, but the TWINX line goes several steps beyond that to ensure that the buyer will get top notch dual channel DDR performance. Today, I'll be testing out the TWINX512-3200LL kit, which is a matched pair of CMX256A-3200LL (PC3200 or DDR400 low latency) memory DIMMs. Read on to see how the TWINX kit compares to Corsair's own XMS3500 and Kingston's HyperX KHX3500.
Specifications & Features
---
Corsair TWINX512-3200LL
What Corsair has to say about TWINX:
"The TWINX(TM) memory kits are composed of two low latency memory modules that have been tested as a pair in an Asus A7N8X dual channel motherboard. The matched pair of modules are then physically packaged together, guaranteeing that the customer receives a product that has been verified in the dual channel environment."
TWINX512-3200LL Specifications:
Part Number: TWINX512-3200LL
Speed: 400 MHz (PC3200)
Size: 512MB (2 x 256MB)
Organization: 2x32Mx64
Package: 2×184 DIMM
Latency: 2-2-2-6-T1
32M x 8 DDR SDRAMs with 5.0 nanosecond access time
TWINX Kit Features:
512 Megabytes of memory — Two matched CMX256A-3200LL memory DIMMs
Dual channel testing environment — 200MHz nForce2-based test setup
Tested and packaged in pairs

Modules tested together in Asus A7N8X-based test setup
Packaged together immediately following system test

Benchmarked using both nForce2 and Intel "Granite Bay" chip sets
Plug-n-Frag(TM) Auto-Configuration — Boots automatically using low latency values
Tested at ultra-low latency settings (2-2-2-6), command rate of 1T
Legendary Corsair reliability and service
Integrated black aluminum heat spreader for improved thermal performance
Lifetime warranty
Corsair TWINX512-3200LL
(click thumbnail for bigger pic)
In the pics above, you can see the cool black aluminum heat spreaders. These are supposed to help keep the memory chips cooler, but I'm not sure how much they really help. They do look damn cool though! Much better than seeing some plain old ugly green PCB. The packaging in the above picture is actually going away. You can see the new packaging here (looks a little nicer, eh?).
TWINX is available in several different flavors. Currently, it can be found as 512MB and 1GB kits in either PC2700 or PC3200 speed, so you can choose from TWINX512-2700LL, TWINX512-3200LL, TWINX1024-2700LL and TWINX1024-3200LL.
Performance / Benchmarks
---
As with the previous RAM I reviewed (High Performance DDR Comparison: Corsair XMS3500 vs Kingston KHX3500), I'm going to keep the benchmarks pretty simple. That will also allow comparison to the XMS3500 and KHX3500. So, I used SiSoftware Sandra 2002, PCMark2002 and 3DMark2001 to test out the TWINX512-3200LL kit.
Test System:
AMD Athlon XP 1700+ w/ Speeze HSF
Corsair TWINX512-3200LL (2x256MB PC3200 DDR)
Western Digital 80GB SE 8MB Buffer HDD
Pioneer 16X Slot DVD
OS: Windows XP Pro SP1
NVIDIA Drivers: 41.09 Detonators
NVIDIA nForce Drivers: 2.03
To make comparison easier, I just brought over the table from my previous review, which lists the benchmark results of 2x256MB Corsair XMS3500 and 2x256MB Kingston HyperX KHX3500. So all tests were completed in a dual channel DDR configuration. The table for the TWINX results is on top and the XMS vs HyperX table is on bottom. I highlighted the highest score in each benchmark at each speed between the three with red text (is that too many prepositions or what?).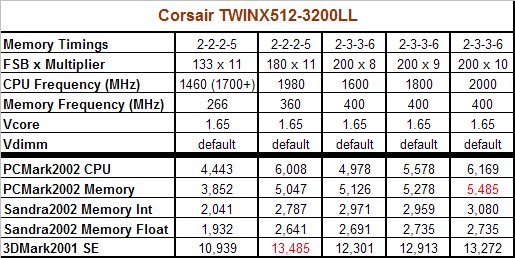 The results aren't that surprising. The TWINX performs very similarly to both the XMS3500 and KHX3500. What did surprise me though was that I was getting BSODs (blue screens of death) at start up when I bumped up from 180MHz FSB (front side bus) to 200MHz with the memory timings at 2-2-2-5 (Cas – T(RP) – T(RCD) – T(RAS)). I figured that the TWINX would have no problems with 2-2-2-5 even though it's rated at 2-2-2-6. I swear I've seen other people hit 200 with those tighter timings. Oh well, so I bumped it to the tested 2-2-2-6 settings, but still the BSOD reared its ugly head. I finally reached stability with a 200MHz FSB at 2-3-3-6 as you can see in the last three columns in the first table above. Strange and maybe a little disappointing, but in my experience at least, this slight change in timings won't be significantly noticeable in performance. I did try to bump the DIMM voltage, but my 7NJS board was not saving the change for some reason. I think it's time for a BIOS update! The TWINX did beat out the XMS3500 and KHX3500 though as far as having the most aggressive timings for a stable 200MHz FSB with my test setup.
— ed. Turns out there's a technical explanation as to what was going on with the TWINX3200LL's timings… Here's a summary of info I received from Robert at Corsair.
The kit I have consists of older TWINX3200LL modules that had a problem with T(RCD) set at 2. It is a chipset/BIOS issue, and Corsair is working hard to resolve the issue. Since the issue hasn't been resolved yet, Corsair has relaxed the T(RCD) to 3 in the SPD. So that means the settings are now 2-2-3-6, and Corsair is recommending to end users to manually change this, which will alleviate any problems.
Conclusion
---
Corsair is known for its solid performing, enthusiast-oriented memory, and the TWINX fits that bill nicely. The TWINX512-3200LL provides great performance, stability, nice timings (although I couldn't quite get them as tight as the specs claim for some reason), good looks and an excellent lifetime warranty backed by Corsair's solid support. I'm quite pleased with the TWINX kit, and I do think it's worth the $155 or so that you can find it for on Pricegrabber.
While you could get 512MB of high performing PC3200 (or PC3500 even) RAM for less money, you probably won't be able to find the same quality and reputation that the Corsair name carries. It's easy to recommend the TWINX kits. They are a great solution for those wanting a good matched pair for dual channel DDR motherboards. I'm awarding the TWINX512-3200LL memory kit from Corsair an 8.5 out of 10 and the Bjorn3d Seal of Approval.