If you're looking for a new stylus for your PDA, then you might want to give the new Belkin Quadra 4-in-1 Pen a good hard look. It offers an unusual array of features at an outstanding value. How often does that happen these days?!
Introduction
---
It's been said that the pen is mightier than the sword, and this is especially true if that pen has an integral laser! Okay, okay, maybe it isn't a death ray, but the new Belkin Quadra 4-in-1 does in fact have a laser albeit just of the pointer variety! It also has some other goodies that may well be of interest to you if you're looking for a new stylus/pen combo for your favorite PDA.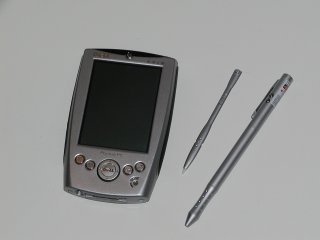 Specifications & Features
---
Specifications:
Here's the official low down on the Quadra from Belkin's site:
The Quadra 4-in-1 Pen includes a very bright LED beam that lights up your reading material virtually anywhere. It also features a laser pointer with a 500-yard laser emission range, a ballpoint pen with a quick, sturdy propel-and-retract mechanism, and a PDA stylus with a plastic tip for smooth navigation.
Advantages
Handy LED Reading Light
Laser Pointer for presentation
Ballpoint Pen
PDA stylus for easy navigation on your PDA most Fragile component- the screen.
Replacement batteries: SR41, LR41
Package Contents:
Quadra 4-in-1 Pen
4 batteries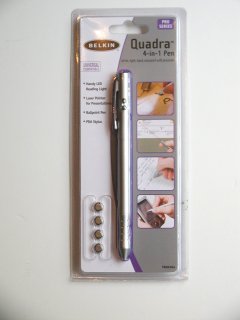 Okay, so there's not a whole lot there. It's a pen after all, what did you expect?!
Performance
---
When you pick up the Quadra you immediately notice that it has a solid feel to it without being heavy. It's constructed of aluminium and appears to be very well machined. The laser and the LED lights are recessed into the top part of the pen above the pocket clip and are activated by buttons along the side. Opposite the clip is your ubiquitous warning label common to all products using laser beams. The lower half of the pen contains a traditional black pen and a PDA stylus that are accessed by twisting the shaft of the pen either left or right, depending on which item you want. The included batteries are installed simply by unscrewing the top portion of the pen and dropping them in and reassembling the unit.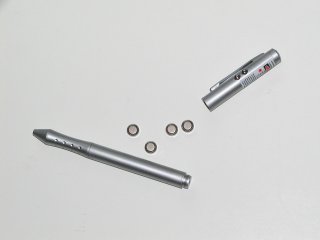 Operation of the laser and the LED is pretty simple. Just press the respective button (top button for the LED and bottom one for the laser) and each item comes on and stays on as long as you hold the button. Let up on the button and they turn off. While fine for the laser, I would have liked to see a steady on option for the LED light. Although the "press to use" option works well enough for most uses, it might have been nice to have the option to leave the light on if you were trying to use it to read with or for some other task that takes more than a few seconds at a time. Other than that minor gripe, about the only real problem with the buttons may be that they are a bit too easy to activate. I found myself inadvertently hitting the laser and LED buttons many times when I was trying to get the pen out of my pocket or PDA case. Getting a quick blast in the eyes of light or laser while you're rummaging through your PDA case for your pen can be mildly disconcerting at times.
Speaking of cases, I found that the Quadra fit nicely into the GrinderGear Expedition PDA case that I reviewed recently, so I added it to that and carried it around for the past few weeks of testing. This gave me a chance to try out the Quadra in some real world settings. Let's take a look at each of the features individually.
The Pen:
Well, there isn't too much to say about the pen. It's a perfectly functional black pen. The overall feel and balance of the Quadra make it comfortable to use, and it's more than sufficient for jotting down short reminders or taking notes through a long class or meeting.
The Stylus:
I have to admit I really came to like the stylus feature of the Quadra. While nothing exotic in and of itself, it had a good solid feel to it, and it worked well when used in conjunction with my Dell Axim PDA. I've been rather discouraged with the stylus included with the Axim, and it had sort of spoiled my enthusiasm for the device. It was way too light and flat and seemed rather awkward to use. I was very pleased to see that my data entry and text recognition actually improved considerably when I was using the Quadra for these functions. Its solid feel and comfortable hold apparently made a lot of difference when it came to entering text. My accuracy rate went back up to about the same standard as my old Handspring Visor Prism and its heavy steel stylus.
The Laser:
Ah, the laser. This one appealed to my juvenile sensibilities more than my practical ones. While it worked just fine at pointing things out from the rear of a rather large classroom, I must confess that I spent much more time using it to torment my cat and annoying others during class. Regardless of which purpose I was using it for though, it worked fairly well. The dot was bright and easy to see at any normal business or classroom distances. I didn't see the need to test it out up to its specified 500 yard range since I couldn't really see the dot at that range without some sort of optics anyway, and I couldn't figure out what I would need to point out at that distance if I could! I would get an occasional flicker in beam intensity now and again but nothing that detracted from its pointing capability. I found that battery use increased considerably when using the laser, although I still managed to get about a month's use out of it using it a few times a week during that period.
The LED:
The LED was perhaps the coolest feature on the Quadra in my opinion. While it doesn't have the glitz of the laser, I found it more generally useful. It was handy for rooting around for keys or other stuff in my backpack or duty bag and inside the car at night and very early in the mornings. The light brightness seemed pretty comparable to my MiniMag Solitaire and was good enough to read by comfortably in the dark. At the same time, the LED's subdued hue is soft enough that it likely wouldn't bother folks sitting nearby you either, so it would be handy for airplane or bus use as well.
One of the big advantages of an LED light is its long battery life. I've used this one for quite a bit over the past month, and it's still going strong, even though the batteries have drained enough that the laser barely activates right now. I'll likely keep running it for a while and see how much longer I can go before I need to replace them. It definitely has a much longer usable life span than a conventional mini flashlight would have.
Conclusion
---
When I first got my Quadra 4-in-1 for a review, it was apparent to me that it was a quaility product and a cut above the normal 3-in-1 stylus pens I'd looked at previously. When showing it around to the guys at work (who ooh'd and aah'd over the integral laser and LED), I was asked repeatedly how much the pen cost. I hadn't done all my homework on it at that point, so I just shrugged and said I was betting somewhere in the $50 range. None of the guys seemed surprised when I said that. While pricey for a pen it wouldn't have shocked me too much since many basic 3-in-1 stylus pens (containing a stylus, a pen and a mechanical pencil) tend to start at $15-$20 and keep going up from there. I just assumed that the laser and LED would pretty much double the price of the pen, and I still didn't consider that outlandish considering other products on the market. Imagine my surprise when I jumped on to Belkin's website and found out that the going price is only $19.99! I thought this was very reasonable for what you were getting.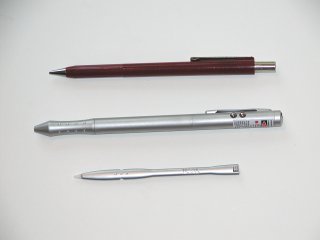 Overall, I was very impressed with Belkin's Quadra 4-in-1 pen. While just a touch larger than a regular pen, it was still handy and comfortable and fit anywhere a normal pen would have (PDA cases, briefcase pen slots, etc). It worked great as a stylus, gave me the utility of having a regular pen around for mundane paper applications and offered a high tech twist with the laser and LED, items not often seen in other PDA accessories. While I would have liked to see a few minor improvements, like the addition of a mechanical pencil, I guess I can always wait and hope for a 5-in-1 pen from Belkin! In the meantime though, the Quadra offers a superb value if you're in the market for something a little beyond your regular stylus pens.
Pros:
Solid construction
Good data input with the stylus
Convenient, long lasting LED light
Laser for presentations, etc.
Very affordable retail price

Cons:
No mechanical pencil
Laser caused heavy battery drain
No steady on button for the LED light

For a great combination of features and quality at an outstanding price, I'm giving the Belkin Quadra 4-in-1 Pen the Bjorn3d Seal of Approval!