Got a case of the PC blahs? Beige got you bored? Try a Casewrap for a colorful quick fix!
Introduction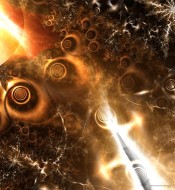 As much as I love my Antec SX-1030 case, its looks leave a bit to be desired. To put it bluntly, it's boring. No cutouts, no windows, just lots and lots of beige metal and plastic. But how to liven it up? The removable panel faces towards the side of the desk, so it's pointless to put in a window or fan grill. I've seen many cool paint schemes, but I draw worse than my 4 year old and I don't have the time or desire to mess around with automotive paints anymore (they eat your brain).
Fortunately, Casewraps and Crazy PC have a solution. Casewraps produces and Crazy PC sells vinyl wraps that cover a portion or all of your case. The wraps are adhesive-backed and can be trimmed to fit just about any configuration. We received a 19″ wrap from Crazy PC entitled "Copper Discord" by artist Creativ82. It is sufficient in size to cover the non-removable side of my Antec case – just the thing I was looking for to liven up a boring exterior!
Specifications
The wraps are made from 3M vinyl automotive decal material; they're a little stinky when first opened, but they won't eat your brain. 🙂 Each wrap comes with clearly illustrated instructions and a plastic squeegee applicator. Panel wraps are 17.5″ x 19″; full case wraps are 17.5″ x 44″. The full case size will cover both sides and the top of a PC. Casewraps also does custom work in case you're artistically inclined or have an image you want reproduced.
Colors are vibrant and the finished product looks air-brushed onto the PC. Pictures do not do it justice!
Installation
Application is incredibly easy (as you can see in the official instructions):
Clean the side of your case.
Peel back a section of the backing paper to reveal the sticky side of the decal.
Test fit the wrap.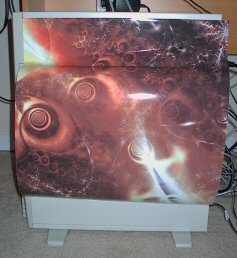 Test fit from the top. Wrap can be moved and adjusted.
Continue to peel and fit.
Smooth out any air bubbles with your hand or the squeegee.
If necessary, run a hair dryer over the wrap to ensure it fits snugly. This step is recommended by Casewraps, but my application did not require it.
The entire process took me less than 15 minutes, including time for photos. I think the results look fantastic! And, if you tire of the look, just take off the wrap and get a new one (paint solvents eat your brain faster than auto paint).
Conclusion
Casewraps are durable, good looking, affordable, and easy to install. It's a perfect method for adding some excitement to a boring case without investing a lot of time or money. In addition to PC cases, Casewraps also makes Gamewraps for consoles, and LAPTOPwraps for, well, laptops. We highly recommend Casewraps and award them a 9 out of 10 and the Bjorn3D Golden Bear.