After getting through some headaches with installation, the AK79D Max proved to be a pretty good board. It's very stable and offers a lot of features. In this review, I compare this nForce2 mobo to a KT400 board to see which is really better.
Introduction
---
About seven months ago I was in the market for some PC upgrades, which included a new motherboard. I wanted to get the most bang for my buck, like any sensible consumer. At the time, the chipsets I had to choose from were VIA's KT333 and KT400 and NVIDIA's nForce. Unfortunately, that's the first generation nForce that I'm talking about. The nforce2 chipset was not quite out yet. I delayed my purchase for a little while hoping motherboards with the highly anticipated nForce2 chipset would enter the market. My patience grew thin, so I opted for a motherboard with the KT400 chipset, the Gigabyte GA-7VAXP. Actually KT400-based mainboards were fairly scarce at that time, too. I opted for the KT400 over the more mature KT333 since it had some better integrated features, and it was more cutting edge. But, now, thanks to AOpen (and bjorn3d, of course), I have my chance to see if all this hype about the nForce2 chipset is justified.
AOpen's AK79D Max is the motherboard that I have been given the opportunity to review. This board is nearly identical to the AOpen AK79G Max that Shane reviewed in early April. The difference is that the G replaces the D in the model name, and the G obviously denotes integrated graphics. So, hopefully you've figured out that this is basically the same board minus the integrated Geforce4 MX capability. Of course, it has all the other goodies you'd expect from an nForce2 motherboard, like integrated LAN controller, sound, USB, and IEEE1394. And that's only the tip of the iceberg for the AK79D Max's feature set. Since Shane's review covered all of the features that are shared by the AK79D and G and probably covered some in more detail, you may want to check out his review if you're wanting more information or different thoughts about these features.
To make this review a little different, I decided to do a comparison of my old Gigabyte GA-7VAXP and the AK79D Max with two different memory configurations. I've always wondered how much I could benefit from a dual channel memory architecture, so I decided to try to answer that question with this review.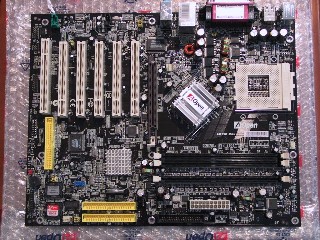 Please keep in mind that the board discussed in this review is an engineering sample. Nothing physically looks different from the same board on AOpen's website; however, AOpen could have tweaked some timings or anything else for final production boards.
Specifications & Features
---
Here are the obligatory Specs and Features tables, taken from AOpen.
Specifications:
CPU
AMD Athlon XP/Athlon/Duron CPU
Socket A
333MHz
Chipset
nVidia nForce2 SPP
nVidia MCP-T
Super I/O
Winbond (W83627HF)
Clock Gen.
Integrated in Chipset
Max Overclocking : 400Mhz (EV6)
Main Memory
Dual Channel Mode (128 bit)
Support DDR400
DDR DIMM x 3
DIMM Type : 64/128/256/512MB & 1GB
Max Memory : 3GB
Graphics
8X AGP slot
IDE
Integrated ATA133 Controller
Promise ATA133 and Serial ATA Control Chip
Max Disk : 144,000,000GB
LAN
Integrated nVidia 10/100Mbps LAN Controller
Realtek PHY (RTL8201BL)
Sound
Realtek AC'97 CODEC on-board (ALC650E)
5.1 Channel
USB
Integrated in chipset
USB2.0 x 6
IEEE 1394
Integrated nVidia 1394 Controller
AGERE PHY (FW802, 2 ports)
Slots
AGP x 1
PCI x 5
ACR x 1
Storage & Back Panel I/O
Floppy Drive Connector x 1
IDE Channel : ATA133 x 3
Serial ATA Channel x 2
PS/2 Keyboard x 1
PS/2 Mouse x 1
USB Port x 4
LAN Port x 1
COM Port x 1
Printer Port x 1
Speaker_Out x 1
Line_In x 1
MIC_In x 1
On Board Connector
Front Panel x 1
Front Audio x 1
CPU FAN x 1
System FAN x 1
Chassis FAN x 1
Case Open Connector x 1
AUX_IN x 1
CD_IN x 1
IrDA x 1
S/PDIF x 1
Dr LED x 1
COM2 x 1
Game Connector x 1
IEEE 1394 x 2
USB Port x 2
BIOS
Award PnP 4Mb Flash ROM BIOS
2nd Flash ROM for DieHard BIOS
Form Factor
ATX
Board Size
305 mm x 244 mm
Software & Utility
Acrobat Reader
AOconfig utility
EzRestore/ProMagic
EzSkin utility
EzWinFlash utility
Norton Anti-Virus
Online eBook Manual
SilentTek Software
WinDMI utility
Features:
Support 333MHz System Bus AMD Athlon XP/Athlon/Duron Socket A CPU
Support Limited DDR400
Dual Channel Memory Mode
Support ATA133 IDE Interface

 (additional 80-wire cable included)

IEEE 1394 on-board
Serial ATA on-board
Support AGP 8X
Hyper-Transport Technology
CPU Jumper-less Design
1MHz Stepping CPU Overclocking
1MHz Stepping AGP/PCI Overclocking
Adjustable CPU Vcore through BIOS
Adjustable AGP Voltage
Adjustable Memory Voltage
Large Low ESR Capacitors
AGP Protection Technology
AMD XP Over Heat Protection (OHP)
CPU Over Current Protection (OCP)
Hardware Monitoring
Chassis Intrusion Detector
Resetable Fuse for Keyboard and USB

AC Power-On Auto Recovery
Multi-Language BIOS
Wake on Keyboard / Mouse
Wake on LAN
Wake on Modem
Wake on PCI Card
Wake on RTC Timer
Suspend to Disk (ACPI S4)
Suspend to RAM (ACPI S3)
BIOS Virus Protection

 (2nd Flash ROM included)

AOpen Black Pearl PCB
Full Colored Easy Installation Guide
AOpen Bonus Pack CD
Norton Anti-Virus CD included
With all these features, the AK79D Max allows for a lot of flexibility. It seems as if AOpen is trying to appeal to the tweakers and overclockers with the various voltage and stepping settings in the BIOS as well as the PC user who may be looking for something new with features like the JukeBox CD player and VividBIOS.
Package Contents:
Easy Installation Guide
Enhanced Full Pictured Manual
EzRestore Guide
Bonus Pack CD disc
Norton Anti-Virus CD disc
Floppy Disk cable
1 40-wire IDE cable
1 80-wire ATA133 cable
1 Serial ATA cable
IEEE 1394 cable/bracket
Two ports USB2.0 cable/bracket
S/PDIF cable/bracket
Back Panel I/O Shield
Package Contents
(click thumbnail for bigger pic)
I commend AOpen for nicely packing all this stuff and the motherboard in a box that is smaller than any motherboard box I have ever seen. I think any amount of reduction in packaging is a good thing. So AOpen gets props from me for that, especially when you consider the size of the heatsink (see picture on next page) and some of the capacitors on this board. The so-called Bonus Pack CD contains all the stuff that should be packaged with the board, such as the driver and utility installation files, as well as a few extras, like Adobe Acrobat Reader 5.0 and Microsoft DirectX 8.1. These extras are nice but not quite what some would consider a "Bonus Pack," but to each his own, I guess.
Installation and Setup
---
Since the main point of this review is the comparison, I am going to keep the other parts fairly brief and recommend a thorough reading of Shane's AK79G review to anyone seriously considering one of these boards. His review gives more detail on some of the features of this family of boards.
Board Layout:
I know the engineers designing motherboards like this, with tons of integrated features, have to make some sacrifices when it comes to layout. Obviously not everything can be put in the ideal place, especially since that is really a subjective issue. Overall, I would say this board was laid out very well, and I only have one major concern about the layout. As you can see in the first picture below, the power, floppy, and IEEE1394 connectors are all too close to each other. I had a hard time getting the FireWire cables plugged into their connectors after most everything else was installed in my mid-tower case. I can take some of the blame since I maybe could have planned a little more to make it easier, but it is quite crowded in that area.
The large heatsink on the SPP chip seems like it should keep it cool and the system stable. This heatsink can be seen in the second picture below. AOpen chose a shiny black PCB for this motherboard, and I think it looks very nice, especially inside my black case. Other than those two main features, the motherboard's physical appearance seems to be pretty standard issue.
Board Layout
(click thumbnail for bigger pic)

Crammed connectors (IEEE1394 are right above the black FDD connector)

Nice heatsink and big caps

I/O panel
Installation:
Unfortunately, I could probably ramble and rant about installation for a very long time; however, I will try not to so I don't lose anyone's interest. To spare you some time, I'll start with a one word summary – grueling (other choice words come to mind but I will refrain from using them). What was up with this board? First of all, since it is an engineering sample board, I cannot definitively say that all AK79D Max motherboards will produce these same issues. In other words, I wouldn't expect these same issues with a retail version of the board. Maybe the planets were aligned against me or something. I had so many problems installing Windows XP that I was close to giving up and putting in my old Gigabyte board. First of all, maybe it was all my fault or the drivers or XP. I did start out trying a repair of Windows through the bootable install CD, but I got some STOP ERROR blue screen crap. This is never a good sign, and I (and I'm sure many of our readers) have felt lucky when they've gotten through a STOP ERROR without having to reinstall the OS. After many more attempts at letting the OS retry a reinstall, I gave up and decided to go the formatting route. So, I formatted the Windows partition and started to do a clean install, and even then I got STOP ERROR blue screen crap smeared in my face! As soon as I thought things were working, the next thing I knew it was tanking on me again. I've had some frustrating Windows experiences, but this one took the cake. I eventually succeeded in getting XP installed, but the install nightmare did not end. I couldn't get the motherboard to POST with my Corsair XMS series memory set to CAS latency 2.0, and that setting worked fine with my old mainboard. I had some Kingston RAM that worked fine with that setting, so once again, I was stumped. I didn't think there was a light at the end of this review's tunnel. After working through all the kinks in the install process, I finally have a very stable and capable system up and running. Phew…
Utilities:
I will defer most of this section to this page of Shane's review that I've already mentioned several times. However, I should note that I have not been able to run WinBIOS. It errors out on me, saying that the motherboard does not support WinBIOS. Well, everything I've read indicates that it should work. Again, I'm not sure what the problem was. However, on a positive note, I had a very good experience with EzWinFlash, AOpen's very friendly BIOS updating utility. To update the BIOS, all you have to do is download the right zip file from AOpen's website, unzip it, and click the executable from the package. It is the EzWinFlash program. Honestly, this threw me for a loop because I didn't look closely to see it was an executable and it was named "WA79DM103.exe." So, I went looking everywhere on the included CD and the website for an application called EzWinFlash. After finally looking in the manual, I was informed that the program is in the BIOS package. I know what you're probably thinking, and, yes, I felt dumb after that one. When you click on the executable, you'll get a straightforward interface that makes it very simple to upgrade your BIOS and even back up your old one for nostalgia's sake. Of course, it checks if you're attempting an allowed download, meaning the right BIOS for the right motherboard. AOpen's definitely got game in the BIOS flashing department.
System Performance
---
To test the system performance, I used the well-known programs from Futuremark and SiSoftware, PCMark2002 and Sandra 2002, respectively. As I stated earlier, I will be comparing three different configurations: 1) Gigabyte GA-7VAXP with one 512 MB stick of Corsair XMS PC2700 DDR-SDRAM (CMX512-2700C2), 2) AOpen AK79D Max with the same Corsair memory module, and 3) AK79D Max with two Kingston HyperX 256 MB PC3000 modules. In case you didn't catch it in the introduction, the GA-7VAXP is based on VIA's KT400 chipset. All of the memory modules are high quality and capable of a CAS latency setting of 2. However, I was not able to get the AK79D Max to POST with this aggressive setting when the Corsair module was used. I had to set it to 2.5 for a clean boot. Setting CAS latency to 2 worked fine with the Gigabyte board and the Corsair module, though. Also, it should be noted that I set the BIOS settings for the Kingston RAM to be synchronized, which means the memory was being "underclocked" to operate at the DDR bus speed of 266 megahertz. From what I've read, this is the way to get the best performance out of the nForce2 chipset. The remainder of the test system specs are listed below.
Test System:
AMD Athlon XP 2000+ (retail w/ stock HSF)
MSI MS-StarForce GeForce4 Ti4400
Western Digital 80GB ATA/100 HDD (8MB Buffer – WD800JB)
PlexWriter PX-W1610A (16x/10x/32x) CD-RW drive
NVIDIA Drivers: 41.07 Detonators
nForce2 Drivers: R1.15 from AOpen's website
SiSoftware Sandra 2002
SiSoftware Sandra 2002 seems to be a standard tool to benchmark around here, so I decided to use it to check out the configurations' memory, CPU, and file system performance.
SiSoftware Sandra File System

GA-7VAXP
(Corsair)
AK79D Max
(Corsair)
AK79D Max
(Kingston)
Buffered Read (MB/s)
85
84
84
Sequential Read (MB/s)
27
36
40
Random Read (MB/s)
6
6
6
Buffered Write (MB/s)
87
60
85
Sequential Write (MB/s)
32
38
40
Random Write (MB/s)
10
11
12
Average Access Time (s)
9
9
8
Drive Index Score
19675
25275
27688
The AK79D Max comes out of the gates strong with great file system read and write performance. NVIDIA's optimized nForce2 IDE drivers deserve most of the credit for the lead the AK79D has over the GA-7VAXP. The 60 MB/s buffered write performance from the AK79D with the single Corsair memory module is puzzling since I would expect it to be near the same as the GA-7VAXP with the same memory. I guess this could be due to nForce2's 64-bit memory bus width when using a single channel memory configuration compared with the 128-bit memory bus width when using a dual channel configuration. But I thought this benchmark was supposed to really test the drive performance. Like I said, I'm a little puzzled. Let's see if the AK79D Max can maintain this impressive performance.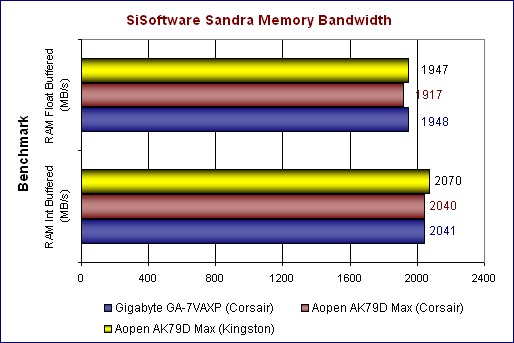 The chart above may surprise you a bit. I know it surprised me. I was expecting the dual channel setup to best the others by a decent margin, but, as it turns out, it's just even with the KT400 motherboard in float performance and barely edges ahead by about 1.4% in integer performance. Obviously, the nForce2's memory subsystem, whether running in single or dual channel mode, only runs on par with the KT400, at least in this benchmark. Even though I'm only comparing two motherboards, I believe it is safe to make some conclusions about the chipsets in general.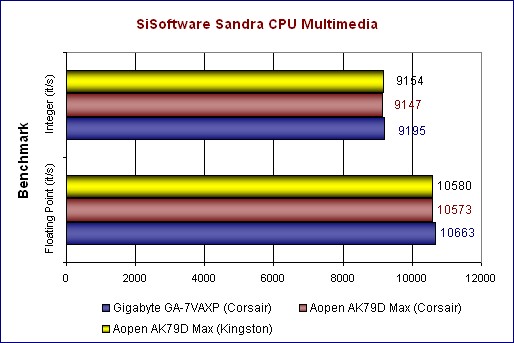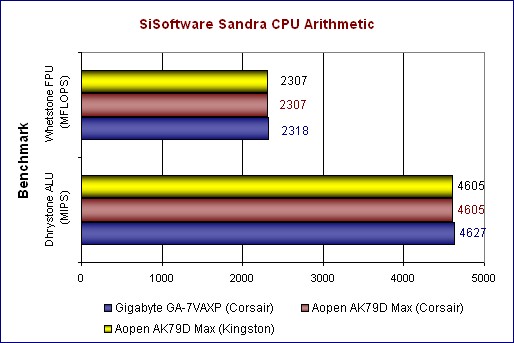 Well now we have a the GA-7VAXP taking the lead in all Sandra CPU benchmarks. All the numbers are very close, within less than 1%, and certainly nothing that would be noticeable; however, it is interesting that KT400 chipset came out ahead on these tests.
PCMark2002
After the interesting Sandra results, I was anxious to see what PCMark2002 would tell us about the performance of these three configurations. And it does paint a slightly different picture. The AK79D Max and its nForce2 chipset come out a little less bruised in this battle. (Give me a break. I'm trying to make it sound dramatic.)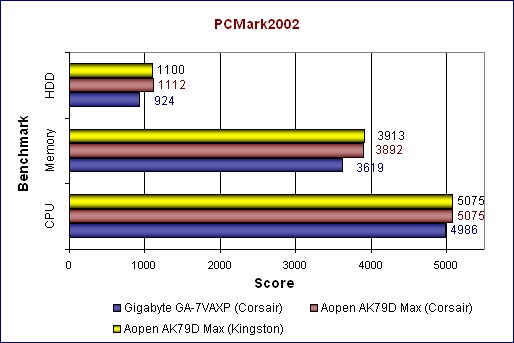 Once again the IDE performance of the nForce2 chipset and its drivers shines. The HDD benchmark shows the AK79D Max as performing up to 20% better than the GA-7VAXP. That is an impressive gain, and I would guess that some people may be able to feel the difference when using their PC. Keep in mind that this is simply a benchmark, so this result may not be evident in every day use. Admittedly, I cannot really feel a difference on my PC. As expected, the dual channel memory setup bests the two single channel configurations in the memory benchmark. However, the AK79D, in single and dual channel mode, outperforms the GA-7VAXP, with the single channel setup offering about a 7.5% increase, and the dual channel setup offering an 8.1% increase. This illustrates again that the AK79D's dual channel mode only offers a slight gain over its single channel mode. And for the CPU tests, the nForce2 board gains some respect back that it may have lost from the Sandra results above.
Gaming/3D Performance
---
To check out how well these three configurations handle 3D rendering, I used Futuremark's 3DMark2001 SE (it may be old but it's still reliable and there's a lot of scores out there that you can compare to) and the old standby Quake 3 Arena. For Q3A, I used demo four through Q3Bench. For all 3DMark2001 tests, I turned off anisotropic filtering. But for some weird reason, I set it to 2x for all Q3A benchmarks. I'm not sure what I was thinking or what came over me. It doesn't really matter, though, because it doesn't affect the comparison of these three setups, since all other variables remained constant.
3DMark2001 SE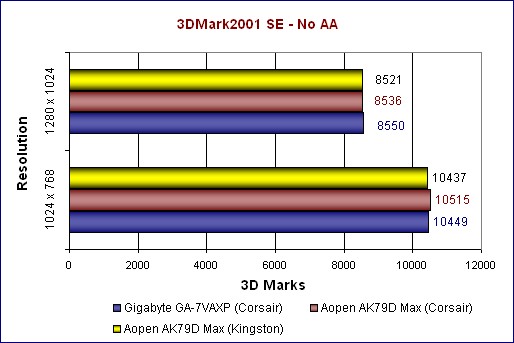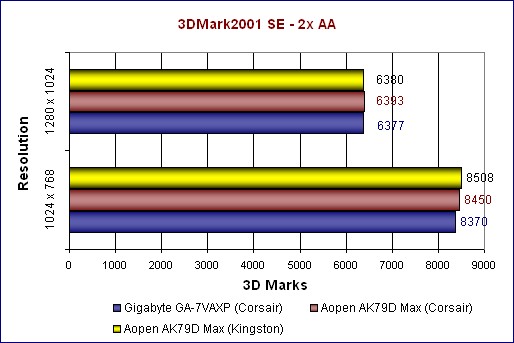 The first chart above is pretty boring, except that we see the single channel configurations edge out the dual channel at both resolutions. We definitely do not get an advantage from the nForce2 or its dual channel memory architecture in this case. When anti-aliasing is turned on, the dual channel mode seems to help out a little more, at least at the lower 1024×768 resolution. Perhaps the Ti4400 became the limiting factor at the higher resolution. In retrospect, I think another test at 800×600 may have helped determine this.
Quake 3 Arena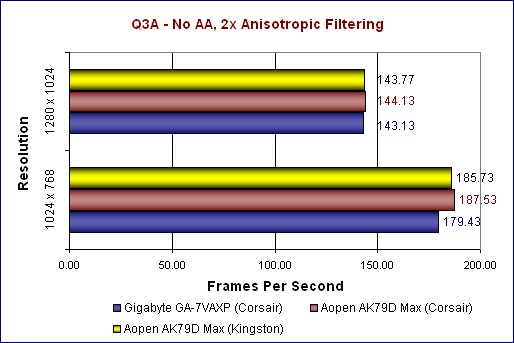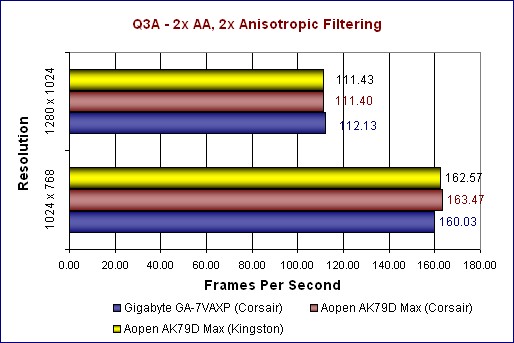 The Quake 3 Arena demo four shows nearly the same results as 3DMark2001 did. The main difference is that the dual channel setup is not the best performer in any situation. The differences are negligible and wouldn't be noticed in playing the game anyway. Overall, the AK79D Max slighly outperforms the GA-7VAXP in Q3A performance.
Conclusion
---
My overall experience with the AOpen's AK79D Max has been somewhat frustrating with a few highlights. The frustrating part was getting it and Windows XP and the nForce2 drivers to play nicely together. Since all that was settled, the board has been very stable and reliable – no lockups or other problems. It certainly is a feature-laden board due to its nForce2 chipset, and plenty of tweaks are offered in the BIOS, like one megahertz CPU stepping. Also, AOpen has done a nice job with extra software utilities that add a little flare to their motherboards.
As far as performance is concerned, my first thought is that these benchmarks illustrate that the KT400 can definitely hold its own against the nForce2. Honestly, I would not feel compelled to upgrade from my GA-7VAXP. But, if I had an older board, like an nForce1, I would certainly keep the AK79D Max and AOpen's other mainboards in mind. I found the AK79D Max at NewEgg.com for just under $130 at the time of this review.
Pros:
Even the engineering sample is very stable (after getting passed installation issues)
Unique and (mostly) helpful utilities
Black PCB
Very Ez 😉 BIOS flashing

Cons:
Some minor layout issues
Installation problems (could be due to the engineering sample state of this board)

Since I had problems with the AOpen AK79D Max that made this review take longer than it really should have but it redeemed itself a little due to its features, stability, and mostly respectable performance, I give this motherboard an 8.0 out of 10.