Xoxide's 6″ Dual Bubble Light Cold Cathodes are a unique way to add some light to a case with a window. The kit comes with everything you need, and it is very easy to install!
Introduction
---
I'm sure you've seen several cold cathode reviews out on the web, and maybe you're thinking, "Oh great, here's another one!" But this kit is a little different from what you're probably used to. This Dual Bubble 6 Inch Bubble Light kit comes from Xoxide and is supposedly one of the first dual six inch kits ever made! As you can see in the picture below, they look pretty darn cool, but are they really all that cool? Read on to find out.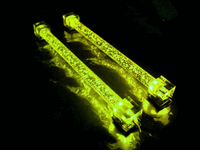 Features and Kit Contents
---
Features:
Each Kit includes 2 x Bubble Light Sticks each 6″ long and an Electronic Driver.
Electronic driver has a separate switch for mounting on car dash or PC Case.
Each Stick includes end cubes with velcro strips allow for easy mounting.
The driver is sealed inside a durable black plastic box to prevent short circuit and accidental damage.
Requires 12 Volt Power source.
Optional Sound Activation Box can be added to the kit.

Kit Contents
2 x Bubble light tube with Velcro adhesive
1 x 12V electronic driver
Molex connector (includes both female and male molex connections)

After close inspection, I'd have to say these seem more like "light sticks" than the typical bright neon cold cathodes that you are used to. In other words, the phrase "cold cathode" as it is usually used may be a little misleading, especially considering that these light sticks are actually just tubes with one bright LED at one end.

The kit does come with everything you need, and the six inch tubes should be pretty easy to install in almost any case. The bubble effect in the tubes is pretty cool, but it is a motionless effect in case you were wondering. These bubbles do not move, which is too bad but not surprising since they'd probably cost a lot more if they did.

Installing, Using, Etc.
---
Installing and setting up this kit is pretty simple. The included "information sheet" isn't much more than just that. There aren't really any instructions, but the diagram on the sheet should be plenty for most people to understand how to set it up. It's like putting a basic puzzle together really; plug this in here because it fits here, then this goes here, plug in the power and see if it works. Some people might think the six inch tubes are too small, but the size can come in handy and actually gives you more installation options than longer tubes.
I was looking forward to seeing how cool this kit looks and had pretty high expectations based on the pictures on Xoxide.com. Strangely though, my "yellow" dual bubble lights turned out to be some light orange color! They still look pretty cool, but I was really wanting a bright yellow color, not some peachy orange. Here are some pics to show you what I mean.
In the picture on the left, the lights were on. The picture on the right was taken with the lights off, but the room was not pitch black. The room was dark, but not VERY dark by any means. While the bubble effect does look pretty cool, overall the tubes just aren't very bright. I was disappointed by their lack of brightness and the fact that they weren't really yellow. I did have a picture of how they looked inside a case with the lights off, but it didn't come out very well. The lights probably won't flood your case with light like a good cold cathode light will, but they do look great in complete darkness. Obviously most light products look better the darker the case and room are, but I think this is perhaps even more important with the bubble tubes.
Conclusion
---
Overall, I was unimpressed and a little disappointed by this Dual 6″ Bubble Light Cold Cathode kit. I expected a lot more from them based on the pictures on Xoxide's web site. As I said earlier, the kit I got is supposed to be yellow, but it's a light orange. As far as I know, there is no orange version available, so either this is how the yellow really looks or I got a bad yellow kit. Either way, it's a disappointment. If I had paid for these, I'd feel kind of cheated. They do have some redeeming qualities though. I really like the idea of a dual six inch kit, and the effect is cool. It's a nice twist on a common product, but they could be a lot better. Maybe the other colors are a lot better?! They might be worth trying, but I would check other reviews or references first.
With that said, I'm going to have to give this product a 6.5 out of 10. It's cool, innovative and easy to install because of its size, but you might be expecting more than you're going to get from it. Do a little more research before buying this product.
Pros:
Easy to install – small tubes will fit in smaller cases and spaces
Flash and on modes available
Cool idea
Pre-applied velcro to tube ends and electronic driver

Cons:
Pre-applied velcro to tube ends and electronic driver – some users might not want that (yes, it's a pro and a con)
Not very bright – probably won't flood your case with light if that's what you're looking for
Yellow is actually orange

Note: If anyone has a pic of this product that might help others decide if they want to purchase it for themselves, please send it to me, and I will gladly add it to this page, of course giving you credit for the pic!