Antec's new Sonata case is quiet, compact, and beautiful.
Introduction
Quiet is in, and so is style. As the PC leaves its desktop and beige past behind, our demands on it are increasing. It's not enough to be well-made and efficient, today's PC has to look good and fit in multiple environments. To that end, Antec has introduced the Sonata Mid-Tower PC case. The Sonata is designed to run quietly and cooly while looking good no matter where you place it. This is our first look at the new Sonata, future updates will reflect upgrades to the motherboard and CPU.
Features
3.0 Ghz Compatible
TruePower 380Watt ATX12V power supply with single fan design for enhanced quietness
Front mounted USB & IEEE1394 (FireWire) ports
Washable Air Filter
Front Audio ports
9 Drive Bays:
3 x 5.25″ external drive bays
2 x 3.5″ external drive bays
4 x 3.5″ internal drive bays in individual trays with rubber grommets to absorb hard drive vibrations
Cooling: Up to 2 120mm Fans
1 rear (standard)
1 front (optional)
Motherboards up to Standard ATX
Build Out and Impressions
The review system is built around the following:
Asus nForce1 motherboard
AMD Athlon XP 2100+ with Thermaltake Volcano 6+ HSF
IDE Hard Drive
IDE CD-ROM
IDE Floppy Drive
GeForce4 Video Card
Antec Blue LED Fan (not included with the Sonata)
Quality and Looks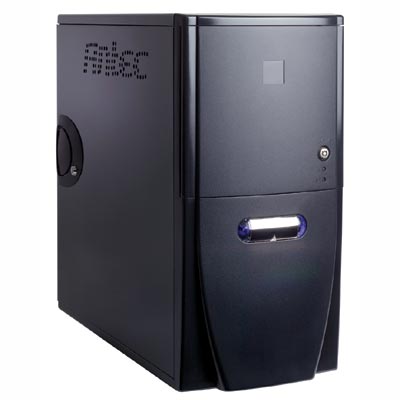 Antec cases have a reputation for quality and the Sonata is no exception; it is very well made. There are no sharp edges waiting to bite you and it is very sturdy. The Piano Black paint finish is smooth and pretty. Unfortunately, it also shows fingerprints too well (easily removed, fortunately). The size is small enough to fit well in environments you wouldn't want to put your full-sized tower. The Antec logo is punched into the side of the case; we don't know how functional it is for cooling, but it would look pretty cool with backlighting.



Blue I/O eyes are watching you.
The internal drives are hidden behind a hinged door. The front I/O panel (one IEEE1394, two USB, and two 3.5mm audio jacks) hides behind a sliding chrome panel. Two blue LED's sit on either side of the I/O panel and look pretty sharp in the dark.
In all, it's a handsome case that will look good in your study, your office, a LAN party, or your multimedia entertainment center.
Installation & Operation
The Sonata is not a full-sized tower that you can climb in and go to town with your electric screwdriver. It is a tight fit for full-sized components. We highly recommend installing RAM modules and the CPU/ heatsink fan on the motherboard before installing the motherboard in the case. Case fans should be installed after the motherboard goes in to provide additional clearance.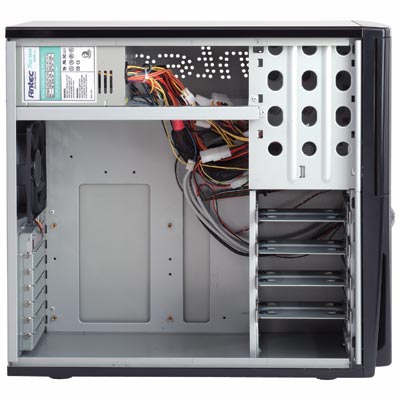 The hard drives mount sideways with screws going into the bottom of each drive. Sounds odd, but it works well. The drives are easy to remove in their 90 degree orientation, which is always a positive feature for the tweaker. The included rubber grommets reduce drive vibration and contribute to the quiet running of the system.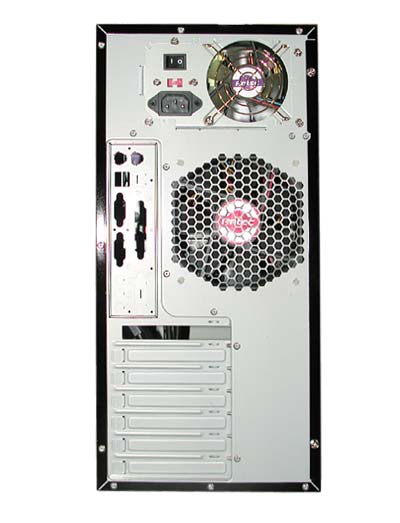 The Antec Blue LED Fan was placed at the rear of the PC and the included 120mm fan was located by the hard drives (there is no facility for mounting one at the front of the case). The fans also use rubber grommets to minimize vibration and thus noise.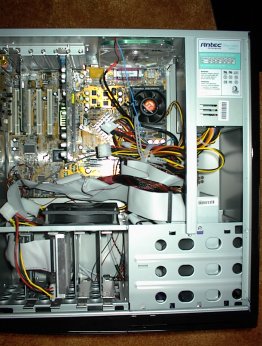 The power supply is a 380 watt TruePower model. The Sonata is unique in that it utilizes only a single fan in its stock configuration (to keep the noise level down).
The Sonata is amazingly quiet, even with both case fans and the power supply fan in operation. Temperatures remained constant and acceptable throughout the review period. We were initially concerned that the single fan on the PSU, the lack of a front fan, and relatively compact size would lead to high temperatures. Fortunately, this was not the case (no pun intended).
Conclusion
We are very impressed with the Sonata's features, quiet operation, quality, and looks. We highly recommend it and award it a 9 out of 10 rating along with the coveted Bjorn3D Golden Bear Award.