If you need or want a way to manually adjust the speed and noise of your system's fans, then you should definitely take a look at PcToys System Maxx Fan Controller. It's easy to use and works great!
Introduction
---
So the racket of your fans is driving you crazy? You need them during heavy workloads (when playing games, running Photoshop, ripping MP3's etc), but you don't need them running full speed when you're trying to sleep, just surfing the web, or writing a Word document. What are you to do? Buy all new system fans that have manual controls and just toss out all the high RPM/CFM fans you've collected over time? I THINK NOT!
Why not consider doing something that will benefit you two fold — buy a fan controller. It adds manual fan control to any fan, and it adds to the "cool" look of your case. I just bought one, and I like it a lot. It works great and looks really cool.
PCToys System Maxx Fan Controller
Here is the description found at CoolerGuys.com:
"System Maxx Fan Controller connects up to 4 fans and allows you manually adjust the fan speed and noise level. The fan speed is determined by the variable speed potentiometer settings which vary the voltage of the fan from 7V-12V. Each channel will support 15-18W. Blue LED lights combine perfectly with the Black or Silver housing. The PcToys System Maxx Controller is great for Large CFM fans and fits perfectly in your standard 5 1/4 " drive bay."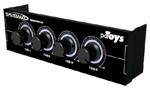 Features and Specifications
---
Features:
4 Channel Fan Controller
Adjustable Fan Speed Knobs
Aluminum "U" Type Housing
Blue LED Light
Each Channel Will Support 15 to 18 Watts
Fits In A Standard 5 1/4″ Drive Bay
No Need to Cut Wires Like Other Fan Controller. Just Plug The Cable In. Great for PcToys Tornado F5 or Other High CFM Fans.
Specs:
Input Voltage: 12V
Output Voltage: 7V ~ 12V
Current: up to 1.5A
Dimensions: 145.5 x 41.5 x 62.5mm
Weight: 150g
Installation and Use
---
I picked this fan controller up from Coolerguys.com. It came in your usual plastic clear packaging. Along with it, I received two 3 pin fan extensions and two 4 pin to 3 pin extensions. As a result, hooking up my fans was not a problem, and I didn't have to worry about finding or ordering the extensions myself or being delayed in the installation. The controller comes in either black or silver with Bright Blue LEDs.
The connectors on the circuit board are all 3 pin connectors, but the provided 4 to 3 pin adapters let you hook up your normal 4 pin molex fans. The one downside to using the fan controller is that you lose the fan monitoring ability provided by your motherboard, but this can be remedied if you can find some of the 4 to 3 pin adapters that have the additional RPM connector that you can attach to the motherboard.
I have found that in fact I can actually run two of my crystal clear 80mm LED fans on one channel, and it doesn't affect the RPM that they receive (PLEASE NOTE: The manufacturer does say it supports 4 Fans, as in 1 per channel. This is just what I did and found would work, so Bjorn3D.com or myself are not responsible for any damage that may occur to you or your computer if you try this). I configured the controller so that my two 80mm Quad LED Red/Blue rear fans are on the first channel. I have my CPU fan hooked up to the second channel. Then I have my 92mm Quad Blue LED side panel fan on the third channel by itself, and finally two 80mm Quad LED Red/Blue front fans are on the fourth channel.
Construction-wise it is a very well put together piece of hardware. The construction seems very sturdy and is nicely finished. It is easy to install. All you need is a screwdriver and an empty 5 1/4″ drive bay.

Conclusion
---
This fan controller is great! It has made life so much nicer for me. While I'm on the computer working, I can have the fans turned up about half way (about the regular voltage they would get hooked up normally to a motherboard or just the power supply) and fairly quiet. Then if I want to start gaming, I can crank the fans up, especially the side 92mm fan which blows straight onto my Ti4400, to keep my system nice and cool. When I'm ready to go to sleep, I can turn the fans down so that they are actually quieter than my standing house fan that I use. As a mod accessory, the System Maxx Fan Controller is super cool looking and might even garner several "oohs and ahhs" from your LAN buddies.
This is my first fan controller, so I can't compare it directly to others. But I paid $29.95 for it at Coolerguys and am very happy with it. It was worth the money to me because it does its job well and looks great! The only thing I'd like to see different is other colors of LEDs available, such as green and red. I'd recommend this product to anyone wanting a simple and cool way to control their fans' speed and noise.