Antec's latest power supply combines the performance of the TruePower 550 with a tweaker's delight: A remote control panel for adjusting voltages and fan speeds.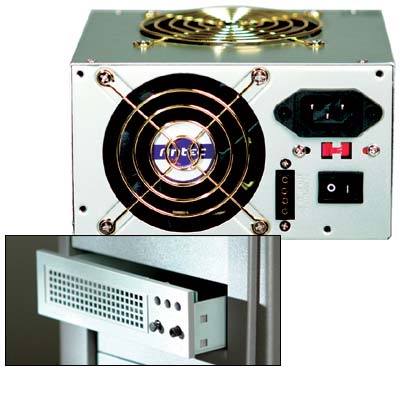 Introduction
In our recent reviews of Antec's TruePower 430 and 550, we discussed and measured their virtues and the value of buying a high quality power supply. So you're probably thinking, what's left to talk about? Just when we ran out of things to say about power supplies, Antec comes through with the TrueControl 550, a power supply that lets you adjust voltage levels and fan speed through a front control panel.
But before we discuss what's different about the TrueControl, let's review the features of the TruePower line:
Dedicated output circuitry for each voltage output, overcomes the limitations of combined output of traditional design. Get all the power you need when you need it most.
Voltage Feedback to maintain accurate voltage to all components: adds stability to your system.
Antec Low Noise Technology achieves the optimum balance between noise reduction and necessary cooling.
ATX12V for AMD and Intel based systems including P4.
PFC – Environmentally Friendlier
Two double ball bearing fans.
Gold plated connectors.
Specifications
Review System
AMD Athlon XP 1800+ CPU
EPoX 8RDA+ Motherboard (nForce2)
256MB Corsair XMS PC3200 DDR SDRAM, 256MB Corsair PC2400 DDR SDRAM
Western Digital 120GB, Maxtor 60 GB Hard Drives
52x24x52 Lite-On CD-RW
52x Creative Labs CD-ROM
MSI GeForce4 Ti4800 Graphics Card
Power Supply
FEATURES

Maximum Power

550 Watts

Switches

ATX Logic on-off additional power rocker switch (115/230 Volt selector switch)

Special Connectors

AUX Power
ATX12V
3-pin Fan Sensor
Fan Only
Front Control Panel
External Power Connector

Transient Response

+5V,+12V outputs return to within 5% in less than 1ms for 20% load change.

P. G. Signal

100-500ms

Over Voltage Protection
recycle AC to reset

+5V trip point +3.3V trip point +12V trip point

Overload Protection

Latching Protection
+5V @ +3.3V @ +12V @

Leakage Current
DIMENSIONS

Unit Size

5.9″(L) x 5.5″(W) x 3.4″(H)
15cm(L) x 14 cm(W) x 8.6 cm(H)

Front Panel size
5.6″(L) x 5.75″(W) x 1.75″(H) 14.2cm(L) x 14.6 cm(W) x 4.5 cm(H)

Net Weight

5lbs.
2.3kg
INPUT

Input Voltage

115 VAC / 230VAC

Input Frequency Range

47Hz to 63Hz

Input Surge Current

60A @ 115VAC

Input Current

10.0A for 115VAC
6.0A for 230VAC

Hold-up Time

>17ms at Full Load

Efficiency

> 68%

EMI/RFI

FCC Class B
CISPR22 Class
ENVIRONMENTAL

Operating Temp.

10 to 50ºC

Operating Alt.

Sea Level 10,000 ft.

Non-Operating Vibration

Operating: 10-300 Hz, 0.5G, 3 axes, 1 hr. ea. axis
Non-operating: 10-300 Hz, 2.0G, 3 axes, 1 hr. ea. axis

MTBF

80,000 hrs. @ 25ºC

Approvals

UL, CSA, TUV, CB, CE, SEMKO, NEMKO, DEMKO
Installation & Physical Design
Images courtesy of Michael Chin and Silent PC Review.
Like its siblings, the TrueControl 550 has lots of road-hugging weight, denoting quality components. It also features two fans, one input and one output. The main power cables are sleeved in black nylon mesh. Its purpose is to tidy up the wires and to improve airflow through the case. As we noted before, the sleeve is very cool looking. It looks like a sleek, color-shifting snake.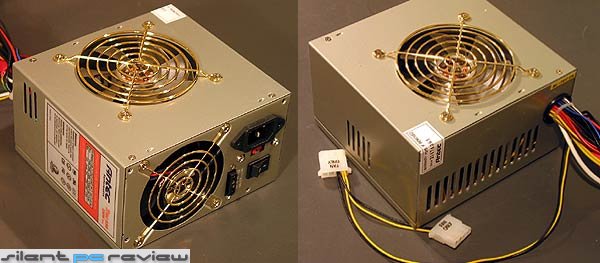 Dual fans, lots of beef.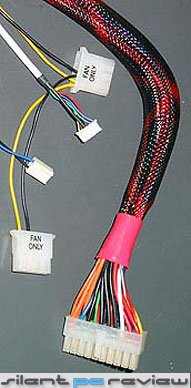 Pretty snake.
As noted in previous Antec reviews, the PSU manual provides detailed specifications, but very little in the way of installation instructions. If you've never installed a PSU before, better take a look at an existing one to make sure you know where all the cables go. A pictorial documenting what each connector is would be very helpful. As it is, novice installers will have to resort to hunting for matching male/female connectors and hoping for the best. The control panel has a separate manual. It is well-detailed and utilizes helpful illustrations.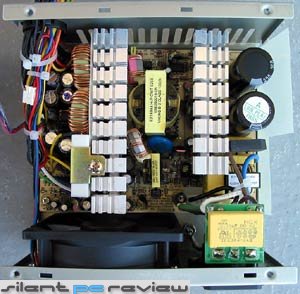 Guts.
The front control panel is what differentiates this unit, and it is nicely done. The panel installs in a 5.25″ drive bay and will hold a 3.5″ hard drive; you don't have to surrender a bay in your case. The panel is made of light grey plastic, which may or may not match your decor. The front of it is perforated with large ventilation holes, providing a good opportunity for passive or active cooling for a drive.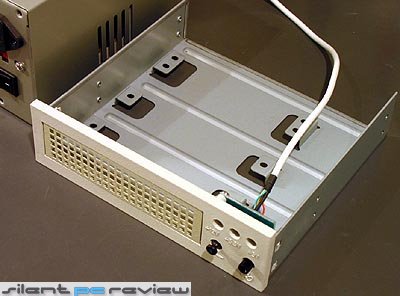 The control panel.
The voltage and fan controls are very well designed. The fan knob is small and stiff enough that it won't be accidentally shifted once you set it to your liking. The voltage trim pots are recessed and have to turned with a screwdriver (provided). This is an excellent feature for those of us with clumsy knees and small children! The provided screwdriver resides next to the fan knob and is very nicely integrated into the design. Be forewarned, however, that it is a kid magnet. You may want to keep it out of reach of curious little hands. The control panel connects to the power supply by a small cable, not taking up any space at all.

Panel detail.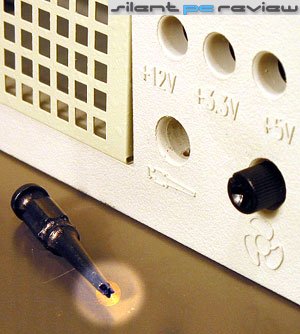 The tool. Note that it does not glow, it is highlighted to point out the business end.
The power supply features a spare 4-pin Molex +12/5V feed in the rear of the unit, accessible from the back of your case. Should you ever need to power up a component without cracking open the case, the TrueControl has you covered. The manual suggests that this power connector is useful for "external drive enclosures, water cooling and lighting systems, and a variety of automotive products." We're not sure what kind of "automotive products" one would want to plug into a PC, but the concept is intriguing. One of those powered coolers might come in handy. 🙂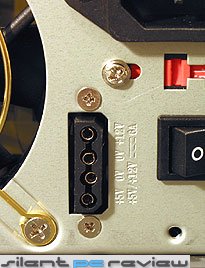 Rearward power.
Performance
The TrueControl 550 has great gobs of cold-cranking power. If you've got power-hungry peripherals bursting out of your case, the 550 provides the wattage you need. The 550 has so much power it will probably be controlling your next configuration and the one after that.
But it's the control panel and adjustable features we're here for, right? When turned all the way to the left, the fan control is turned over entirely to the thermistor inside the PSU. The ability to control fan speed through the PSU is a feature of all the TruePower supplies and it works very well. Under normal load and temperature conditions, fan noise is significantly reduced. Turning the fan control knob fully to the right increases the voltage to a maximum of 11v. Doing this, of course, increases fan speed and noise.
The trim pots individually tweak the +12, +5 and +3.3V lines. Voltages can be adjusted plus or minus 5% of each lines specified range with the system running and without interrupting processing. Antec suggests that this option allows you to "stabilize a heavily loaded system, even when overclocking."
There are important measurement considerations, however. The control panel does not include any type of feedback mechanism for the adjustments you make. You will have to use your BIOS or use a Windows utility such as Motherboard Monitor. Antec does throw out one major caveat: They do not suggest relying on the motherboard's voltage readings. Here's their explanation why: Why Not To Trust Your Motherboard Voltage Reading.
So what is one to do if software readings are unreliable? Get a multi-meter or voltmeter. These inexpensive devices precisely measure voltages directly from the 12V and 5V lines on the Molex connectors (the ones that plug into IDE drives). You can measure the 3.3V line from the main power connector to the motherboard, but Antec does not recommend doing so (hint: don't void your warranty or fry your motherboard). Instead, Antec suggests you use a software solution for measuring the 3.3V line.
We tested the control panel using a Radio Shack multi-meter for the 5V and 12V and Motherboard Monitor for the 3.3V line. As Antec claims, we were able to dynamically tweak voltages via the control panel and ensure their accuracy through the multi-meter and software measures. For an exhaustive test of the TruePower 550, please visit Michael Chin's review at SilentPCReview.com.
Conclusion
The TrueControl 550 is an excellent power supply. Scott has been using one for several months and it handles everything he can throw at it with aplomb. It also ran like a champ in our test system. We are a little conflicted regarding the control panel, however. It is well-designed and does the job as Antec advertises. We do question the practicality of measuring the voltage tweaks given the caveats Antec published regarding hands-off metrics. Just how practical is the control panel if one has to remove the case and probe a Molex to ensure the tweak did its work? Then again, perhaps that's a use for the external power connector. 😉
By itself, the TruePower 550 is an outstanding power supply. Combined with the TrueControl control panel it is a tweaker's delight, but we wish the panel also contained an internal measurement system. We previously awarded the TruePower 550 a 9 out of 10 rating along with the coveted Bjorn3D Golden Bear Award. Because we believe the control panel would be better served with its own metrics, we decided to award the TrueControl 550 an 8.5 out of 10 and the Bjorn3D Seal of Approval.