Leadtek has once again proved that they innovate. Their WinFast Twin Turbo II cooling solution on the A300 is likely enough to get me to choose the A300 over other models out there. A nice software bundle and VIVO features round it out.
Leadtek sent me a very creatively developed version of NVIDIA's GeForce FX 5800 Ultra GPU. Leadtek's Winfast A300 Ultra TD MyVIVO is a 128MB version of NVIDIA's fastest incarnation. The A300 Ultra TD MyVIVO is the flagship of Leadtek's new A300 line-up of GeForce FX cards. They also offer A300 version using the GeForce FX 5800 core, with and without VIVO. Leadtek took NVIDIA's latest core and packaged it in a PCB housing like no other.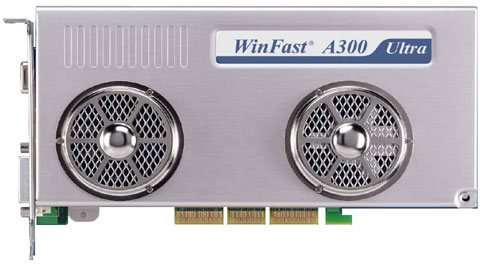 There are a couple of things I want to point out before we start the review. First is that we have all read that the ATi 9700 Pro and the FX Ultra swap the first place position back and forth on benchmarks. The GeForce FX 5800Ultra is often losing out at higher resolutions with antialiasing and anisotropic filtering turned on. We also will say that the GeForce FX 5800 Ultra does lose to the ATi 9800 Pro. With that said I am not benchmarking against any ATi products in this review. This is more for the person that likes NVIDIA based products and is interested in looking at this nice version from Leadtek.
In my opinion, NV30 is much like GeForce 256 in many ways. It is a new technology move for NVIDIA like GeForce 256. It hit major delays from manufacturing just as the GeForce 256 did. But after all is said and done I think you will find the FX family will become a power house like the GeForce 256, GeForce 2 thru GeForce 4 did.
As we know, the GeForce FX 5800 Ultra based cards are rare and are going to be rare, due to the manufacturing difficulties. Leadtek's Winfast A300 Ultra TD MyVIVO (A300 from here on out) is no exception. But, for those of you who can get your hands on one, this review is for you and those who are interested in this technology showcase.
Specifications
---
Here are the NV30 specs as listed by Leadtek for Winfast A300 Ultra TD MyVIVO. For a detailed discussion of the specific features of the NV30 GPU, see our GeForce FX Preview HERE.
NVIDIA GeForce FX 5800 Ultra GPU
CineFX Engine
Intellisample Technology
High-Precision Graphics
nView Multi-display Technology
Digital Vibrance Control (DVC)
Unified Driver Architecture (UDA)
AGP 8X
0.13 Micron Process Technology
400MHz RAMDACs
4 Billion AA samples per second fill rate
200 Million vertices/sec
16GB/sec memory bandwidth
128MB DDR2 SDRAM – 1.0 GHz memory data rate
8 Pixels per Clock Rendering Pipeline
Microsoft® DirectX®9.0 Optimizations and Support
New 64-phase Video Scaler
OpenGL®1.4 Optimizations and Support
Video Mixing Renderer (VMR)
On-board DVI support up to 1600×1200 resolution
On-board TV-out support up to 1024×768 resolution
Integrated Full Hardware MPEG-2 Decoder
Vivid NTSC/PAL TV-out support with flicker filter
Packaging and Software
---
Leadtek ships their A300 with a handsome package. Besides the standard card, manual, and driver CD, we have:
Ulead Video studio SE DVD – Video editing software. Easy to use and it lets you export your movies to DVD, CD, web, and even tapes.
ULead cool 3D SE – 3D image designer suite. You can actually create animations, video and Flash end products from it too.
WinFast PVR
WinFastDVD
WinFox II – overclocking and tweaking utility
Cult 3D – interactive object creater for web apps
Coloreal Embedded – coloreal products are utilities for tweaking 2D picture quality in windows
Coloreal Visual
Coloreal Bright
Gun Metal – a well reviewed game that I didn't have
Big Mutha Truckers – a dumb 3rd person truck driving game…but it's addicting!
On top of all of the software, Leadtek includes a VIVO cable set, a DVI-I to VGA adapter, a separate S-Video cable, and a RCA cable. On top of all those cables, Leadtek is the first manufacturer that I've seen to actually give you a molex power cable extender/Y-cable. I had to actually go buy one of these for an un-godly price at a local shop to get my first GF FX to work because I was completely out of available power cords in my case.
The Card & Installation
---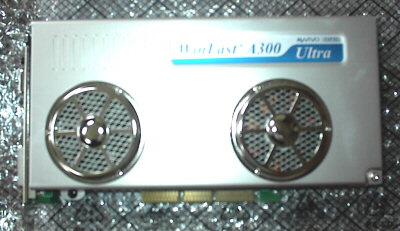 Leadtek has taken a different approach in cooling the A300. The WinFast A300 features a new generation active cooling system called the "WinFast Twin Turbo II". The entire card is housed in a metal case. There are 2 fans, the one near the video connector end of the card brings air in while the one closer to the front of the card blows out air. You can hear the fans kick to high when going into 3D but it you get used to it quickly since it is not very loud at all. This is a big improvement over the FX FLOW that many card makers use. Based upon Leadtek's specifications, their Twin Turbo II cooling system uses patented "wind tunnel technology" that you might have heard about on TV. Besides the names, it does pass air over both the GPU and memory chips (atleast on the near side of the card).
Installation in my Windows XP system was simple. I simply swapped out my existing NVIDIA card and put in the A300, botted, and Windows found and installed the correct drivers. I'm currently using NVIDIA's reference Detonator v.43.45 drivers.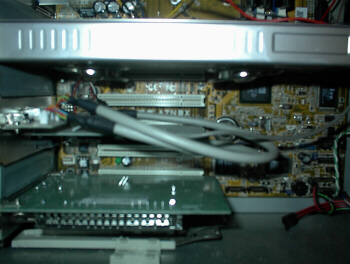 Unfortunately, Leadtek's cooling solution, while creative and effective, does still eat up the PCI slot next to the AGP Port. But the back plane of the blocked PCI slot could be used for a cable connector slot plate, which is common on many nForce motherboards. Losing the first PCI slot seems inevitable with future video cards from the big manufacturers (and from the big GPU developers).
MyVIVO
---
And to test the MyVIVO part here is a capture image from HBO's Band of Brothers from my DVD home theater system. I simply plugged in the requisite S-Video cable into the VIVO cables. The other end goes to the DVD player. Ulead's Video Studio is very easy to use. It might take some time to learn all of the tricks and capabilities, but I was able to cap a screenshot from the DVD in just minute: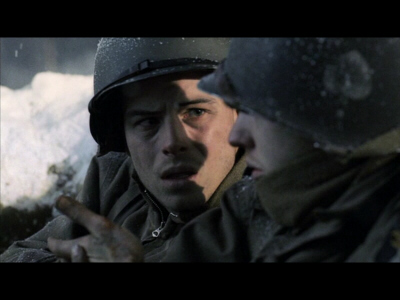 Image quality of the simple cap is top notch. And this is just the tip of the iceberg for the VIVO capabilities of this card. Full video with audio is an option in the software. Other features of Leadtek's MyVIVO, which they're boasting include:
PIP(picture in picture): One for live and the other for captured program. And master video can be alternative. The slave video can be displayed with any size and anywhere De-interlace:Make the best quality for fast-motion video. No noise and flicker on the edge of motion objects.
De-interlace: Making the best quality for fast-motion video. No noise and flicker on the edge of motion objects.
Capture format profile:
Supports friendly setting for MPEG1/MPEG2/VCD/DVD video format.
Supports MPEG1/MPEG2/MPEG4 video codec and MPEG3 audio codec configuration to get the smaller file size for capturing.
Supports de-interlaced function to get high quality of motion video
Bridging video to PC from VCR, camcorder, LD/VCD/DVD player
But I believe that people are equally interested in the gaming performance of Leadtek's NV30…next page is the benchmarks.
Benchmarks
---
Ok so on to the benchmarks. WE HAVE an important item to point out on this review also. This is a real system, unlike a lot of my colleagues in the reviewer field, I use a live everyday system. When I say real I mean that I use it everyday, so I have Norton AV, ICQ and NVIDIA nForce system taskbar icons. Let's face the fact that when you buy a product, you typically intend to use it on an everyday use machine. That is also why I have always benchmarked with sound on.
My system specifications include:
Asus A7N8X nForce2 Motherboard
AMD XP2700+
768MB Corsair XMS PC3200 DDR dual channel mode
On-board Soundstorm Audio
On-board 10/100 NIC
Windows XP Professional
Leadtek GeForce FX 5800 Ultra & Ref. GeForce FX 5600 Ultra
Drivers used are 43.45, Intellisample Setting set for 'Application'
Bjorn3D has changed the way it runs benchmarks. We now look at two resolutions, 1024×768 and 1600×1200. 1024×768 is the most common resolution used in gaming by many of our regular users. 1600×1200, while not often used, shows the limits of the video cards being tested. We also test at varying video quality settings. We run both resolutions without any pre-rendering enhancements (antialiasing and anisoptropic filtering), then we run these resolutions with 4xAA and 4xAF. NVIDIA's drivers permit higher levels of these enhancements, but many video cards would positively bog down if 16xAA is turned on. Therefore, to be consistent between cards, we're using the 4x level…eventhough Leadtek's A300 could handle more in many of the benchmarks.
For gaming performance comparisons, we're comparing the A300 to a reference GeForce FX 5600 Ultra under 3DMark 2001 SE, 3DMark 2003, Comanche 4 demo, and Unreal Tournament 2003.
3Dmark 2001 SE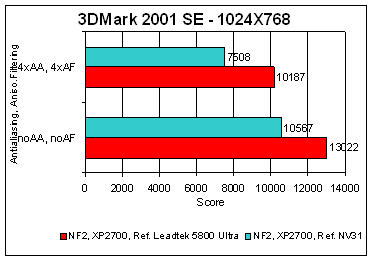 The A300 topped 13,000 in 3DMark at 1024×768 with 32-bit color are pure hardware T&L. This is a new personal best! With AA and AF, Leadtek's 5800 Ultra is still above 10,000. In comparison to the NV31, we're seeing a 23% performance increase without the advanced rendering. With AA and AF, the A300 extends it's lead to 36%. The extra headroom offered by the DDR2 running at 1.0GHz certainly helps out here.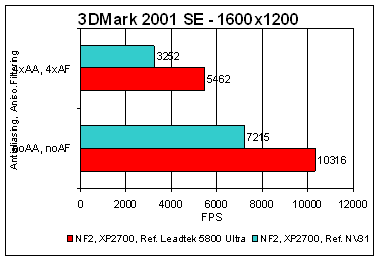 Without AA and AF, the A300 lost almost 3,000 points from 1024×768, but it's still showing a healthy 10,000 point score. This score is a whopping 43% faster than the 5600 Ultra. With 4xAA and 4xAF were enabled, the A300 increases it's lead to 67% faster than the NV31. The A300's faster core and memory speeds certainly play an important role whem these higher level resolutions and video effects are enabled.
Note that both cards, at all test levels, have performed more than adequately.
3Dmark 2003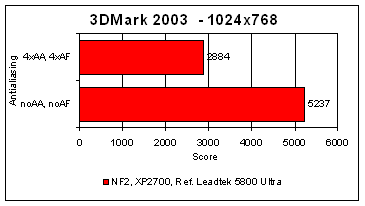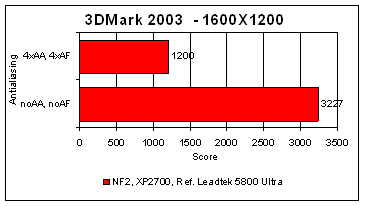 I didn't really intend to use 3DMark 2003 as a benchmark for comparison, but I did want to post the number more as an FYI. As many people know, 3DMark2003 is a composite benchmark of DX8.1 and DX9. NVIDIA isn't very proud of the way it goes about implementing DirectX. Unlike 3DMark2001 SE, we see a significant drop in performance between the non-AA/AF scores and the scores with AA and AF enabled. The drop is on the order of 70%….this is a tough benchmark. Scores in the 2k range should be considered undesirable.
Comanche 4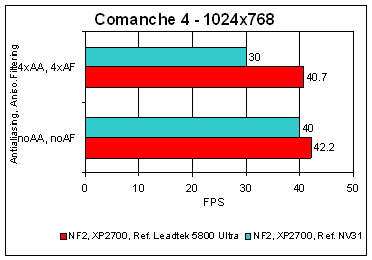 Comanche 4, the CPU intensive benchmark, puts the hurting on even my AMD XP2700+ system with NVIDIA's best two FX GPUs. Leadtek's A300 shows framerates that are almost flat between the non-AA/AF score and the 4xAA/4xAF score. This is the big tip off that even the XP2700+ is CPU limiting this video card in this game. In comparison to the NV31, which may also be CPU limited in the nonAA/nonAF test, Leadtek's A300 is running close to it at the un-enhanced level but bests it with AA and AF by a margin of 36%. The 36% seems to be a typical range by now.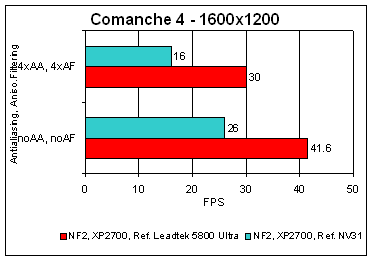 At 1600×1200, the 5600 Ultra is no longer CPU limited but the A300 still seems to be at the noAA/noAF level. This is a good sign for the A300. In reality, I'm not sure I'd want to play this game at 1600×1200, period, with the 5600 Ultra, while Leadtek's A300 takes it in stride.
UT2003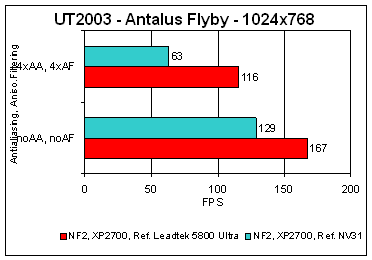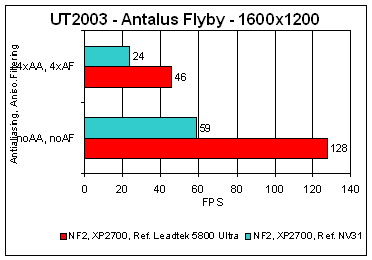 Most people seem to consider the flyby benchmark in UT2003 to be the better test because the rendered scene doesn't vary from test to test like the botmatch test does. But, the flybys have minimal effects in comparison to the botmatches. The botmatches include the dynamics of weapon fire and character movement. At 1024×768, both video cards are crushing the flyby score, with both cards performing above 100 fps, except for NV31 with 4xAA/4xAF. When we switch to 1600×1200, things change a little. Similar to Comanche 4, we're seeing the 5600 Ultra run out of steam. However, Leadtek's more potent A300 bests the NV31 by a margin of up to 116%! The A300 is still quite playable up to 1600×1200 with 4xAA and 4xAF too.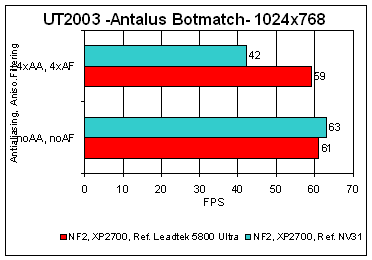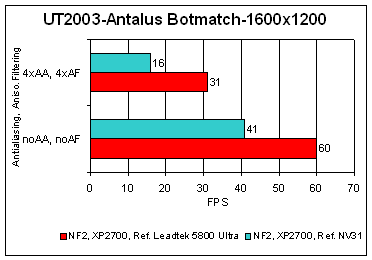 The botmatch scores paint a different picture than the flyby scores. All of the extra effects in these bring both cards closer together. At 1024×768, without AA and AF, the 5600 Ultra is actually besting the A300. I'd simply chock this up to the fact that the botmatch is dynamic (i.e., not a recorded movie) and scores can vary +/-3% very easily. After we look past this least demanding benchmark though, the A300 does begin to pull away from the 5600 Ultra. As we go from 1024×768 with 4xAA/4xAF all the up to 1600×1200 with the same settings, the A300 steadily moves away from the 5600 Ultra at margins of 40% then 46% then 93% at the highest setting under 1600×1200. In the end, the 5800 Ultra performed very well here.
Conclusions
---
The Leadtek 5800 Ultra will be in very limited supply. The MSRP for the card is $439.00 US Dollars and I am pretty sure you will not find it discounted. Leadtek has once again proved that they innovate. Their WinFast Twin Turbo II cooling solution on the A300 is likely enough to get me to choose the A300 over other models out there, especially if you're into cases with windows. The Twin Turbo II cooling is much quieter than the FX Flow that I have heard. They also include a nice bundle of software and cables. Leadtek's take on VIVO (MyVIVO) is also second to none.
If NV30 had came out seven months ago and Leadtek had released this A300 then, I would have awarded it a 9 or higher. The price likely doesn't justify the performance today. However, like I said, Leadtek's cooling and packaging still make it a fine set-up. Because of these factors, I am giving the card a score of 8.5. The 5800 Ultra is not the fastest card on the market, but for a NVIDIA fan it is a great card and is worth the purchase for the enthusiast that wants to say he has one. Who knows, this card may become a collectors item like the Voodoo 5 6000.