MSI offers one of the most feature-rich nForce2 boards in its price range. This board is directed at nearly every edge of the market. System builders will love it for its price, stability and features.
Introduction
I would like to thank the guys at Bjorn3D for giving me the opportunity to review MSI's K7N2G-ILSR, and I would be more than happy to answer any questions you might have that aren't covered here. It is my intention to do a fair review of this product. I've included some of the usual benchmark numbers in this review, but I've added a few other things I've noticed working with this board.
MSI has packed quite a bit into one piece of hardware, including graphics, sound, LAN, TV-out, RAID, SATA, 8x AGP, and all the other standard features found on nForce2 motherboards. All you need to add for a complete system is DDR RAM, CD-ROM, processor, harddrive and a case. This seems ideal for someone looking to build a system with as much integration as possible.
Specifications & Features
Here is the list of the product specifications for the board I reviewed. The product specs can also be found here.
CPU
Supports Socket A for AMD® Athlon™/Athlon™ XP/Duron™ processors @FSB 100/133/166
Supports 600MHz up to Athlon™ XP 2700+ processor or higher
Chipset
nVIDIA® nForce2 IGP Chipset

Integrated TV encoder
Supports DDR266/333 with internal graphic core, DDR266/333/400 with external add-on card
AGP 3.0 8x interface at 533MHz

nVIDIA® nForce2 MCP2 or MCP2-T Chipset

AC97 Interface supporting up to two concurrent codecs
Ultra ATA133 for the fastest hard disk throughput
USB 2.0 EHCI/1.1 OHCI controller
FireWire® and USB 2.0 for the fastest digital connectivity
Audio Processing Unit(APU) encodes audio in Dolby® Digital 5.1 format for full surround sound effects
FSB
100/133/166(200/266/333)MHz clocks are supported.
Main Memory
Supports six memory banks using three 184-pin DDR DIMMs
Support Dual channel PC3200/2700/2100/1600 DDR SDRAMs
Supports both 64-bit and 128-bit DDR SDRAM
Maximum memory size of 3GB
Slots
One AGP (Accelerated Graphics Port) 1.5V 4x/8x slot
Five 32-bit PCI bus slots (support 3.3v/5v PCI bus interface)
One ACR (Advanced Communication Riser) slot
On-Board IDE
An IDE controller on the MCP2/MCP2-T chipset provides IDE HDD/CDROM with PIO, Bus Master and Ultra DMA133/100/66 operation modes
Can connect up to four IDE devices
Serial ATA Interface
Support 2 serial ATA plus 1 ATA133

RAID O or 1 are supported
RAID function works w/ATA133+SATA H/D or 2 SATA H/D

Connect up to 2 Serial ATA devices and 1 ATA133 device
In-Chip TV-out
Integrated TV-out encoder, through external bracket
In-Chip IEEE1394
nVIDIA MCP2-T IEEE1394 controller

Support up to two ports via external bracket
Audio
Realtek ALC650 6-channel audio

Dolby Digital 5.1 format (with MCP2-T option)
Network
Chipset integrated 10/100 Base-T Ethernet/Fast Ethernet
On-Board Peripherals
One floppy port that supports two FDD with 360KB, 720KB, 1.44MB and 2.88MB
1 serial port and 1 VGA port
1 parallel port supports SPP/EPP/ECP mode
3 audio ports in vertical
2 IEEE1394 connectors
6 USB ports (Rear * 4/ Front * 2)
1 RJ-45 jack
BIOS
The mainboard BIOS provides "Plug & Play" BIOS which detects the peripheral devices and expansion cards of the board automatically.
The mainboard provides a Desktop Management Interface (DMI) function that records your mainboard specifications.
Mounting and Dimension
30.5 cm(L) x 23 cm(W) ATX Form Factor
6 mounting holes
Other Features
Suspend to RAM/Disk
PC2001 compliant
Support PCI 2.2/WOR
Accessories
D-Bracket 2 (USB bracket w/ Diagnostic LED's)
S-Bracket (2 SPDIF jacks and 2 analog Line Outs for additional 4 channels of audio)
MSI™ 1394 Cable
Software of Note
Drivers
PC Alert 4
MSI Live Update 2
Promise Serial-ATA RAID Utility
Trend PC-cillin 2002
E-Color 3Deep
Inter Video WinDVD 5.1 Channel
I am surprised with all the goodies this mainboard has. Kudos to MSI for building a board based on a great chipset with so many features. With all the integrated features on this board, having 5 PCI slots seems useless. Using the Firewire and USB 2.0 connectors from the front of my case made several of the brackets unnecessary, but they are included should they be needed. I've purchased boards in the past that included a certain feature (such as additional USB ports) but required you to buy the additional brackets. The onboard GeForce4 MX is great for someone wanting better than the average onboard video, but you still have the option of throwing in your external 8X AGP card for even better 3D graphics. The manual includes enough information to install and setup the board, and it includes a good overview of the BIOS and software settings. Most of the connections also have been designed to make it difficult to plug the components in incorrectly.
Installation and Setup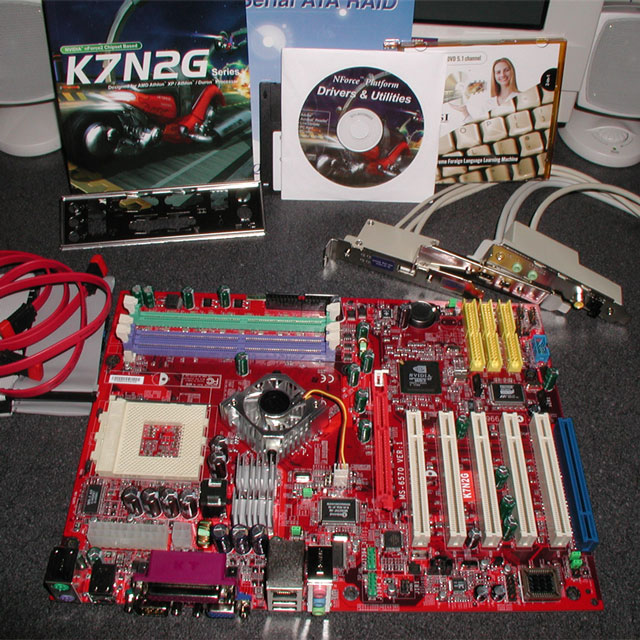 Board Layout:
So many colors have been used on this motherboard, it seemed fitting to put it in a case with a side window. The board is a deep red color with many other colors used for the plugs and slots. The RAM slots are purple and green, the IDE connectors are yellow, the ACR slot is blue, and AGP slot is red. The AGP card slot is located one slot lower on the back case panel than I have seen in the past on most boards. One benefit to this is getting a large graphics card mounted without fighting to find room between RAM and other components. Anyone who has ever had to remove a graphics card to install a stick of RAM will appreciate this. I had a few gripes about the layout of this board. Although nothing that would really change my opinion of this product, it may matter to someone else.
The case I have is fairly large so getting everything hooked up was easy. The plugs that power the board are positioned between the processor and back of the board. This may or may not give you grief with the heatsink and fan you are using. In my case, there is room to run the wires around the heatsink and fan, but in a smaller case, you may have to run the wires on top of it, perhaps effecting airflow.
You will find the IDE connectors on the bottom of the mainboard that may require a longer cable to reach some of your devices. The serial-ATA cables provided should be long enough to reach anywhere in your case. This is better than some of the boards I've seen that pack the connectors beside the RAM slots. On many boards, there is nothing in this area with a majority of your devices and connectors packed into the same area. The floppy drive still can be found near the RAM slots. Since Bill Gates is trying to make the floppy obsolete, I decided not to use this connector. Just seems so 80's.
Installation and Setup
Installing was a breeze. There was very little involved in setting up this board since it has nearly everything is integrated. The BIOS is the same Award BIOS that is so familiar to many of you. A few of the settings I had to adjust were the CPU's front side bus to 133 (it was set at 100 MHz) and the RAM timings to something a bit more aggressive. One thing that irritated me was the fact the mounting holes for this board are about 2.5 inches from the edge of the board. While plugging in the IDE cables and seating the RAM, I kept imagining the board cracking or breaking. I stuck my finger between the board and the bottom of the case to keep it from flexing. This is really a non-issue since rarely will you need to worry about it.
When installing an external graphics card, I was surprised the internal card automatically disabled itself. MSI seems to have this stuff figured out, and I cannot perceive any problems that could arise setting this board up. There are settings in the BIOS to disable the onboard sound, LAN, USB 2.0, and onboard IEEE1394, as well as a place to set up the MAC address. You will also find a setting for the AGP clock, plus the voltage for CPU, AGP and DRAM. CPU Ratio and Clock speed can be adjusted also. The CPU can be adjusted from 100 MHz to 200 MHz at 1 MHz increments, and the AGP clock is adjustable from 66 MHz to 120 MHz at 1 MHz increments also. Voltage gets similar tweaking. AGP voltage is adjustable from 1.5V to 1.7V at 0.1V increments, and DRAM voltage varies from 2.5 to 2.7 using the same increment. To give the CPU a boost in voltage, you can work from 1.55V to 1.8V, bumping it up .025V at a time. A fair amount of overclocking should be available.
I was impressed by the onboard sound. This board can be setup for 6 channels of sound and completely blows away my aged Sound Blaster Live. Using the supplied bracket, you can access the additional channels, SPDIF jack and SPDIF coaxial. Setting it up is easy through the nForce control panel, and the manual has a section that walks through the settings if needed. These audio capabilities should be acceptable to nearly anyone unless you are just some crazy audio guru.
This board came with several pieces of software I found useful. Most boards are bundled with a virus program and drivers, but MSI included a few things that really interested me. PC Alert is a hardware monitor to show you the voltages and temperaturess, and Cooler PC is supposed to keep those Athlon XP processors running cooler. I fooled with this for about 5 minutes and then set out to play with MSI Live Update 2. Live Update 2 checks online to see that your drivers and BIOS are up to date. It installs to automatically run at startup, but you can easily turn that off. This could be useful for those less inclined to keep up with drivers. Also bundled with this board was a copy of Intervideo WinDVD 5.1. For the sake of this review, I was forced to sit and watch "The Matrix" utilizing the onboard TV-out and included WinDVD. The things I do for the guys at Bjorn3D. 🙂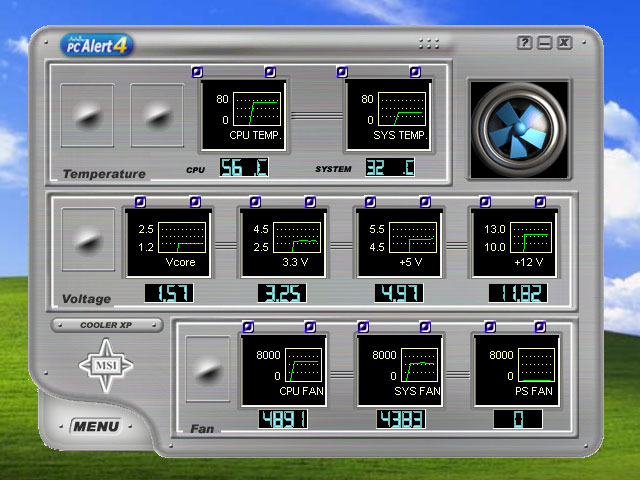 System Performance
I tried to follow Shane's example with these tests. I do not have the same hardware, but some comparisons may be able to be made. I used SiSoft Sandra 2002 and PCMark2002 to pick up a few numbers of interest. I was curious to see how the onboard video compared to my GeForce 4 Ti4400.
Test System:
MSI K7N2G-ILSR
AMD Athlon XP 2100+
512MB Kingston HyperX KHX3000 DDR RAM
Visiontek GeForce4 Ti4400SE (comparison for onboard GF4 MX)
Maxtor 40GB ATA/66 2MB Buffer HD
Artec 16x DVD
AOpen 12/10/32A CD-RW
NVIDIA Video Drivers: 43.45 Detonators
SiSoftware Sandra 2002
This test will show the performance of the onboard video in comparison to the GeForce4 Ti4400. The onboard GeForce4 MX was not expected to compete, but I was surprised at how well it actually fared. If the Dual Channel DDR capabilities of this board were used, I believe the numbers may look even better. A single stick of 512MB 3000 DDR was used in this review. These scores are based on a 32MB Frame Buffer setting for the IGP. The harddrive I have isn't the latest or greatest, but faired very well on this mainboard.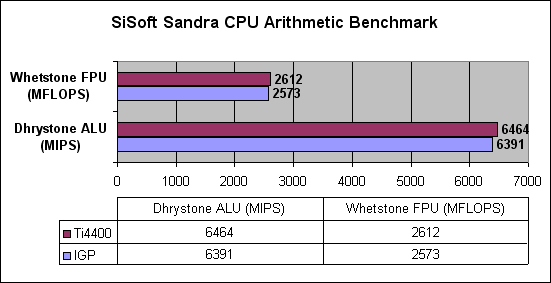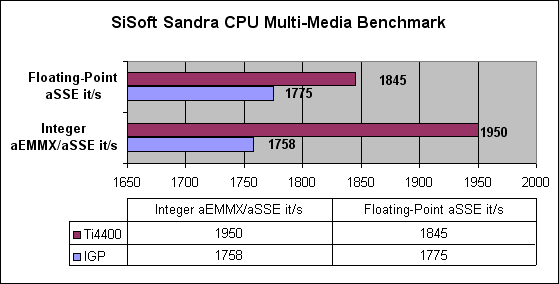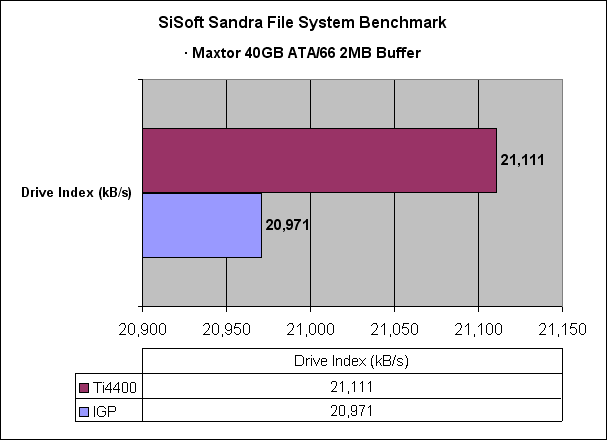 Futuremark PCMark2002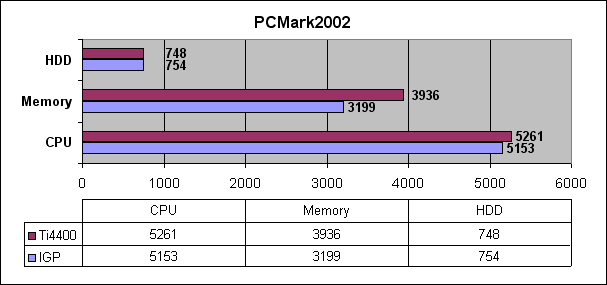 3DMark2001 SE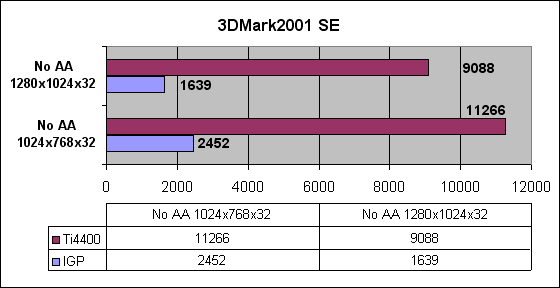 NASCAR 2003 Racing Season from Papyrus
I hope you're not looking to see a bunch of benchmark numbers from first person shooters! I do not play many FPS games, so I had to pass. I do have a copy of NASCAR 2003 Racing Season from Papyrus sitting here though, so let's just see how this integrated GPU handles one of the hardest hitting sims on the market. If you want to tear a system up, this sim will certainly put a hurting on it when you start turning on the graphics options.
What I've done for this test is left Anti-Aliasing and Anisotropic off, with detail level set on blend in the driver's options. The in-game settings had everything turned on but shadows. All the other lighting and detail effects were left on, and the resolution was set to 1024x768x16. To make this comparison viable, the FPS (frames per second) shown were taken in a test session with no other cars on the track and the car sitting on pit road with cockpit view. I was very surprised how well the IGP handled it. This sim is playable with the onboard graphics, but if you're a gamer and really want to do this sim justice, an external GPU is certainly the route you'll want to take.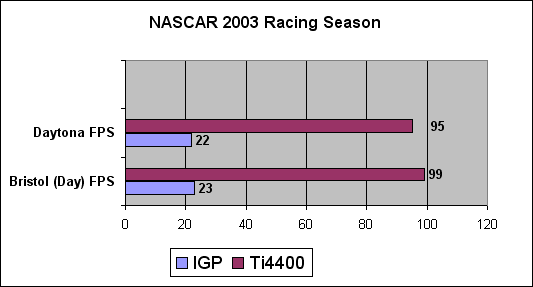 Battlefield 1942
I said I wouldn't post the numbers from a FPS game, and I won't. I did play around with Battlefield 1942 on the IGP though, and the visuals were great. At a resolution of 1024x768x16, it was almost playable, but in order to make it playable I had to drop it down to 800x600x16. Still a commendable job from the onboard GeForce4 MX. For an integrated GPU, the GF4 MX 's performance isn't too bad. I'd still recommend using an external card if BF1942 is your game, but it is playable at a lower resolution.
Unreal Tournament 2003
Conclusion
MSI offers one of the most feature-rich boards in its price range. This board is directed to nearly every edge of the market. System builders will love it for its price, stability and features. For about $130 bucks, you get a board that offers video, sound, SATA, LAN and RAID. A system builder could base a system for nearly any type of user on this mainboard.
The 2D worked on par with everything I've used in the past, as was expected, and the onboard TV-Out looks better than that found on my Visiontek GeForce4 Ti4400. With the TV Out, Dolby Digital and the supplied WinDVD you can pop a bowl of popcorn and rent a good action flick. Not only will grandma's 3D fish screen saver swim hard on the integrated GeForce4 MX, but you can also cap a few monsters in a game of Half-Life when you visit her.
Gamers will certainly appreciate what MSI has to offer as well. Although the onboard GPU might be a bit shallow for most 3D gamers, this board will easily accept a 2, 4 or 8X graphics card. I cannot find a bad thing to say about the performance of this product. The onboard sound should satisfy nearly anyone, allowing a gamer to frag or race on Dolby Digital. Plus it just will look so colorful and cool in your LAN rig.
I am very impressed by the features, stability and performance. Although I could not be satisfied with the onboard graphics, it should satisfy a large percentage of computer users, including those looking for an office PC. The onboard sound exceeded my expectations. I have no use for many of the advanced integrated features yet, but they will be there when I need them.
I recommend the MSI's K7N2G-ILSR and award it a 9 out of 10 rating along with the coveted Bjorn3D Golden Bear Award.
Steve Gibson is the Webmaster of 'Rubbin's Racin.com'.