Following up the success with the nForce2, NVIDIA now offers a solution for the new AMD Opteron CPUs, the nForce3 Pro. Check out our article about the new chipset.
Introduction
---
If you are looking for a motherboard for a system today, the chances are that you will pick a motherboard using NVIDIA's nForce2 chipset, at least if you want to use an AMD CPU. In just a few years, NVIDIA has managed to come out of the blue and release chipsets that are able to compete with the chipsets from VIA and SIS. As AMD is releasing their new Opteron CPUs, it is natural that NVIDIA is ready to release a new chipset to go with the CPU – the nForce3 Pro.
Specifications & Feature
---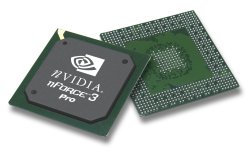 Before we dive into the specs of the nForce3 Pro, let us take a look at the Opteron from AMD.
Opteron is the brand name for multiprocessor capable Hammer based parts. The Opteron is AMD's first full 64-bit processor. It is fully backwards compatible with 32 bit operating systems but will of course benefit from OS's that support it natively. Right now several Linux distributions have Opteron support. Microsoft has also said that they plan on releasing native versions of their operating systems (source: http://www.theinquirer.net/?article=8827).
Why 64-bit?
What types of applications need 64-bit? Well, in today's 32-bit world we can only use 32-bit addressing. This means that the CPU 'only' can access a dataspace that spans up to 4 GB of virtual memory. In 64-bit architectures virtual memory addresses can be specified using the full 64-bit. Some of the applications that would benefit from this are:
• Computer-Aided Design (CAD): a large engineering model can involve thousands, tens of thousands, or more discreet components. Each part requires multiple "words" of data to describe its hierarchy, attributes, and requirements. The 2GB limit for virtual memory restricts a workstation's ability to process such large models.
• Finance: the 32-bit limitation affects this market in two dimensions. Applications that involve millions of transactions a day are limited in their ability to analyze large numbers of transactions collectively, and high-precision analysis cannot be carried out for large data sets since accuracy requires multiple words to represent each floating-point number. 64-bit architectures allow more in-depth analysis for large numbers of transactions, and offer increased accuracy, which can add up to significant savings when large amounts of securities are traded online.
• Digital Content Creation (DCC): digital scenes and virtual worlds quickly consume virtual memory as more sophisticated textures, lighting, and effects are introduced. 64-bit architectures remove restrictions on the content creators and allow scenes to integrate unlimited complexity.
64-bit and yet not 64-bit
AMD has chosen to make sure the Opteron/Hammer chips will work with both 32-bit and 64-bit OS's.
It has 3 modes:
• Legacy mode: 32-bit operating system with 16-bit and 32-bit applications
• 32-bit compatibility mode: 64-bit operating system with legacy (16-bit and 32- bit) applications
• 64-bit mode: 64-bit operating system with 64-bit compatible applications
Read more
Since this is an article about nForce3 Pro and not about the Opteron CPU, I will let you go and read up on the Opteron on your own:
• http://www.anandtech.com/cpu/showdoc.html?i=1611
• http://www.inquirerinside.com/?article=6478
• http://www.amd.com
The nForce3 Pro
---
As you might have understood now, the nForce3 Pro chipset is intended for the professional market. NVIDIA already has a graphics chip for the professional market, the Quadro, so it is no surprise that they now also add a chipset for that market.
These are the specs of the nForce3 Pro:
NVIDIA enterprise-class networking technology
• NVIDIA IEEE 802.3 MAC (Media Access Controller)
• Supports 10/100 BaseT Ethernet/Fast Ethernet
• ACR and CNR Interface Support
• Enterprise-class network management features
– ASF 1.03 compliant
– Auto negotiation plus
– Flow control
– Traffic prioritization
– ACPI 2.0
– Wake On Lan (WOL)
• NVIDIA StreamThru™ technology
– Isochronous Controller Paired with HyperTransport Results in Fastest Networking Performance
NVIDIA RAID technology
• RAID 0 disk striping support for highest system and application performance
• RAID 1 disk mirroring support for fault tolerance
• RAID 0 +1 disk striping and mirroring support for highest performance with fault tolerance
• Support for both SATA and ATA-133 disk controller standards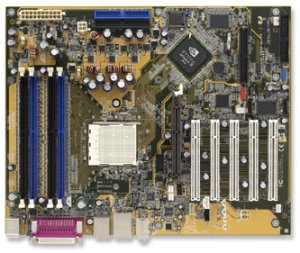 Triple Fast Ultra ATA-133 Disk Drive Controllers
• Each interface supports two devices, for a total of six devices
• Third IDE interface can support two IDE-to-SATA bridge master/slave configuration devices to support up to two SATA ports
• Third IDE channel additionally supports an over-clocked mode to achieve UDMA-150 to match the 150MB/sec. of the SATA link interface
• Industry-standard PCI bus master IDE register set
• Separate independent IDE connections for 5V-tolerant primary and secondary interfaces
AGP Interface
• Supports AGP3.0—0.8V signaling for 8x and 4x with Fast Writes data transfers
• Supports AGP2.0—1.5V signaling for 4x, 2x, and 1x modes with 4x and 2x Fast Writes data transfers
• Supports graphics address remapping table (GART) features
• The AGP3.0 8x 533MT/s (million transfers per second) interface provides the user with the ability to upgrade the external graphics card, thus avoiding obsolescence. An external AGP add-in card achieves higher performance than it would on existing platforms.
• AGP interface is backward compatible with the AGP2.0 specification
HyperTransport
• High Throughput (3.6GB/sec.)
• Low Voltage
• Differential
• Low Pin Count Interface
• Isochronous Link between NVIDIA nForce3 Professional and AMD Opteron processor
USB 2.0
• Single USB 2.0 Enhanced Host Controller Interface (EHCI)/Dual USB 1.1 Open Host Controller Interface (OHCI)
• Support for up to 6 ports
• Supports transfer rates at high speed (480Mbps), full speed (12Mbps), and low speed (1.2Mbps)
• Dynamically configures slower devices for best utilization of bandwidth
• Allows USB concurrency
• Dual AC-Link—supports up to two CODECs
• 16-bit or 20-bit stereo output and 16-bit input streams
• Supports input, output, and GPIO channels for host-based modems
• Separate independent functions for audio and modem
• Supports ACR and CNR interface
SPDIF Output (Stereo or AC-3 Output)
PCI Interface
• The NVIDIA nForce3 Professional integrates a fast PCI-to-PCI bridge running at 33MHz. It includes an arbiter that supports six external master PCI slots.
Features of the PCI interface include:
• PCI 2.3-compliant, 5V tolerant
• Supports six external PCI slots at 33MHz
• Supports six bus master arbitration
• PCI master and slave interfaces
• Supports both master-initiated and slave-initiated terminations
• Bidirectional write posting support for concurrency
• Flexible routing of all four PCI interrupts
• Supports read ahead: memory read line (MRL) and memory read multiple (MRM)
Phew – not bad. Let us take a closer look at some of the new features as well as some of the advantages of the nForce3 Pro. Please note that as usual all info comes from official NVIDIA documents and that we unfortunately do not have any nForce3/Opteron based systems to test yet.
Single chip solution
The nForce3 Pro platform processors integrate functionality based on current user demand, and include enough silicon headroom for a broad range of future capabilities.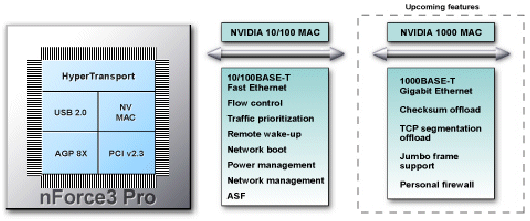 Being a single-chip solution gives the nForce3 Pro advantages such as overall latency reductions and boosted device throughput. The dedicated HyperTransport link lets the nForce3 Pro communicate with the CPU at up to 3.6 GB/s which helps avoiding bottlenecks, especially when multiple devices are active.
Unified drivers
NVIDIA has always been proud for their unified drivers. The idea of having one driver covering a variety of products is very compelling when trying to keep a system updated. As expected NVIDIA is taking this to the nForce3 Pro. Instead of having to keep updating drivers for LAN-card, audio, storage and graphics, you just make sure to keep the nForce3 Pro drivers updated.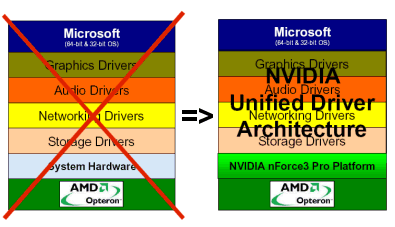 Enterprise Networking
NVIDIA will have 2 different nForce3 Pro products with different networking. nForce3 Pro 150 will have NVIDIA 10/100 Fast Ethernet with Enterprise class features and nForce3 Pro 250 will have NVIDIA Enterprise class Gigabit Ethernet.
The NVIDIA networking technology includes capabilities that address:
Advanced access
NVIDIA Media Access Control (MAC) technology gives system designers an industry-standard Media Independent Interface (MII) or Reduced Gigabit MII (RGMII) for 10/100BASE-T Fast Ethernet and 1000BASE-T Gigabit Ethernet. Gigabit Ethernet meets the high-performance requirements for commercial users on today's high-speed backbone networks. Adherence to the industry standards means that system designers can interface the NVIDIA solution to Ethernet PHYs from a variety of vendors.
The NVIDIA implementation of task offloads incorporates support for the latest Internet Protocol (IP) specification, IPv6.
Specific features for task offloading
• Checksum offload: calculating checksums is the most CPU-intensive function in the networking stack, contributing to long path length and causing cache churning. Offloading this to the NVIDIA nForce3 Professional networking solution increases system performance, improves CPU cache effectiveness, and raises overall network responsiveness—even for systems where the CPU is not otherwise busy.
• TCP segmentation (large send) offload: for large send operations, the NVIDIA nForce3 Professional offloads the CPU from the work required to segment a large buffer into packets that fit within the network.
• Jumbo frame support: larger maximum transmission units (MTUs) or jumbo frames reduce the per-byte overhead for large transfers. Offloading the handling of jumbo frames to the networking platform reduces the number of calls to the network driver, thereby reducing CPU overhead.
• Interrupt moderation: the NVIDIA nForce3 Professional networking solution can process several packets with only one CPU interrupt, instead of generating one interrupt per packet. This increases overall networking performance by minimizing interrupt latency and cache churning.
Network management
• Configuration flexibility: for interoperability with low-end switches, the autonegotiation plus feature allows the Fast Ethernet mode to be set from the client side when connected to a non-managed switch. (Gigabit Ethernet incorporates a different auto negotiation feature tailored to the specific operation of gigabit
• Flow control: for both Fast and Gigabit Ethernet transfers, the transfer speed is adjusted depending on network conditions.
• Traffic prioritization: the NVIDIA driver supports the IEEE 802.1p traffic prioritization specification, and the IEEE 802.1Q virtual local area network (VLAN) specification. IEEE 802.1p allows each frame to be labeled with one of eight priority codes, which results in optimized transmission through intelligent
• Power management: the NVIDIA solution complies with the Advanced Configuration and Power Interface (ACPI) 2.0 standard. ACPI establishes open industry-standard interfaces for OS-directed configuration and power management on laptops, desktops, and servers.
• Remote wake-up: this feature enables receiving a remote wake-up packet so that a network manager can access the system even if it had been previously put to sleep or shut down. (Full functionality of this capability requires OS support.)
• Network boot: the NVIDIA nForce3 Professional platform processors implement the Preboot Execution Environment (PXE) standard, allowing enterprise network clients to download software images and configuration parameters from a centralized server before the operating system is loaded. This essentially allows a network interface to function as a boot device, letting network managers remotely set up new systems, perform pre-OS system management, and remotely boot over the network.
• Network management: a full suite of interfaces—command line interface (CLI), Web browser interface, and WMI scripts—gives network managers an option that fits into their environment.
Management
To facilitate effective network management practices, the NVIDIA networking solution complies with the Alert Standard Format (ASF) 1.03 specification. Alerts are generated for a variety of events, resulting in reduced maintenance costs and an increase in uptime and customer satisfaction. ASF enables the generation of these alerts even if the system is powered off or the operating system is not yet loaded. Once a system reports a warning or error, ASF allows corrective action to be taken, including remote reset, power-on, or power-off functions.
Security – Personal Firewall and Anti-hacker features
Security is one important issue in today's corporate world. Loss of data, downtime etc. – everything cost money. NVIDIA of course has some tricks up their sleeve in this area.
Personal Firewall
Firewall functionality provides protection from unauthorized users attempting to break into private data repositories or attempting more malicious behaviors such as overwhelming a server or an entire network. Companies typically establish a firewall that limits access from non-employees, but there is often no protection from attempted break-ins from within the organization—an increasingly common security problem. Traditional firewalls also offer no protection for off-site employees working from the road or home. NVIDIA security technology meets all of these needs with another level of defense at each desktop. The NVIDIA nForce3 Personal Firewall technology protects each system from attempted breaches from disgruntled employees, or break-ins that can happen when a user is connected from a remote site using an "always-on" broadband link to the Internet. NVIDIA nForce3 Professional Personal Firewall technology, a software-based solution at the driver level, provides support for stateful and stateless firewall inspection.
Anti-hacker features
The nForce3 Pro platform includes some anti-hacker features. It offers protection from IP-spoofing and includes checks for inconsistent IP addresses. You can also enable protection from flooding.
Storage features
The nForce3 Pro supports up to 3 independent ATA133 controllers, each supporting 2 devices per channel. It also supports new high-speed serial ATA devices through the built-in implementations of the Silicon Image™ SATALink™ and Transport Layer.
As expected, the nForce3 Pro platform also supports different RAID modes:
• Raid 0 disk striping for increased performance.
• Raid 1 disk mirroring providing fault tolerance capabilities.
• Raid 0+1, a combination of Raid 0 and Raid 1
Graphics
The nForce3 Pro has no built-in graphics. I'm not sure about the reason, but over at Anandtech (http://www.anandtech.com/showdoc.html?i=1630&p=4) there was this speculation:
'What's very interesting about NVIDIA's chipset is that there doesn't seem to be any on-board frame buffer for integrated video. The reason this is such an important feature that is missing is because we have been hearing all along from chipset manufacturers that the latency introduced by having to use the Hammer's on-die memory controller effectively kills integrated graphics performance.'
Regardless of the reason for the absence of the built-in graphics, NVIDIA has of course made sure that the chipset is optimized for the NVIDIA Quadro Workstation graphics as well as for the FX line of chips.
The Products
---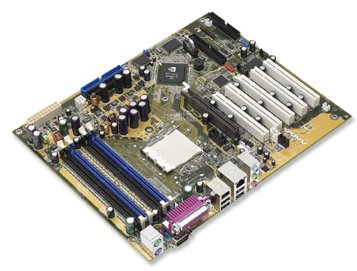 As I said earlier, NVIDIA has 2 versions of the nForce3:
nForce 3 Pro 150
• Out now
• AGP8X Interface for Quadro and other workstation graphics cards
• NVIDIA 10/100 Fast Ethernet with Enterprise-class features
• 3 Ultra ATA-133 Channels with RAID 0, 1, 0+1 NVIDIA
• USB 2.0, AC '97 Audio, PCI
nForce 3 Pro 250
• Out Fall
• AGP8X Interface for Quadro and other workstation graphics cards
• NVIDIA Enterprise-Class Gigabit Ethernet
• 4 Serial ATA ports and 2 ATA-133 Channels
• USB 2.0, AC '97 Audio, PCI
Who Will Use It?
---
NVIDIA has provided us with a list of workstation system integrators who will be adopting the nForce3 Professional platform processors for their professional workstation solutions.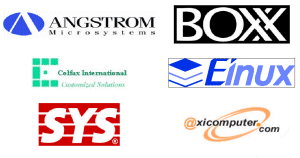 • @Xi Computer Corporation
• Alienware® Corporation
• Angstrom Microsystems
• BOXX Technologies Inc.
• Colfax International
• Concordia Graphics
• Core Microsystems
• DigitalScape Corporation
• Einux
• Hypersonic PC
• Max Black
• MaxVision Corporation
• NTSI
• Polywell Computers
• Si Computer Italy
• Sys Technology, Inc.
Conclusion
---
The key-points of the nForce3 Pro are:
• Designed specifically for the new AMD Opteron 64-bit processor and professional workstation computing environments
• High-performance, single-chip solution
• Industry's only 1P workstation solution for Opteron
• Two products: nForce3 Pro 150 (available now) and nForce3 Pro 250 (available this fall)
• Enterprise-class 10/100 and Gigabit Ethernet networking features including IP v. 6 and ASF
• Hardware accelerated RAID 0, 1, and 0+1 solutions
• NVIDIA commitment to a minimum 6-quarter product availability
With the nForce2, NVIDIA managed to create a kick-ass product for the desktop. It is only natural that they continue the fine tradition and create a chipset for the professional market. The nForce3 Pro promises a lot, and if these promises are fulfilled, NVIDIA has another winner on their hands.