Even though optical mice marketing involves the claim of "not needing a mouse pad," you still need a good surface to mouse on, especially if you are a gamer. The X-trac Pro Hard Surface is a mouse pad engineered with optical mousers and gamers in mind, and you can tell!
Introduction
---
Even though many people claim that when you have an optical mouse, you don't need a mouse pad because you can mouse on almost any hard surface, I have never stopped using one. Mousing directly on my desk or over all the crap spread out on my desk just doesn't appeal to me or even make any sense. So I've always used some sort of mouse pad, but I have never purchased one. Freebies are great, aren't they? I think I have about five free pads of varying shapes, colors, designs, thicknesses and materials. None of them are really suited for hardcore gaming or designed with optical mice in mind though.
Thanks to CrazyPC I now have a real mousing surface that was designed for optical mice and with gamers in mind. Does it really make any bit of difference though? Is it worth tossing out my old freebie pads for this higher quality X-trac Pro HS (hard surface)Optical Mousing Surface?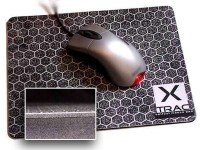 Features
---
11″ wide x 8.5″ depth x 1/8″ thick
Hard surface with a fine texture provides excellent mousing control and great feel
Sure-grip backing provides holds onto most surfaces and will not slip
Works with optical mice as well as conventional ball mouse
Low profile edges to prevent mouse wire snags
The print on the X-trac has a 1200dpi resolution (according to the PCXMods site)

At 11 inches wide and 8.5 deep, the X-trac Pro HS is a pretty big mousing surface. In addition to being a big pad, the X-trac Pro is also a hard surface (HS) mouse pad, as opposed to the softer surface of a mouse pad with a cloth / fabric top. The hard, slightly textured surface allows for faster, smoother and easier mousing. Everything about this mousing surface seems to be well thought out, including the back side's rubber, non-slip surface. Once you put this mouse down, it won't budge very easily.

Testing It Out
---
My primary mouse is the Logitech MX500, which is one of Logitech's latest optical mice. I'm relieved to be using this smoother, thinner and bigger mousing surface when compared to my old free one I was using. It really does feel like the X-trac surface was made for optical mice like the MX500, but it will of course work equally well with an old school ball mouse. The mouse just glides across the surface with considerably less effort than with the old mouse pads I used.
To test out the X-trac Pro HS, I played some games and compared the feel to the cloth and plastic-like free mouse pads I had laying around. After playing Quake 3 Arena and No One Lives Forever 2 and rotating between the X-trac and others, I really noticed how much smoother the X-trac makes mousing feel. It also felt great when using regular applications, like Paint Shop Pro and Excel. The non-slip back side really helps the X-trac stay in place too! I also used a Microsoft Intellimouse Optical with the X-trac Pro as well, and it felt much better than the old pad I used before. It was definitely a noticeable improvement.
Part of the reason this mousing surface feels so much better and smoother than my crappy old freebies is because of how it was designed. The hexagonal, honeycomb print on the X-trac not only looks really cool but also serves an important purpose. According to the description at CrazyPC.com, "With the hexagonal pattern and random dot configuration, mouse cursor fade and jitter are practically eliminated." With my old mouse pad, I did notice occasional jittering of the cursor, and I thought it was the MX500. During the last couple weeks of using the X-trac though, I haven't noticed the cursor jitter once. I never would have considered that it was the mouse pad causing the jitter, but now I guess I've learned something! It goes without saying that I'm glad to see that my mouse no longer has the jitters. 🙂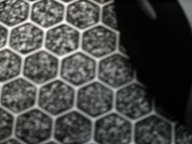 Conclusion
---
The X-trac Pro HS optical mousing surface really does seem to have it all — a smooth surface that the mouse glides almost effortlessly on, a cool design, a non-slip back and a precisely engineered and tested hexagonal pattern to improve tracking performance. The X-trac Pro is great and much, much better than the average free mouse pad or any with a cheap cloth or plastic surface, especially for optical mice. Unfortunately, I haven't used any of the other "gamer" mouse pads out there like the Everglide or Ratpadz, so I can't make any direct comparisons to the competition. For $12 though, this is a great mousing surface that is worth every penny.
Pros:
Provides great mouse tracking
Cool design
Non-slip rubber back
Only $12
No more cursor jitters!
Cons:
The X-trac was designed based on the input of gamers, and it shows! I'm awarding it a 9.5 out of 10. Recommended!
The X-trac Pro can be found and purchased at CrazyPC for $11.95 by following this link: X-trac Pro @ CrazyPC.