The downside to a PDA being there for you all the time is that it's also there when conditions are less than ideal for electronic equipment. If you frequently expose your PDA to rugged and hostile environments, you might want to check out GrinderGear's Expedition case!
Introduction
---
I tend to be rough on my gear. I buy stuff to use it, not baby it. In the case of electronics devices like PDA's, this can sometimes be problematic due to their inherently fragile nature. I'm prone to just stuffing my PDA into a jacket pocket, my gear bag or my rucksack without too much thought to the abuse it's going to take. If I have to stop and worry about it, then it's not worth taking in the first place. This kind of treatment makes a case pretty much a necessity. Luckily for me, there are companies out there like GrinderGear who specialize in rugged PDA cases for folks who don't just take them back and forth to the office.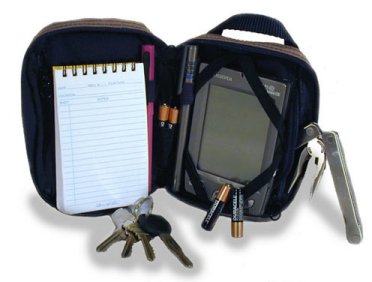 Specifications & Features
---
Features:
3 generous zippered pockets
External mesh pocket
loops for pen and pencil
web binding for wet/dry notebook
battery compartment
PDA constraint straps
fleece lined to protect your screen

Specifications:
5/8″ webbing
CorduraTM and EPV sandwiched foam
4.75″ W x 7.5″ H x 2.3″ D
Fits: Jornada, iPAQ w/ sleeve, Palm M505, etc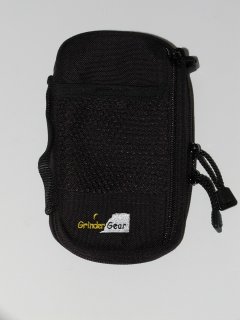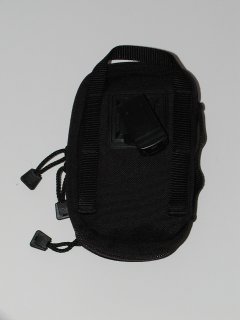 Upon removing the Expedition from the shipping package, it was immediately apparent that I was looking at a rugged, durable product. The construction was much more solid than I've come to expect in PDA cases. In fact, it compared very favorably to the quality of some of the better backpacking gear I've used. The shell is a heavy Cordura nylon with a fleece lining in the areas that contact your PDA screen. The nylon web carry straps and the stitching are also very sturdy, as are the zippers (an often overlooked, yet fragile, item).
The Expedition is a bi-fold design with a series of straps designed to accommodate a variety of PDA's, note pads and even Nintendo's GameBoy Advance. There are pen and pencil holders on the inside along the hinge as well as 3 zippered compartments and one mesh compartment for various PDA related gear, keys, spare change, etc. The pockets are actually one of the best things in my opinion. Whether you're using a PDA or a GBA, there always seems to be a plethora of spare memory or game cards, headphones, cables, etc that you need to drag along with you, and the Expedition has plenty of space for them all.
For transport, the Expedition comes with a removable plastic swivel belt clip that goes on the rear of the case as well as a top and side strap for either hand carrying or lashing to your ruck sack or bag.
Testing and Performance
---
The only way to really test out a case is to use it! For the past few weeks, I've been dragging around my Dell Axim X5 in the Expedition case and seeing how it stands up to regular use and how easy it is to work with.
Just for some background, I'm an Air Force Reservist, a recreational backpacker, and have recently started a new career as a police officer. My PDA pretty much goes with me everywhere, so it has to survive being bumped, bounced and jarred while it's being carried, thrown into and out of vehicles and aircraft while stuffed into a ruck or gear bag, and occasional exposures to harsh and sometimes damp weather.
Before the Expedition came for a review, I was using a neoprene sports case that, while not bad, lacked any sort of storage for memory cards, earphones, expansion cards, spare stylus and the like. That was one of the first things I noticed with the Expedition: there's a lot of well thought out space for stuff! With multiple zippered compartments, a front mesh pocket, and pen and pencil holders, it's possible to carry all my PDA related items in one pouch and still have some room left over for other useful things like a Leatherman Squirt, keys, pen drives, etc. I normally carried all that stuff with me anyway, but it's a lot more organized now. Before, I had to stuff some of that in jacket and pants pockets or in other pockets on my ruck and gear bag. Now, it fits together in a compact space and is there when I need it. If I have my PDA, I have everything I need with it as well. That's a definite bonus when you're in a hurry.
As mentioned above, my current PDA is a Dell Axim X5 running Pocket PC 2002. It slipped easily into the retaining straps on the inner right side of the Expedition case and was actually held more securely than I thought it would be. I had previously used a variety of slip cases so I was a bit unsure how well the elastic straps would work. On the plus side you don't have to remove the PDA from the case to use most of the functions. The screen remains accessible, as do most of the buttons. Occasionally, I'd have to slide the lower straps to the side a bit to access the function buttons but it wasn't generally a big deal. The only downside was that the Axim's side toggle lever is positioned such that it sits directly under the point where the upper and lower retaining straps on the Expedition meet. This made it hard to get to generally, and occasionally the strap would engage the toggle causing it to stick and the current active program to scroll wildly until you shifted the Axim in the straps a bit to back off the pressure on the lever. This was somewhat annoying and did cause me to pretty much have to remove the Dell from the case if I had an application where I wanted to use the toggle lever frequently. In fairness though, other PDA's may not have this issue.
Durability testing happened to coincide with the weeks that we were on the firing range for work. We had a lot of down time between firing orders so I made sure I had my PDA along with me to occupy that time. Each day I'd pop the Dell out of its charger and into the Expedition, and then the whole thing would get tossed into my duty gear bag. In there, it rolled around with a mixture of cop stuff including books, a couple of flashlights, handcuffs, a multitool or two and my collapsible baton. Pretty much any of that stuff could be bad business if it came in contact with a delicate PDA while in transit or when being tossed into and out of the car and around the range trailer. When the PDA wasn't rolling around in my gear bag, it was stuffed in my jacket pocket, and it managed to get exposed to a truly bizarre range of weather during that time! We had temperatures that ranged from the mid 20's up into the 70's and a mix of precipitation that ranged from bright sunny days, through a freak snowstorm to one nasty thunderstorm with torrential downpour. The Expedition waded through all these conditions with aplomb, and at the end of the two weeks, I couldn't find a scratch of any sort on my Axim.
About the only problem I found with the Expedition during my time with it was that it might be considered a little large. Carried in or attached to a ruck or bag, this isn't much of an issue, but it was somewhat bulky stuffed in my jacket pocket and might be attached to the belt as well. Of course, this is one of the trade offs between having sufficient storage room and providing protection to your PDA and keeping things streamlined. It's likely a personal preference, and you'll have to decide for yourself whether you'd rather have the storage space and extra protection or have a little trimmer case.
All in all, this was a pretty good day to day test for a PDA case that isn't going to see much time in an office environment. It reflected the realities of my job pretty well and left me confident that the Expedition can provide the protection that a PDA needs for long term survival in a hostile setting. I plan on taking the Expedition into the wilds of Pennsylvania to see how it holds up on the Oil Creek or Laurel Highlands trails soon, but considering that it has already surpassed my old neoprene sports case, I don't have any reasons for concern. In fact, I'm thinking about strapping it to the outside of my pack so that it's easier to get to on the trail when I need to access maps or area information stored on my PDA.
Conclusion
---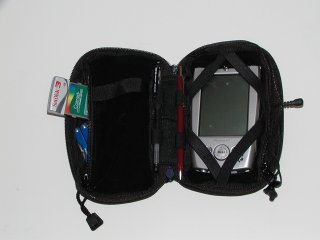 The GrinderGear Expedition retails for $44.95, which is a bit more than many nylon or neoprene cases, but is also a lot less than some "fancier" leather cases that aren't nearly so rugged. When you take into account that it's protecting a multi-hundred dollar electronics investment and helps organize your accessories and PDA-related gear in the process, that's not an unreasonable cost in my opinion. It's worth keeping in mind too that the Expedition is a universal case that'll work with many different PDA's and even the Nintendo GBA, so odds are good you'll still be using it when your current handheld device is obsolete!
Pros:
Extremely well made and durable
Offers great protection for your PDA/GBA
Excellent storage/pocket set up
Universal nature ensures use with multiple devices

Cons:
A bit bulkier than some cases
Retaining straps can interfere with some brands of PDA buttons

For exceptional quality and construction and a well thought out, user friendly design, I'm giving the GrinderGear Expedition PDA case a 9 out of 10 and the Bjorn3d Seal of Approval!