SanDisk makes connecting your PDA to the Net as easy as plugging in a memory card with their new Connect Wireless LAN Cards!
Introduction
---
Not too long ago it was in vogue to discuss what a wired world we were entering. Well, now I think it's safe to say that we're rapidly leaving those wires behind and entering a wireless world! With the advent of affordable wireless routers for home and cheap broadband access, more and more folks are dropping their cables that shackled them to the desktop and are taking their PDA's and PC's with them. Add in the proliferation of free wireless zones in various cities and public places, and you start to see the utility of having a wireless card for your own portable computing device.
Well, thanks to SanDisk and their new Connect card, you can get one product that'll work with both laptop or PDA! The Connect is a Compact Flash 802.11b Wi-Fi compatible unit that works with most Pocket PC/Win CE powered PDAs and also comes with a PC card adapter that'll allow it to work with most Windows laptops as well. Let's take a look at this new unit and see what it's like to live in a world without wires….
Specifications & Features
---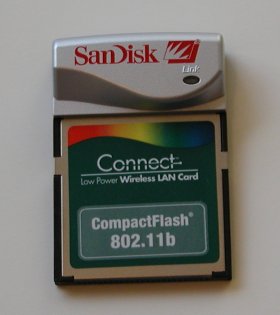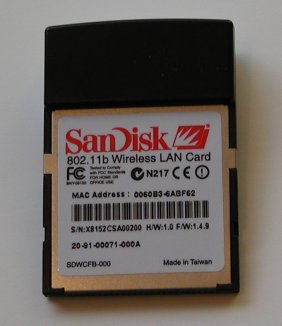 Specifications:
The Connect card is a Compact Flash Type I card designed for use in PDAs running WinCE, Pocket PC and Pocket PC 2002 and laptops (using the PC adapter) running Win98, ME, 2000, NT and XP. Its basic specifications are as follows:
11 Mbps High Speed Data Transfer Rate
Supports thousands of devices running Pocket PC, Pocket PC 2002, WinCE 3.0+, and Windows 98SE/NT/ME/2000/XP
Battery optimized for lowest power and highest performance
Powerful and easy to use security feature makes WEP encryption easy
Wi-Fi compatible – use any Wi-Fi (aka 802.11b) access point
Advanced Power Management

Package Contents: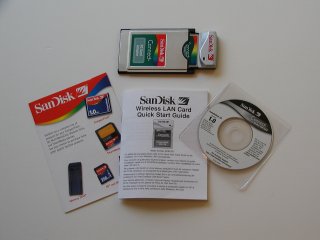 The Connect card comes packaged in a basic retail bubble pack with the items shown below:
Connect Wireless LAN Card
Driver CD-ROM
Quick Installation Guide
PC Card Adapter
Brochure of other SanDisk products

I liked the puny CD-ROM provided. It was more than adequate for the material presented and allowed for a smaller retail package as well. The Quick Installation Guide is short and to the point. It walks you through all the necessary set up procedures although it is a little lacking on troubleshooting as I later found out…

Installation
---
Installation on my Dell Axim PDA was pretty simple. Just plunk the tiny CD-ROM into your drive and wait for it to auto start. From there, you get a setup window that gives you the choice of selecting WinCE/Pocket PC setup or Windows PC based setup. I chose WinCE/Pocket PC and simply hit "next." You're then walked through a couple of basic screens that'll install the necessary drivers to your PDA. Once it's finished, you'll be asked to reset your PDA. It is worth noting that the PDA needs to be in its cradle throughout this process.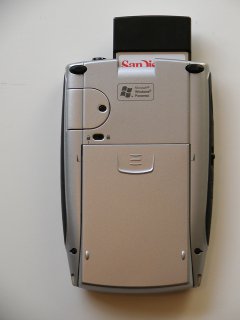 Once the software is installed, you simply insert the Connect card into your device's Compact Flash I or II slot and turn the PDA on. When the device is powered up, you'll see a green LED light up on the Connect card. The LED blinks green if it's attempting to find a connection and gives a steady green when it finds one. Prior to that though, you need to do an initial set up in Pocket PC's "systems" folder and set up your connection properties as indicated in the Quick Start Guide.
All in all, it was a pretty easy process and probably took under 10 minutes from start to finish.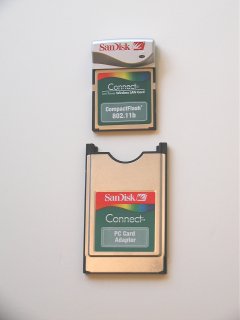 Unfortunately, installation on my Toshiba WinME laptop didn't go as well. The installation directions are very similar to that of the PDA with the exception of you choosing the Win98/ME/2000/NT/XP option and in that you have to use the PC adapter and plug it with the Connect card into your laptop's PCMCIA slot. Everything seemed to be moving along smoothly until I plugged the adapter in, and WinME tried to install the drivers for it. ME found the card fine and started through the setup process but bogged down when it went looking for a "sdiskNDS.sys" file. Where exactly this file might be remains a mystery to this day, and it is apparently critical to the Connect card's operation with my laptop.
I browsed both the provided driver CD as well as my Windows CD, as prompted by the installer, in an attempt to find the file with no luck. I checked the installation guide to see if there was a troubleshooting section and found only this recommendation: "Select the plus sign (in Device Manager) to open the list of installed network adapters. The list should contain the Wireless LAN card entry. If there isn't an error icon next to the entry, the card is connected and working properly." Ummm, thanks I guess. But what if there is an error icon?!?
I then checked SanDisk's web page for an updated driver or a more thorough troubleshooting section, but I still couldn't find anything that addressed the issue. My last step was to try and contact SanDisk tech support. The phone was out of the question as their hours are only 7:00-4:00 Monday through Friday, and that happens to be when I'm at work as well. Even factoring in the time difference between the East and West coasts didn't give me much of a window to call when balanced against my commute time and the usual family commitments, so I scratched that plan. E-mail tech support was my only real option at that point, so I fired off a message on a Sunday evening. A couple of days later, I got my first reply with some clarification questions from a SanDisk tech, and then it was another two days after that before I got another reply, which included more questions. As of press time, I'm still waiting on another reply, and it's been four days now since my last reply to them.
Through the course of this tech support e-mail tag game, I did confirm that the PC card adapter itself works in both of my PCMCIA slots with other Compact Flash cards, and I already know the Connect card works in my PDA. My question about the missing "sdiskNDS.sys" file hasn't been addressed yet, and I suspect that's the root of the problem. As of now though, I have to leave it that installation of the Connect card to my laptop is incomplete pending further assistance from tech support.
Performance
---
Despite the issues with the laptop installation, I decided to drive on with the PDA testing since this is most likely why people are going to purchase this particular WiFi card in the first place. In order to use the card, you're going to need a wireless router of some sort, and I used the NETGEAR MR814 that I picked up after Christmas. Although not the topic of this review, it's worth noting that the MR814 was a breeze to set up and seems to be working very well.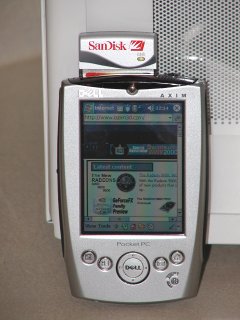 In contrast to my laptop woes, I was pleased to see just how easy it was to get started with the Connect card on my PDA. After the software installation and setup, I simply selected Internet Explorer from my Dell's start menu, and lo and behold I had Net access! The connection came up immediately although load times of many sites were longer than you'd expect if you were using a desktop PC. Considering that the Connect card has a more than ample 11 Mbps transfer rate and the NETGEAR MR814 has a 10 Mbps wireless transfer rate, I suspect that this is not so much a bandwidth issue but rather one of limited graphics processing capability and CPU muscle in the PDA. After a random sampling of hardware, game and news sites, I decided to try some sites specifically formatted for PDAs, and I found that load times and navigation speeded up dramatically.
Since I was working with a wireless router geared towards home use, I didn't go wild with the testing of the range on this unit. I did find though that I could get a solid signal through the Connect card anywhere in my two story brick house from the garage and the basement to the upstairs bedrooms.
SanDisk makes a big issue out of the power management and battery utilization features of the Connect card, and I have to admit they seemed to work pretty well to me. While I did notice more of a drain on the PDA than when I wasn't using the Connect card, I didn't find it to be dramatic or problematic. With normal use, including occasionally bumping online to check news, weather and other sundry sites, I found I could go for two or three days between a PDA recharge. Heavier Net use did seem to put more of a drain on the battery, but heavy game play does the same thing so it wasn't unreasonable. SanDisk does recommend unplugging the card when you aren't using it though as it does apparently cause some battery drain even while not in active use.
Conclusion
---
If you have a PDA with a Compact Flash slot, then the Connect Wireless LAN card is a fast and easy way to enter the wireless world. Setup was fast and easy, and the device doesn't add much weight and only a little bulk to your PDA. Performance was good when used in conjunction with my home network, and it should work equally well with a workplace network or in a public WiFi zone as well. The joy of being able to check the Net anywhere in the house can't be overstated. With a new baby at home, I find I can't spend nearly the time that I used to sitting at the PC, but with the mobility that a PDA and the Connect card give me, I'm finding that I can still keep tabs on stuff no matter where I am in the house.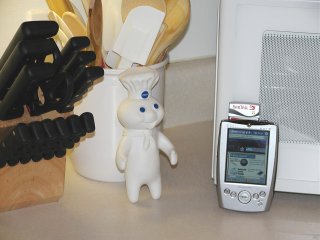 The ease of use and utility of the Connect card with the PDA was somewhat dampened by the installation glitches with the laptop. As mentioned earlier, I suspect most people will be buying these cards for use with a PDA but having the dual use capability of the PC card adapter was a nice bonus in my opinion. The fact that it didn't work and the issue wasn't quickly resolved was discouraging but still doesn't turn me against the product as a whole. It works well with the PDA, and I suspect the issue with the laptop is a minor one since all the hardware works separately. To be honest, it wouldn't shock me to find out that it's a WinME problem as I've had some compatibility problems with it in the past.
For its ease of use and performance in a PDA, I'm giving the SanDisk Connect Wireless LAN Card an 8 out of 10 and the Bjorn3d Seal of Approval. Had the laptop installation gone a little smoother or been resolved quicker, I'd have likely gone a point or so higher.