A fast Ti4600 with the best retail package offering out there. A win-win choice in the GeForce4 arena.
Introduction
---
Scott and I were both excited to review this product. Not only is this MSI's top GeForce 4 Ti, but MSI also chose to include a tremendous package of software with the Ti4600-8x. With this review, we'll look at the specifications of MSI's version of NVIDIA's Ti4600 8x (MSI Model Ti4600-VT2D8X (V:Video-in/T: TV-out/2D: Dual DVIs/8X: AGP8X)). We'll also look at what MSI chose to package with this card and how it stacks up in gaming benchmarks.
Specifications
---
The general specifications for MSI's GeForce4 Ti4600 8x GPU chipset include:
InfiniteFX™ II Engine for full programmability
Dual programmable Vertex Shaders
Accuview Antialiasing -high-resolution antialiasing
nView multi-display technology
Lightspeed Memory Architecture II engine for unmatched performance
Support for AGP 4X/8X
Shadow Buffers
Integrated hardware lighting engine
DirectX and S3TC texture compression
Dual cube environment mapping capability
Hardware accelerated real-time shadows
True, reflective bump mapping
High-performance 2D rendering engine
High-quality HDTV/DVD playback
High-definition video processor (HDVP) for full-screen, full-frame
Operating Systems supported: Windows® XP/2000/ME/98SE (linux)
APIs supported: DirectX 8.1 and OpenGL 1.3 (of course, DX9 is supported in software)
Beyond NVIDIA's GPU specifications, MSI has chosen the following route for the card construction:
128MB DDR SDRAM
Dual-DVI ports (no VGA ports)
1 S-Video port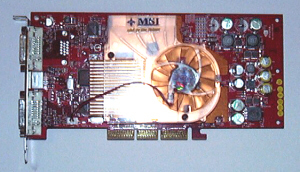 The card appears as the extended length AGP spec, as is seen in all GeForce4 Ti4600 models. The PCB is red while the cooling system is copper with a clear plastic duct cover. Both of these items make for an attractive package that is well suited to case modding fans.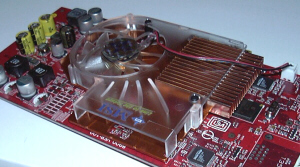 The cooler is a simple but effective design. There is a broad base plate covering the GPU and RAM, while there is a raised, finned heatsink over the GPU. The ducted fan sucks air from the edge of the fan, and then forces air through the ducts, over the memory plate and through the GPU heatsink.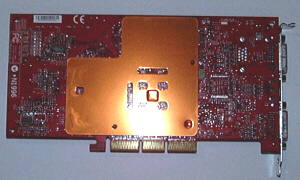 The back of the card has a similar heat spreader plate over the DDR memory chips. This area is left for passive cooling effects.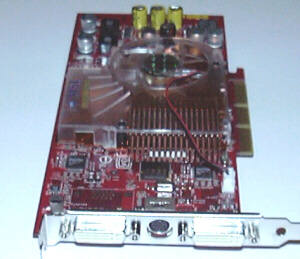 Curiously enough, MSI has chosen to provide two DVI-I ports, in addition to the S-Video port. A DVI to VGA adapter is included with the package, which most users will need. I suppose choosing a configuration of this nature will let MSI appeal to a broader market, but I'd expect that most buyers of this card are still using standard VGA CRT monitors. Most LCD panels also run from the VGA port, too. In the end, by providing a DVI to VGA connector, everyone is capable of using this card.
Next page I'll look at the what comes in this beefy package.
What's in the Box?
---
Beyond what you'd normally expect when buying a GeForce4 Ti4600 8x, MSI has gone the extra mile and included a wealth of supporting software, applications, and games. A total of 17 utilities and 10 games….and this isn't exactly junky, 3-year old stuff either!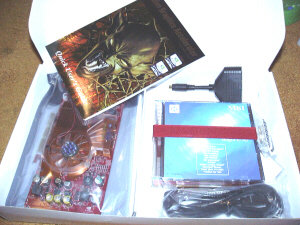 The retail packaging includes a well laid out shipping container. Compartmentalized cardboard holds the included video card, full paperback manual, 6' S-Video cable, DVI to VGA adapter, and the included 10 CDs (in thin jewel cases) are nicely nestled into a crevice, bound together by an elastic band. The VIVO (video-in/video-out) dongle is shown at the top edge of the box. This little dongle is much nicer than the typical array of free cables. The dongle houses the RCA and S-Video input and output connections that then connect to the S-Video port on the video card.
Utilities
| | |
| --- | --- |
| (click for larger view) | Letting MSI's main utility and driver disk autorun gives you a lot more options for installing software than I've been used to for your typical video card. There are four tabs along the top of the window for Drivers, Utilities, Web, and Manual. The first, Drivers, is obviously where you'll go to auto-install the included MSI/NVIDIA video drivers (ver.41.07 included). The last two tabs, "Web" and "Manual", are also obvious. These let you access resources on-line and in reference files to help with installation, troubleshooting, etc. (Note that a paperback manual is included, but the electronic version is also available for those who might prefer that option). |
The picture above shows the Utility tab of the driver CD install screens. Included here are MSI's own utilities (more on these next), as well as some aftermarket utilities like 3Deep (a nifty utility for optimizing colors and color depth between the given video card and your monitor), ThinSoft's BeTwin, Adobe Acrobat Reader (handy, if you haven't already downloaded it), PC-cillin anti-virus software (actually my favorite AV software. This is likely a 1 year subscription to updates), and MediaRing Dialer (phone over IP software).
| | |
| --- | --- |
| (click for larger view) | Clicking on the MSI Utilities takes you to a new screen. Under this tab are some of the most useful items included in the package in my opinion. Here we have MSI's 3Dturbo Experience (a web based application which allows you to monitor many features of the video card, and it also has a section for overclocking), MSI Live Update 2 (a very nice little utility that can be scheduled to check MSI's site for driver and BIOS updates automatically), MSI Secure Doc (a document security application), MSI GoodMEM (a handy utility for helping manage/free-up your system resources), and MSI LockBox (a utility for locking down the computer at the touch of a few keystrokes…the ultimate security for 4-year old children's grubby hands!). |
Just the included utilities are enough to impress me, but we're only getting started….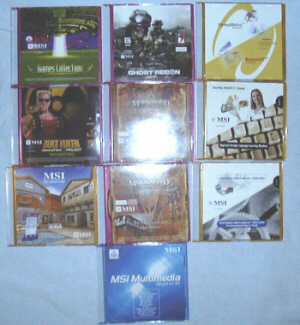 Software
MSI has also provided the buyer with a nice suite of desirable software applications (all full versions): Virtual Drive 7, Restore It 3, a 5.1 version of WinDVD bundled with a foreign language learning program, and MSI's 3D Desktop.
The Virtual Drive 7 software is something that I've used for a while. This is an ultra convenient way of legally making a back-up copy of your CDs to your hard drive. The software creates a virtual CD-ROM drive, assigning it a drive letter and everything, from which you can mount and play the CD images. Multiple Virtual Drives are also possible.
Restore It 3 is a traditional system back-up and restore application. I ran through the software set-up process, up to the point of the actual back-up (I didn't want to back up my 20+GB of miscellaneous junk on this aging Windows XP install). The process is very simple. During the beck-up process, it asks for a bootable floppy, which will be needed in the event that you need to restore your system. The software then looks at your hard drive and gives you some options for backing up your data. In my brief test, it said that it would require 3.5GB of HD space to back up ALL of my data. I felt that was reasonable, given that I have a few games installed that are larger than that. I'm assuming restoration would be just as simple from the floppy boot.
WinDVD is one of the most common software DVD players out there. I can't say that I prefer it over PowerDVD, and I can't say that I prefer PowerDVD over WinDVD. They both have their strong points, mostly revolving around the control interface. WinDVD's interface is a very simplistic, which I like.
MSI's 3D Desktop is quite a treat. This application is a Windows shell that turns your desktop into a 3D game arena. It's set in a small town. Skin sets are available to alter the flavor of the same town, from industrial to Alpen village style comfort. You navigate around town with key strokes and different locations within the courtyard hold collections of quick launch icons for differing applications that are completely user customizable. MSI has done a nice job of categorizing these areas for Applications, Web Links, games, etc. It would take a considerable amount of time set up everything that you might want, but this DirectX 3D environment is sure fun and feature-rich.
Games
Five of the 10 CDs included in the full retail version of MSI's MS-8900 version of the GeForce4 Ti4600 8x video card are game CDs. Two CDs are included for The Elder Scrolls III: Morrowind, one for Ghost Recon, one for Duke Nukem: Manhattan Project, and the last disk is a 7 game collection including: IL2 Sturmovik, The Sum of All Fears, Serious Sam: Second Encounter, Rally Trophy, Beam Breakers, Zax: The Alien Hunter, and Oni. These last 7 are unforunately just demos, but at least you don't have to download them if you're interested in trying them out!
Benchmarks
---
For testing, I put the MS-8900, GeForce4 Ti4600-8x, into the Bjorn3D reference testing computer:
Yeong-Yang cube server chassis
Leadtek K7NCR18D nForce2 Motherboard
AMD XP2000+
512MB OCZ PC3000 DDR
On-board Soundstorm Audio
On-board 10/100 NIC
Windows XP Professional
Comparison to eVGA's e-GeForce4 Ti4600-4x using MSI's v.41.07 drivers
3DMark 2001 SE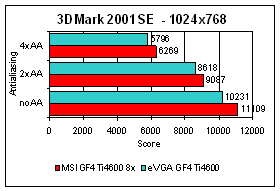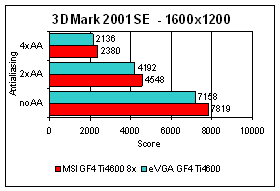 3DMark's DirectX engine provides a net score over several indvidual benchmarks. The scores between the eVGA and MSI GeForce4 Ti4600's reflect the performance boost gained via AGP 8x and other PCB/board differences. The MSI MS-8900, GeForce4 Ti4600-8x surpasses eVGA's 4xAGP card by a margin of 6 to 9 percent across the board.
Return to Castle Wolfenstein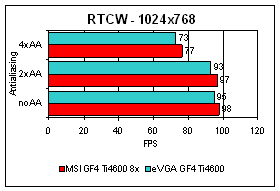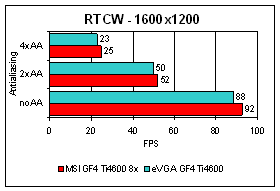 The OpenGL engine of RTCW uses a lot of detailed textures which tend to really hammer some video cards. At 1024×768, the scores are fairly flat, indicating slight CPU limitation at the 2xAA level and noAA level. 1024×768 is a no brainer for either card. At 1600×1200, the MSI continues to best the AGP4x card by 3-5%. At 1600×1200 with 4xAA, the MSI achieves the quasi-minimum 24FPS mark.
Comanche 4 Demo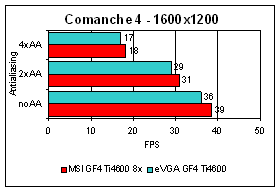 Comanche4, another DirectX 8 benchmark, is punishing on CPUs. Here we're seeing the 1024×768 framerates being very flat at all antialiasing levels. The MSI GeForce4 Ti4600-8x is begging for a faster CPU. However, we're seeing the MSI card run at a slightly higher increase in performance over the AGP4x GF4 Ti4600. This is often uncommon in Comanche 4. At 1600×1200, the noAA scores look quite similar to the 1024 numbers, until antialiasing is turned on. The margin bewtwen the two cards narrows at these higher tasking levels, where 1600×1200 with 4xAA is positively unplayable (with this CPU).
Conclusions
---
MSI has presented us with a GeForce4 Ti4600 that can give us a slight edge over the garden variety AGP4x Ti4600. Coupled with the positively monstrous collection of utilities, programs, and games provided in the retail package of the MS-8900, MSI's offering promises to keep the average gamer and workstation user busy for literally months!
MSI has given us a fast Ti4600 with the best retail package out there. A win-win choice in the GeForce4 arena. As such, we're awarding MSI's MS-8900 GeForce4 Ti4600-8x a score of 10 out of 10 and the Bjorn3D Golden Bear Award. Being the fastest Ti4600 that I've tested, coupled with the super software selection, I don't see how I could have rated it less.