3D Glasses aren't a new thing but eDimensional has done a nice job of making these easy to use, with pleasing results.
Introduction
---
3D Computer glasses are not a new thing. I can remember Elsa selling them cheaply as a part of video card packages not that long ago. There were other companies selling them too. Recently, e-Dimensional tackled the 3D video effect with their E-D Glasses. With this review, we'll see how e-Dimensional has done a nice job of making a user-friendly set of 3D glasses. We'll also discuss how these devices function to obtain a 3D visual effect.
Specifications
---
e-Dimensional offers two versions of their E-D Glasses: wired and wireless. They sell them direct from their website for $99.95 and $69.95, respectively. e-Dimensionsal also has several other gaming products that are unrelated to 3D glasses. e-Dimensional was nice enough to send us a wireless version of their 3D E-D Glasses.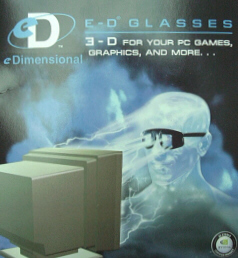 The packaging contains:
1 pair of E-D Glasses,
1 VGA Adapter,
1 Infrared transmitter (wireless version only, wired versions use, well, a wire),
1 Power adapter,
Software CD
Quick start instruction guide
e-Dimensional's system requirements for the E-D Glasses are as follows:
233MHz CPU
Windows 9x/ME
Windows 2000/XP support only for NVIDIA
CD-ROM
CRT Monitor (these effects will not function on an LCD)
Of the system specs, note that only NVIDIA cards are supported in the latest Windows OSs (2000 & XP). e-Dimensional is working on this issue.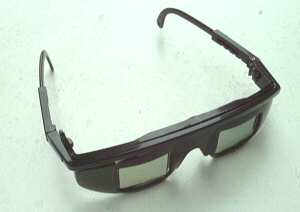 The glasses might seem familiar to you. They have the shutter, square style grey lenses. The arms fold, and e-Dimensional was nice enough to include an extra set of arms that are shorter than the already installed ones. I needed these because the stock arms were a bit too long. In the above picture, you can see 4 detents along the arm where the length is adjustable.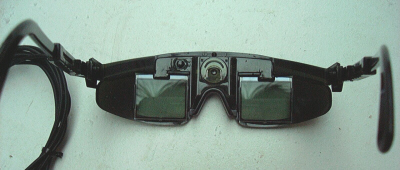 On the inside of the glasses, you can see the watch battery enclosed in the translucent plastic. The battery is obviously necessary for wireless operation. Immediately left of the battery is a small black button. This button turns on the glasses. e-Dimensional has done a nice job with this bit. Activating the glasses does in fact turn them on, but it needs to obtain a signal from the IR device wired to the computer. If it loses that signal for a time, it turns the glasses off to save batteries. This is a nice feature since we do not have to worry about remembering to turn them off when we set them down.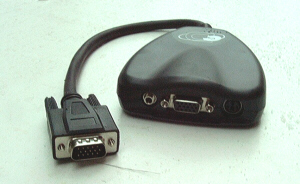 The ports block acts as a go between your monitor cable and your video card. The picture is a little dark, but you can see three jacks on the device. The 2 ports on either side of the VGA port are for the IR transceiver (left) and for the external power adapter (right).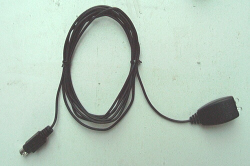 The infrared transceiver comes with a nice long cord, since it needs to be wired from the ports block to some place front and center, so that it can effectively interact with the wireless glasses.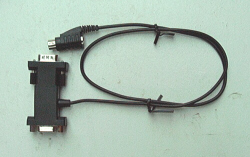 The power adapter is intended for older video cards which may not provide enough signal strength to support the E-D glasses. This is a nice addition to the set-up to ensure compatability, but I doubt it will ever get used. If someone is interested in purchasing a $100 set of 3D glasses, I'd assume they at least have a fairly decent computer.
Installation
---
My descriptions of the included hardware, above, probably already gave you enough insight into how this all gets connected. For installation, I had to crawl under my desk to get the port center installed in-line between the monitor and video card (GeForce4 MX460, in my case). I immediately remembered my old Mag Innovision DX17F monitor which used a VGA cable that disconnected from the back of the monitor. This would have been ideal for an easy installation. I placed the IR transceiver on top of my monitor and fished the wire down behind my desk and plugged it into the port center….and that was it.
I booted the computer and installed the supplied software. An "E-D" tray icon appeared.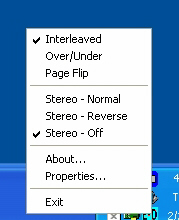 Right clicking the E-D tray icon pops up the above menu. Here you can see all of the controls that you need to run the E-D glasses, all quickly accessible. At the top, you can see that there are actually three stereo modes: Interleaving, Over/Under, and Page Flipping. Each mode varies the way the 3D image is generated. Below the modes are quick access links to turning the stereo effect on and off. There is also a reverse mode.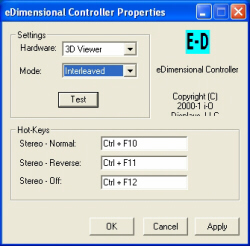 Clicking on the lower properties link brings up an advanced set-up menu window. Here you can assign which 3D hardware you wish to use and which is the default 3D mode. The test button here lets you preview a small, pre-rendered scene of 3D objects. Doing this test is worthwhile since you'll get an immediate feel for which 3D mode best suits your tastes. I found the default interleaving to work best for me. In the properties window, you can also set up hot-keys. This is invaluable if you plan to use the E-D glasses within games. I used the default hot-keys.
Testing
---
After ensuring that I had the E-D glasses working property under the test mode, I ran my two current favorite games: Medal of Honor: Allied Assault and Mechwarrior 4: Mercenaries. These two games also reflect the two 3D APIs: OpenGL and DirectX, respectively.
Medal of Honor: Allied Assault
It's hard to describe how the 3D effect works. But, in MOH:AA there was definitely feel of volume. Now, there is some flickering of the screen due to the interleaving of horizontal lines in Interleaving mode. Page Flipping mode had the most flickering, and I don't think I'd recommend using that mode for fast pace games, but Interleaving was acceptable. As I said, there was a feeling of volume. Your character's hand and weapon do feel like they're suspended in space. Terrain tends to leap out at you when your character runs around. I did have to crank up the gamma slightly because the effect seem to draw your attention to closer things while distant enemies can end up being lost in your peripheral vision. All in all, the E-D glasses worked well in this OpenGL game.
Mechwarrior 4: Mercenaries
If I thought the E-D Glasses worked well in MOH:AA, they looked even better in MW4. I suppose it's just that this type of game showcased the 3D effect better. The large, slow moving robots and very flashy weapons effects really showed off the 3D effect. The less cluttered terrain did not distract your eyes, either.
Conclusions
---
I liken the E-D wireless 3D glasses to a new joystick — you need to get used to them. But, the provided effect worked well under the games that I tested, and I wouldn't hesitate to recommend the E-D glasses to someone interested in playing with this technology. e-Dimensional's software makes using the glasses brainless, and the wireless model promises to make your 3D experience as convenient as possible.
With good driver software, wireless convenience, and a satisfying 3D effect, I'm awarding the e-Dimensional E-D Wireless Glasses a score of 8.0 out of 10 and Bjorn3D Seal of Approval.