This article is a brief summary and preview of AMD's new mobile Athlon processors.
AMD Athlon XP-M Preview Article
---
Today at CeBIT, AMD is announcing 12 new mobile Athlon processors, designed to fill two very different markets: thin & light notebooks and high-performance notebooks. As you can imagine, these are different markets that have different core requirements. Both of these laptop styles fit into the fastest growing segment of the CPU industry where commercial/small business users are taking advantage of the powerful laptops of today that can and do effectively compete with desktops in power and functionality. To attack this market, AMD is releasing the Athlon XP-M line-up of CPUs.
The models being announced today are based on existing Athlon XP technology but are modified to differing socket types and requirements, as well as the inclusion of specific features suited to the mobile. The models announced include:
SocketA XP-M 2600+
SocketA XP-M 2500+ Barton
SocketA XP-M 2400+ Barton
SocketA XP-M 2400+ Thoroughbred
SocketA XP-M 2200+
SocketA XP-M 2000+
SocketA XP-M 1900+
microPGA XP-M 1800+
microPGA XP-M 1700+
microPGA XP-M 1600+
microPGA XP-M 1500+
microPGA XP-M 1400+
The AMD XP3000+ Barton core has been out for a short while. And here we have AMD expanding their line-up with the larger 512KB cache Barton core (vs. the 256KB cache of the older thoroughbred core used in all of the other CPUs listed above). The listed packaging relates to the laptop style that they're intended for. The microPGA models are for the thin and light laptops.
Athlon XP-M High-Performance Processors
The new XP-M CPUs, which AMD is targeting at the higher-performance, full-size notebooks, include the Socket A models listed above. AMD already has several laptop manufacturers onboard for production and sales of XP-M based high-performance laptops by April (Epson Direct in Japan). The XP-M 2500+ and 2400+, Barton based models, will certainly benefit from the increased cache offered by AMD's 0.13nm Barton core. The extra L2 cache will aid in multitasking operations, provide for faster video and audio playback, and enhance gaming performance. AMD provided the following graphs illustrating Office Productivity (MS Office 2000, MS Project 98, McAfee Virus Scan, etc.), Digital Media (PhotoShop, Dreamweaver, Flash5, etc.), and gaming performance (many included into this generalized graph: Half-Life Smokin', Expendable, Q3A, AquaMark, UT, Evolva, MDK2, Serious Sam, and more):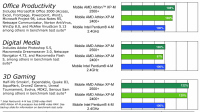 The generalized graphs compare the new XP-M 2500+ and 2400+ to a Pentium 4-M 2.4GHz. The relative percentages (normalized to the P4, set at 100%) show similar results as we see on desktop models. Office productivity tests show a 6-8% increase on the new AMD XP-Ms, while Digital Media tests show the XP-M about even to the P4. Gaming shows a 20-22% increase in performance over the P4, thanks to the larger L2 cache and AMD XP's more robust floating point units.
Athlon XP-M Thin & Light Processors
The XP-M processors, based on the older Thoroughbred core, from the XP-M 1400+ to XP-M 1800+ are being manufactured on a microPGA packaging. These processors are still 0.13nm construction, but the PCB is much smaller for use on the small, thin laptops. The smaller packaging saves space and weight. These processors are also intended to provide better battery life for extended productivity.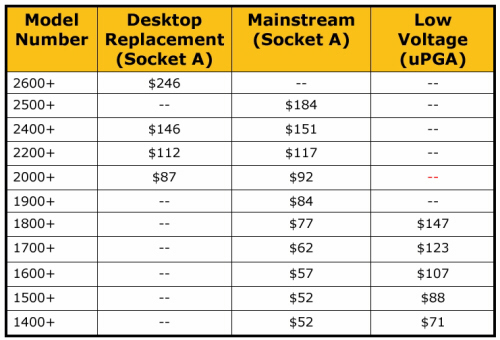 Pricing of the Athlon XP-M processors, per 1,000, varies with the performance level. The costs appear quite reasonable to me for a newly released CPU. Many of the prices appear to only be slightly higher than the matching speed desktop versions.
Conclusions
---
With a full line of Athlon Thoroughbred and Barton based mobile CPUs, AMD's XP-M processors appear poised to attack the ever growing mobile market. The high performance, Barton based XP-M 2400+ and 2500+ are sure to provide a level of laptop performance that will rival many desktops. And the lower speed microPGA processors should provide a needed boost to AMD's inclusion in the trendy thin and light laptop crowd.