Power Supplies aren't sexy or fun, but we'll show you why a good one like the True430 is worth the extra money.
Introduction
Every power supply review starts out the same way: A power supply isn't sexy or fun, but by golly you need a good one! And while that is true, it does get boring to hear the same argument again and again. Especially since many times the reviewer doesn't even tell you why it's important. That's why Scott went to great lengths to state why one should buy a good power supply in his recent review of Antec's Truepower 550. You can read it here for all the details.
This review of Antec's TruePower 430 is going to focus on demonstrating the features that Antec believes separate a good power supply from a not so good one. These features include:
Dedicated output circuitry for each voltage output, overcomes the limitations of combined output of traditional design. Get all the power you need when you need it most.
Voltage Feedback to maintain accurate voltage to all components: adds stability to your system.
Antec Low Noise Technology achieves the optimum balance between noise reduction and necessary cooling.
ATX12V for AMD and Intel based systems including P4.
PFC – Environmentally Friendlier
Two double ball bearing fans.
Gold plated connectors.
Specifications
Review System
AMD Athlon XP 1800+ CPU
EPoX 8RDA+ Motherboard (nForce2)
256MB Corsair XMS PC3200 DDR SDRAM, 256MB Corsair PC2400 DDR SDRAM
Maxtor 30GB, 60 GB Hard Drives
52x24x52 Lite-On CD-RW
52x Creative Labs CD-ROM
Visiontek GeForce4 Ti4400 Graphics Card
Power Supply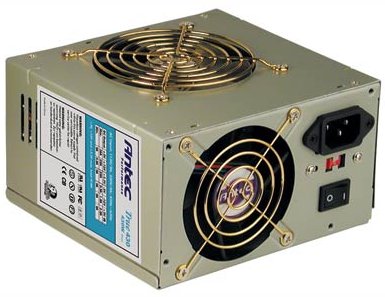 FEATURES

Maximum Power

430 Watts

Switches

ATX Logic on-off additional power rocker switch (115/230 Volt selector switch)

Special Connectors

AUX Power
ATX12V
3-pin Fan Sensor
Fan Only

Transient Response

+5V,+12V outputs return to within 5% in less than 1ms for 20% load change.

P. G. Signal

100-500ms

Over Voltage Protection
recycle AC to reset

+5V trip point < +6.5V
+3.3V trip point < +4.1V
+12V trip point < +14.4V

Overload Protection

Latching Protection
+5V @ < 47A
+3.3V @ < 48A
+12V @ < 18A

Leakage Current

<3.5mA @ 240VAC
DIMENSIONS

Unit Size

5.9″(L) x 5.5″(W) x 3.4″(H)
15cm(L) x 14 cm(W) x 8.6 cm(H)

Net Weight

5lbs.
2.3kg
INPUT

Input Voltage

115 VAC / 230VAC

Input Frequency Range

47Hz to 63Hz

Input Surge Current

< 60A @ 115VAC

Input Current

9.0A for 115VAC
5.0A for 230VAC

Hold-up Time

>17ms at Full Load

Efficiency

> 68%

EMI/RFI

FCC Class B
CISPR22 Class
ENVIRONMENTAL

Operating Temp.

10 to 50ºC

Operating Alt.

Sea Level 10,000 ft.

Non-Operating Vibration

Operating: 10-300 Hz, 0.5G, 3 axes, 1 hr. ea. axis
Non-operating: 10-300 Hz, 2.0G, 3 axes, 1 hr. ea. axis

MTBF

80,000 hrs. @ 25ºC

Approvals

UL, CSA, TUV, CB, CE, SEMKO, NEMKO, DEMKO
Installation & Physical Design
If you've ever installed a power supply before then the TruePower 430 pops in just like any other. There are three distinguishing features, however. First, you'll notice how heavy it is. I replaced an older Antec 300W PSU (SL300S) with the TruePower 430 and the 430 outweighs its replacement by a full 2 lbs.! Second, you'll notice that the TruePower features two fans, one input and one output. Finally, the main power cables are sleeved in black nylon mesh. Its purpose is to tidy up the wires and to improve airflow through the case. The sleeve, however, is also very cool looking. It looks like a sleek, color-shifting snake. Very nice effect, one can only hope that future generations of Antec's PSUs will sleeve all of the cables the same way.
The manual provides detailed specifications, but very little in the way of installation instructions. If you've never installed a PSU before, better take a look at an existing one to make sure you know where all the cables go. A pictorial documenting what each connector is would be very helpful. As it is, novice installers will have to resort to hunting for matching male/female connectors and hoping for the best.
Voltage Stability
"Traditional power supply designs typically feature circuit sharing for the 3.3V and 5V lines off the output transformer. That means that as you increase the load on one output circuit, the available capacity for the other decreases – for example as you load up on devices that use 5 volts (like drives and PCI cards), you have less and less ability to power devices that need 3.3 volt output (like your CPU). In addition, by connecting the two systems at this point you increase the chance of having interactions between the output circuits – for example, a sudden 5V draw could potentially cause the voltage on the 3.3V line to drop, harming system stability."
That's Antec's way of saying that a cheap power supply may borrow from Peter to pay Paul. Shared circuits for the 3.3V and 5V lines mean that as you increase the load on one output circuit, the available capacity for the other decreases. Devices that use 5 volts (like drives and PCI cards) may take power away from devices that need 3.3 volt output (like your CPU). This, of course, could turn into A Very Bad Thing and lead to system instability.
Antec's dedicated output circuitry for each voltage line should mean consistent power regardless of load. To test that capability we used a digital multimeter (see here for an excellent excellent pictorial on how to do this). Please note that one should always exercise caution when working with electrical equipment, particularly power supplies. Unless your goal in life is to win a Darwin Award. To test the PSU without an electrical load we attached a wire to the green power line and a black ground line on the main power connector (this allows the PSU to start without being connected to the PC). The 3.3V line was tested Motherboard Monitor v5.5.2.0 and the 5.5V line was tested by using the red wire from a spare 4pin Molex connector (the kind that goes into drives).
The load test was performed by running CPU Stability Test at the same time as burning a CD-RW disc (RIAA: No illegal music files were used during the course of this review).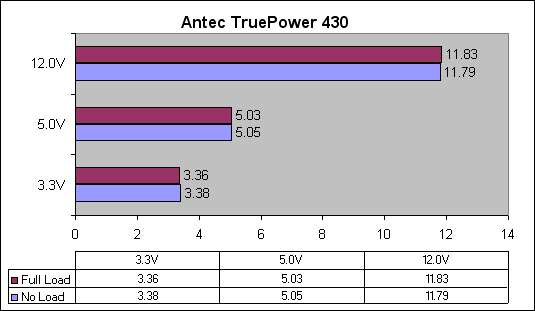 The test results completely support Antec's claims. Variances in loads are well within the 430's specified output tolerances (±3%).
Come On, Feel The Noise
"This technology is a new approach that achieves optimum balance between noise reduction and necessary cooling with an advanced temperature response system that outperforms previous solutions. The system constantly monitors the temperature inside the power supply, and then runs the power supply fans at the lowest speed appropriate to load and conditions. Thus it is able to perform much more quietly than standard ATX power supplies or even those with traditional thermally-controlled variable-speed fans."
That's what Antec has to say about its Low Noise Technology. In practice, the TruePower is indeed exceptionally quiet. Although the older SL300S is no louder than the TruePower, the SL300S has only a single fan and is pushing a lower load. Throughout our testing and across ambient room temperatures from 70 degrees F to 80 degrees F, the TruePower remained whisper quiet.
Power When You Need It
The True430 has another feature that minimizes noise and lowers total power output. The PC's case fans (up to 3) can be plugged into the Fan Only power connector. The True430 uses the motherboard's thermistors to regulate fan speed based on temperature. Thus the fans will run more slowly (and quietly) when they aren't needed and will speed up as the temperature rises.
My case, an Antec SX-1030, is relatively cool and quiet. Using the Fan Only connectors , however, significantly reduced fan noise without raising case temperatures. It's almost eery how quiet the PC runs now.
Conclusion
In our opinion Antec has made a compelling case (no pun intended) for buying a quality power supply. Our tests substantiated Antec's claims and our real world experiences with TruePower PSU's have been exemplary. We highly recommend the Antec TruePower 430 and award it a 9 out of 10 rating along with the coveted Bjorn3D Golden Bear Award.