Want an easy, convenient, portable and fast way to get data off your flash cards while saving portable devices' battery life? Then look no further than the SanDisk USB 2.0 ImageMate 6 in 1 Flash Reader/Writer. With its docking station, it makes a great solution for both laptop and desktop connectivity.
Introduction
---
I'm sure many of you have a digital camera, PDA or other device that uses flash cards of some type to store data. I'm also sure that some of you are tired of draining your devices' batteries while getting files or pictures off the flash media. If I've just described you or maybe at least come relatively close to describing your situation, then you will definitely be interested in what I have up on the review block today — SanDisk's ImageMate 6 in 1 Flash Card Reader/Writer. One thing especially worth noting about the ImageMate 6 in 1 is that it is a USB 2.0 device, so those of you with newer motherboards or USB 2.0 PCI cards/hubs are in luck.
I was lucky enough to get a Canon Elph S230 digital camera for Christmas this past year, and I was in need of a CompactFlash card reader so that I wouldn't have to drain my camera battery when hooking it up to my PC via its USB cable. After getting the pics off the camera via the USB cable several times, I was not only tired of the battery life loss but also got pretty sick of how slow data transfer was. I hadn't seen many USB 2.0 flash card readers out yet, but I saw that SanDisk had one thankfully. And now thanks to SanDisk, I have one to review! It might sound like I'm desperate for friends, but USB 2.0 really is one of my new best friends. You really have to see the difference to appreciate how much faster it is than USB 1.1 — around 40 times faster for those of you who want to imagine it. 🙂 Anyway, when testing out the ImageMage 6 in 1, I will be using a SanDisk 128MB CompactFlash card that I bought after getting the camera and a 64MB SanDisk SecureDigital card that came with the Cruzer that I reviewed a while back.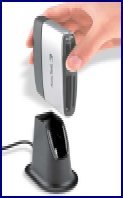 Specs & Features
---
The ImageMate 6 in 1 Reader/Writer (model# SDDR-86) accepts the following memory types:
CompactFlash Type I and II
SmartMedia
Memory Stick
MultiMediaCard
SecureDigital Card

Advanced Features:
Hi-Speed USB 2.0 certified for fastest data transfer
Backwards compatible with all USB 1.1 ports
All four memory slots are active, which allows you to copy data between the different memory cards at the same time
Separate reader and docking station for quick desktop/laptop connectivity
Easy to use; just drag and drop your files
Saves batteries; let an ImageMate 6 in 1 Reader/Writer (not your portable device) transfer your files
USB Mass Storage Class Devices
Certified Windows XP and Mac OS X
Compatible with Windows 98SE, ME, 2000, XP and Macintosh OS 9.1x+ & OS X v10.1.2+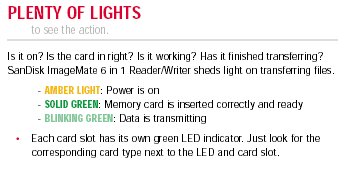 Minimum System Requirements:
Windows:
Pentium class PC with USB support
Windows 98SE, 2000, ME, XP
CD-ROM drive
USB 2.0 port required from Hi-Speed transfer ·

Macintosh:
Macintosh computer with USB support
Mac OS 9.1x+, OS X v10.1.2+
CD-ROM drive
USB 2.0 port required from Hi-Speed transfer

Package Contents:
6 in 1 Card Reader/Writer
Docking Station
Installation CD (Quick Start Guide PDF, Win98SE/2000 and Mac OS 9.1.x+ drivers)
Extra Travel USB Cable (shorter cable for laptop hookup)
Quick Start Guide

Installation
---
One simple phrase sums up how easy it was to install the ImageMate 6 in 1 on my Windows XP system: Plug it in to the USB 2.0 port! That's it. That's all there is to it. This of course is no surprise to anyone with Windows XP and USB devices. After plugging the ImageMate in, you will see four new drives (one for each slot) show up in Windows Explorer.

Now all you have to do is insert your flash cards (CF I, CF II, SD, MMC, SmartMedia and Memory Stick) into the ImageMate's slots, and then you can use the drives like any other drive on your system. Drives I, J, K and L showed up on my system after hooking up the ImageMate. When I set it up, I opted to use the provided docking station, and it works great. I also pulled it out of the docking station and used it more like a laptop user would. It's light (but solid and good quality construction), easy to use and offers everything you'd want in a flash card reader. One nice thing about the ImageMate is the fact that all four memory slots are active, which allows you to copy data between flash cards if you want. For example, I could insert both my SD and CF card, and then copy data from the SD to the CF card and vice versa.
You might be wondering why the ImageMate only has four memory slots. Well, you have to keep in mind that CompactFlash I and II share one slot, and SecureDigital cards and MultiMediaCards also share one. That leaves both SmartMedia and Memory Stick with their own slots. Obviously this has its disadvantages, such as not being able to copy data from a SD card to an MMC, but I doubt many users will find that to be a problem. Besides, I've never seen a reader/writer with separate slots for SD and MMC or CF I and CF II. It seems to be typical practice to combine these whenever possible.
Performance
---
The main testing I did with the ImageMate was just to use it like anyone else would. I had some pictures from Christmas still on my CompactFlash card, and I needed to copy them to my hard drive. It took about 7 or 8 seconds to transfer 14.5MB of files from the CF card in the ImageMate to my hard drive. Obviously in this case the bottleneck is the CF card since USB 2.0 can perform much faster than 2MB/s. I think one of the main things worth noting is just how much faster it was to preview the pictures as thumbnails in Windows Explorer. No more waiting a couple seconds for each picture's thumbnail to show up; they appear pretty much instantly. I'm a pretty patient person, but I'd much rather have the speed provided by the ImageMate than the speed of my camera's USB connection or some other USB 1.1 compliant device.
I went ahead and ran a Sandra File System benchmark with the CF card in the ImageMate just to get a better idea of the speeds involved.

Not too bad, but once again that is just essentially measuring the speed of the CF card and not the ImageMate. Still, I maintain that relative speed is much more important in this type of analysis than the exact numbers involved. With USB 2.0 compliance, the ImageMate has the potential to hit 480Mbits/s transfer rates versus 12Mbits/s for USB 1.1. I'm not sure you will ever really see this much of a speed difference with your average flash media, but you will be able to see how much faster you can copy, cut, delete and preview files. That noticeable performance gain is what will make you happy you chose USB 2.0, especially since you probably won't have to pay much more for it.
Conclusion
---
After using the ImageMate 6 in 1 Card Reader/Writer for the past couple weeks, I'm willing to bet that it is one of the best multi-card readers on the market. Because SanDisk designed it to work with a docking station, it is very flexible and convenient. Desktop and laptop users will appreciate the thoughtfulness and common sense SanDisk used in its design. Additionally, even if you currently only have USB 1.1 ports available, you will be happy that the ImageMate is a USB 2.0 device when you finally do upgrade.
Pros:
Solid construction, high quality
Docking station
Hi-speed USB 2.0!
Great design — LED light for each slot

Cons:
Can't think of any

The SanDisk ImageMate 6 in 1 Card Reader/Writer is everything you could want and need in a flash media reader/writer. It's portable, easy to use, stylish, high quality and fast. I highly recommend this product without hesitation, especially considering that you can find it for around $35 (according to the DealTime search that I did). I'm giving it a 9 out of 10 and the Bjorn3d Seal of Approval.