OCZ Technology is best known for its performance memory products. OCZ also makes heatsinks and we put their best to the test to see if it lives up to its bold claims.
Introduction
"The Gladiator² was built to provide the best performance period. The original OCZ Gladiator was simply the best heatsink on the market. Now we have returned with the new OCZ Gladiator 2 with a higher fin count and using Textured fin technology. The OCZ Gladiator 2 is the "no holds barred" heatsink for those who require simply the best."
That's how OCZ Technology describes their flagship Socket A heatsink/fan (HSF). That's a bold statement, especially for a company known primarily for its performance memory modules. The Gladiator 2 is part of a product line that includes names such as Dominator, Glacier, and Eliminator (sadly, there is no Dominatrix model). Clearly, this is not a company that shies away competition! Then again, OCZ memory does have a strong reputation among PC enthusiasts so they must know something about performance with their other product lines.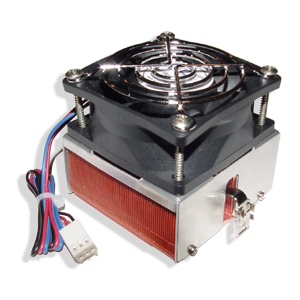 Specifications
Heatsink:
Socket A up to XP 3100+
Supports all Socket 370 cpu's
Single piece construction
Pure copper
Dimensions: 62x70x44mm
Fan:
Stock: 60×25 fan
Speed 7000 rpm
Ballbearing fan
Voltage: 12 volt
Air flow: 39.5 cfm
The Gladiator 2 is simply, but very solidly, constructed. It consists of a solid copper heatsink with a large number of ultra-thin radiator fins topped by a cooling fan. The copper base of the heatsink is finely milled with no visible imperfections. In theory, the large number of fins and conductivity of the copper should yield superior cooling results. We'll see how that works out in testing. The HSF is mounted by a six-prong clip that installed very easily onto the chip socket. The use of all the available mounting points lined up the Gladiator 2 correctly on the first try. The clip was easy to engage with a standard screwdriver.
Testing
The test bed is a relatively non-stressed AMD Athlon XP 1800+.
EPoX 8RDA+ Mainboard/Leadtek WinFast K7N415DA
AMD XP 1800+ CPU
Two 128MB RIMMs Corsair PC2400 CAS2 DDR SDRAM
ATA/66 Maxtor 30GB HD
ATA/100 Maxtor 60GB HD
Visiontek GeForce4 Ti 4400 video card
Windows XP Professional SP1
DirectX 8.1
NVIDIA Display Driver v.41.09
nForce Driver v2.0
A "no holds barred" HSF practically begs for a highly overclocked, about-to-blow test rig, but we're going to keep our box intact and see how it performs in normal operations. Our comparison HSF is an older version of the Cooler Master AAC-001. It is constructed of aluminum and features significantly fewer, and thicker, cooling fins (the primary difference between the old and current model is the improved retaining clip). The first, and most obvious, difference between the two HSF's is weight; the Gladiator is a heavyweight compared to the lightweight Cooler Master. Let's hope that CPU-hugging weight translates into improved cooling!
We used two tests to generate some CPU heat. First up was a loop of the CPU benchmarking tests provided with SiSoftware Sandra's Burn-In Wizard. We ran the two tests continuously for an hour. Next was an additional hour of pi counting, courtesy of the pi calculator Super Pi (Google it by name, there are several download sites). Temperatures were measured with Motherboard Monitor v5.5.2.0 using the motherboard's thermistor and a CompuNurse thermal register taped to the base of the HSF. The case cover was removed and ambient room temperature remained a steady 72 degrees Fahrenheit (22 Celsius).
We used the Cooler Master to establish a baseline measurement. The HSF was removed and reinstalled using Arctic Silver 3 Thermal Compound and the exact procedure described here. As you can see, temperatures are well under control.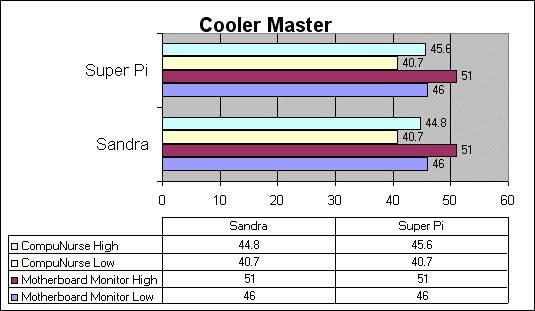 Next, we installed the Gladiator 2 using the same method (after letting the rig cool down completely to room temperature). The same tests were run again with different results: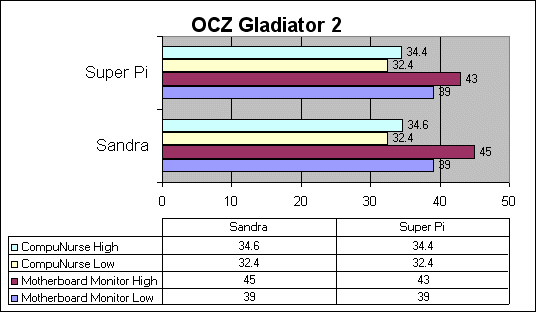 Although neither HSF had difficulty keeping the proc cool, the Gladiator 2 was several degrees cooler than the Cooler Master in each test. This is not terribly significant in a non-stressed system, but it clearly illustrates the potential for advanced cooling with the Gladiator 2. Those extra degrees may mean the difference between a successful overclock experiment and a meltdown. The use of copper and an abundance of cooling fins pays dividends for the Gladiator 2.
There was, however, one noticeable difference between the two fans in operation. The Gladiator 2 sports a larger fan and was definitely louder in operation than the Cooler Master. Not objectionably so, but it was not whisper quiet. I decided to take the test one step farther and substitute the Cooler Master fan for the one that came with the Gladiator 2. I wanted to see how large a role the fan played in its performance.
As it turned out, not that big a role, at least not under the test's conditions. Temperature varied only one degree when using Motherboard Monitor. This test result clearly indicates the superiority of the copper and fin design. It isn't just a big fan providing the cooling, in other words.
Conclusion
The OCZ Gladiator 2 is a very effective cooling device. Its materials and design are both of high quality. The Gladiator 2 is also quite affordable; Pricewatch lists it at a low of US$22.00. It would appear OCZ's claims of heatsink performance were no idle boast; OCZ can make both memory and HSF's perform. We highly recommend the Gladiator 2 and award it 8.5 of 10 and the Bjorn3D Seal of Approval.