Looking for a great all in one motherboard solution that doesn't sacrifice quality for number of features? Then look no further than Leadtek's latest addition to the WinFast line, the K7NCR18G-Pro with GeForce4 IGP and SoundStorm audio!
Introduction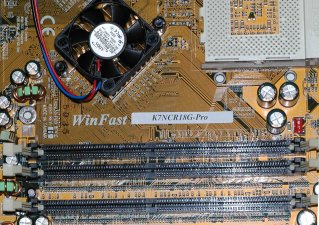 There have been quite a few nForce2 reviews out by now, including a few on our site. Less common to this point, however, have been ones that cover boards with the new GeForce4 IGP (Integrated Graphics Processor). I've been fortunate enough to get a hold of one of Leadtek's new K7NCR18G-Pro boards to test. You see, when the other guys were clamoring for nForce2's, I held back and decided to wait for the IGP boards. My old board, a Leadtek K7N420DA had an onboard GeForce2 MX, and while I didn't use it as my primary card, I found it came in handy enough times that I wanted to try another IGP motherboard. The IGP boards have obvious utility for folks who like the all-in-one solution of video, sound, NIC, etc in one easy to install package. There's a certain appeal to dropping your board in, slapping in a CPU, some RAM, and a couple of drives and pretty much being done with your PC assembly. Even for those of us that plan on installing a higher end add-on card though, there's some utility to the design. For one thing, it's nice to be able to have the onboard video ready to go during set up so that you can get everything else installed and working before you worry about dropping in an add-on graphics card. The IGP simplifies set up in that regard. Another bonus is that you've always got a back up vid card ready to go at a moment's notice with no installation and no hassle in case something goes wrong. The old nForce1's IGP saved my butt a couple of times when I was having issues with a test card and couldn't afford to be without a PC while I troubleshot the problem. In those instances, I just switched over to the onboard GeForce card and kept plugging away! It was enough to convince me of the value of having a board with decent IGP available if need be. For this review, I'm going to be taking a look at what the nForce2 brings to the table over the older nForce1 boards.
Features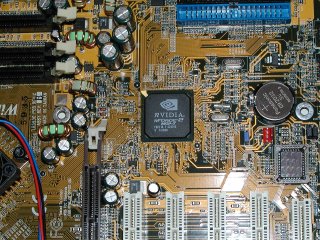 Main Features
Based on NVIDIA nForce2-GT (nForce2 IGP + nForce2 MCP-T) Integrated Graphics Processor
Supports up to 333 Front-Side Bus for AMD Athlon/XP and Duron CPU
HyperTransport Technology Support
128 bit DualDDR Memory Architecture with support up to 3GB DDR 400 memory.
GeForce4 MX GPU with nView with DVI-D / TV Support
Supports AGP 8X interface for high-end 3D Graphics card
Built-in NVIDIA SoundStorm Audio with Dolby Digital 5.1 Encoding , SPDIF digital output and 6-channel speakers support
USB 2.0 controller support up to maximum 6 USB 2.0 ports
Two Ultra ATA133 IDE dual channel interfaces, data transfer rate up to 133MB/sec
Built-in 10/100 NVIDIA Ethernet
3 ports IEEE 1394a Firewire
Supports Hardware Monitoring utility for monitoring system status.
BIOS and hardware offers CPU Over Temperature Shutdown (O.T.S) function to protect CPU from burnout
Support Vcore, Vmem and AGP Vddq adjustment for better system compatibility
Provide header for Smart Card Reader Interface and application program Wow! That's quite a list of features and specs isn't it? Well, in my opinion the biggies on that list include the onboard GeForce4 MX, NVIDIA's SoundStorm audio, USB 2.0 and Firewire support, the 333MHz FSB, and the 8x AGP slot. Since most of the nForce2 advancements have been touched on before, I'll just direct you to our nForce2 Preview if you'd like to have a recap of them.

Board Layout & Box Contents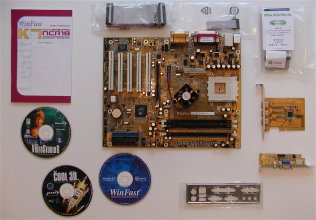 The layout of the nForce2 is similar to the older nForce1 I have from Leadtek although there were some differences that I'll discuss in the setup and installation section below. Overall though, it's pretty well laid out and easy to work with. You can see the fan on the GeForce4 GPU roughly in the center of the board in the pics. That's a slight change from the nForce1 board, which only had a heatsink but no fan over its GPU. Other than that the layout was pretty typical for an ATX motherboard with its 5 PCI slots and 1 AGP slot. Let's take a look and see exactly what Leadtek gives you with the K7NCR18G-Pro board. Package contents:
WinFast K7NCR18G-Pro socket A motherboard
WinFast software pack CD
User's manual
Ultra ATA 133 IDE cable
720KB / 1.44MB / 2.88MB Floppy connecting cable
nView CRT, TV kit
DVI-D kit (optional)
SoundStorm Audio Digital output module
IEEE1394a Firewire Riser card
USB 2.0 connection bracket (Optional)
Okay, aside from the board itself, there are a couple things worth noting with this package. First and foremost is the hardcopy manual. Maybe I'm a freak, but I like having a paper manual, especially on a motherboard where you may not have another PC up and running to check out a CD based manual. Leadtek's manuals are pretty good too and relatively well organized and easy to follow. Next is the nView CRT, TV kit. Personally, I thought this accessory kicked butt. It's an expansion card that gives you a second VGA port and a TV out port so that you can take advantage of the GeForce4 IGP's nView feature and run dual monitors. That's a nice plus in my opinion, especially if you're planning on sticking with the IGP and using the board as the basis for a work machine. It's worth noting though that it appears that the expansion card will conflict with the AGP slot. However, this shouldn't be much of an issue since you can't run the onboard video and an AGP card at the same time anyway. I did not receive the optional DVI-D kit or USB 2.0 connection bracket with my board.
Setup & Installation
I dread motherboard swaps. Usually it's a big pain in the butt and involves wiping your hard drive and doing a full OS reinstall. It's time consuming and often a hassle to do it, and I have to admit I wasn't looking forward to doing it this time either. Luckily for me, Gene reminded me that I shouldn't have to go through all that since I was going from an nForce board to an nForce2. They use they same set of unified drivers, so there really shouldn't be any compatibility issues. I was a little skeptical, but I gave it a shot anyway. The physical board installation was a snap. Because most everything is integrated on the nForce boards, there really isn't much to swap out. I removed my old board from its case, pulled my CPU and RAM and proceeded to install them to the nForce2. This went without a hitch although it's worth noting that the CPU slot is situated between two banks of capacitors, and the fit can be rather tight depending on your heatsink and fan. My Thermaltake Volcano 6CU+ just barely clears, but it does fit. When it came time to drop the board into the case, I noticed that the screw hole placement was a bit better on the K7NCR18G-Pro than it was on my older K7N420DA board. On that older board, the center screw slot was obscured by a capacitor that overlapped it, making it unusable. It was nice to see that all the screw holes on the new board were free of obstruction and lined up fine with my case. I was able to mount it a bit more solidly than the old board. Once it was screwed down, all that was really left was to plug in my drive cables, connect the power leads and hook up the jumpers for the power button, hard drive LEDs, etc. That was a pretty painless process though, and I was soon ready to go. It's worth noting at this point that you can install the optional Firewire port and secondary VGA port at this time if you think you're going to use those items. I didn't for now although it's certainly easy enough to go back and do so later if need be.
The BIOS
The K7NCR18G-Pro comes with a pretty standard Award BIOS, and setup of the drives, CPU, etc. was rather uneventful.
Testing
Test System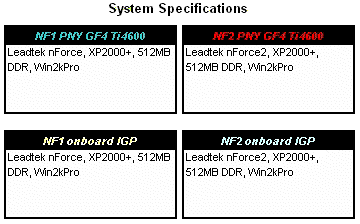 AMD Athlon XP 2000+
Leadtek K7N420DA nForce Motherboard (old board for comparison purposes)
512MB OCZ PC-3000 DDR RAM (2x256MB DIMMS)
PNY Verto GeForce4 Ti4600 128MB
2x20GB Maxtor 7200RPM HD's
Iomega 8x4x32 CD Burner
Creative 52x CD-ROM
KDS AV-7T 17″ with a Sony Trinitron tube
Win2k Pro SP3
NVIDIA nForce Unified Driver Package V. 2.03
NVIDIA 41.09 Unified Drivers
Benchmarks & Results
SiSoft Sandra 2002
PCMark2002
3DMark2001 SE
RTCW
For testing of the K7NCR18G-Pro, Sandra and PCMark were chosen as our overall benchmarking tools while 3DMark and RTCW were used to measure game performance. Since the Leadtek uses a GeForce MX level card as its IGP, I decided that RTCW was likely a fairer test of its capabilities than something like UT2K3. SiSoft Sandra 2002 Sandra provides a synthetic benchmarking suite that covers the majority of a PC's subsystems. We used it to measure CPU and memory performance. The tests show small but measurable improvements in most areas, particularly the Memory Bandwidth test.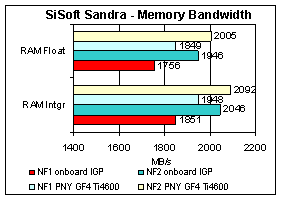 Memory Bandwidth Benchmark Results The Memory Bandwidth test shows the most dramatic difference between the nForce1 and the nForce2 boards. This is primarily due to the fact that the old board only supported 266MHz DDR memory whereas the new boards support up to 400MHz DDR memory. The PC3200 DDR RAM I had in the nForce1 wasn't being utilized to its full capacity until it got swapped out to the nForce2. We can see a good 150MB/s jump in scores with the Ti4600 installed and almost 200MB/s jumps when comparing the boards with their respective IGP's.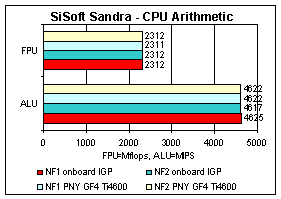 CPU Arithmetic Benchmark Results There was not much of a difference in the CPU Arithmetic scores at all. The nForce2 scores were practically the same as those of the nForce1.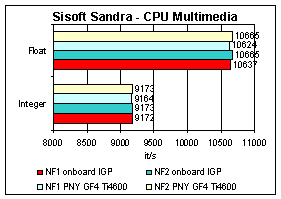 CPU Multi-Media Benchmark Results The CPU Multi-Media Benchmark showed the nForce2 with some slight gains over the nForce1 but nothing especially significant. PCMark 2002 PCMark 2002 Pro is another synthetic benchmark for the all of the PC's subsystems. Like its sister benchmark program 3DMark, PCMark creates a score based upon all of its individual tests. We used the CPU Score, Memory Score, and HDD Score from PCMark for our comparison test.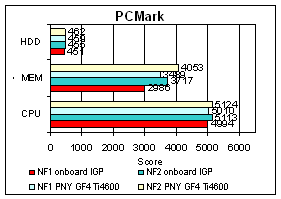 Similar to the SiSoft Sandra tests, we see a notable jump in memory scores and a slight gain in CPU and Hard Drive scores. This basically just reaffirms that the big boost with the nForce2 boards is in memory utilization with some smaller across the board gains as secondary bonuses. 3DMark2001 SE 3DMark is a standby gaming performance indicator used in practically all video card and IGP reviews. While it is technically a synthetic test, it's based on a game engine and is almost as widely used as Quake III Arena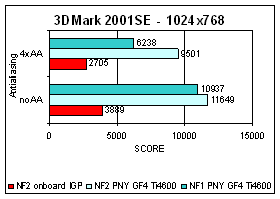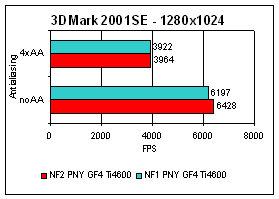 The 3DMark2001 SE scores for the two boards were pretty interesting in my opinion. First off it's worth noting that 3Dmark wouldn't even run on the nForce1's GeForce2 MX IGP so no scores were available. I was able to get good clean runs with the nForce2's GeForce4 IGP at 1024×768 resolution and, while the scores were well behind those of the Ti4600, they still turned in halfway respectable scores for an onboard graphics solution. The Ti4600 scores were particularly interesting though. At 1024×768 the nForce2 positively trounced the nForce1's scores, especially at the 4x AA setting. I can only presume this is due to the more efficient use of the PC3200 DDR RAM and the slight gains we saw in the CPU scores on the newer board. These jumps were not nearly as prevalent at 1280×1024 although the nForce2 did still keep a slight lead over the nForce1. RTCW Return to Castle Wolfenstein is based upon the venerable Quake3 engine but brings a bit more to the table when it comes to tasking a system's graphics capabilities. It's one of the benchmarks that seems to be replacing Q3 these days and is probably a more real world test that reflects what people are playing today.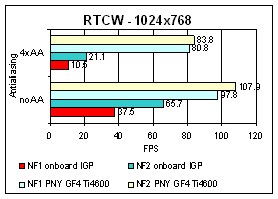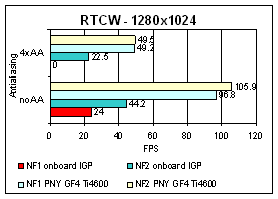 I tested the Leadtek K7NCR18G-Pro with both its integral GeForce4 IGP as well as with the add-on PNY Ti4600. The older nForce1 board from Leadtek with its GeForce2 IGP and the same Ti4600 were used for comparison purposes. With the Ti4600 you can see that there really wasn't a huge gain going from the nForce1 to the nForce2 boards. The spread was at most 10 points, so while you get a small gain, it's nothing too dramatic. Where we really see a big improvement is in the IGP scores. The GeForce4 really takes off over the old GeForce2 on the original nForce boards. In most cases, scores were double (give or take a couple points) with the nForce2's IGP, and in the case of 4x AA at 1280×1024, it's worth noting that the GeForce2 IGP wouldn't even run where as the GeForce4 still managed to bring in 22.5fps
Intangeables
While raw scores tell some of the picture, sometimes you really need to just sit down and play to get a feel for hardware. Right after my installation of the nForce2 board, I had to catch up on some of my Laser Squad Nemesis turns that had been waiting for me in my mailbox. While by no means a graphics intensive game, it was interesting to note that even it benefitted from the jump form the nForce's GeForce2 to the nForce2's GeForce4. Gameplay and map scrolling were much smoother with the GeForce4 and the whole game seemed to run a bit faster as well. The next test was to load up a little Medal of Honor: Spearhead and see what that could do. I left all my graphics settings just as I have them for my Ti4600 card with a 15″ LCD monitor that I use for LAN gaming. Basically this is a 1024×768 resolution with all the eye candy maxed out. I figured I'd see what the nForce2's IGP could really do. I have to say I was rather surprised and pleased with the results. It handled the settings quite well, and while gameplay wasn't quite as smooth as with the 4600 installed, it looked as good visually. In all likelihood, I would probably turn down some of the settings a bit for an actual LAN session to pick up some speed, but it was certainly playable as is. The GeForce4 IGP doesn't have quite the muscle to let you play everything at high resolution, high AA settings and with the eye candy maxed out, but it certainly has enough oomph to it for occasional or light gaming with a little bit of realistic graphics settings in place.
SoundStorm
No discussion of nForce2 would be complete without talking a bit about the SoundStorm audio. Here's what NVIDIA has to say about it: "NVIDIA SoundStorm offers a plethora of input and output connections, including digital S/PDIF for access to the Dolby(R) Digital 5.1 real-time encoder, microphone, CD, TV, line-in, headphones, front left and right speakers, rear left and right speakers, center channel, and subwoofer."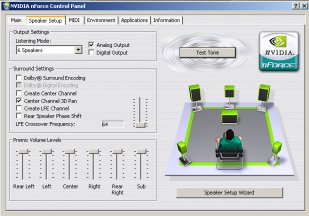 Well it certainly sounds impressive, and I have to admit it kind of is. I had much better luck with SoundStorm than I did with the integrated sound on my nForce1 board. This time around I had no problems setting up my 5.1 speakers in part due to NVIDIA's excellent audio control panel that comes with the latest nForce Unified Drivers. They have a very easy to follow setup program that walks you through and then tests your setup. In order to use my 5.1 speakers, I had to run my rear speaker line through the Line In input and the subwoofer through the Microphone input. The whole process took maybe 2 minutes, and everything actually worked as it should have when I was done. While I didn't do any serious audio testing, I did run the SoundStorm through my usual gamut of MP3 tracks ranging from classical to punk and a good mix of techno in between, and the sound quality was quite good. Game tracks also sounded very good, and game effects in Medal of Honor, such as gunshots, breaking glass and the "p'ting" of empty M-1 clips being ejected, were sharp and clear. The audio quality was at least comparable to that of the Hercules Gamesurround Fortissimo III 7.1 that I tested here not long back. Considering that I was very pleased with that card, this is pretty high praise. Suffice it to say that I'll be sticking with SoundStorm and not going to an add on audio card as I did before with the nForce1 board.
Conclusion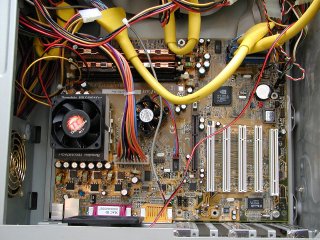 It used to be that I looked upon "all in one" motherboards with dread as most ended up being a compromise between quality and convenience with substandard or at least very basic audio and video features being the norm. Those days appear to be long gone however. With Leadtek's K7NCR18G-Pro, you're getting a board with exceptional audio performance, a great array of top of the line features and possibly the best integrated graphics solution available so far with the GeForce4 IGP. As is, the K7NCR18G-Pro makes a great board for school, business or home use. It has just about everything the discriminating user would want these days, and the GeForce4 IGP has more than enough muscle for day to day tasks and still has enough left over for some casual gaming. For the more hardcore gamer, it's an easy upgrade to an AGP 8x graphics card, and you still get the comfort of knowing that the onboard GeForce4 MX is available if something goes awry. Starting at about $125 shipped on Pricewatch.com, the K7NCR18G-Pro represents a superb value for someone currently in the market for a new motherboard.
For its great array of features and strong price to performance and feature ratios, I am awarding the Leadtek WinFast K7NCR18G-Pro a score of 9.5 out of 10 and the Bjorn3D Golden Bear Award!