I've been using KVM (Keyboard, Video, and Mouse) switches for about three years now, and I've been running multiple computers for years, but often for different reasons. Originally, I had two computers; one for surfing, development work and one dedicated for games. This alternative goes back to the days of Windows 95/98 issues when AGP video was in its infancy and video performance was easily corrupted by Windows issues. I kept using this set-up until recently, when I had both my main rig and a computer dedicated for LAN gaming running. Recently, I assembled a file and print server running SCSI hard drives and a 7 SCSI CD-ROM tower. Using a KVM switch to manage multiple computers has always been a great benefit to me in keeping my desk a little less cluttered, and the shear functionality of using one keyboard, mouse and monitor saves time.
I've used a generic, GVC, 2-port KVM switch and recently a 2-port D-Link KVM switch with moderate success. The model that I'm testing here, the OmniViewSOHO Series 4-Port KVM Switch with Audio PS/2 and USB Platform (Belkin Part Number: F1DS104T) brings my KVM experience to a whole new level since, as the title suggests, this model incorporates both audio (and microphone) and USB keyboard/mouse support. Kudos to Belkin for shipping my evaluation version with two packs of PS/2 patch cords and two packs of USB patch cords (audio cables included). With this review, I'm going to look at the features of KVMs and why Belkin's model is the best that I've tested.
KVM Switch Overview
---
Before we look at the specs of this SOHO KVM switch, I want to talk about KVMs in general. As I see it, there are 4 main features to KVM switches:
Types of ports supported.
Generally, most KVM switches support PS/2 keyboards and mice, as well as the standard VGA plug for monitors. Older KVMs had the older AT keyboard jack, but this is rare and unneeded anymore. Some newer models, including this Belkin SOHO support USB keyboards and mice. Some very enterprising solutions even offer support over TCP/IP (read expensive).
Number of ports supported.
Quite obviously, the number of computers that you want to run will determine what KVM you will need. KVMs come in 2-port, 4-port, 8-port and even 16-port versions. There are many industrial strength 8-port models which permit stacking to support more than 8-ports, by adding another KVM.
Hot key switching.
I've yet to see a KVM switch that didn't claim it supported switching between down line computers by hitting a certain group of hot keys. Of the KVMs that I've tested prior to this Belkin SOHO, none actually functioned using their predefined hot keys. Many of the cheaper models require a power supply to enable the hot key use, and many of them don't even ship with power supplies (buyer beware). Belkin's SOHO doesn't even need a power supply….a very simple but nice added bonus, since I've already got enough spaghetti under my computer desk.
Video quality support.
This is an area that is easily overlooked when purchasing a KVM switch. The video relay provided by the KVM often limits what refresh rate and resolution you can use. The lowest that I've seen is 1280×1024@75Hz , which may not be bad for everyone but I need up to 1600×1200 support. This Belkin SOHO supports up to a whopping 2048×1536@85Hz.
Specifications
---
Enables control of up to 4 PS/2 or USB computers (or both) from one PS/2 keyboard, VGA monitor, and PS/2 mouse
Offers audio and microphone switching
Supports video resolutions up to 2048×1536@85Hz through a 400MHz
Compatible with Windows® 95, 98, 2000, NT®, Me, XP, Novell® Netware® 4.x/5.x, DOS, Linux®, Sun and Mac (special adapters required for Sun and Mac support).
Provides built-in cable management design
Features hot key switching and direct-port access button
Limited 5-Year Warranty
Free Technical Support
Flash upgrade firmware support (not for Mac)
10-second AutoScan function
Keyboard and PS/2 emulations for error-free boot-up
PC99 color-coded connectors for matching cables to appropriate ports quickly and easily
LED indicators
At this point, it's important to note that Belkin has a positively huge line-up of KVM switches, under their Omniview marquee. Belkin has no less than 6 six different model families of KVM switches. The model being reviewed is a part of Belkin SOHO (Small Office/Home Office) line-up. The models in the SOHO line-up vary little, from 2-port versions to 4-port versions, and with or without audio and/or USB support. The model being tested here offers all available options: USB & PS/2, audio, microphone, and 4-ports.
The Test
---
As I said in the introduction, I've used several KVM switches.
| | |
| --- | --- |
| | My first KVM, a 2-port GVC model was dirt cheap at the time. As you can see in the picture, it has the replicating KVM ports on all sides. Once all of the cables were hooked to this thing, it looked like an electronic spider. This model didn't come with a power supply. After digging up a power supply meeting the spec listed on a 3"x5" instruction card, the hot keys still didn't work. I was therefore, forced to use the manual button to change between computers. With the spaghetti of wire coming off of it, placing this thing anywhere useful was pain. I hated it. |
| The D-link was also a 2-port model, supporting only PS/2 keyboards and mice. It, at least, was more ergonomically pleasing than the generic model. It did come with a power cord, but the hot keys would not work. Additionally, KVMs are by nature supposed to send a signal out to the connections, letting attached computers think that a keyboard, mouse and monitor are always plugged in. This is needed for when you boot a computer. On the D-link, this feature didn't work, and I was forced to switch to the computer that I intended to boot up. | |
Now in comes the Belkin.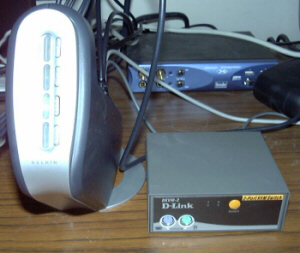 If you've seen a picture of Belkin's SOHO style equipment, you'll probably have thought that they were fairly compact. I did. But the 4-port KVM switch is not.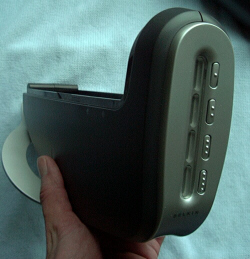 Shown against my hand, it's actually fairly large, but not overly so.
Wiring the device is positively brainless. Belkin has done a fine job of laying out the available ports on the back. The input device ports are at the bottom. Note here that there are no inputs for USB devices, unfortunately. I'd have preferred to have USB input as well as USB output. The 4 sets of output ports go up from there. The USB port is along the top edge, adjacent to the audio (green) and microphone (pink) ports. The center houses the VGA port. Closest to us are the two PS/2 ports. Also note at the bottom that there appears to be a RJ45 style plug. This is actually for the firmware upgrade. Belkin included an adapter cable that attaches to your computer's parallel port and the other end has the RJ45 style plug for attaching to the KVM.
The cables that Belkin sent me are individual cables.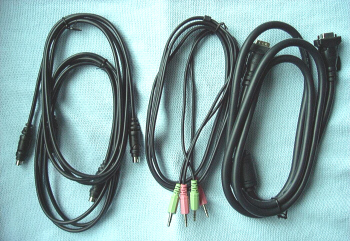 As you can see in the above picture, there are separate cables for the DB15 VGA, PS/2 ports, and 3.5mm audio/microphone ports. Belkin's schematic of the cables nicely shows what you're getting: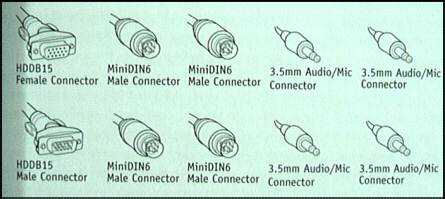 A similar story is told when we look at Belkin's USB cable pack.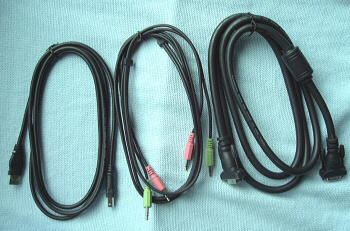 We again have the DB15 cable, the two 3.5mm audio cables for the audio and microphone ports, and we have only one USB cable. Belkin actually takes advantage of USB's capabilities and allows the one cable to broadcast both the keyboard and mouse signal to the computer. Here's Belkin's schematic showing how the USB cables are configured: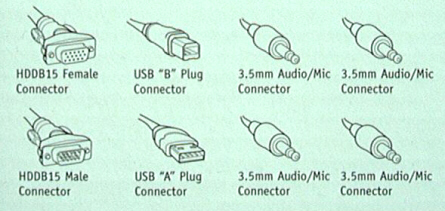 After wiring two computers to the device, the thing looks like an octopus.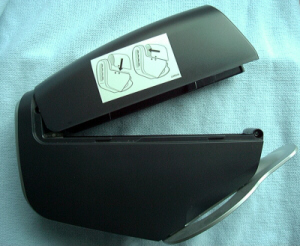 This is where Belkin's SOHO style comes in. They've included the above cable cover in the SOHO design. It takes a little muscle to get it on, since you have to force it against the cables, which end up sticking out the very back of the cover.
Using Belkins SOHO KVM has been an easier adventure than the previous KVM's that I've played with.

This picture shows the four buttons on the front face of the SOHO KVM. In this picture, port 3 is on and is lighted (note too that I don't have the cable cover plate on, since I was actively switching USB and PS2 port support). You can switch between computers by pushing these buttons.

Belkin really made set-up and use easy. In my former KVM experience, KVM's needed auxiliary power to get the claimed hot key computer swapping to work. Belkin's SOHO KVM doesn't require, nor does it even support an external power source, and the hot key swapping works flawlessly.
Belkin's hot keys for switching between computers include a double tab of the Scroll Lock key, then pressing either the number key associated with the port number that you wish to switch to, or you can double tap the Scroll Lock and use the up and down arrows to scroll up and down the ports. I used this last method since it was easy to do with one hand.
Conclusions
---
After playing with the OmniViewSOHO Series 4-Port KVM Switch with Audio PS/2 and USB Platform for the better part of the week, I must say it worked more or less flawlessly. The only issues that I had were, (1) upon first boot-up using the USB cables, my keyboard was not immediately recognized under WindowsXP, nor were my speakers through the external pod on my Hercules Gametheater XP. I couldn't enter my password to get into WinXP, so I logged-in under an account that did not have a password requirement. After that initial log-in, it was fine. My second issue, (2), was that the hot swap keys failed to work once or twice. You normally get a beep after you double tap the Scroll Lock key, and this didn't happen a couple of times. This could just have been user error, and I might just have to get used to this new system, but I felt that I should point that out.
In the end, I'm very impressed with how Belkin's SOHO KVM functions. There's one little trick that I used which many other users will be interested in. The SOHO has two audio ports, one intended for stereo speaker throughput and the second for microphone throughput. You can (and I did) use the microphone port to pass rear channel audio, so that I can fully use my Logitech Z560 speakers with up to four computers. this is a great feature that I don't think I could find anywhere else.
With all of this said, I'm awarding the OmniViewSOHO Series 4-Port KVM Switch, with Audio PS/2 and USB Platform, a score of 9.5 out of 10 and the Bjorn3D Golden Bear Award. Basically, if you're considering buying a KVM switch, this is the one to have for the home user.