Guest reviewer MikeRo found a handy MP3 player, flash drive, and flashlight all in one!
Introduction
You know the folks at Bjorn's 3D World like USB flash drives. You also know they like MP3 players. So why not kill 2 birds with one stone and review a device that's both at the same time? Wait! Make that 4 birds!
The New Motion Muzic AERA is looking to be the digital Swiss Army knife of the geek world. Packing a flash USB disk, MP3 player, voice recorder, plus a LED flashlight into a single, portable package, the AERA covers a lot of ground in 29 grams (sans 1 AAA alkaline battery). When I first saw Tom's Hardware's review of the Creative MuVo, I thought it was a really great idea. So finding this, with the voice recorder and flashlight at two thirds the price, I though I'd give it shot. But as convenient as Swiss Army knives are, they don't necessarily excel at anything they do. How will the AERA do?
Before I get started, let me say that this is not a review sample from New Motion, but rather a real, purchased unit. So you can expect that I'm looking to get my money's worth out of it. I purchased the item from Computer Geeks (www.compgeeks.com), after seeing mention of it on Techbargains. As far as actually obtaining the unit, Computer Geeks is the only place I could find that is selling them, and then only in the 32MB and 64MB sizes. It should also be available in 16MB (why bother?) and 128MB sizes as well. The CompGeeks price for the 32MB and 64MB units are $39 and $59, respectively. Update: since receiving mine, Computer Geeks is now sold out of both the 32MB and 64MB versions (it took them a while to ship it).
What's included in the package?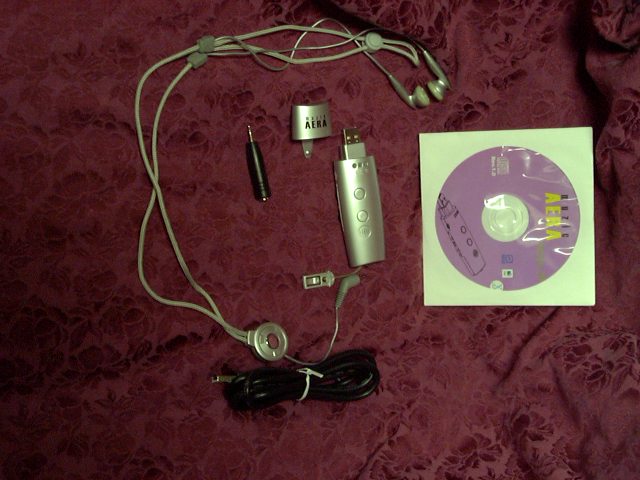 The package includes the following items:
1) The Muzic AERA unit itself, with a little "hat" to protect the USB connector
2) Earbud headphones
3) One USB A-to-A extension cable, for use with cases lacking front USB ports
4) A driver CD for Windows 98 users (no driver needed for Win ME/2000/XP, MacOS 9.0+)
5) One AAA battery (carbon ?!!!)
6) One headphone jack converter
Standard fare. I thought it was pretty nice to include the USB extension cable, only a couple of my systems have front USB ports. Also note that they included a headphone jack converter, because the unit has a 3/32″ headphone jack instead of the usual 1/8″. This is important, as you WILL want to use it. Even if you've left Windows 98 behind, you might want to hang on to the CD. It also contains utilities for updating the AERA firmware and formatting the flash drive (if that ever becomes necessary).
The AERA as a key drive
I figured, of all the functions this device is trying to be, this one would be the hardest to mess up. Functionally speaking, I was right; the AERA did its job without fuss or problem. Speed, on the other hand, was not really all that good. It took me over 2 minutes (about 134 seconds) to copy one 60MB file to the AERA. That's still much faster than a floppy, but pretty slow I think for comparable devices. The AERA is USB 1.1, and bears the same compatibility as most flash drives (Win 2k/me/XP and Mac OS 9+ with no drivers, 98 with included driver).
The little protector hat fits quite tightly. There are keyring-type loops on both the hat and the body of the unit. You could carry the unit around with the hat attached to your keyring without feeling nervous that the rest of the unit (which is very light) would fall out. And if you decide to use the included headphones you'll probably use the loop on the body for those (see the MP3 section below). Although the AERA is very light, it is, by nature of also containing a battery and circuitry for everything else, somewhat larger than most of the other pen drives on the market.
Also note that, while the AERA does require one AAA battery to operate as a MP3 player/flashlight/voice recorder, the battery is not required for USB pen drive operation. The AERA uses real flash memory and removal of the battery will not result in data loss.
The AERA as an MP3 player
The controls are quite basic; there are 2 "3-wheel" buttons on the player. The first wheel provides on/pause/off pushing straight down, and track forward and back pushing to either side. The second wheel bears repeat mode (track/all tracks/off) and volume up/down. Once you figure out that the arrows for track forward and back are pointing in the wrong directions (they're labeled correctly in the instructions), operation is a no-brainer. The player supports MP3 and WMA file formats, and I threw different bitrates of each at it without trouble.
The AERA has no LCD display, and does not support playlists. The tracks are played in the order they are copied to the device, which can make re-ordering the tracks challenging. This is definitely not going to be your main source of music, but it's not meant to be. There are 3 LEDs on the unit to at least let you know that the MP3 player (green LED) or recorder (red LED) is on, and an amber LED to indicate the repeat mode (solid = 1 track, blinking = all tracks).
I've never been an audiophile, though I can appreciate the sound upgrades from analog to digital or from good speakers. I figured that the audio quality would be pretty bad, and quite hard to hear (one AAA battery?). Quite on the contrary, the audio quality is pretty good (when used with a decent set of headphones), and the volume gets pretty loud. Though on pauses between songs, some audible "scratching" can be heard. The AERA does not have any equalizer settings, but the standard bias seems just about right (again, with a good set of headphones).
This unit came with a very unique set of earbud phones. The cabling is very short, but it comes with a little lock mechanism to attach your AERA via a small loop and a neck strap. Thus the player could be worn about the neck (say, while jogging) without strain on the phone jack or the earbuds. It's a very slick design worthy of praise, but the earbuds themselves just suck. Look, I'd never expect even half-decent bass on a pair of earbuds, but these things are just pathetic. Add to that they're large, unpadded, and downright uncomfortable in my ear. Thank New Motion Tech they included a standard headphone adapter! Even the headphones that came with my "rebate freebie for buying a CD-RW at OfficeMax" CD player were vastly superior in sound quality and comfort to the included earbuds.
The AERA as a flashlight
I was expecting the "brilliant LED" flashlight of the AERA to be fairly pathetic, like MAYBE I could use it to find the lock on a car door to stick my key in the dark, if I hit within a couple inches to begin with. It's no Mag-Lite, but I think it's actually bright enough to be used to light up a small area over fairly short distances (3-4 feet), and could signal for probably a hundred yards. Looking directly into the LED will cause spots, let's put it that way. A little fumbling is required to use the flashlight in the dark, as the AERA must be in MP3 mode before you can use the flashlight. While inconvenient, this prevents pocket objects from accidentally pushing the button and draining your battery. And once you get used to the controls it shouldn't take you long at all. I found it quite handy when working on a friend's PC.
While I'm on the subject of accidental button pushing, the AERA has two small switches. One switch flips between USB pen-drive mode and MP3/flashlight/voice recorder mode. Keeping that switch in USB mode will keep you from using the battery accidentally. Almost redundantly, they also included a lock/unlock switch on the opposite side of the unit. In the lock position, the controls on the device will not work at all (except the flashlight button, if the unit was already in MP3 player mode when you flipped it). Both switches are very small, but the lock/unlock switch also seems to be recessed a little as to be almost impossible to switch without the use of some small object. This switch would allow you to use the MP3 player without fear of accidental track skipping or volume changing.
The AERA as a voice recorder
Personally, this was the least interesting feature of the AERA to me. However, they did add the capability to record voice over a built-in microphone, so I might as well look into it. New Motion claims the unit can hold 4 or 8 hours of recording (for the 64MB and 128MB models, respectively). The audio is captured as mono, 8kHz, 4-bit .wav files that are saved in the "voice" subdirectory of the drive (V001.WAV, V002.WAV, etc.). These files can be played back immediately or copied to a PC later.
Like the flashlight, you must first be in MP3 mode to navigate to voice recorder mode. Overall, it's a process that takes about 10 seconds to start. If you're the kind of person that likes to take personal memos, or a musician that wants a recorder just to jot down a riff when it comes to you, it could come in handy. The recording quality was about equal to a hand-held cassette recorder. I was actually out on a computer repair job and found it very handy for taking some notes on things to research later.
Conclusion
Well, the AERA does a lot of stuff, and doesn't necessarily excel at any of it. Yet, each function is useful. The pen drive is solid and compatible, but slower and bigger (physically) than most other pen drives. The MP3 player is basic but sounds pretty good, and has been a great companion at the gym. The flashlight is small but really handy. And the voice recorder just does it's job. The whole package fits easily in your pocket. Just like the Swiss Army knife, it's there when you need it. I bought the 64MB AERA for about $60 shipped, which is about $20 more than an equivalently-sized pen drive alone. From another angle, the Creative Muvo is $90 shipped at 64MB, but does not have a flashlight or voice recorder.
The AERA seems like a good value, and a handy device to have around. Of the things I would change, mostly I would have packed some better-sounding and more comfortable headphones; it really is too bad about the earbuds because the design otherwise is very slick. Also, having a 1/8″ headphone jack would have been really nice (would it really be that much bigger inside than with the 3/32″ jack?). True, they included the necessary adapter, but that would be pretty easy to lose. The AERA seems pretty tough, and the battery cover and USB hat fit well. A couple of times during use as an MP3 player, a hard strike caused the unit to turn off. I presume this was because the battery temporarily lost contact. No apparent permanent damage was done.
Availability is another story. Again, Computer Geeks was the only place I'd found that carried it, and they're sold out. So I can't tell you where to get one. But I can tell you that, if you find one, you can buy it and have a pretty neat little fuss-free device that won't let you down. Just like you wouldn't build a house with a Swiss Army knife, don't expect it to be your musical library. And make sure you have some decent headphones to use with it. I wouldn't bother with an AERA smaller than 64MB; I wish I'd have been able to buy the 128MB model.
On the 10-scale, I'll give it a 7, mostly because it's a niche product and it came with really bad headphones. But it's a nice niche product, a cheaper Muvo with a flashlight and voice recorder to boot.
Maybe not recommended, but a safe buy for sure. I sure do like mine!