The EPoX 8RDA+ is a fine addition to the available nForce2 motherboards. It's well-designed and documented and comes with plenty of options and accessories. Its BIOS is highly configurable and overclocker friendly. Sound, USB, FireWire, and Ethernet support are all top-notch as well.
Introduction
NVIDIA's first motherboard chipset, the nForce, was a solid entry in the AMD chipset market. nForce boards featured excellent onboard sound, USB 1.1, Ethernet, and video. Performance was equivalent to most of its peers, and it also featured the stability for which NVIDIA video GPU's are known.
NVIDIA did not sit back and let the market pass it by, however. They released the nForce2 late last year (see our preview here) and it offers numerous improvements over the nForce. Additional features include DualNet™ dual Ethernet ports (two MACs, not offered on all manufacturer's boards), support for USB 2.0, IEEE-1394a/FireWire, Ultra ATA/133 IDE support, DualDDR memory architecture (DDR400), and AMD's 333MHz XP CPU's. For more information about the technical features and architecture of the nForce2, please see our preview here.
I was using an nForce-based WinFast K7N415DA from Leadtek. This board is based on NVIDIA's 415DA chipset, the nForce variant that does not utilize the IGP (integrated graphics). It was coupled with an AMD Athlon XP 1800+ and two 128MB RIMMs of Corsair PC2400 DDR SDRAM.
Our review item is EPoX's nForce2 variant, the 8RDA+. We decided to focus the review on a direct comparison between the performance of an nForce to the nForce2. In other words, I'm doing a simple swap of the motherboards, and we'll see what happens. 🙂
Specifications
Specifications
Processor
AMD Athlon, Athlon XP, Duron
Core Logic
nforce2 Platform Processor Chipset
BIOS
Award/Phoenix BIOS v6.0
Max. FSB
333MHz
Memory
3 x DDR SDRAM PC3200, 3GB max.
Form Factor
ATX
Expansion Slots
AGP
1, 8x
PCI
6, 32-bit
Ports
PS/2
1 mouse, 1 keyboard.
Serial
2
Parallel
1
USB
4 onboard, 2 optional. USB 2.0
Network
1 x Realtek RTL8201 PHY
Floppy
2 drives max.
IDE
2 x E/IDE Ultra DMA/133, 4 drives max.
Controllers
Sound
Realtek ALC650E 6-channel full-duplex integrated sound
Option
IEEE1394 Firewire interface
Special Features
Hardware Monitoring Function provided by Winbond
Keyboard Power On (KBPO)
Suspend To RAM (STR)
CPU clock settings are adjustable by BIOS
CPU V-core settings are adjustable by BIOS
Memory voltage settings are adjustable by BIOS
AGP voltage settings are adjustable by BIOS
Wake On Lan (WOL)
P80P Diagnostic LED
Board Layout & Box Contents
EPoX 8RDA+ Mainboard
User Manual
Drivers & Software CD
Highpoint Driver Floppy Disk
1 x IEEE1394 Cable (2 ports)
1 x SPD650 Card
1 x Game Port cable
1 x USB 2.0 Cable (2 ports)
1 x Floppy Cable
1 x ATA66/100 IDE Cable
1 x I/O Shield
Driver disc, including Norton Ghost (v7) and Trend Micro's PC-cillin 2002
There are no major layout issues with the board. The only quibble I had with the board is the locking pins for the memory cannot be operated with the AGP video card in place.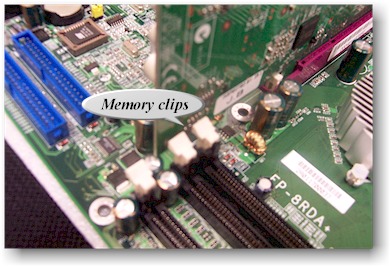 Otherwise, the design is clean and easy to access. It's very similar to the layout of the Leadtek nForce, actually. EPoX located the IDE connectors in the same place as Leadtek – at the opposite end of the board from the drive bays. As I had previously purchased an extra-length IDE cable for the Leadtek, this wasn't a problem, but air flow perfectionists (and cable origami masters) may wish they didn't have to route the thick IDE cables down the length of the mainboard. Exhibitionists may be disappointed that EPoX went with a standard green PCB, but at least the nForce2 chip's heatsink is handsome.
Four external USB 2.0 ports are provided with an additional two available via a bracket that connects to the internal header and resides in a PCI expansion slot. Two IEEE-1394a FireWire ports are accessed by the same method; a bracket in a PCI slot connects internally to the onboard FireWire port. Need a game port? Be prepared to give up a PCI slot because it also uses a bracket in a PCI slot. For those keeping track at home, that's 3 PCI slots you're surrendering for a game port, FireWire, and two additional USB ports (the other four are grouped within the I/O shield). Given the presence of onboard audio and Ethernet, that shouldn't be a problem for most users but it should be noted. I, for example, haven't used a true PCI card since switching to the nForce last year.
The LAN controller is the Realtek RTL8201BL, which is also used on ABIT and ASUS nForce2 motherboards. In spite of the nForce2's support of dual Ethernet, there is only one 10/100 port on the motherboard.
The 8RDA+ uses the ALC650 AC'97 codec to work with the nForce2 APU. Most other nForce/nForce2 boards use the same arrangement.
A diagnostic LED is also included for those times when all other troubleshooting means fail. Maybe its red glow will help make up for the lack of a snazzy PCB color. 🙂
The manual is well-illustrated and clear in its directions (although the English translations do break down at times). In fact, it may be the best motherboard manual I've used. I was especially impressed not only with the inclusion of Ghost on the installation CD, but the manual actually tells you how to use it!
Setup & Installation
Sometimes things just fall into place. For example, the day I had planned to swap the motherboards, the power supply in my rig died. That meant I couldn't power up to back up any of my data. Well, technically I could because my second PC has an identical PSU so in theory I could have installed the spare PSU and done the backup. But what fun would that be? I figured that as long as I had the box open I may as well plunge in headfirst and just swap motherboards!
Fortunately, that turned out to be the correct choice. Installation was absolutely flawless. All I had to do was replace the motherboard and I/O shield, plug in the new ports and attach them to the expansion slots, then plug in my peripherals. I then powered up, crossed all flexible digits, and was quickly rewarded with the XP Welcome screen. Side note: For all the flack Microsoft takes, one must give them full credit for Windows XP. It handled a full motherboard replacement without complaints or problems.
The BIOS
EPoX has a reputation for being very overclocker-friendly. The Award BIOS used in the 8RDA+ offers great flexibility for those with a need to tweak. Front Side Bus (FSB) adjustments go up to 250 MHz in 1 MHz increments. CPU voltage can be adjusted to 2.2V, AGP to 1.8V, and memory voltage to 2.9V. Multiplier options range from 3X to 24X.
The BIOS is updateable through an Internet connection using EPoX's Magic Flash utility. There are separate instructions included for doing so, but the English is a bit tortured: "When you want to flash the BIOS, you will meet a lot of inevitable situation. For example: Out of electronic power temporary will cause failure updated, and can not boot the system again." Flashing veterans will understand that a power failure in the middle of a BIOS update will screw you over royally. Those attempting the task for the first time may want to check with their experienced friends first.
Also included is a diagnostic utility called United System Diagnostic Manager (USDM). It monitors your system's fans, temperature, and voltages.
Testing
Testing was performed with subjective, real world use and benchmarking. The intent was to determine the effectiveness of the additional features of the nForce2 and any performance increases over the nForce using existing hardware. Our testing assumption is that few people with an existing nForce setup are willing to throw out perfectly good components, such as PC2100 or PC2400 memory, just to take advantage of new chipset features. With that in mind we wanted to determine the performance benefits, if any, of upgrading the motherboard with an eye towards upgrade potential.
Test System
EPoX 8RDA+ Mainboard/Leadtek WinFast K7N415DA
AMD XP 1800+ CPU
Two 128MB RIMMs Corsair PC2400 CAS2 DDR SDRAM
ATA/66 Maxtor 30GB HD
ATA/100 Maxtor 60GB HD
Visiontek GeForce4 Ti 4400 video card
Windows XP Professional SP1
DirectX 8.1
NVIDIA Display Driver v.41.09
nForce Driver v2.0
Benchmarks & Results
SiSoft Sandra 2002
PCMark2002
3DMark2001 SE (testing was completed before the release of 3DMark03)
Unreal Tournament 2003 w/UTBench2003 v.1.34
Sandra and PCMark were chosen as our overall benchmarking tools while 3DMark and UT2K3 were used to measure game performance.
SiSoft Sandra 2002
Sandra provides a synthetic benchmarking suite that covers the majority of a PC's subsystems. We used it to measure CPU, disk, and memory performance. All of the tests show small, but measurable, improvements in all three areas.
CPU Arithmetic Benchmark Results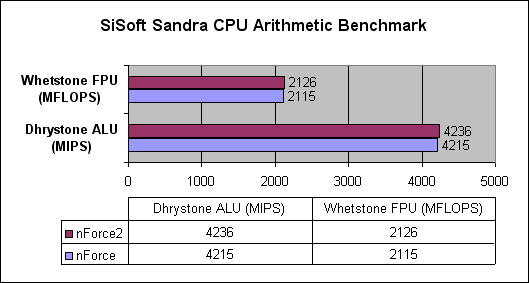 CPU Multi-Media Benchmark Results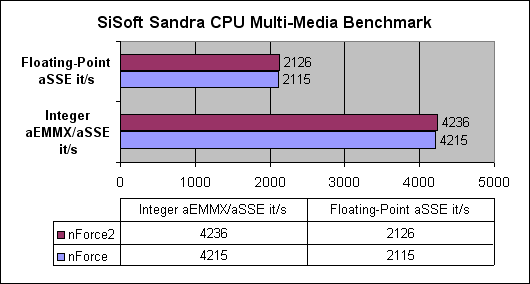 File System Benchmark Results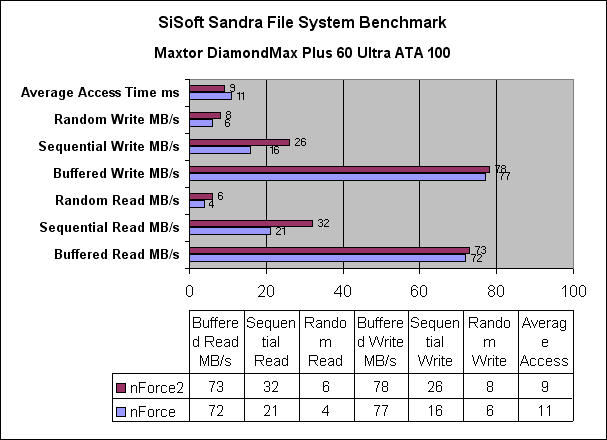 Memory Bandwidth Benchmark Results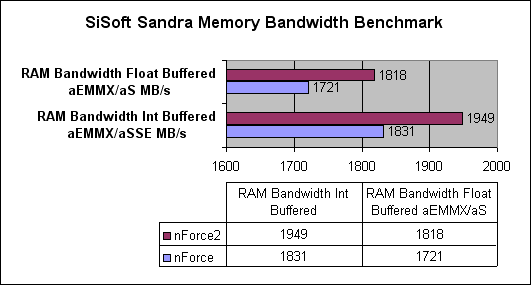 PCMark 2002
PCMark 2002 Pro is another synthetic benchmark for the all of the PC's subsystems. Like its sister benchmark program 3DMark, PCMark creates a score based upon all of its individual tests. We used the CPU Score, Memory Score, and HDD Score from PCMark for our comparison test.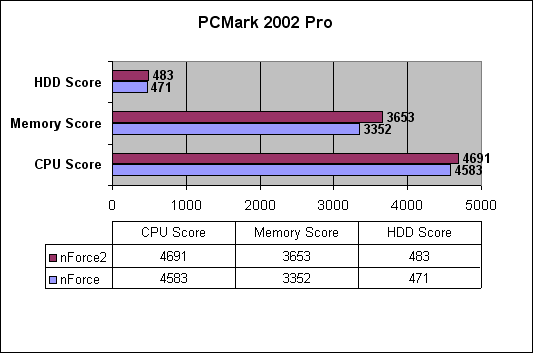 Again, we see small gains in each category.
Unreal Tournament 2003
Until Doom III is released, UT2K3 is probably the closest we'll come to a gaming stress test. Benchmarking was performed using UTBench2003 v.1.34 with the MaxDetail scripts. The small gains found in the synthetic benchmarks yielded similar, small increases in gaming performance. This isn't surprising given that the nForce motherboard is more than capable of maximizing the output of the test system's peripherals. There is a slight performance gain, but nowhere near the same as moving up from an older CPU or video card.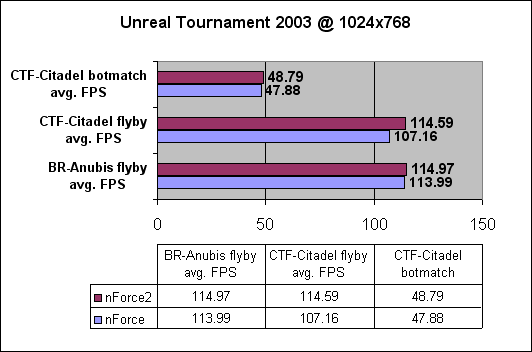 3DMark2001 SE
3DMark is our second gaming performance indicator. While it is technically a synthetic test, it's based on a game engine and is almost as widely used as Quake III Arena.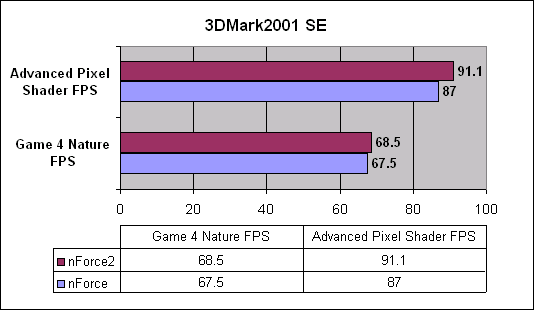 3DMark's results are consistent with the synthetic and UT2K3 tests; there are differences, but they are pretty small.
Conclusion
Our performance tests indicate that if you already have a nForce motherboard or its equivalent, there's no real speed justification for upgrading with your existing hardware. However, if you're in the market for a new system or plan on upgrading your CPU and/or peripherals then the nForce2 is an excellent choice. It features a wealth of high performance, high quality onboard features and has excellent reliability and driver support. With 333MHz CPU and DDR400 memory support, the nForce2 is ready to take advantage of the latest in CPU and memory technology.
The EPoX 8RDA+ is a fine addition to the available nForce2 motherboards. It's well-designed and documented and comes with plenty of options and accessories. Its BIOS is highly configurable and overclocker friendly. Sound, USB, FireWire, and Ethernet support are all top-notch as well. We highly recommend the EPoX 8RDA+ and award it a 9 out of 10.