I really like the Brother HL-1850 Laser Printer. For $500, it's hard to believe you'd be able to find a better printer with similar paper-handling in its price range.
I recently had to buy a new printer, since my old HP LaserJet 4L got fried in a lightening strike.  I needed to get a replacement printer ASAP, since my wife runs a small company out of our home.  That complicates things too, since the printer has to be able to print on "card stock", which is thick paper (or thin card board).  That's what I use to make tags for the company's products (homemade soap and gifts).
The previous printer was about 8 years old and had served us well, but was not particularly suited to printing double-sided tags.  I had to manually feed the card stock into the printer, one sheet at a time, flip it over, and feed it through again.  It's a time-consuming process and I knew there had to be a better solution.
Because my old HP had been so reliable, I looked at that brand first.  The cheapest model that had a foldout tray to handle stiff card stock was an HP LaserJet 2200DSE.  It's designed for small offices and had a price tag of $750 US.  That was a lot more than I wanted to spend, so I looked at some other printers.  The LaserJet 1200se was $400 and could handle card stock in the main paper tray (or one sheet at a time through a slot in the front).  That fit my budget, but I would still need to print the back side using a second pass. 
I decided to investigate further and discovered the Brother HL-1850, which is just what I needed.  This printer can print "duplex" (double-sided) pages automatically.  It's also rated at nearly 5 times faster than my old LaserJet printer.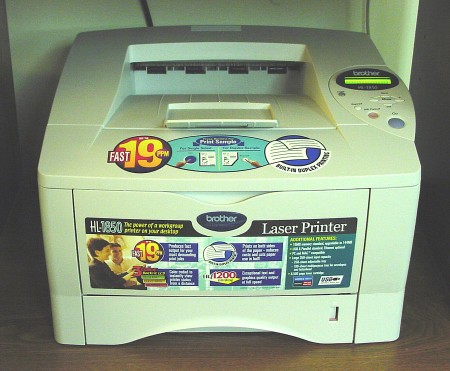 Feature List
Up to 19 ppm print speed
Crisp text and graphics quality with Brother HQ1200 printing (up to 2400 x 600 dpi printing ) 

Built-in duplex printing

3-color backlit LCD display

PC and MAC compatible
Versatile paper handling with 350-sheet paper input capacity
   – 250 sheet adjustable tray
   – 1

00 sheet multipurpose tray

16MB memory standard, expandable to up to 144MB for added performance

Automatic Emulation and Interface Switching between PCL6, BR-Script 3 (PS/3 emulation) IBM Proprinter and Epson FX emulations
PCL driver for Windows® 98/95/Me/NT4.0/ 2000 Professional
Macintosh™ USB driver (OS/8 or higher)
66 scalable fonts, 12 bitmapped fonts, 11 bar codes (PCL), 66 fonts (BR-Script3)

Parallel and USB interfaces standard

6,500 page toner cartridge (

based on 5% page coverage)

Paper level indicator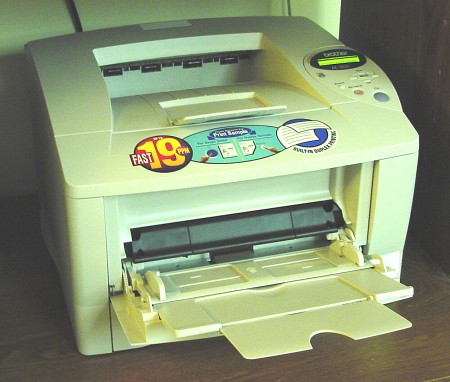 There's a pop out, 100 sheet "multipurpose" tray in the front.
This is kind of cool:  There's a 3-color backlit LCD status window.  It's easily visible from across the room and automatically turns off after a minute or so. The window lights back up as soon as you start to print something or press one of the printer command buttons.  Green means everything is OK.  Amber indicates that the printer is paused or that a command is being entered via the printer command menu.  Red warns that there is an error, like "No paper".  The Data LED (yellow) is domed and it sticks up above the panel; it's easily visible from practically any angle.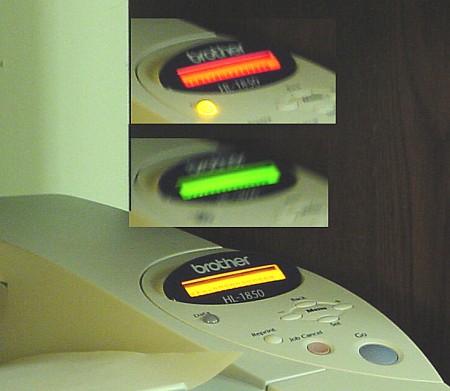 I like the front panel design a lot; the buttons and menus are logically arranged and the LED indicators are easy to see at a glance.
Problems
The Windows ME printer test page is fine at 300 dpi (dots per inch), but has problems printing the bitmap at 600 and 1200×600 dpi settings.  (600 dpi is the default, so the very first page I printed had horizontal gaps!)  I investigated bitmap printing with Microsoft Word and Internet Explorer, as well as other programs like PaintShop Pro.  I never saw any other bitmap printing problems, so I guess this is acceptable, but I don't like this one bit:
Later, when I upgraded from a parallel port connection to USB, the problem went away.  I guess that means the bitmap gap problem is a bug in the parallel port printer drivers only and does not affect the USB drivers.  I did search the Brother website for new drivers, but I've got the latest set.  Based on my results, I recommend you use a USB cable to connect this printer to your computer.
More Problems
Some of the stuff I print is on Astroparche brand specialty card stock "Antique Parchment Finish" paper; unfortunately the Brother HL-1850 printer has trouble printing on this stiff, 65 lb. paper.  The toner has a tendency to flake off (even when I choose  the "Thicker Paper" setting). That helps, but the toner still flakes if you accidentally rub the sheet:

This was not a problem with my old HP printer, whose toner did not ever flake off Astroparche paper.
I also have an issue with card stock in the MP tray; it occasionally jams (about 1 page in 50).  After using the printer for a couple of months, it seems to have improved.  I haven't seen the problem (at all) for several weeks now.
The Test
Brother claims 19 pages per minute, so I created a 19 page Microsoft Word document with the single word "Test" on each page (in New Times Roman, 12 pt) and timed the result, from the moment I clicked the OK button, to the last sheet popping out of the printer.  It took 1 minute and 7.99 seconds to print 19 pages (using LPT1:).  That's printing just the front of each page, but the main reason I bought this printer was for the double-sided (duplex) printing option. 
Let's see how fast this printer is, in my normal, paper-saving mode: I added one more page to my document and printed 20 duplex pages.  (That's 10 pages front and back.)  It took 2 minutes 32.56 seconds, which I consider to be quite reasonable, considering how much extra paper handling is required for double-sided printing.
The way the printer automates duplex printing is quite interesting to watch, the sheet is output almost all of the way out, but is pulled back into the printer at the last possible moment and then the other side is printed.  The back page is printed first, by the way, so if you cancel the printing job (via the front panel button) the back of the page will print, but the front side is blank.
The generous 250 page input tray holds 5 times as much paper as my old HP LaserJet.  The Brother's 100 sheet "multipurpose" (foldout) tray is a big improvement over the single-sheet feeder that the HP had as well.  The printer easily handles card stock (I tested 65, 67, and 110 lb. weights) in both trays.  Either source can be used to print duplex pages.  Both work well, aside from the initial paper-jamming problem mentioned earlier. 
Print Quality
The print quality is very good, even under high magnification.  Text, line art, and half-tone photographs all look great.  Page coverage is consistent and there is only minimal streaking.  The only times I could detect streaking is when printing full page, solid gray test patterns.  (I doubt anyone would notice this very minor issue under normal use.)
One of the features of the Brother HL-1850 is economy mode printing, which saves toner (powdered ink) by printing blacks as dark gray:

Economy mode is great for printing drafts, but switching modes is a bit of a pain and I don't think this feature is going to be used very often. 
While we're on the subject of economy, Brother laser printers use separate toner and photosensitive drums, rather than a single, combined unit like HP printers use.  Since printing drums are expensive and last much longer than a typical toner cartridge, the split design should be more economical.  But let's do the math:
An HP Toner cartridge (product # 92274A) lists for $88.99 and will print 3,350 pages based on 5% average coverage.  A Brother TN-560 Toner Cartridge costs $79.99 and should print 6,500 pages (at 5% coverage).  A Brother printing drum (product # DR-500) lists for $159.98 and should print 20,000 pages.  Paper costs vary, but for this comparison, lets assume $5 per 500-sheet ream.
The total cost to print 20,000 pages on an HP LaserJet 4L is 5.97 cartridges * $88.99 + $200 paper costs = $731.27.
The total cost to print 20,000 pages on a Brother HL-1850 is 3.08 cartridges * $79.99 + 159.98 (drum) + $200 paper costs = $606.35, which is $124.92 less than the HP.  However, if you usually print on both sides of the page, you can save up to $100 in paper costs (or even more if you print on expensive paper).
Parallel Port vs. USB speed test results
USB has a faster data transfer rate, compared to the standard parallel port (LPT1:).  I use two print samples in this test.  I printed the first page of the main Bjorn3D news page in Internet Explorer, to simulate a common mix of bitmaps and text.  I then printed a full page 600 dpi photo in PaintShop Pro, to test the worst-case graphics data load scenario.  My Celeron 850, ABit BH6 system only supports USB 1.0, but since the printer documentation does not mention USB 1.1 or 2.0, it appears that the printer is only USB 1.0 anyway.  I printed a single sided (non-duplex) page and made sure the printer was fully warmed up, so that I could accurately measure transfer speed. 
The minimum time to print a test page consisting of a single letter takes 11.90 seconds (in Word).  That's the time it takes from clicking the OK button in the print dialog box, to the sheet of paper fully ejecting into the printer's catch tray.  This gives us our baseline (minimal data transfer), time to print a page.
Printing the Bjorn3d page in IE takes 20.21 seconds on the parallel port, yielding a transfer time of 8.31 seconds.  The same test on the USB port takes 20.46 seconds, yielding a similar transfer time of 8.56 seconds.  What this seems to indicate that IE has a higher printing overhead (compared to Word) and that there is not enough data on the page to slow down the printer; instead, the printer seems to be spending most of its time rasterizing fonts, waiting on IE to send more data, or some other bottleneck task.
However, I got very different results with the PaintShop Pro large bitmap test.  The parallel port print took 27.48 seconds (15.58 sec. transfer), while the USB only took 16.83 sec (4.93 sec. transfer).  The actual print time is over 10 seconds faster and the data transfer rate is 3.1 times faster!  This is quite noticeable, if you print a lot of large images, like I do.
As a side note, I bought this printer from OfficeMax; the list price is $499.99 and there was a $50 mail-in rebate.  However, the special deal actually began on next day, so they sold it to me for $450.  I was very impressed with how they handled the situation.  I'll definitely be using OfficeMax for more purchases, especially since they are much closer to my house than the nearest computer store.
Summary
The Brother HL-1850 is an ideal printer for a small office; you'll save a lot of paper over the life of this printer (by using the duplex option).  Even though this printer has a few problems (most of which can be worked around), I still like it a lot.
I've been using this printer for several months now and I really like it.  It's much better than my old HP LaserJet 4P in almost every respect, with the exception of the toner flaking issue on Astroparche parchment paper.  The problem with the Windows test page bitmap does not seem to appear in normal, everyday printing.  It should be noted, however, that I'm using USB (which is faster); if you intend to connect the printer via a parallel cable, it's possible you'll have the same bitmap printing problem I did.
I recommend the Brother HL-1850 printer to anyone who is considering a duplex (double-sided) printer and giving it a rating of 8.5.