With 42 programmable keys and additional comm. Keys, it's more than anyone can hopeful in a left hand game controller. The included software, Game Commander 2 (even though it's a teaser version) and Teamsound, are added bonuses.
Introduction
 

 

Thrustmaster has spent a great deal of time and effort to come up with a keypad to accompany the use of the mouse for all of your gaming needs, coming from the concept that Thrustmaster calls HOMAB (Hands On Mouse And Board).  The result of their efforts is the Tacticalboard.  For many reasons, this is a very new and very creative gaming solution for RTS players, FPS players, and any gamer who prefers the keyboard/mouse combo over joysticks or gamepads.

 
Thrustmaster has created a game pad which functions as a Virtual Keyboard when attached to your system, i.e. it's not a Game Device, like a joystick.  Therefore, this thing works right out of the box, without really needed the Thrustmapper software.  It won't interfere with other controllers you might also want to use (remember that Windows won't let you use more than one gaming device in a game).  A great example of this would be Battlefield 1942, where you need to be able to control your character in FPS play, vehicles, and also aircraft.  In his game, you might want to keep your flight stick available for flying the aircraft.  With the Tacticalboard, running as a virtual, extension of the keyboard, you'll have access to the ergonomic keys and still be able to switch tot he flight stick.
Specifications
As the above picture shows, there are twenty easy access buttons, designed for left hand use.  Thirteen are centrally located for fingers, while seven additional buttons are located for your thumb's use.  There are 22 buttons designated for more advanced actions along the top of the controller.   At the left are lighted buttons specifically set-up for using on-line communications (called the "Chatterbox").  There is also a wheel amidst these comm buttons.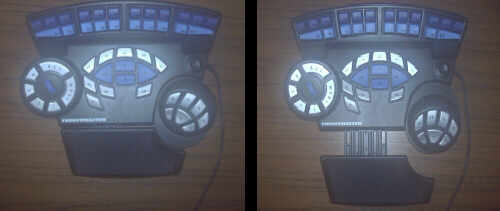 This gives us a total of 42 programmable buttons, not including the comms. This picture shows also that the Tacticalboard is adjustable to meet your hand size and play style.  The gel wrist pad can slide out to meet your hand size while the thumb pad can rotate (slightly) and slide up and down.   The upper portion housing the top rows of buttons also tilts up to a higher position.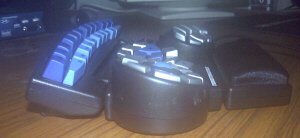 Features
4 direction keys
7 thumb keys
9 quick action keys
22 advanced features keys
1 escape button (small red button located above thumb pad)
3 adjustable zones: thumb, wrist pad, top keys.
Chatterbox to communicate with players and to command the games.
Removable wrist pad.
1 command key to order units with the chatterbox
Platform: PC
Controller Type: Gamepad
Number of Buttons: 42
Programmable Buttons: Yes
Connectors: USB ‑ Universal Serial Bus "A"
System Requirements: PC
Pentium 133MHz or higher with a USB port
Microsoft Windows 95, 98 or 2000
DirectX 8.0 for chatterbox
Requirements for the chatterbox
Headset with microphone (to use Chatterbox)
Game commander 2 and Teamsound (included software)
The Thrustmaster Tacticalboard comes with a driver CD that also includes a special edition of Game Commander 2 and Teamsound. 
Currently, it appears that there is limited availability of the Tacticalboard.  I've seen it at the CompUSA store, locally.  On-line, I can't find it anywhere but CompUSA's website.  It sells there for $79.99.
Installation
As for all USB devices, it is recommended that you install the drivers then plug the device in.  After doing this, Windows XP and Windows 2000 Pro found the Tacticalboard and installed the Virtual Keyboard drivers.  I also installed the Thrustmapper software, but this really isn't needed.  The default settings for the virtual keyboard allow any game to recognize key assignments.  I suppose some people may choose to use the Thrustmapper software if they want to assign specific key strokes to certain of the Tacticalboard's buttons….But this really isn't necessary.  I also installed the Game Commander 2 and Teamsound software.
Testing
Besides my own testing, I asked my sister-in-law's husband (Kovey) to give it a try.  He's a serious mouse/keyboard user for all games and I knew that he would be the one person that I knew who could test the Tacticalboard to it's limits.  As for me, I dabble with these left hand keypads.  I've used the MS Sidewinder Strategic Commander, and Belkin's Nostromo n50 SpeedPad to great success, but I've never been very efficient at using all of the available keys.  The Tacticalboard, with 42 programmable keys, appeared daunting to me.   Beyond the Tacticalboard testing, I looked at the included software.
Gene: I immediately tested the Tacticalboard on Mechwarriror 4: Mercenaries.  I need 11-13 keys to play this game, and I can't get that with my Thrustmaster TopGun Afterburner, which is my usual stick for mech and flight sims. 
List of buttons and what I used them for:
Center Keys

Up Arrow = Accelerate

Down Arrow = Decelerate

Left Arrow = torso twist left

Right Arrow = torso twist right

A8 = Jump Jets

A4-A7 = Fire weapon groups

A3 = flush coolant

A1 = Change Firing Mode

A2 = unused
 

 

Thumb Keys

 

T1 = Fire selected weapon group

T4 = (radar) target nearest teammate

T5 = (radar) target object under reticle

T6 = (radar) target nearest enemy

T7 = (radar) toggle enemy
I used my mouse for turning (aiming), and didn't use the buttons since I wanted to rely on the Tacticalboard's wealth of buttons to help me out. 
Pro's
1.  More buttons than you can possibly use, but certainly enough within the radius of your fingers.
2. The virtual keyboard drivers make this thing idiot proof for setting up.  There's no need to even think about the Thrustmapper software, all you need do is go through the configuration settings within the game to assign the buttons.
3.  The moveable wrist pad and thumb pad helped me get very comfortable with the Tacticalboard.
Con's:
1.  This is a serious piece of hardware that will certainly take time to master.  After a few nights of playing, I began to memorize and use the buttons without thinking.
2.  The thumb pad, on the other hand, has small buttons and they're difficult for my clumsy hand to use accurately.  I relegated these buttons to less critical tasks in game.
Kovey:   I'm comparing it to the use of a keyboard. I also am using it in conjunction with a MS Optical mouse, and also playing Mechwarrior 4: Mercenaries, which needs lots-o-buttons.
List of buttons and what I used them for:
 

Center Keys

Up Arrow = Accelerate

Down Arrow = Decelerate

Left Arrow = Turn Left

Right Arrow = Turn Right

A6 = Jump Jets

A5 = Center Torso to Legs

A8 = Override Auto Shutdown

A3 = Suicide (CTF Purposes)

A4 = Toggle Radar
 

 

 

Thumb Keys

 

 

T1 = Zoom

T7 = Com Program Teamspeak2

T2 = Coolant Flush
I use the mouse for torso twist, right mouse button for cycling through weapons groups, and left mouse button to fire selected group.
I tried experimenting with the ALL and TEAM buttons for in game Chat and Team Chat but I found it was easier to use the default keys of Y and U since I had to go to the keyboard anyway to type my message(This could be a drawback to the Thrustmaster if you aren't on voice coms).  I also experimented with using C1 through C10 as Move Forward 10%-100% but I found it was easier to use accelerate and decelerate (Up Arrow and Down Arrow ).
Pro's:
1. All the buttons are fairly close together where they are fairly easily accessed with one hand.
2. The thumb array and wrist rest are adjustable letting you get the optimal position for your hand.
3. The game recognized it as a keyboard which made the in-game setup easy.
The only Cons I saw with this controller is the difficulty I had with using the C1-C12 and S1-S10 in game (the two rows of buttons along the top of the Tacticalboard). To use those buttons for anything I found myself having to look down to see where my hand was all the time which got annoying. MW4 is a fairly fast paced game and you can't afford to be looking down at your controller. That bank of buttons is in a fairly awkward place and it's not easy to tell where your hand is on it by feel. In a RPG game like DAoC or Diablo2 those buttons may be ok to use, since there isn't action happening continually and you have a chance to look down. 🙂  I guess you could say that makes this controller work for a diverse set of games which could also be looked at as a plus.
Game Commander 2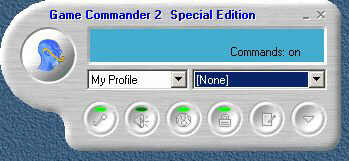 Game Commander 2 is a software suite that lets you give commands to your PC vocally, via pre-generated MS voice recognition software and GC2 preprogrammed groups of commands for many popular software and game titles.  Upon starting the software, you see the above small console with a pull down menu to select the program that you wish to control.  GC2 can also auto detect software when it's run.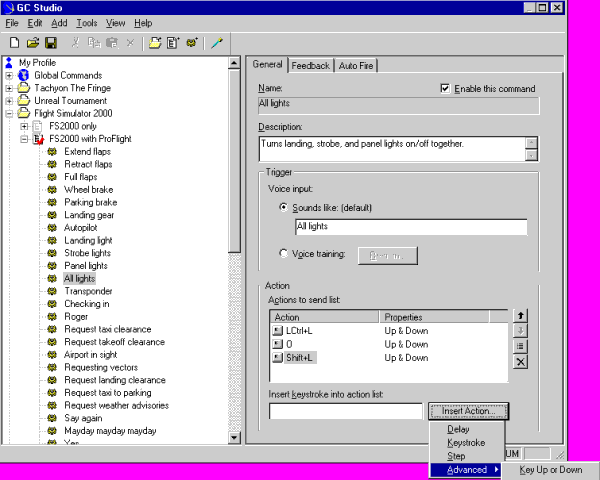 GC2 also allows you to customize your commands for whichever application your working on.  If you're having trouble getting the MS voice recognition to work with your voice, GC2 allows you to record your own…a nice feature.
You can also use Game Commander 2 with popular voice chat programs such as TeamSound, Roger Wilco, BattleCom (bought out by MS), TeamSpeak and many others.  And GC2 works with  Windows 95, 98, Millennium, 2000, and XP.
Other interesting features of GC2 include:
Multi-channel auto fire
Say a command and have it repeated continuously until you tell it to stop. Issue more commands while auto fire runs, including more auto fire commands!
Massive macro capabilities
Unleash up to 256 keystrokes per voice command.
Easy keystroke entry
Just press the key as you would in the game. Many special Windows keys and combinations are also supported.
Adjustable actions
Fine tune any keystroke or action for maximum control.
Extended actions
Configurable delay, key up, and key down actions, and step sequencing add more control capabilities than ever before.
Available voice training
For special cases, strong accents, or non-English commands, voice training takes only three utterances, not "War and Peace".
Pricing :  $30 for download, $40 for a retail package
Unfortunately, the "Special Edition" received with the Tacticalboard is hindered.  The feedback feature, to hear you own voice and to adjust your mic settings, is disabled.  A nice pop-up window appears informing you that you need to purchase the full version to get all of the features.  BUT, I might just be picking this up, as it can be a tremendous help in getting things done quick.  Although, after digging into GC2, it looks like it'll take some getting used to the configuration interferface.
TeamSound
TeamSound provides free voice conferencing over the Internet for game players, similar to TeamSpeak, GameVoice, Roger Wilco.
Features of this softeware include:
 lag-free, crystal clear voice conferencing
 computer generated text to speech for battlefield sequencing
 hotkeys for command & control
 channels, muting, kicking and transmit indicators
 web integration for connecting to servers and channels
 supports Windows 95, 98, 98SE, ME, 2000, NT 4 SP5 (service or application)
Of the features, note that Teamsound allows you to pre-program some specific sayings and bind them to a key.  When the key is pressed, just a blip of data is sent to your teammates and teamsound, on their end, generates computer speech of the text words that you assigned to the hot key!  A very slick concept that could be used in many on-line team games….Even if you're not interested in the voice-over-IP capabilities.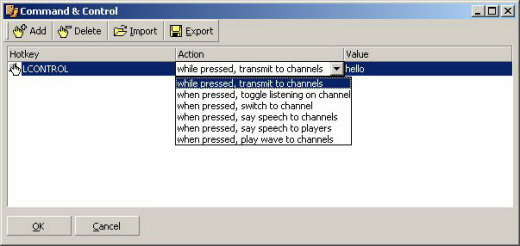 The example above shows that I bound the Left Control key to broadcast to my channel the word "hello".  When pressed, my teammates will hear a computer generated voice say "Hello".
The teamsound that I received with the Tacticalboard does not appear to be crippled in anyway.  If I can get some of my MW4 clanmates to bite, this software looks like it's worth using for league play.
Conclusions
The Thrustmaster Tacticalboard is positively a bear.  With 42 programmable keys and additional comm. Keys, it's more than anyone can hope for in a left hand game controller.  Making it function as an idiot proof Virtual Keyboard, rather than a Gaming Device, was also a smart move by Thrustmaster.  The included software, Game Commander 2 (even though it's a teaser version) and Teamsound, are added bonuses.
With practically endless possibilities for RTS, FPS, and sim games, I'm awarding the Thrustmaster Tacticalboard a 9.0 out of 10, and the Bjorn3D Seal of Approval!