Introduction
A few months ago I had the opportunity to review a Gamesurround Muse 5.1 DVD soundcard and a set of XPS 510 speakers from Hercules. As I'd mentioned in that review, it wasn't my first experience with the Muse line as before that I had used a Guillemot MaxiSound Muse and found it to be a very good product for the money. The Muse 5.1 DVD proved to be a worthy successor to that original Muse I had previously used, and now I'm getting the chance to test yet another audio product from the Hercules line.
This time around its a slightly higher end card, the Gamesurround Fortissimo III 7.1 which is the successor to the award winning Gamesurround Fortissimo II which Shane reviewed back in April of the year. Let's take a look at what this card has got to offer over its predecessors.
Package Contents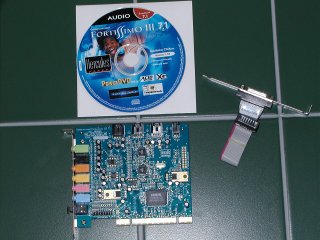 Package contents on the Fortissimo III were rather basic. The box included the sound card itself, a serial game port adapter, and the CD of drivers and featured applications.
The featured applications on this CD included Acid Xpress™ Loop-Based multi-track music creation tool; Hercules® MediaStation II multimedia jukebox; and POWERDVD PRO EX 7.1 channel software DVD player.
As with the Muse 5.1, there was no hard copy of the manual. A user manual is provided on the CD, and I suppose you can just print it out if you want to, but I always prefer to have a hard copy right from the start. It comes in handy when you need to troubleshoot right in the middle of an install and don't want to back out of the installer to go check the manual. Plus, you can always read ahead about the hardware installation procedure, options and the cards capabilities before you even turn your PC on.
Maybe I'm just old fashioned though. This probably won't bug most of you.
Product Specs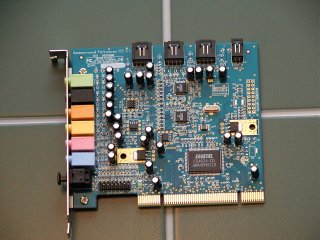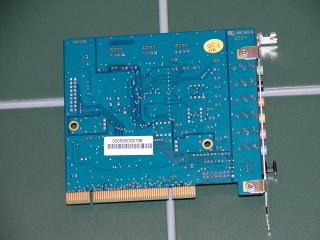 The Gamesurround Fortissimo III is chock full of features and the easiest way to touch on them all is to give you the factory run down of them, so here we go:
Powerful Digital Audio Processor

High speed performance in games

Smooth gaming experience

Mindblowing immersive feeling in games

7.1-channel 360° over-realistic positional audio experience with Games and Dolby Digital™ EX DVDs

Superior DVD audio playback

Perfect compatibility with DVD technology of today and the future

Complete freedom to personalize your speaker configuration

Crystal Clear sound : Create, edit, deliver and reproduce high quality sound

Digital sound input and output : Download any audio sources onto your digital audio devices

Use your PC as a multimedia jukebox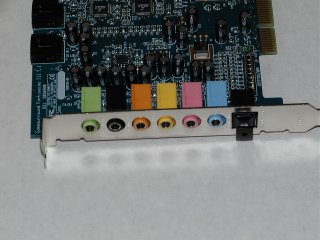 Here's a look at the edge connectors on the Fortissimo III. From left to right we've got the Front Output, the Rear Output, the Center and Sub output, the Center Rear output (for 7.1 set up), the Microphone jack, the HiFi line in jack, and the Amp/Decoder S/PDIF out connector. Above each port is a stamping saying what they are, but I had a hard time reading them personally. Maybe that's just old age, or the fact that with my contacts in I can see far much better than close. Regardless, they were a pain to read. I wrote down what each one did on an index card and matched up the function with the color of the plug and kept it nearby the PC for when I needed to plug everything in again.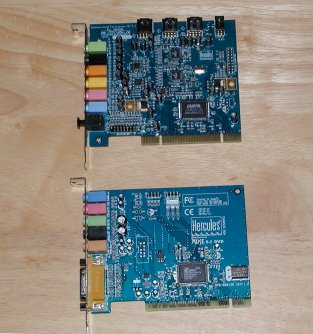 The above pic shows a comparison of the Fortissimo III with its Crystal Sound Fusion chipset to the older Muse 5.1 DVD and its C-Media chipset. The Fortissimo is certainly a lot busier looking card anyway. Let's see what all the extra hardware gets us….
Installation
Test System:
AMD Athlon XP 2000+
Leadtek K7N420DA nForce
512MB OCZ PC3000 DDR RAM
PNY Verto Geforce4 Ti4600
2 x 20GB 7200rpm Maxtor HD's
Iomega 8x4x32x CD Burner
Creative 52x CD-ROM
Windows 2000 Pro SP3
Installation was relatively simple although I did have one minor glitch. I first uninstalled the drivers for my Muse 5.1 DVD card and then powered down and removed the card from my machine with the Leatherman Squirt P4 I was testing for another review. I then installed the Fortissimo III and rebooted. It's worth pointing out that I didn't bother installing the serial game port. All my current gaming peripherals are USB now so I didn't see the point in taking up an expansion port with something I wouldn't use.
Upon reboot Windows 2k found a Crystal Sound Fusion chipset and proceeded to install software and then rebooted. After the reboot, I installed the Fortissimo III drivers from the provided CD and again rebooted as directed. On this reboot, Win2k wanted to install gameport drivers but came up with a "device not found" error message when it attempted to since I didn't actually have the port attached. When I hit "cancel" for the error message, it tried to reboot again but then hung, and I had to do a system shutdown and cold boot. Once the machine came back online, I again got an error message saying that the game port could not be found, but this time it went away without asking for a reboot or locking up. I did notice however that the Control Panel icon was not installed as it should have been upon completion of the driver installation. Hmm….
A quick test showed that I was not getting sound as I should be, so I uninstalled the driver pack and gave it another try. This time when I got that initial "Crystal Sound Fusion" device detected message I did not reboot but rather hit cancel and installed the drivers right then and there. What do you know? That seemed to work fine, and everything installed normally, and the tray icon appeared as it was supposed to. It wasn't a big issue, but it's something to be aware of when you do your install.
Testing
The first thing I did was to open up Hercules Control Panel application and take a look at their setup and test options.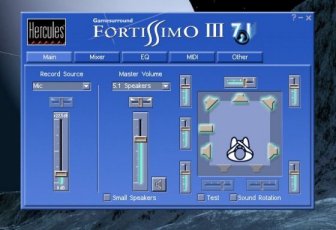 The main window in this application is a pretty straightforward and easy to use interface that lets you pick the appropriate speaker setup for your PC and set and test the speaker balance. The sound rotation test runs a series of drumbeats in a clockwise direction around your speakers (in the case of my 5.1 set up anyway) and lets you know that everything's working as it should be. Cool! Very easy and fast way to be sure you're set up correctly. I like that.
I started off my testing with a series of techno MP3s. I like using techno tracks for audio testing for a couple of reasons. First, techno gives you a broad musical range and can generally deal out some great thumping bass. It's a nice way to see how well a sound card and speaker combo is going to handle good, loud pounding tracks. Second, many first person shooter games tend to use techno scores for their background music so you can also get a preview of how your in game scores are going to sound.
When I started my test run, I was rather surprised to hear the obvious quality boost in sound over my Herc Muse 5.1 card that I'd been using for the past few months. Don't get me wrong, the Muse isn't a bad card, quite the contrary in fact. I'd been perfectly happy with it up until this point. In fact when I got the Fortissimo III to test, I was actually rather skeptical. To my untrained ear, the Muse 5.1 sounded great, and I really doubted I'd notice much difference moving to the Fort III. I was wrong. Apparently the Crystal Sound Fusion audio chipset used in the Fort III is in fact a better product than the C-Media units used in the Muse 5.1 DVD.
The Fort seems to produce a more precise sound with added depth and clarity to it. I'm not quite sure how exactly to describe it, but the same tracks played on the Muse seem flatter when compared to how they sound coming through the Fort III. This really is saying something in my opinion, because I thought the Herc Muse 5.1 was a great card for the money. To be honest, it's still a great card for the money, but I can now see the value in making the jump to Herc's next higher card if you've got the cash.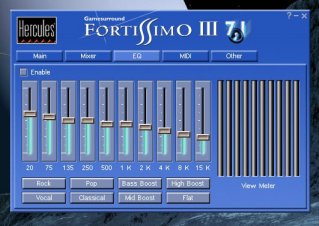 Next I moved to some classical tracks. My parents got me a couple of Vivaldi compilations for Christmas, and I've been listening to those for the past few days while toiling away at site work for Scott. I switched the equalizer settings over to the "classical" setting after the first few tracks, and I suppose there is a subtle difference over having the equalizer set to the "rock" setting. The quality of the strings, the woodwinds, brass, and percussion where quite good and comperable to that of my traditional JVC stereo.
My last musical test involved torturing the Fort III with a variety of conventional and not so conventional rock tracks. The Fort handled everything from garage band 3 chord punk guitar rifts to the blaring horns of ska bands with equal aplomb. Suffice it to say, the Fortissimo III did very well with a wide variety of music, especially when paired up with a set of decent speakers like Hercules' XPS 510's.
After the musical tests, I moved on to games. I used the Fort III with a variety of games ranging from those with simple sound effects like Laser Squad Nemesis to various FPS games like WesternQuake 3 (team release), Medal of Honor: Spearhead, Unreal Tournament and UT: 2003 that contain background soundtracks as well as a wealth of in game sounds like gunfire, breaking glass, footsteps and the wails of the injured and dying. All of which is music to my ears except when I'm on the receiving end of that gunfire in which case my real life screams and curses usually overshadow those in the games…
I already knew the Fortissimo's capabilities as far as musical scores go, so I focused on the game sound effects more than the music at this point. Overall they were very good. Gunfire and explosions had the proper pitch and degree of realism appropriate to them depending on the game and sounds, like breaking glass had a clear, sharp almost piercing quality to them. Footsteps were clearly audible and helpful in keeping an ear on what was going on around you in game.
I put the Fort III to the test during an extended LAN session playing Spearhead and even with the set of Labtec stereo speakers I use for LAN gaming, the quality was very good. The background sounds like rain, distant gunfire and the critical noises like approaching footsteps and the "p'ting" of an M-1 Garand going empty were all very clear and precise and may have even helped boost my always mediocre game play :).
A bit about 7.1 surround sound
I'd be remiss in not at least touching on the 7.1 surround sound capabilities of this card, but to be honest, there isn't much to say at this point. 7.1 support is still in its infancy so there isn't a whole lot out there that uses it yet. Windows Media Audio 9 Professional  is supposed to use it more, and newer DVD's will have 7.1 audio features, but until those are a bit more mainstream, the 7.1 feature is a bit limited in practical application.
Plus, there's the matter of proper set up. Take a look at this example from Hercules of how you should have your 7.1 speakers arranged.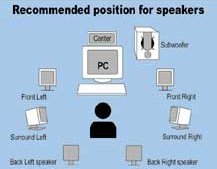 That's all well and good, but basically you need to nest yourself amongst all the speakers, even more so than with a 5.1 set up. If the room you have your PC in allows you to set it up that way, that's great, but I know a lot of folks don't have the space or the proper layout for it. My computer room certainly wouldn't allow for it.
On the plus side, the Fortissimo III worked just fine with a 5.1 speaker setup and supports everything down to two plain old stereo speakers. So if you're not sold on the 7.1 layout, you certainly don't have to worry about it. If you change your mind later on or 7.1 stuff becomes more prevelant, then you've got a card that can already handle it. That's not a bad thing.
Conclusion:
Well, I walked into this review rather skeptical, not really expecting to see much difference between the Fortissimo III and the Muse 5.1 DVD I was already using. I'm happy, and a bit suprised, to report though that Hercules' higher end card does in fact bring more to the table than its entry level cousin, and that's saying something, because I found the Muse 5.1 DVD to be a great value in its own right.
If you're not ready to drop big bucks on a sound card but want to take a step up from the entry level and economy sound cards, the Gamesurround Fortissimo III is a great place to look. With a retail price of about $50, it's affordable for most gamers and brings a lot to the table for the price.
For its great value, steady performance and game enhancing abilities, I'm giving the Hercules Gamesurround Fortissimo III 7.1 a 9 out of 10 and the Bjorn3d Seal of Approval!