Introduction
---
The name "Chaintech" never really caught my attention … until I saw a review of one of the Apogee motherboards several months back. Finally, a company was catering to enthusiasts in a different way by including round cables, Linux software and other unique goodies! Oh and of course there was the yellow PCI and RAM slots on AMD boards and green ones on Intel boards. And you can't forget all the cool gold accents. I had started to wonder why no motherboard manufacturers were including round cables when so many people seemed to be buying them. It's a simple and cheap way to try to gain a competitive advantage, so what took so long for someone to do it? I'm not sure, but I am very glad that Chaintech is sticking with their attempts at appealing to enthusiasts with extensive retail mainboard packages. Big ups to Chaintech for putting a little more into their packages, even if that makes them cost more!
Before you start thinking this is some type of editorial, I guess I better tell you what I'll be reviewing today — the highly anticipated Chaintech 7NJS Zenith nForce2 motherboard. This will be the second nForce2 motherboard review here at Bjorn3d, as the Leadtek WinFast K7NCR18D-Pro was the first. If you read the Leadtek review, you will notice that Chaintech has included a much more extensive package and more features on the 7NJS than you can find on the K7NCR18D-Pro. But there is one big feature missing on the Chaintech that most people notice right away — no SoundStorm! Yup, that's right. I'll get into that more later though. As most of you probably already know, nForce2 mobos are turning out to be great and solid performers and are arguably the best AMD Athlon XP solution on the market right now. So let's dig in and see whether the Chaintech 7NJS delivers or disappoints.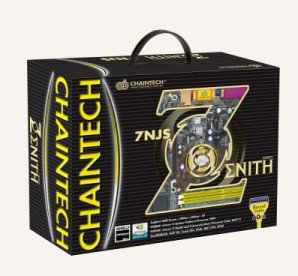 Features & Specs
---
Features:
NVIDIA's nForce2 SPP + MCP-T Processor Platform
Supports AMD Socket A Duron/Athlon/Athlon XP CPU
System clock supports 200/266/333MHz
Three 184 pin DDR DIMMs up to 3GB
Supports PC1600/2100/2700/3200 Dual-Channel DDR modules
AGP 8X interface support
Built-in CMedia 8738 audio – 6 channels with SPDIF support
USB 2.0 controller support for up to 6 USB 2.0 ports
Built-in 10/100Mb Fast Ethernet
5 PCI expansion slots, 1 AGP slot and 1 ACR slot
IDE Bus (2) Ultra DMA-66/100/133 connectors
IDE RAID (1) Ultra DMA-66/100/133 connector
Serial ATA support – 2 Ultra DMA-150 connectors
IEEE 1394a Firewire support
DigiDoc System Monitoring Utility
CBOX 2 – Chaintech's exclusive front panel
Round cables included (2 IDE and 1 floppy)!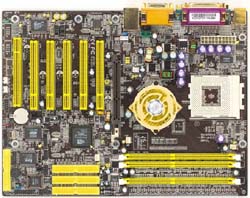 Specifications:
Form Factor
ATX 305mm x 230mm
Expansion
Internal upgrade slots (5) PCI, (1) AGP, (1) ACR
IDE Bus (2) Ultra DMA-66/100/133 connectors
IDE RAID (1) Ultra DMA-66/100/133 connector
Serial ATA (2) Ultra DMA-150 connectors
AV Subsystems
Video: 8X AGP
Audio: CMedia 8738 / 6ch
CPU Support
Supports AMD Socket A Duron/Athlon/Athlon XP CPU
System clock supports 200/266/333MHz
Processor Platform
NVIDIA nForce2 SPP + MCP-T
Main Memory
Three 184 pin DDR DIMMs up to 3GB
Supports PC1600/2100/2700/3200 Dual-Channel DDR modules
Expansion Slots
One universal-AGP slot for both 4X/8XAGP
Five 32-Bit PCI slots (v2.2 compatible)
One ACR slot supports modem, audio, LAN, Dolby AC3 Decoder or IEEE1394 adaptor
Audio Subsystem
Full-duplex operation for simultaneous recording and playback
6 Channel speaker audio supports
Embedded 32OHM 5w earphone amplifier
Supports MIDI and dual game ports
32 Voice HRTF 3D positional audio, CRL 3D supports MS Direct
Sound3D, Aureal A3D and Creative EAX APIs
Support SPDIF
UltraDMA IDE Ports
Supports two IDE ports up to 4 ATAPI devices
Supports PIO Mode 4 up to 16.6MBps, Multi Mode 4 up to 66MBps, Multi Word Mode 5 up to 100MBps and Multi Word Mode 6 up to 133MBps with Bus Mastering
Embedded USB Controller
Embedded USB1.1/2.0 Controller
Three EHCI USB 2.0 Controller support total 6 USB 2.0/1.1 Ports
Support USB 2.0 High-Speed Device @480 Mb/s Transfer Rates
On Board Super I/O Controller
ITE 8712 LPC I/O with system monitors hardware
Two UARTs support serial ports and IR function (up to 115.2Kbps) for HPSIR and ASKIR
One SPP/ECP/EPP parallel port
One floppy disk drive connector supports up to 2.88MB
Integrates smart card reader function and interface, to be qualified for meeting PC/SC standard
Embedded System Monitoring
8 external voltage inputs
2 temperature sensing for CPU and system
2 Fan speed (CPU and system) monitoring with on/off control in suspend
Boot-Block Flash ROM
Award system BIOS support PnP, APM, DMI, ACPI, & Multi-device booting features
On Board Ethernet
Fast Ethernet/Home Networking Controller with MII Interface – Support 10/100Mb Fast Ethernet or 1/10Mb HomePNA 2.0 with External PHY

Package Contents
---
7NJS nForce2 motherboard
User's Guide
EZ manual
Software CDs

Driver CD (Chipset Autodetect)
Value Pack 2002
DigiDoc System Monitoring Utility

CBOX2 front panel (fits in 5 1/4″ drive bay) – organized ports including USB, IEEE1394, headphone, and microphone
2 x Serial ATA cables
2 x 60cm yellow round ATA66/100/133 IDE cables
1 x 60cm yellow floppy cable
IEEE1394 (Firewire) ACR card
6 channel audio kit
SPDIF kit
Optical cable
Chaintech Zenith keychain and case badge
While the performance of the various nForce2 motherboards may be similar, the packages included with the boards are definitely not. With the Zenith Series, Chaintech is just continuing where it left off with the Apogee Series motherboards — tons of features and extras, cool PCB color and bright yellow expansion card and RAM slots. I think Chaintech did a great job on this package. When I started pulling stuff out of the box, I just couldn't believe how much stuff was in there!
---
Installation of the 7NJS went pretty smoothly. I did not plan on using a fresh install and wiping everything clean so that I could see how well the nForce drivers adjusted to this new motherboard — since the 2.00 version is a unified driver package, this should not be a problem. After swapping the boards and hooking everything back up, I booted my PC and everything seemed to be running just fine. Windows detected some new hardware, such as the RAID controller, onboard sound and ethernet connection. I also had to get the NVIDIA SoundStorm drivers off the system. Then, I went ahead and installed all the drivers as needed until XP stopped bugging me about new devices being found.
The actual physical installation of the components was also uneventful for the most part. One thing worth noting though is the interesting layout of the board. If you look at the pictures below, you can see that the main power connection is in a place you may not be used to. It is in between the CPU socket and the back I/O panel. I'm used to it being a little more towards the middle of the board, closer to the AGP slot. This may not be a big deal to you, but if you check the second picture below you can see that with my Lian Li PC60-USB case and Enermax PSU, the main power cable is basically hovering right above the Thermaltake Volcano 9 HSF — which I don't think is a huge problem, but it is not preferable. In the Antec PlusView 1000AMG I just recently re-installed all this stuff into, this isn't as much of an issue because there is more room in between the bottom of the PSU and the side of the HSF.
There are several other layout features that may become issues with some users. One is the location of the IDE and floppy connectors on the board. The IDE connectors weren't really an issue for me in my Lian Li case since the drive cage is at the bottom of the case, but with the Antec case, I found things to be a little too scrunched up in that area since the drive cage is not at the bottom of the case. I eventually got everything in the Antec, but it was a hassle to get it all worked out. The floppy connector wasn't really an issue with either case, but I still think it's important to note that it's stuck in one of the corners. Another issue that may raise an eyebrow or two is how close large video cards will be to the DDR slots, IDE connectors and surrounding capacitors. You can see what I'm referring to in the third and fourth pictures below. The main thing that bothers me about the DDR slots and video card positioning is that you have to take out the video card to switch out RAM, which seems to actually be a problem with big video cards on many boards.
After I got the hardware all set up and installed all the drivers needed to get going, I decided to check out the BIOS. Fortunately, Chaintech had just recently released a new BIOS update for the 7NJS around the same time that I received this board. I downloaded it from Chaintech's web site and updated it as per the instructions that you can also get from the site. One of the biggest changes that users were looking for with the updated BIOS was the ability to change the CPU multiplier — a big plus for tweakers and overclockers!
Before updating the BIOS, I couldn't access any of the multiplier settings with my Athlon 1800+ or 2100+ (neither one was unlocked). Now with this new BIOS though, I can see a wide range of multiplier settings with both processors installed. You can see what the BIOS looks like in the pictures below. In the second shot, you can see some of the CPU ratio settings available. The third picture illustrates how the 7NJS offers 4 basic System Performance settings — Optimal, Aggressive, Turbo and Expert. The third picture shows the Frequency/Voltage Control screen, which you can see allows you to adjust the DIMM, AGP and CPU voltages. In the final shot, the PC Health Status shows your current system temperatures, fan speeds and voltages.
The last thing I set up was the CBox2, which is a cool panel included in the 7NJS Zenith package in order to provide convenient front access to USB, FireWire, microphone and headphone connections. It also features a small display unit that shows CPU temperature and the 80-Port POST code during POST while your system boots up. Using this and the DigiDoc monitoring software will allow you to easily monitor your system.
Installing the CBox2 isn't too hard. It is designed to fit into an empty 5 1/4″ drive bay, but I sort of wish it was a little more compact and fit in the 3 1/2″ bays instead. The included manual briefly discusses which connections are which and where they are connected to the motherboard, but that's about it. So it may take a little while for you to figure it all out if this is the first time you've ever set up your PC by yourself, but most experienced users won't have any problems. The biggest problem you'll have is probably trying to find the best way to hide all the cables, especially if you have a window on your case. Overall, the CBox2 is a great addition to the 7NJS package.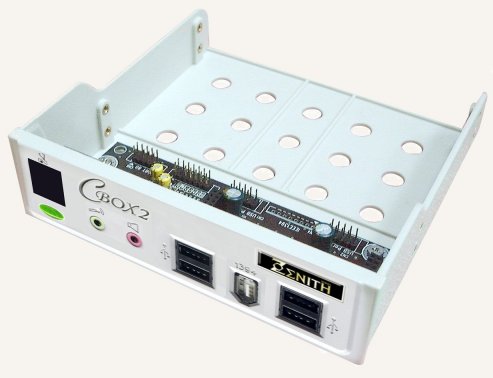 Ethernet & Sound Performance
---
One of the great things about this board is the integrated ethernet and sound hardware. Integrated features usually just make installation and setup much quicker and more convenient. The onboard NVIDIA ethernet MAC on the 7NJS works great. It was very simple to set up, and I've had no problems with it. I've been up and running at 100Mbps ever since I first booted the PC with the 7NJS installed. This is of course no surprise and should be the same story with every nForce2 mobo.
The sound on the other hand is not the same story for every nForce2 motherboard. The preferred onboard sound is generally NVIDIA's SoundStorm, but Chaintech for some reason opted to use C-Media's 8738 audio chip instead, which is too bad. The quality of the sound coming from this chip just doesn't seem as good to me as the SoundStorm sound I heard on the Leadtek K7NCR18D-Pro. I'm no audiophile so I can't throw a bunch of sound terms or extensive analysis at you and tell you exactly what's different, but I can tell you that I prefer SoundStorm. The C-Media chip does offer 6 channels with SPDIF support though, which is obviously a plus. I only have a 2.1 Klipsch Promedia speaker system, so I unfortunately can't tell you how the two different chips compare when it comes to surround sound.
System Performance
---
Just like in my Leadtek WinFast K7NCR18D-Pro review, I used some of the typical benchmarking utilities, including PCMark2002, SiSoft's Sandra, 3DMark2001SE, Q3Bench and ChameleonMark to test the performance of the 7NJS. Before we get to the benchmark results, here are the specs of my system used to test out this nForce2 board.
Test Box Specs:
Motherboard: Chaintech 7NJS Zenith nForce2
Processor: AMD Athlon XP 2100+ w/ Thermaltake Volcano 9 HSF
RAM: 512MB Corsair XMS3500 CAS2 434MHz DDR (2 x 256MB)
Hard Drive: Western Digital 80GB w/ 8MB buffer
CD-RW: Plextor PlexWriter 40/12/40A
DVD-ROM: 16X Pioneer Slot
Speakers: Klipsch Promedia 2.1
OS: Windows XP Pro SP1
NVIDIA Driver: 40.72
As I did with my previous review, I will be comparing the 7NJS's performance with this setup to several other configurations, including the same setup but with the Leadtek K7NCR18D-Pro motherboard and my old PC with an EPoX 8k7a+ motherboard and PC2100 DDR. This may give upgraders some idea of the performance gain they can expect from upgrading to an nForce2 motherboard from an older motherboard. My EPoX configuration is listed below. Please note that I am only listing what is different from the configuration above. Yes, I realize that more than one variable is changing here, but I'm going to present the information just for your reference.
Comparison (EPoX) Box Specs:
Motherboard: EPoX 8k7a+ (AMD-761 chipset)
Processor: AMD Athlon XP 1800+
RAM: 512MB VisionTek PC2100 DDR
OS: Windows 98SE
NVIDIA Driver: 30.82
As I said, I will also be comparing the 7NJS's performance to the K7NCR18D-Pro's performance. One of the major changes occurring this time around is the new version of the NVIDIA Detonator drivers. I went from version 30.82 to 40.72, and you will see on the following page, the drivers have really helped with performance in the gaming benchmarks. The nForce 2.00 drivers on the other hand have really improved the system performance benchmarks as can be expected.
PCMark2002: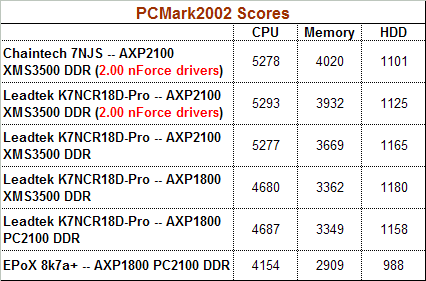 PCMark2002 Results with 6 Different System Configurations
As you can see the 7NJS and K7NCR18D-Pro put up very similar scores. The Chaintech board wins by a little on the Memory score, but loses by a small amount on the other two benchmarks. The first two rows in the table aren't really that exciting, but looking closely at the third row and comparing it to the first two reveals a much more interesting story — the 2.00 nForce drivers have bumped up the Memory score by almost 300 points! Props to NVIDIA for that improvement in the drivers!
If you look further down the table, you can find another significant comparison between the bottom two rows — the 8k7a+ with the Athlon XP1800+ and PC2100 DDR on Win98SE and the nForce2 with the same processor and RAM on WinXP. The CPU score went up 533 points while the memory and HDD scores went up 440 and 170 points, respectively. That's a pretty nice improvement if you ask me! The next noteworthy gain in performance occurred when I switched out the 1800+ for the 2100+ — CPU increased by over 500 and memory by over 300. The memory timings for the tests (and all the rest of the benches) were CAS=2.0, T(RP)=2, T(RAS)=5, and T(RCD)=2.
SiSoft Sandra 2002:
SiSoftware's Sandra benchmarking utility has a lot of good benchmarks and utilities for testing out and viewing information on your system. In my testing, I ran the CPU, Memory, Multi-Media and FileSystem benchmarks. The first comparison below is the Sandra CPU Arithmetic benchmark score for the 7NJS and the K7NCR18D-Pro with an Athlon XP 2100+ processor and 512MB of Corsair XMS3500.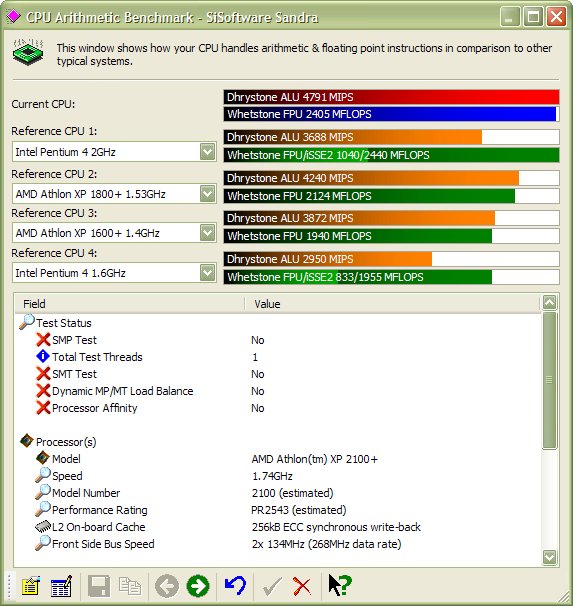 Chaintech 7NJS Zenith & AMD Athlon XP 2100+

Leadtek K7NCR18D-Pro & AMD Athlon XP 2100+
The next comparison you see is of the Sandra File System benchmark scores of each nForce2 motherboard. If you compare the numbers, you can see that the Leadtek nForce2 motherboard's drive index is around 3,000 points higher than the Chaintech 7NJS's index. I'm not sure why this is as I would expect the scores to be much closer. The drivers aren't as fresh and my system not as clean for the 7NJS as they were for the Leadtek, but I'm not sure if that can explain such a large discrepancy. Well whatever the case may be, I think they are both pretty good scores and NVIDIA has done a good job optimizing the IDE drivers for the nForce2. In case you missed the specs above, the hard drive used was a Western Digital 80GB with 8MB buffer (WD800JB).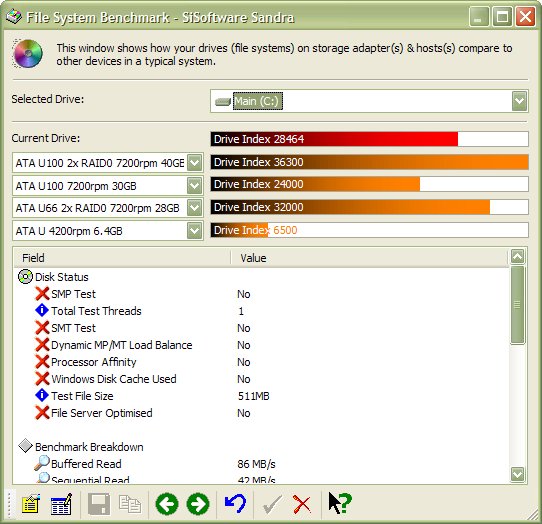 Chaintech 7NJS File System Benchmark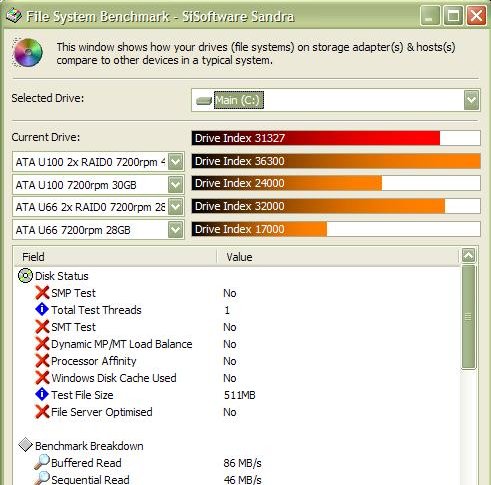 Leadtek K7NCR18D-Pro File System Benchmark
The final two benchmarks I used from the Sandra suite are Memory Bandwidth and CPU Multi-Media benchmarks. As you can see from the screenshots of the results below, the Leadtek and Chaintech boards both scored well in each benchmark, with the 7NJS putting up barely higher scores. Both of these benchmarks were run with an Athlon XP 2100+ and Corsair XMS3500 DDR.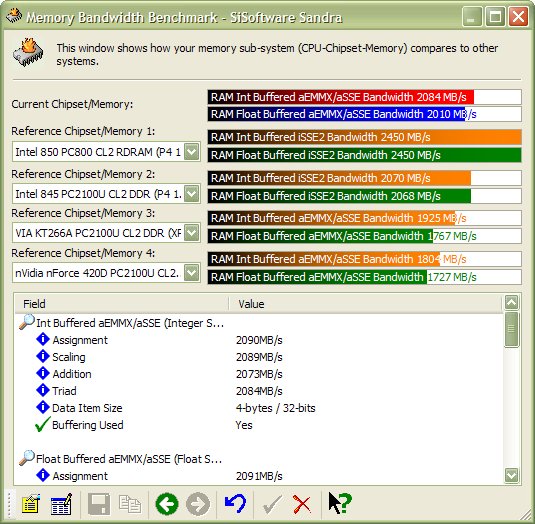 Chaintech 7NJS & XMS3500 @ 266MHz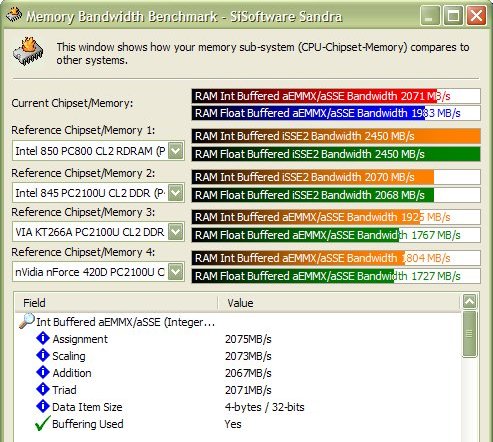 Leadtek K7NCR18D-Pro & XMS3500 @ 266MHz

Chaintech 7NJS CPU Multi-Media Benchmark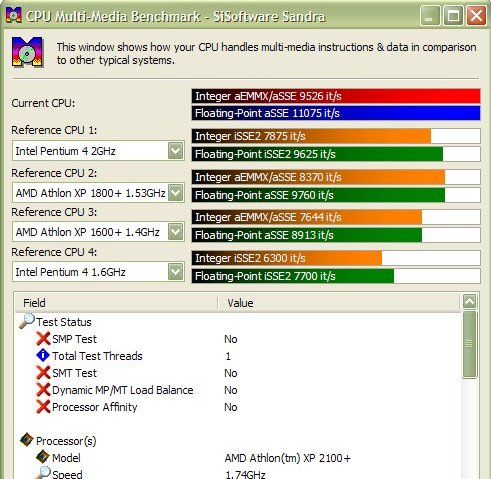 Leadtek K7NCR18D-Pro CPU Multi-Media Benchmark
On the following page, I will finish up my benchmark reporting with 3DMark, Quake 3 Arena and ChameleonMark. So continue on if you want to see how well this board performs for gaming!
Gaming / 3D Performance
---
Now that we're done with the general system performance, we can move on to the gaming / 3D performance tests. I will once again be including the EPoX system's performance for your reference. I decided to stick with the same benchmarks that I ran last time because I already had them done for the EPoX and Leadtek boards. So I ran benchmarks using 3DMark2001SE, Q3Bench and ChameleonMark. For the Q3A tests, I used version 1.31 and the Four demo.
3DMark2001SE:
As I tried to stress on the previous page, one of the biggest reasons you will see higher performance with the Chaintech board in these result graphs is because of the new 40.72 drivers and not because the 7NJS necessarily performs better. I apologize for not including the Leadtek results with the 40.72 Detonators (I actually didn't get the chance to run any benchmarks), but you can reasonably expect that those results would be right on par with the 7NJS's. In other reviews across the web, all nForce2 boards are performing very similarly.
There are two main things worth noting here with the 3DMark results. One is that the scores increased significantly when switching from the EPoX board to the nForce2 boards. They are pretty nice increases too! I especially like the extra 1,330 3DMarks at 1024×768. The second increase worth noting is mainly from the 40.72 Detonator drivers and the 2.00 nForce drivers. You can see that the Chaintech put up over 1,000 more 3DMarks at 1024×768 than the K7NCR18D-Pro, but as I said (and am overstressing — I apologize — but I need to in case readers are just skipping around in the article), the credit for the boost in performance (at least most of it) cannot be placed in Chaintech's hands but rather in NVIDIA's for doing another fine job on putting out better drivers.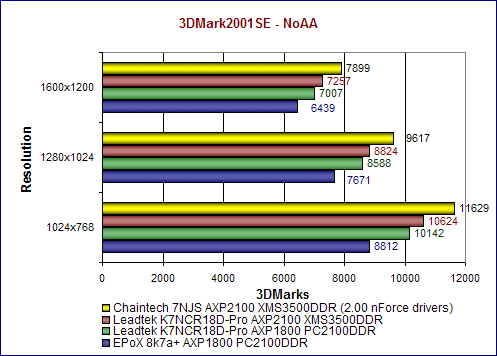 Here you can see another fine argument for making sure you get at least the 40.72 Detonators (41.09 is the latest version available) and the 2.00 nForce drivers installed. This combo along with the 7NJS is knocking on the 10,000 mark with 2xAA enabled at 1024×768. Very nice indeed! I can't wait to get back to No One Lives Forever 2 and perhaps crank the details up a little more. 😉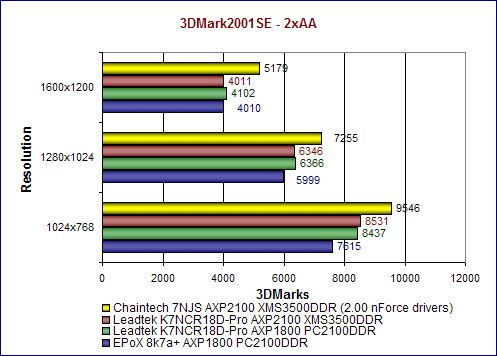 Quake 3 Arena:
When running Q3A benchmarks, we crank the quality setting to max for each run using QBench. I have version 1.31 of Q3A, and I use the Four demo.
nForce2 puts in another nice performance here. You can see that the newer drivers are helping out here again as the Chaintech is pulling ahead. The boost in performance is especially nice with 2xAA on. The scores increased by 10.2, 14.3 and 24 FPS for 1024×768, 1280×1024 and 1600×1200, respectively. That's over 37% higher at 1600×1200! And all it takes is new drivers — it doesn't get better than that.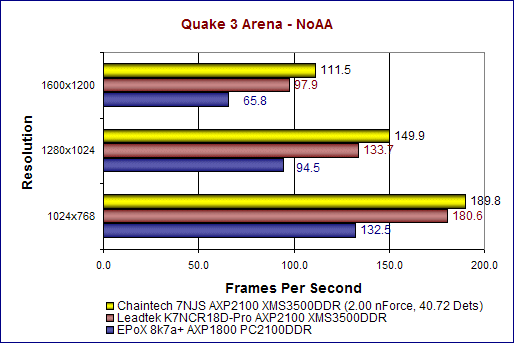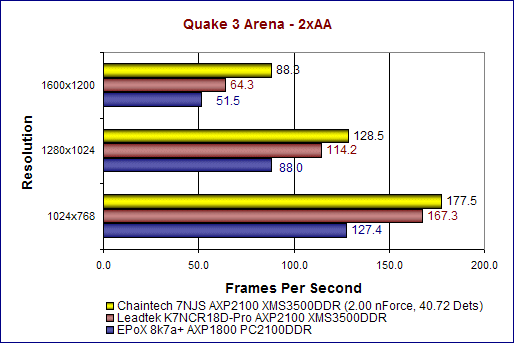 ChameleonMark:
Same story here as with my last review…
As you can see in the graph below, we have a different situation with ChameleonMark. Obviously this benchmark is only testing the video card and isn't being influenced much at all by the processor or the motherboard. NVIDIA designed the benchmark to test their video cards, and that's what it's doing. 🙂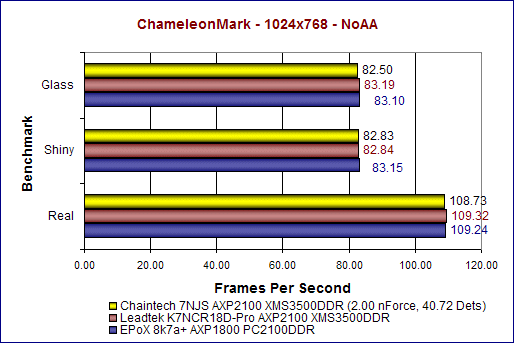 Overclocking
---
If you have researched the 7NJS at all, you already know that it is an overclocker/tweaker-friendly mainboard. You have pretty much all the settings and options at your disposal to safely get your system as high as it can go. Plus the AGP and PCI bus is locked, which should help you get more juice out of the RAM and CPU since you don't have to worry about toasting expansion cards. This is a great move on Chaintech's part, and fortunately seems to be more common on boards nowadays. You should be able to tweak the voltages, FSB and memory to your heart's content.
As I mentioned on a previous page, the newest BIOS available for the 7NJS makes the CPU multiplier settings available even if you don't unlock your processor. If you get the right AMD Athlon XP chip, you should be able to easily overclock your system with a high level of success according to the reviews I've seen on other sites. I went ahead and unlocked the 1800+ I have using the unlocking kit available from highspeedpc.com (by the way, this is a great kit and about the only way I'd feel comfortable physically unlocking an XP processor — very easy to use and has everything you need, and it is only around $12). Then I decided to try my hand at some overclocking. I decided to try just increasing the FSB a little at a time. I got to 140 before things started getting picky. The Sandra Memory score went up a little at this speed — the Int/Float scores were 2190/2086 as opposed to 2084/2010 when the FSB was 133.
Now is when I must admit that I didn't get much higher due to several things — 1) I apparently suck at overclocking, 2) I didn't have much time using the XP 1800+ because I had to return it to the machine it came out of, and 3) I apparently have bad luck and suck at overclocking. 🙂 I am absolutely positive that with the right knowledge, patience, understanding of overclocking and right processor that you (and even I) could get much better results. It is very common for this board to get as high as 190-195 FSB! So it is actually one of the better AMD overclockers around as far as FSB overclocking goes at least. With good RAM, it is also very stable and an excellent performer.
Final Thoughts & Conclusion
---
The 7NJS Zenith is a great board for many reasons — great features, lots of extras, solid and stable performance, lots of tweakable settings. Chaintech put together one of the best packages available overall in my opinion. It is an awesome board and package that should appeal to enthusiasts of all kinds — from tweakers and overclockers to feature fanatics. Although it is a bit pricey, it is a great board worthy of your consideration if you are in the market for a new motherboard.
Pros:
Stable and solid performance
Cool PCB and slot colors
Lots of BIOS tweaking options — good overclocking board 
Onboard ethernet works great
Tons of features — SATA, RAID, Firewire, USB 2.0, CBox2, rounded cables…
Onboard sound is good
Cons:
Board layout may present issues with your setup
Lack of NVIDIA SoundStorm
Support options are limited in U.S.
For its extensive feature set, abundance of extras, solid performance and overclockability, I am awarding the Chaintech 7NJS Zenith a score of 9.0 out of 10 and the Bjorn3d Seal of Approval.