Introduction
---
Antec has long been a name synonymous with high quality power supplies and PC and server cases. With its TruePower line of PSUs and its Performance Series line of enclosures, Antec has captured the attention and loyalty of many PC enthusiasts where so many other companies have failed. Today, we will take a look at one of Antec's newest case offerings — the PlusView1000AMG – SOHO File Server. This is pretty much just like Scott's Plus 1080 case reviewed here a while back, but this one includes a nice side window, is metallic gray and unfortunately does not come equipped with a power supply. Antec is shipping this unit without a power supply "for maximum customizability." The thought is that some people may want a PSU with LEDs while others may not I guess, and of course, not everyone wants the same amount of power.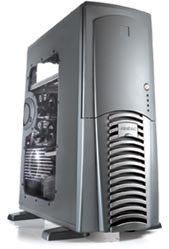 Description of the PlusView1000AMG from Antec's Web site:
"Showcase the great things you've done with your system!
For those who want to make a personal statement with their computer and want everyone to see, Antec introduces PlusView1000AMG. This metallic gray color (AMG) case features a high clarity window, along with the great features of the Performance Plus line. Personalize it even more by adding light and color with a variety of Antec LED fans, UV products and illuminated power supplies. That's computing the new way. Clearly yours."
Specifications & Package Contents
---
Features at a Glance:
10 drive bays for expandability
Lockable side panel with high-clarity, scratch-resistant window, vent, and 80mm fan mount
Mounting plate for standard ATX or ATX12V power supply
Front Connectors for convenient access to peripherals
– 2 USB with shielded cables
– 1 IEEE1394 (F ireWire)
5 fan mounts for 80mm case and HDD fans
– 2 black fans included (rear)
Specifications:
Model: PlusView1000AMG
Case Type: SOHO File Server
Case Dimensions: 20.6″ x 8.1″ x 18.6″ (H) x (W) x (D)
Drive Bays: 10
– External: 4 x 5.25″, 2 x 3.5″
– Internal: 4 x 3.5″
Expansion Slots: 7
Cooling System: Up to 5 x 80mm fans
– 1 front (optional)
– 2 rear (included)
– 1 HDD (optional)
– 1 side panel (optional)
Material: 1.0mm SECC
Net Weight: 27 lbs.
Gross Weight: 31.5 lbs.
Motherboards: Fits standard ATX (12″ x 9.6″)
Special Features:
– 2 front USB ports, 1 front IEEE1394 (Firewire) port
– Swing-out side panel with handle
– Quick-release drive bays with release lever
– Snap-in fan mounts
– Large front panel vent with washable air filter
Package Contents:
1 Tower case
High clarity windowed side panel
2 case fans (pre-installed in back fan mounts)
1 set of screws and motherboard standoffs
1 complete set of drive rails ( 8 rails )
1 Antec case badge
One thing that you may not notice right away from looking at the specifications is that this beast weighs in at 27 pounds (net weight)!!! I'm used to my Lian Li and other aluminum cases, so this sucker feels HEAVY! Add all your components and your looking at around 40 pounds or more! The weight is good in some way though as it reflects the high quality of the case. You will never think for a second that this is a flimsy, cheaply constructed case. It is worth noting though that some of the extra weight is due to the case being so tall — 20.6 inches — which is a good three to four inches taller than most tower cases.
The PlusView1000AMG has some great and very useful features, such as drive rails and 2 front USB and 1 front Firewire (IEEE 1394) ports. This was my first experience with drive rails, and I think they are great. The drive rails are designed to work with the 5.25″ drives and are very easy to install. Simply screw them into the sides of the 5.25″ device (DVD ROM, CD-ROM, CD-RW, etc.) and then slide the device into an empty bay. They worked great with my Pioneer DVD and Plextor CD-RW drives, and I also used them with the Chaintech CBox2. Antec doesn't stop with convenient features at the drive rails. It also includes front USB and Firewire ports hidden under a small door in the front of the case. Another great addition to the 1000AMG.
If you look closely at the drive cages, you may notice the release levers. The two 3.5″ drive cages can be removed very quickly and easily thanks to this design feature. I found these to be very handy and easy to take out and pop back in the case thanks to the quick-release mechanism. Another great feature of this case is the snap-in fan mounts. The case includes four total — one in the front bottom section below the drive cages, one in one of the drive cages, and two in the back stacked vertically with two nice Antec fans already installed. As with most higher quality cases, Antec included a washable air filter behind the large front vent.
With all these great, convenient features, I'm actually quite surprised they don't use thumbscrews anywhere in the case. I've come to really appreciate thumbscrews as I have three cases that use them. I would really like to see an Antec case with them included. If you've never had the pleasure of using them, then you probably can't understand where I'm coming from. Thumbscrews can make side panel and even expansion card removal very quick and effortless. Not that it is hard to use a screwdriver, but it's nice not to have to find one or drag one around with you if you have a LAN rig. Some of you will also be wondering where the removable motherboard tray is. Well, it's not here, but whether or not that's a drawback really depends on the user. The lack of thumbscrews and a removable mobo tray is unfortunate, but the 1000AMG is still without a doubt a very user-friendly case.
Along with the PlusView1000AMG, Antec also sent me two 80mm TriLight LED case fans to check out in this case. These are very cool, high quality fans that can add a nice touch to cases with windows, like the 1000AMG.

Antec TriLight LED Fan Specifiations:
Size: 80 x 80 x 25.4 mm
Weight: 71.5 grams
Fan Speed: 2,600 rpm (average)
Volumetric Airflow: 34 CFM
Static Pressure: 0.12 inch H20
Acoustic Noise: 30 dBA (at average rpm)
As you can see from the pics, Antec packages these fans pretty nicely. I was very impressed by the professionally wrapped power cable. Definitely a nice touch! Thanks to the snap-in fan mounts, 80mm fans like these are very easy to install in the case, and you don't need the included screws. Just pop it in a fan mount, and make sure you put it the right way depending on whether you want it to be an intake or exhaust fan.
Installation & Using the Case
---
I have complained already a little bit about the size of this case (mostly because of the weight), but this is where the size becomes an asset — installation. I have never used another case that even compares to how easy the PlusView1000AMG is to work in. The amount of room around the motherboard is very nice; I felt considerably less cramped working in here than I have with other cases. Obviously, this is due to the extra height of the enclosure.
The first thing I did was decide where I wanted to put the two TriLight LED fans. I decided to remove one of the included fans in the back and replace it with one of the LED fans. I put the second LED fan in the fan mount installed in the side panel window, which is of course vented so air can pass through. Since I like to have air blowing directly on my hard drive(s), I placed the fan that I took out of the back in the drive cage fan mount. It is nice to have a drive cage with a fan in it, but I think the drives stick out too far with the fan mount installed. The thick purple fan mount actually makes my hard drive stick out about an inch farther than 'normal.' I would actually prefer to just have a drive cage in the bottom section of the case with a couple fans mounted in front of it. That is how my Lian Li PC60USB case is set up, and I think it's a very logical and useful design.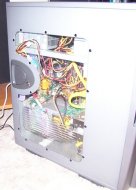 Installing my motherboard, power supply, IDE drives and other components was pretty simple. Nothing really gets in the way, and all the convenient features mentioned above help make setting up your system a less frustrating process. Nice rounded edges in most places also make installation a less frustrating and painful experience. Plus, when you're all done, you get to see how great your system looks through the window! I'm sure Antec aficionados are happy to have this feature available. I was really looking forward to finally getting it all hooked up and powered on so I could see how the window looked in combination with the LED fans.
I really like the window, and the TriLight LED fans are great. I'm definitely thinking about getting a cold cathode kit and some more LED fans now. I like the way the light shines off the Chaintech 7NJS's gold northbridge fan and the Leadtek Ti4600's massive heatsink. 🙂 Not only does my rig look pretty cool now, but my system temperature is also definitely down thanks to my system's new home. With the PlusView1000AMG, my idle system temperature is around 32C, which is about 10C cooler than before in my Lian Li case. You have to keep in mind though that I have more fans and more room with the 1000AMG, but it is a very nice drop in temp!
Conclusion
---
Antec has designed another great product with the PlusView1000AMG. This case would definitely make a great server case, but it would also be very appealing to enthusiasts looking for a solid and flexible enclosure. The 1000AMG costs $99, which may seem like a lot to many people, but you really do get what you pay for. (By the way, a reader e-mailed me to point out that this case can be found for much less than $100 if you do your research.) In this case (no pun intended), you're getting high quality and great features from a trusted name in the industry.
It's important to have a good case, and this one definitely fits the bill. Add in some LED fans, cold cathodes and whatever other light you can think of, and you will have not only a good case but also a good looking one as well.
Pros:
Plenty of room — easy to work in
Cool window and easy to remove side panel
Drive rails for 5.25″ bays
Metallic gray color looks great — looks fine with beige drives too
Quick-release drive cages
Good fan layout and convenient snap-in fan mounts
Cons:
No thumbscrews
Wish there was a bottom drive cage
Very heavy!
The Antec PlusView1000AMG is another fine case from one of the leading companies in the business. If you are looking for a quality, big, feature-rich and cool looking case, you really can't go wrong with the 1000AMG. I'm giving it a 9.0 out of 10 and the Bjorn3d Seal of Approval. I also highly recommend the TriLight LED fans. They work great, look cool and aren't too noisy.