Most LAN gamers know that things don't always go like they should and last minute tweaks and repairs aren't uncommon. The worst time for that to happen is when you don't have any tools handy but Leatherman may have just the solution for that problem…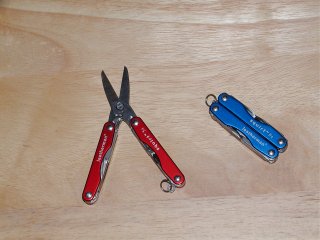 When it comes to LAN gaming, a pocket multi-tool might not be the first thing you think about, but maybe it should be! I don't know how many game sessions have dropped into crisis mode because we've suddenly been scrounging for tools to swap out a dead NIC, do a last minute video card update, or any number of other odd tweaks and tune-ups that frequently are necessary on "custom" (read: slapped together) gaming rigs. Possibly an even greater crisis is finding that one of the mooches you usually play games with has actually brought a decent case of beer for a change and no one has a bottle opener on them!
Whatever the situation, one way to alleviate these sorts of traumas is to always have a tool kit on you. I used to always carry a small kit with me, but since I've been trying to trim down the bulk and weight of what I drag to LAN parties I decided that there has got to be a better way (than lugging a tool pouch with you everywhere you go). My previous exposure to Leatherman's excellent multi-tools in the backpacking and military arena got me to thinking that they might just be the perfect tool for the job in this case too!
The Leatherman Tool Group, Inc. got their start back in June of 1983 and they've been cranking out revolutionary products ever since. You may not be aware of the fact, but Leatherman was the originator of the very first multi-tool. Everything that's come since owes its existence to that first Leatherman design (and that's pretty obvious when you take a look at the form factor of most of their competitors tools). The Leatherman Tool Group sells in over 80 countries worldwide and controls over 50% of the domestic market today.  They're certainly the force to be reckoned with in the multi-tool world.
For this review we were fortunate enough to be provided with both the S4 and P4 versions of their new Squirt multi-tool. Let's take a look and see what these pint-sized tool chests have to offer!
Description and Features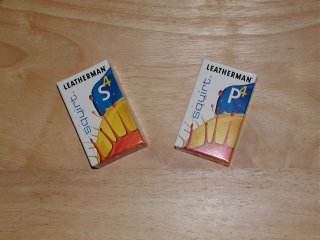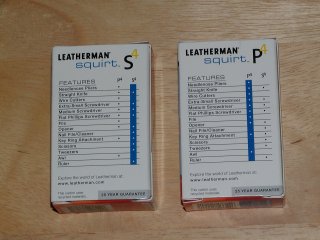 On the off chance that you've somehow never seen or heard of a multi-tool, a quick explanation might be in order. Essentially, a multi-tool is a folding tool generally about the size of a pocketknife that usually centers around a set of pliers (or scissors in the case of the S4) and has a variety of blades, screwdrivers, etc, accessible in the handle portions of the tool. As opposed to a Swiss Army Knife (SAK), whose main focus is the knife blade, with tools being secondary functions, a multi-tool's primary function is generally the pliers.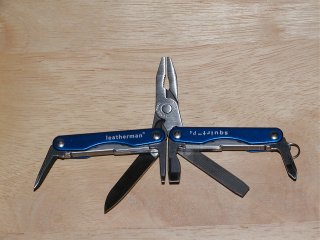 Squirt P4
The first tool we received for review was the Squirt P4. In this case the "P" stands for pliers, as that's the main tool on this particular model. Here's the rundown of factory specs and features for the P4:
Length: 2.25 in. / 5.5 cm closed
Weight: 2 ounces / 57 grams
Materials: Stainless steel with anodized aluminum scales
Patents/Trademarks: Patents Pending in U.S. and other countries
Available Colors: Storm (gray), Glacier (blue), Inferno (red)
Needlenose Pliers
Straight Knife
Wire Cutters
Extra Small Screwdriver
Medium Screwdriver
Small Flat Phillips Screwdriver
Single-Cut File
Cross-Cut File
Opener
Lanyard Attachment
Awl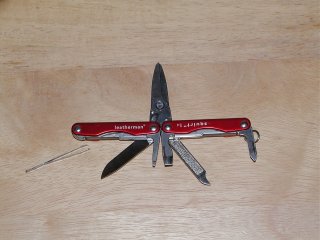 Squirt S4
The S4 is the same size and form factor as the P4, however, the pliers have been replaced with a set of scissors and some of the other tools vary as well. Here are the specs for the S4 for comparison to the P4 above:
Length: 2.25 in. / 5.5 cm closed
Weight: 2 ounces / 57 grams
Materials: Stainless steel with anodized aluminum scales
Patents/Trademarks: Patents Pending in U.S. and other countries
Available Colors: Storm (gray), Glacier (blue), Inferno (red)
Scissors
Straight Knife
Tweezers
Extra-Small Screwdriver
Medium Screwdriver
Small Flat Phillips Screwdriver
Nail File/Cleaner
Opener
Lanyard Attachment
Ruler
General Impressions
The first thing you notice about the Squirts are their brightly colored, anodized scales. The P4 came in blue and the S4 is a charming and easy to see red. Once you move past the color you realize these things are small. You can see in the above pics some comparison photos showing the Squirt P4 next to my beat up old SAK and my older Leatherman Micra (a good mini-tool in it's own right). The second pic gives you a side-by-side with another LAN gaming favorite of mine, the M-Systems DiskOnKey, and a U.S. Quarter. Suffice it to say, the Squirt is a puny little bugger.
One thing that's apparent upon closer examination of the Squirts is that they're very well made. Even in comparison to the earlier Leathermans like the Micra and the original PST tool. They have a very smooth action to them and just seem a bit more refined. Everyone I showed them to commented on this (after they were done "ooo-ing" and "aww-ing" over the colorful handle scales anyway). Even my father in law, who is a tool and die maker by trade and very particular about his tools, was particularly impressed with the Squirts construction and operation. That's pretty high praise. Fit and finish on the tools is very good and operation is smooth and positive. It's a far cry from what you see with many of the economy tools out there.
Either model could be easily carried around in your pocket without notice or attached to your key-ring by the handy lanyard attachment. That's probably the main beauty of these tools: they're small enough to always be there when you need them. It's going to be pretty hard to use the excuse that they were too cumbersome for you to carry around!
Let's move on and talk about the actual function of these little buggers and how they perform…
Hands On Evaluation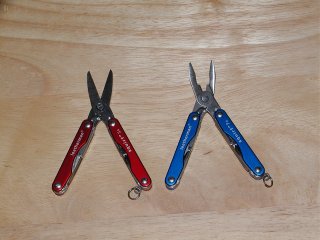 Testing
I used the Squirts on a variety of projects over a two week period including the removal and installation of a new sound card from my PC. While they don't have a standard Phillips head screwdriver they do have a flat unit, described as a "flat Phillips", that's tapered to allow it slip into a Phillips head screw. While I might prefer a real Phillips I have to admit this actually worked okay on the size screws common to PC cases and expansion ports. This is a good thing considering that most PC screws are going to be Phillips head models unless they've been replaced somewhere along the way.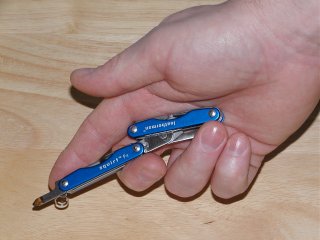 One thing I did find out was that the handle is a bit short when working inside a PC case. This was pretty easily remedied though by opening up one side of the tool and, in essence, increasing the length of the handle. This actually worked out pretty well. It made it easier to get down inside the case and gave you're hand a bit more leverage and torque for loosening and tightening screws.
The pliers on the P4 are surprisingly good for such a small set. While not pointy like most needlenose pliers, they're trim enough to work well in a confined space and delicate enough to snag dropped screws from between the capacitors on a motherboard. The wire cutters at their base work pretty well too and I used them to cut a series of small gauge steel and copper wire with relative ease.
The small knife blade came very sharp and made fast work of nylon webbing and assorting plastic packaging. The remaining tools on the P4 consist of a two different sized flat head screw drivers (including one small enough to work on eyeglass frames), a rather decent file with single cut and cross cut sides, an awl and, the very handy bottle opener.
The S4 substitutes a pair of scissors for the pliers, and a nail file (with ruler on the other side) for the standard file. You also loose the awl in favor of a pair of tweezers.
While I think the P4 is a more useful device for working around PC's and various pieces of hardware, I did still find the S4 a handy pocket tool for general use. I carried the S4 over Christmas and found that it's scissors are actually pretty tough and made short work of the hard plastic packaging common to many computer components and peripherals. Those and the knife blade came in handy a fair bit (as "always on hand" tools when nothing else was readily available).
Portability Factor
Probably the biggest benefit of both of these tools is their small size. I carried both of them in a variety of manners over the past couple of weeks and in most cases I forgot I had them on me until I needed them. Generally I'd just drop them in my pocket and, while I don't normally like things rolling around loose like that, the Squirts are small enough and light enough that they went largely unnoticed. Another thing that became apparent while carrying them was the smooth contours of the tools while closed. There was nothing sharp or rough to catch on your clothing or to dig into your hands when you did reach in your pocket for something.
The lanyard ring on the Squirts allows for the tool to be carried on a key ring as well and that's probably not a bad place for them. They really aren't much bigger or heaver than many other key fobs and that way you're sure to have a tool handy just about any time you walk out of the house.
Conclusion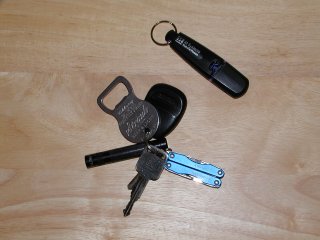 Both versions of the Squirt are obviously very handy and are small enough that there's no reason for you to ever not have tools again at a LAN party or anywhere else for that matter. With that said, I'd give the nod to the P4 with it's pliers and additional tools over the S4 and it's scissors most of the time. It probably all depends on your needs I guess. For example, my wife liked the S4 a lot actually. She felt the scissors, nail file and tweezers would get much more use for her than the pliers and other tools would. The scissors did come in handy for opening up tough packaging too so they aren't without a certain degree of proper geek utility. Still, the average LAN gamer and tech junkie would most often be better equipped with the P4 and it's pliers in my opinion.
If you know you're likely to be doing some repair or maintenance work but still don't want to carry a toolkit around, I'd look to something a bit more substantial like Leatherman's intriguing Juice line of multi-tools. They give you some more dedicated tools (including a full sized Phillips screwdriver) and are probably a little more comfortable size to hold and use. However, for the tool that you're always going to have on you when you need it the Leatherman Squirts, and particularly the P4, are real winners.
Pros:
– Ultra portable size.
– Nice array of tools, especially for the size of the item.
– Stylish design sure to help you pic up chicks (well, maybe not but they do look sharp).
– High quality construction and smooth operation.
Cons:
– Perhaps too small for some jobs.
– $30 price tag. That's $10 more than Leatherman's older Micra tool and getting close to the cost of a full sized PST.
For sleek stylish design, "always on hand" size and well thought out tool to size ratio I'm giving the Leatherman Squirts an 8 out of 10 and the Bjorn3d Seal of Approval.