SimpleTech works with both the design and and manufacturing of memory and storage products. They work for a wide range of industrial and commercial companies, offering services for IP networking, consumer electronics, personal computing, and telecommunications. Today were looking at consumer level product, a 64MB USB Mini-Drive. It is similar to the other mini-drive/pen-drive/micro-drives that Bjorn3D has looked at before, but it differs in that it runs off of SD or MMC flash memory storage cards. This review looks at SimpleTech's Bonzai USB 64MB USB Mini-Drive.
The packaging contains the Bonzai drive, a three foot USB extension cable, a neck strap, and an instructions card.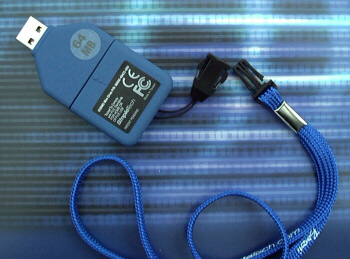 The neck strap attaches to the Bonzai via a small string which is looped through a connection point on the Bonzai. As you can see in the picture, it has a quick detach clip between the neck strap and the string. This can prove very useful if you use this device often, especially for IT professional who move between machines across a business office.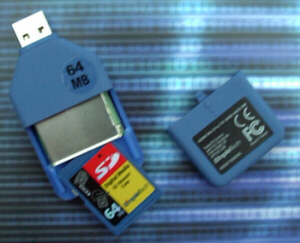 As mentioned above, Bonzai brings expandability by using SD or MMC flash memory. Considering that these memory types are very small, the Bonzai is still a very small package. It is as thin as the Transcend and PicoDisk models which we've used but it does end up being a fair bit wider due to the SD/MMC adapter. The above picture shows a small sliding panel on the back of the Bonzai to access the SD/MMC slot. It's easily moved, however, the thin plastic of the Bonzai suggests to me that you shouldn't swap the memory cards all too often. I'd hate to see the tiny plastic clip become bent or broken.
In reality, this device is simply an SD/MMC to USB adapter. Similar to the wired products often used for docking media from digital cameras and media players. The specifications of the Bonzai are what you would expect form this type of device:
SD or MMC flash card expandable
USB Interface: plug and play, hotswap functions
1.5MB/second transfer rate
LED indicates drive is in use
No external power required
No cables or adapters required
Windows 98SE/ME/2000/XP, MacOS 8.6+/X
Windows 98 requires a driver available form SimpleTech
As the specs. indicate, installation is brainless unless you're using the original release of Windows 98, where a driver needs to be installed before connecting the Bonzai. If you're using still Windows 95 OSR2, shame on you! 🙂 Installing the Bonzai on my Windows XP and Windows 2000 Professional systems, required nothing more than plugging the Bonzai into a spare USB port, and waiting a few moments for Windows to find and install it.
Testing
First off, it only took my 30 seconds to figure out why SimpleTech gives you a USB extension cord. It's a REALLY tight fit when you put the Bonzai into a USB slot on the back of the motherboard, if you're using PS/2 keyboard and mouse….like I do. Firstly, this won't be an issue if you use a USB keyboard or mouse, since you can use the other available slot, unhindered. Secondly, for home use, you can easily use the extension cord, or even just leave the extension cord plugged into one of those slots on the back of the motherboard. This also becomes less of a burden when USB hubs are used or if your case has USB ports on the front, which seem so much more common these days.
For performance testing, I've compared the Bonzai to the age old floppy drive, and to a LS-120 external (USB) drive that I have. I copied a single 48MB file to the drives (except the floppy, of course), and 3.4MB of miscellaneous files smaller than 150KB (I used several floppies in this case). The transfer rates end up as follows:
Floppy: 0.03 MB/sec
USB LS-120: 0.30 MB/sec
Bonzai: 0.60 MB/sec(small files), 1.01MB/sec (large file)
As you can see, the Bonzai is a good 2x faster than the LS-120 drive, which is hindered by it's own drive mechanism, and it bests the floppy by a whopping 20x…not even counting the time necessary to swap floppy disks! Note too that the Bonzai never reaches the bandwidth available via USB1.1 (1.5MB/s)….none of them do. Also note that copying multiple small files significantly hinders the speed. But it only took a few seconds in the end to copy the batch of small files!
Conclusions
Other than the problem installing the SimpleTech 64MB Bonzai in the back of one of my systems, the Bonzai performed flawlessly. With it's expandable SD/MMC slot, it is likely the smallest mini-drive on the market that allows you to interchange storage media. It would fit nicely into a persons electronics collection if they already use these media types with other devices, and it is certainly more convenient to use as a portable drive than trying to use the digital cameras that permit data transfer.
Pros:
Expandable
Mac support
Puny – size seems to be limited only by the space needed for the SD card.
Cons:
Bad fit on motherboard USB ports when PS/2 keyboard is installed
Flimsy cover for SD/MMC port. i.e., don't swap cards more than you have too.
No Linux support
No Windows NT support
Based on it's expandable nature and small size, we're awarding the SimpleTech Bonzai a score of 7.5 out of 10. The only reason it did not receive a higher score is due to the space constraints on the motherboard USB ports.