Introduction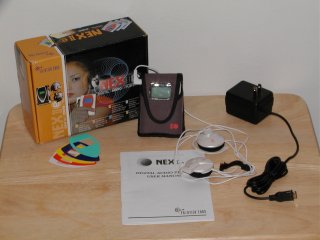 I've been looking at MP3 players for quite some time now, and after reading up on a variety of different types and talking to owners of various models, I'd pretty much made up my mind about what I was looking for. I wanted a small, lightweight player that used commonly available flash memory cards and that didn't require any sort of proprietary software. Basically it needed to be simple, expandable, and easy to use.
With that selection criteria in mind, a bit of web searching brought me to the Frontier Labs Nex II MP3 player. It had everything I was looking for and then some. So when I saw the release of the even newer Nex IIe recently, I figured now was the time to move. Let's take a look at what this innovative player can do and what makes it different than its immediate predecessor the Nex II.
Description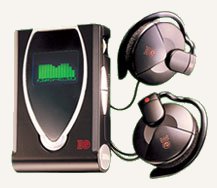 The Nex IIe is a small lightweight player that uses Compact Flash cards and can also double as a portable flash memory device. It's got a nice LED readout and accepts both Compact Flash I and II cards which means you can use not only regular CF memory cards but also the 1GB IBM Microdrive. That's a heck of a lot of space for something a good deal smaller than a pack of smokes!
Let's take a look at the list of factory specs on the Nex IIe as ripped from Frontier Labs website:
2 in 1 Capability – NEX IIe is both a music player and doubles as a portable drive for fast & easy file transfer and storage.


Infinite memory & storage expansion configuration
with Type I & II Compact Flash memory cards, IBM's MicroDriveTM (currently up to 1 gigabyte)


Simple drag & drop file transfer on Windows Explorer via ultra fast USB mode.  No proprietary software needed.


Compact ergonomic design, super light, and portable (90x60x20mm, 65g)  yet houses two AA batteries for more than twice your music play time compared to any other mp3 players of similar size.  Over five times the play time compared with players that uses one AAA battery.


Fully interactive high-resolution LCD user interface: 112×64 matrix.  Configurable (normal, always on, always off) Neon blue EL backlight, changeable screen modes that can display scrolling ID3 tags or Pulsating Spectrum Analyzer Bars, song duration, memory level, battery level, and more!  Black LCD display for black NEX IIe and white LCD display for white NEX IIe.


5 band user programmable equalizer with 5 preset sound modes: Jazz, Rock, Classic, Dance, and Latin


Interchangeable NEXkins™ (skins):  Change the look of your player.  Comes with four basic skins (red, blue, yellow, and teal) with an option to purchase more sets from our NEXKins™ Vault.


Compliance with ID3 tags.   Plays bitrates up to 320kbps and VBR.


Smart play functions (repeat, repeat all, shuffle, and program)


Supports multiple formats and emerging formats such as MP3 and WMA™


Solid state construction with no moving parts


Intuitive control panel, single jog-lever for fast, easy, and precise control


Infinite expansion capability via NEX II™'s ability to accept different modular plug-ins.


"Smart Power" NEX IIe™'s improved circuit design allows for drawing power from USB.  This not only allows you to save battery life during song transfers but it can also power itself via AC power adapter.
That's quite an impressive list of features, and we'll cover most of them in more detail here in a bit and see just how it did in our testing.
Package Contents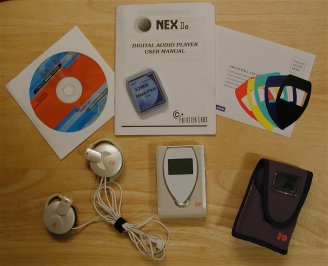 My NEX IIe was shipped to me direct from the manufacturer in Hong Kong, and while the box took a slight beating during the trip, it did its job and protected everything inside.
Here's what I got when I cracked open the package:
one set of stereo earclips
6 NEXKins™
USB download cable
Neoprene sport case with belt clip
User manual and warranty card
Media Jukebox for Win 98SE/2000/XP
The first thing I noticed abut the NEX IIe I received is that it was a white model as opposed to the sleek black model displayed on Frontier Labs' web site. This is purely a matter of personal preference, but I think I like the looks of the black ones best. They seem to look a bit more business like to me, but your perceptions may vary. Regardless, the color certainly has no bearing on the function of the device, and you can always choose for yourself which you'd prefer.
The next thing to catch my eye was the earclip stereo "headphones". This was a design that I was previously unfamiliar with and that I found rather intriguing. They give you a full padded speaker for each ear but dispense with the bulky connector between them, using instead a flexible clip on each headphone that affixes behind your ear when you wear them.
The other items included with my test sample was an AC power adapter and cord for powering the device via a wall outlet when using it at home, a 32MB Compact Flash I card, the software/driver CD, and a set of 6 NEXKins.
The NEXKins are an interesting touch provided by Frontier Labs that allow you to customize and personalize your NEX IIe a little. Mine came with a white one installed, but they provided black, blue, red, yellow and green ones for you to swap around as you see fit. Switching out colors was very easy and only took a couple of seconds. It's done by releasing a latch on the face of the NEX IIe and lifting off a clear plastic faceplate, removing the old NEXKin, and then putting in the new one. In addition to the half a dozen NEXKins you get with the NEX IIe, Frontier Labs offers a NEXKin expansion pack with 10 more options in the following patterns: Alien Egg, Diode, Firestorm, Tracks, Glob, Whirl, Red Glow, Mutant Sperm, Algae and Electrify
If that's still not enough for you, I don't see any reason why you couldn't create your own NEXKins either if you had the desire for a particular pattern or a particular color not offered by Frontier labs. Any sort of thin plastic or similar material should work.
The NEX IIe doesn't have any sort of belt clip or attachment on the device itself. If you're going to carry it, you either need to drop it in a pocket or use the provided neoprene carry case which does have a belt loop and clip. The case works well and protects the NEX in the process, but I still think I'd have liked the option of an attached clip of some sort. It adds to the bulk of the device slightly, and it might be nice to have had the option of using it or not.
Next we'll take a look at how the NEX IIe operates and its control setup…
What's Different
Okay, we covered the basics of the NEX IIe. What makes it different from the previous NEX II? Well the big change between the II and the IIe is the latter's ability to draw power through a USB connection, allowing you to save battery power when transferring files or songs back and forth to your player. That's a nice feature that'll save you swapping out batteries as often and probably some cash too if you're not already using rechargeable batteries. The IIe also comes with an AC power adapter which can be used with a standard household outlet and lets you save your batteries if you're listening to it somewhere with a plug handy.
How It Works
The NEX IIe actually comes with a pretty decent manual that walks you through how it operates. Naturally, I didn't use it at first. The NEX was really pretty intuitive to figure out, and I managed to decipher most of its settings just by playing with it a little bit.
The first thing you need to do is make sure you have batteries installed. It takes two AA's, and I chose to use a couple of the Rayovac NiMH rechargeables I reviewed earlier this year. The battery compartment is located on the lower rear of the device, and to be honest it's a little bit of a pain to work with. I had some trouble getting the door off, but if you have a bit longer fingernails than me, you might be able to pry it open okay. My stubby nails had problems catching enough to pop the door off easily. On the plus side, this compartment isn't going to pop open by accident!
Once open, the batteries drop in fine although I found I usually had to use some sort of tool to pop them back out of the compartment when I wanted to change them. This was sort of a pain while traveling on an airplane as I didn't have anything flat like a knife blade or flathead screwdriver to get under the edge of the battery. I eventually managed it, but it was harder than it really ought to have been. Frontier Labs includes an affixed ribbon in the compartment to give you something to grab and pull the battery free with, but due to the way it was positioned it never gave me enough leverage to be really useful. 
Speaking of changing batteries, I got about 2 weeks out of a set of NiMH's using the NEX daily for about 15 minutes each way too and from work and passing it around some for my friends to check out during that time. That should be at least 6 hours of battery life, perhaps a little more. It's worth noting that if you're using an IBM Microdrive that your play times will be reduced as those drives require more power. Frontier Labs advises that a 170MB and 340MB Micrdodrive should get about 2.5 hours of play time while a 1GB drive should get about 4.5 hours. Apparently the newer 1GB models are a bit more power efficient than the smaller drives.
Once you get batteries installed and plug in the headphones (they work just like any other headphones, just plug 'em in!), it's time to get some music loaded up. I found that Frontier Labs thoughtfully included a couple of test tracks so I could see how the NEX IIe worked right away. Unfortunately for me those test tracks were vintage Air Supply songs! Time to see how I add my own music to this baby…
Load 'Em Up!
This is probably a good time to discuss the USB capabilities of the NEX IIe. Obviously you're going to need a PC that has USB ports, but you're also going to need a compatable OS. Win ME, 2000 and XP all have native USB support, and Frontier Labs provides drivers if you're still using Win 98/SE. If you've got an earlier OS, Win NT, a MAC, or a Linux machine, you're going to be out of luck.
Assuming you have the proper OS, transferring music over to the NEX IIe was simplicity itself. I really got a bad taste for having to use 3rd party apps to load music onto an MP3 player after my brief flirtation with the Eblitz Shuttle I reviewed here recently. Thankfully the NEX does away with that nonsense. I tried two different methods to transfer MP3's and both worked equally well. I used the provided 32MB TwinMOS CF card as well as a 64MB Memorex CF card that I already had on hand for testing.
First I connected the USB cable provided with the NEX and plugged it into the USB hub on my desk. A quick check in Windows Explorer showed I now had an additional drive available much like it did with the various flash drives we've tested in the past few months. Just like those, all I had to do to load up the NEX was to pick a variety of MP3 tracks and drag and drop them onto the new "drive". That was all there was to it.
The other thing I tried was pulling the Compact Flash card from the NEX and loading it using my Dazzle 6 in 1 card reader. This USB device reads CF I&II cards, Smart Media, SDD and MMC cards and Sony Memory Sticks. The nice thing about it is that you can leave it plugged in and use it for a variety of devices like cameras, PDA's and of course MP3 players. It ends up working pretty much the same way as plugging the NEX in directly except you can just leave it plugged in all the time. Just insert the CF card and drag your tracks from your music file folder to the appropriate drive, fill the card up, pull it out and plug it back into the NEX IIe, and you're ready to go.
Either method worked fine and was pretty fast due to the USB connection. I really like the convenience of just being able to drag and drop files. It makes a lot more sense to me than some of the proprietary systems out there. Plus, since you're just moving basic MP3 files you should be able to swap out cards with other people using NEX II or IIe's and exchange music. I know that at least some brands of MP3 player's software ensures that you can only play that memory card on your specific device in an attempt to cut down on piracy I suppose. Whatever the reasoning, it's a lot more convenient to be able to swap CF cards around between devices. In fact there's no reason you shouldn't be able to take a CF loaded up via a NEX IIe and use it in other devices such as the various Pocket PC PDA's that have CF slots. You should also be able to plug your NEX IIe in to any PC with a USB port and pull music (or data) off of it so you aren't limited to working with only computers with special software installed.
Once you have your card loaded with some music, it's time to plug it into the NEX itself, and it's pretty easy to do that as well. The NEX's CF slot is located on the rear of the device and cards are to be loaded so that the front of the card is facing the front of the NEX device and the pin holes are down. The only trick to loading them is making sure that CF I cards are lined up correctly before pressing them into place. The slot is a dual CF I and CF II slot and, as CF II cards are slightly thicker, there is a slight bit of play in the slot when you're inserting a CF I card so it is possible to get your card jammed up if you don't line it up right. The grooves in the side of a CF I card line up with guides inside the NEX's CF slot. Once you do it a couple of times you don't even notice having to line it up anymore; it becomes second nature.
All that's involved with removing the cards is pushing up on the sliding button located on the back of the device just above the battery compartment. When you push up on it, it pops the CF card out a bit and allows you to grab it and remove it the rest of the way from the slot.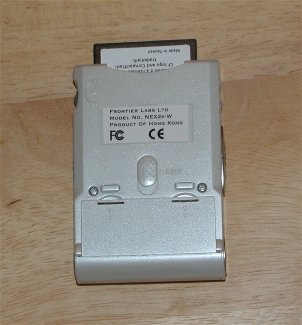 The Controls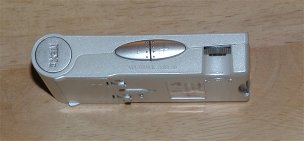 The controls on the NEX IIe are pretty simple. They consist of 2 volume buttons and a "jog lever" on the right side of the device (when viewed from the front) and a head phone jack, lock switch, function button and stop/escape button on the left side.
To power up the device you press in once on the jog lever. This brings up the Frontier Labs logo on the 112×64 matrix LCD screen. This logo soon fades to a playlist menu showing you everything loaded on your media card. If you have a CF card with no files installed, or files other than MP3 files it'll come up with a "No Songs" message. If you try this without a CF card present at all, it'll come up with a "Cannot detect CF Retry…" message. I don't recommend starting it without a card in place. It seems to lock the NEX up and it won't let you shut it off or recognize a card that's put in after that. You end up having to pop out the batteries and basically reset the device, and then everything works fine again.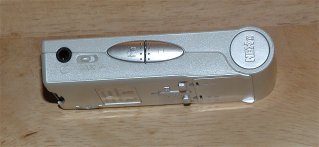 Presuming though that you do have a card with music tracks installed, all you need to do at this point is press the jog lever in one more time, and you're in business! That'll start the NEX playing starting with the first track on your card. Every time you shut your NEX off and turn it back on it'll revert back to the first track on you CD card while it's set in its basic mode.
In addition to turing the device on and off with the jog lever, it's also used to scroll back and forth between songs. Press down on it and hold, and you'll fast forward. Push up and hold will fast rewind. Push down and release will skip to the next song, and push up and release moves you back one track. To pause a song, press in again on the lever and then hit it again to unpause it.
So you see that one lever ends up giving you most of the controls you're going to end up using while listening to the NEX.
The next most frequently used button will be the two volume buttons, and those are pretty self explanatory. Press the lower button with the "-" on it to lower your volume and hit the upper button with the "+" symbol on it crank up the volume.
Moving to the left side controls brings you to the more advanced features of the NEX IIe. Immediately below the head phone jack is a lock switch. All this does is keep the other controls from working while it's engaged. This could come in handy while jogging or during other strenuous activity where it might be easy to bump the NEX's controls inadvertantly.
Next is the function button marked by the letters "Fn". Pressing the function button once brings up a menu that lets you adjust various features of the NEX IIe. Below is a look at each item on the functions menu and what your options are for each:
Play Mode: 
In Play Mode you can select either Normal or Program. Normal will simply play all songs on your CF card once in the order they are listed on the card. Program allows you to select one of the following 3 options: Repeat One, Repeat All, or Shuffle.
Sound Mode: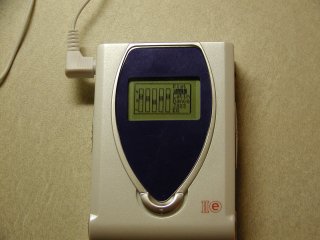 Sound mode sets your player's equalizer to one of a variety of pre-set options including Flat, Rock, Latin, Dance, and Jazz. You can also manually adjust the equalizer by chooosing the EQ setting and adjusting the settings using the jog lever.
Cancel Program:
This simply lets you cancel any program you currently have set up.
Backlight:
This lets you set your backlight options to Normal, Always On, or Always Off. The later two are self explanitory. Normal mode means that the backlight is normally off but comes on when you manipulate any of the buttons.
Display:
This lets you select one of two options, either Default or Spectrum. The Default setting actually tells you a good bit about what you're playing. It scrolls the song title and artist across the LCD screen as the track plays and also can tell you what type of file you're listening to (MP3 or WMA) , what bit rate it was recorded at, how long the track is and how far into you are and what play mode you have the NEX set at. It also gives you a basic equalizer showing your left and right audio channels. That's a lot of info for a little display but it's done rather neatly and is easy to read and uncluttered.
The spectrum view shows a full equalizer view with no further information.
Information: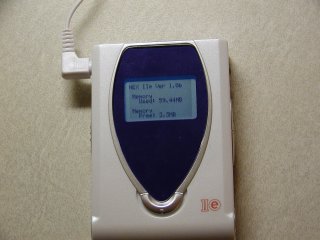 The information screen shows you the version of your Nex IIe's software and how much space is used and how much is still available on your memory card.
Resume:
This option simply takes you back to whatever you were doing before you entered the menu functions.
The last button on the NEX IIe, just below the function button is the Stop/Escape button. You use this one to stop a track from playing, back out to the main song playlist, and to shut the device off.
While you can figure out the basics of the NEX without reading the manual it really does pay to take a look at it for the advanced functions. Frontier Labs does a good job with it. It's pretty thorough and well illustrated so it's fast and easy to reference.
Playback
Once you've figured out how  to load and operate the NEX IIe it's time to actually listen to some tunes. The NEX's headphones are surprisingly comfortable and provided pretty good sound. The ear clips slip over the top of your ear and hold the speaker portion of the headphone against your ear. About the only really gripe I had about them was that they'd sometimes get hung up on the frames of my regular glasses and sunglasses when I was wearing them. Once they were in place they went unnoticed and could be worn for long periods without any major discomfort.
I rated the sound on the NEX IIe as very good. Let me preface this by saying I am not an audiophile but I do listen to lot of music spanning the range from classical, to jazz, through my more frequently listend to punk and ska. So, while I may not be as discriminating as some out there I also do have some sort of standards. The NEX doesn't exhibit any of the tinny sound or static common to cheaper players. In fact audio quality was really very good through out most of the volume range. When I squeeked up towards the very upper ends of the volume range I would start getting some distortion and break up with some tracks but that could well be due to the recording as it didn't happen with everything I listened to.
I tried some of the various equalizer settings but to be honest I didn't initially notice a tremendous difference with anything other than maybe getting a little better bass feed in Dance mode. This isn't to say the equalizer settings don't work however, just that my untrained ear rarely is discriminating enough for them to make a big difference no matter what type of audio equipment I'm using. With some tracks though it was more apparent than others that they were more suited towards one setting of another. It's probably an issue of guessing the best setting for your music and then working through a trial and error process to see what works for you.
One thing worth noting when discussing playback quality is that your music will only sound as good as the format you recorded it in. I played with a variety of MP3 and WMA bit rates to get an idea of how the NEX handled them. For the most part I used the standard 128 bit rate for MP3 files and sound quality of those was very good. The typical "near CD" quality common to many MP3 tracks. They sounded as good as a burned CD to me at any rate. When I moved to WMA files I wanted to see just how much music I could cram on a memory card though so I converted a bunch of 128 bit MP3 tracks to 48 bit WMA files. Using this process I managed to squeeze 30 tracks onto a 32MB CF card. Not too shabby space wise, but what did I lose in the process?
Sound quality was "not bad" with 48 bit WMA files and if I was pressed for space I wouldn't hesitate to use it, but it does leave something to be desired compared to 128 bit MP3 files. You seem to loose some of the depth to the music. When listening on an airplane or where there was competing background noise it wasn't as noticeable and seemed perfectly acceptable. However, when listening to the same tracks in a quiet room it was obvious that they somehow seemed "flatter" than they might otherwise be. For day-to-day use I think I'll likely stick with the larger 128 bit MP3 files but I'll keep the smaller WMA's in mind for when I'm making longer trips and want to extend my music listening time with my available memory cards.
In addition to using the NEX with the provided headphones I also tried it with a set of Sony Bass Booster earbuds and with a set of powered Labtec PC speakers as well. I actually preferred the Son'y earbuds to the provided headphones (but mostly just due to their smaller size). They took up a little less space and seemed easier to carry than the NEX headphones. Both provided good quality sound however. This is likely a matter of personal preference depending on your feelings about earbud designs.
The Labtec experiment was interesting. Since I travel a fair bit I was wondering how well the NEX would work as a "stereo" in a hotel room or military billiting. I'm pleased to say that they worked pretty darn well. Coupling the NEX with a set of powered speakers would certainly be a viable option for times when you wanted to listen to music with other people or didn't feel like using your headphones. With the provided AC adapter you could plug your NEX in and not worry about draining the batteries while you were around an electrical outlet too. Once I track down a smaller set of speakers they and the NEX's AC adapter are going to become permanent additions to my travel kit!
Next up we'll take a look at the software provided with the NEX IIe as well as how it performs as a flash drive…
The NEX IIe is listed as coming with either Windows Media Player 7 or Media Jukebox and mine came with Media Jukebox 7.2. This application was easily installed via the provided CD's setup interface. Basically you just need to pick the Media Jukebox app and choose Custom or Express setup. Custom lets you pick and choose what is installed where as Express installs the most common configuration. I chose Custom but ended up letting it pretty much install what it wanted to anyway.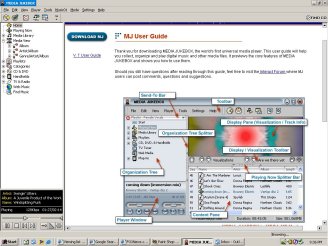 Media Jukebox actually comes with a pretty good help application that'll walk you through anything you need to know about the program.
While Media Jukebox is a full fledged multi-media application the main thing I was interested in was it's ability to convert file formats back and forth between WMA and MP3 formats and this proved very easy to do. Basically all you have to do is highlight a song, go up to the toolbar and select "Tools" and then "Convert Format". The conversion application allowed you to select the quaility of the track (48 to 192 bit for WMA's for example) and the particular format you want including MP3, WMA and Wave. It will also take plug-ins to do a variety of other formats including Lame MP3 and Lame MP3 VBR.
Conversion takes only a few seconds to a minute or so depending on the length of the track and you can choose to save the converted files in a new folder if you want to keep your various format music files seperated.
While I didn't explore it for this review the Media Jukebox software also gives you the ability to rip and burn CD's and transfer MP3 files to a variety of other MP3 players that do need special software to load unlike the NEX IIe.
Portable Drive Use
One of the other selling points of the NEX IIe is that you can use it as a portable flash drive. The nice thing about this is that you capacity is limited only by the type and number of Compact Flash cards you have. You could very easily carry around a couple CF cards full of music and keep one or two free for data use as well. Or, just leave some space on you music cards for data as well.
Performance of the NEX as flash drive isn't nearly as fast as some of the dedicated pen drives we've tested here recently but it's still a good bit faster than a floopy drive anyway and certainly can hold a lot more.
I don't think I'd plan on using the NEX as a dedicated flash drive (but then again, it's not intended to be). It does, however, give you a much better option than using a floppy for transferring data, if you don't have any other device to use or if you find yourself needing to move some large files around and the NEX is handy.
Conclusion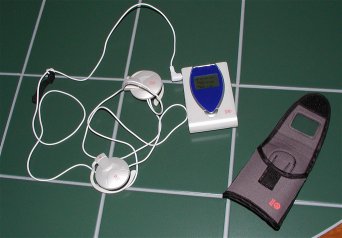 In a crowded field of MP3 players the NEX IIe brings a lot of great features to the table. It's small, light, easy to use yet it doesn't skimp on features. It's got a great interface that gives you optimum information about your music tracks and lets you easily set up your play lists and settings to suit your listening preferences. It does all this at a very affordable $115 too and without any proprietary software to worry about and while using commonly available Compact Flash memory too.
The IIe's addition of an AC adapter and the ability to draw power through its USB cable while transferring files is a nice feature as well and one that can save the user some bucks on batteries and the hassle of having to worry about having enough juice just to load up your next playlist.
Add the fact that you can also use the NEX IIe as a portable flash drive and Frontier Labs has come up with a real winner. If you're in the market for a small MP3 player with some great expansion capabilities then the NEX IIe is definitely worth a look.
Pros:
– Light weight and compact size
– User friendly controls
– "Smart Power" feature that draws power through the USB cable or AC adapter and saves on batteries
– Good sound and comfortable headphones
– Uses commonly available Compact Flash I and II cards allowing infinate expansion and the use of 1GB Microdrives
– Doesn't need proprietary software
Cons:
– Battery door is a little tough to open and batteries are hard to remove
– No belt clip on the device itself
For it's combination of compact size and great features as well as a reasonable retail cost I'm giving the Frontier Labs NEX IIe an 8.5 out of 10 and the Bjorn3d Seal of Approval.