Introduction
NVIDIA has ruled the roost for 3D card for some years now. One of the secret to their success is the fact that they have made sure to have cards available for every segment on the market – from low end cards to high-end cards and everything in-between.   Can't afford that high-end GeForce Ti4600? Maybe a Ti4200 will fit your wallet. Or maybe a GF4 MX?  Regardless what a customer needs, NVIDIA has tried to provide.
When ATI released their Radeon 9000 Pro and the 9700 Pro they had 2 cards that catered for both the mainstream users as well as the high-end users. However – ATI had left a big hole in the middle. If you couldn't afford a 9700 Pro the chances were that you still wanted something better than a 9000 Pro.
To close up the huge gap between these 2 cards ATI now has announced 3 new cards that are intended to fit in nicely in the lineup, the Radeon 9500, the Radeon 9500 Pro and the Radeon 9700.
Who needs mainstream? Give me high-end
It is easy to think that all you need to succeed in the 3D market is a high-end card that takes all awards. However – this is far from the truth. Looking at the NPD data for August 02 we see that the high-end cards actually only stand for a few percent of the total cards sold.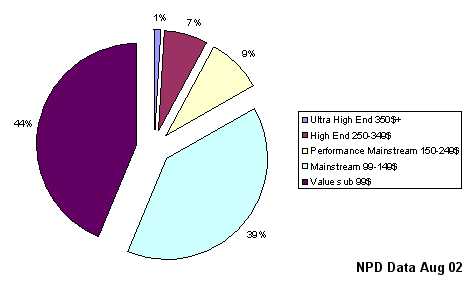 At the same time you cannot ignore the high-end. High-end creates the buzz for the whole line of cards. It gets people thinking "Hmm, I read about that kick-ass GeForce 4 Ti4600 card on Bjorn3d.com but it is too expensive. But I saw a GeForce 4 MX card which is much cheaper – that must be a good choice". 
The low-end is also where the money is. Let's say you sell one 300$ card. For each of those you sell 8 200$ cards. And for each 200$ card you sell 4 100$ cards. You do the math.
The ATI Radeon 9500
Let us start from the bottom with the new Radeon 9500. I think many already have read about it. This is a Dx9 card for the mainstream market.  This card will only be available in 64 Mb configurations and only directly from OEM's – not directly from ATI. The RSP is $179 which might sound a bit higher than you can get 64 MB Ti4200 these days but I would expect to see cards in different price-ranges from the OEM's. OEM's can put more memory on it if they want but since the 9500 Pro is just $20 more expensive I wouldn't expect that happening.
The highlights for this card are:
• Full DX9 and OpenGL2.0 support
• AGP 4x/8x
• 4 rendering pipelines
• 128 bit memory architecture
• 64 MB DDR memory
The card should be available as we speak or ASAP.
The ATI Radeon 9500 Pro
The next step in the ladder is the Radeon 9500 Pro.  This card will be available from ATI ('Built by ATI') as well as from OEM's.  The RSP for this card is $219 with a 20$  mail-in rebate putting it at 199$.
The highlights for this card is
• Full DX9 and OpenGL2.0 support
• AGP 4x/8x
• Based on the 9700 core and thus having 8 rendering pipelines
• 128-bit memory architecture
• 128 MB DDR memory
This card will be available mid to end November.
9500, 9500 Pro and Ti4200
So how does these card compare to the Ti4200-8x?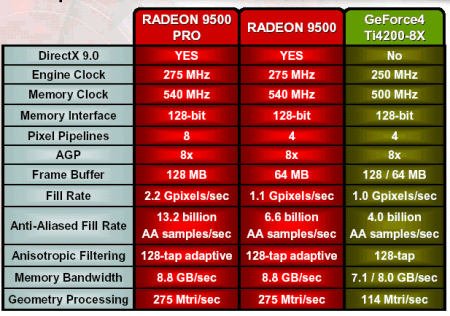 The Radeon 9500 looks quite evenly matched to the Ti4200. However – the extra 4 pipelines for the 9500 Pro should mean that can draw ahead – especially when turning on some AA/Anisotropic filtering.  The performance of the 9700 Pro with AA/Anis filtering is one of the things that have impressed me the most and it would be nice if the sibling can perform well in this regard to. The question of course is how much the 128 bit memory bus (compared to 256 bit for 9700/9700 Pro) affects the performance. Hopefully I can snag one for a review soon to tell you.
I'm always very wary of providing benchmarks that I haven't run and that are included in a PR-presentation. However – as long as you all know the background of the scores they might help give at least a clue on what we can expect.  It should be noted that the 3DMark scores that ATI presented at another press event for the Mobility 9000 were spot on when I recreated the benchmark so hopefully we can trust these scores also.
If we are to believe these scores both the 9500 and the 9500 Pro draws ahead when using AA/Anisotropic filtering – not a unreasonable assumption looking at the specs.  Of course the Ti4200 also has Quincunx AA ;).
I would like to see more scores both without AA and in other games. Hopefully we will be able to provide you with that in time.
ATI Radeon 9700
To complement the >300$ high-end Radeon 9700 Pro ATI will release a slight slower clocked version called the 9700 Pro. The card is in every aspect the same card as the Radeon 9700 Pro except for slightly lower clocked core and memory. The RSP for this card will be 299$. We will not see any boards directly from ATI but only from OEM's.  This card is expected to compete with the Ti4400 and Ti4600 but I would expect it will come down a bit in price to do that.
Highlights for this card:
• Full Dx9 and OpenGL 2.0 support
• AGP 4x/8x
• 8 rendering pipelines
• 256 bit memory architecture
• 128 MB DDR memory
The cards should be available within the next few weeks (if not already now).
Let us look at the specs for the 9700, the 9700 Pro and the Ti4600.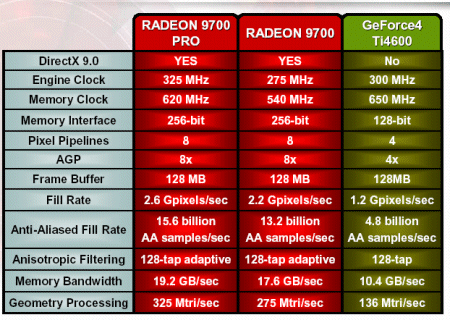 As expected the lower clock-speed for core and memory lowers the performance somewhat compared to the 9700 Pro but it still trounces the Ti4600. Considering the excellent performance I got with the 9700 Pro I think that the Radeon 9700 has all it takes to become ATI's Ti4200 card – a card that costs less but still offers almost the same performance as the higher priced high-end card.
The same reservations regarding this performance chart as the chart above applies. One thing I definitely can argue against is the prices of the cards. I can today pick up a Ti4400 or Ti4600 for as little as 190 to 212 $ according to Pricewatch. On the other hand I can pick up a 9700 Pro for around 300$ so the skewed prices apply to all cards.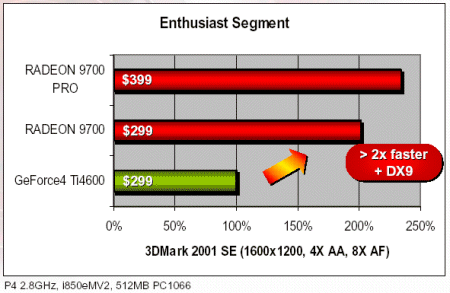 In my own ATI Radeon 9700 review (which either is already up when you read this or coming soon) I compared a Radeon 9700 Pro against a Gainward Ti4400 Golden Sample and I can vouch for the fact that the 9700 Pro absolutely rocks when using high resolutions plus AA and anisotropic filtering (not that anyone would like to run 1600×1200 with 4xAA ;). At 1600×1200, 4xAA, 4X anisotropic filtering the difference was around 1.5x – but the scores were to low to make it useful in games (1981 3DMark for the Ti4400 and 2969 3DMark for the 9700 Pro).
Dx9 and the movies
Just as NVIDIA has been talking about how we are moving towards movie-like graphics for some time now, ATI is now doing the same. Apparently many studios including Disney Feature Animation, Dreamworks and Digital Domain already use some kind of ATI hardware – not necessarily to render the final product but to help speed up the development process. Instead of having to wait 15 minutes for an effected to be rendered in a Render farm before seeing the result they now can use the ATI hardware to see the result in good quality much quicker. This of course helps speed up the process.
Game developers of course also like the fact that ATI is bringing Dx9 support already to more than their high-end card. The wider adoption we get with Dx9 supporting cards – the quicker developers can start developing for it.  Unfortunately NVIDIA still is stuck at Dx8.1/Dx7 (MX cards) and at most they should have a few variants of the NV30 at Christmas supporting Dx9. While it doesn't matter for the gamer since Dx9 isn't even out the fact that ATI already has 5 cards supporting Dx9 several months before it is even out gives us some little hope that the percentage of gamers owning a Dx9 capable card at launch will be enough to entice game developers to develop for Dx9 from the start.
AGP8x problems?
Since there have been problems with the Radeon 9700 Pro and AGP8x capable motherboards I couldn't help asking if they had fixed the problems with all the new cards that are coming out, all supporting AGP8x. The response I got was that while there had been some problems in the past with early revisions of the cards and early revisions of 8x mobo's these problems should now be solved, either with driver updates from ATI and/or with bios updates for motherboards.
Thoughts about the line-up
After looking through the line-up it looks like ATI has a very good and complete range of cards. One of the impressive things is that ATI not only has made sure that all their cards support Dx8.1 but that every card except the 2 in the bottom supports Dx9. I still am disappointed in NVIDIA for not supporting Dx8.1 with the GF4MX cards. As long as volumes are being sold of cards that don't support it as long will game developers not optimize games for Dx8.1.
One tidbit I picked up from my conference call with ATI is that they plan not only to release their Dx9 tech demos as soon as Dx9 has been released. They also are working hard on a new demo that will feature a scene from the new LOTR movie rendered in real-time.  NVIDIA did something similar with the Ti4x00 cards when they rendered a scene from Final Fantasy – the movie in real time (it was never released to the public though) and I'm not surprised ATI is following suit.
It is nice to see that the 9700 Pro core (R300) already only a few months after its release are sifting down to the mainstream cards. The R300 core has excellent FSAA and Anisotropic performance which will be appreciated by more people now.
I'm looking forward to NVIDIA's response. The NV30 finally soon will be announced (and released) and it will be interesting to see what variants NVIDIA will release. What-ever happens it is nice to see that the 3D market once again is hot with competition.