Introduction
---
Imation's RipGO! is an all-in-one solution for a CD-burner and a MP3/WMA player. The RipGO! is of course aimed at digital music fans, but it is also geared towards mobile business professionals. For example, it could serve as a convenient and compact addition to a laptop lacking a CD-RW drive. According to Imation, it is the "smallest form factor currently available today for both recording compressed music on CDs and for high-performance playback of CD, Digital Audio, MP3 and Microsoft Windows Media Audio (WMA) files."
With its 5-hour Lithium-Ion rechargeable battery and palm-sized, lightweight design, the RipGO! is meant to go with you wherever you go. You can store anywhere from 3 to 6 hours (depending on format and quality) worth of music on the mini (80mm) CD-R discs it uses. Mini CD-R discs can store 185MB of data and can be used in all full size tray loading CD-RW, CD-ROM and DVD-ROM drives. With 185MB of storage on each mini CD-R, you can store plenty of PowerPoint presentations, Word documents, digital images, videos and other files you may want to take with you, trade or give to your friends.
The RipGO! features high-performance and skip/shock proof playback with its 8MB buffer technology. If you've been considering purchasing a nice new walkman or discman and you could also use a CD-R burner, this device might be worth taking a look at. I know I would have loved to have one of these on recent vacations, especially when on a plane or in a car for 3- 4 hours or more. Read on to find out more about the RipGO! and to see how it really performs.
Specifications & Features
---
Product Specs:
Model number IMR040006EU
Mini CD-R 8cm/80mm 185MB
185MB data storage capacity
3 hrs MP3 / 6 hrs WMA
Variable bit rate decoding
50mW into 16 Ohm load power output
Greater than 96db dynamic range
Full function playback
LCD display with track listing, battery status, and equalizer
1 year limited warranty
Features:
Multi-format capabilities
Mini (80mm) CD-R discs store up to 185MB of information
Skip-free performance
Fast recording and quick playback speed
USB port for plug-and-play convenience
Rechargeable Lithium-Ion battery provides continuous playback for five hours
Lightweight design – 8 ounces
Skip/shock proof playback – 8MB buffer technology
7 Equalization settings – Normal, Rock, Jazz, Pop, Classical, Techno, Salsa
Easy to read LCD display
Line out / headphone jack
Tri-color LED – orange = disc is spinning up; green = disc is being accessed; red = a write operation is in progress
Hold switch
Package Contents:
RipGO! unit
Installation CD with Nero Burning-ROM (CD creating software), Win98SE drivers, User's Guide, Windows Media Player, Media Jukebox software and 5 music tracks from Liquid Audio
1.5m USB cable
Quick setup guide
Premium headphones (behind the head style)
5-hour rechargeable battery pack (lithium ion)
Power adapter
2 mini CD-R discs 8cm/80mm 185MB
Installation & Impressions
---
Installation
The first thing you will want to do with the RipGO! is to charge the battery for the required 3 hour first-time-charge. Don't worry about overcharging it. As far as I know, it is okay to overcharge a Lithium-Ion battery. It shouldn't degrade the life of the battery or harm the unit in any way. After charging, I decided to install it on two different machines – a Windows XP box and a Windows 98SE box.
Before I go on,  I do want to note that installing the battery properly requires more effort than I think it should. I'm not sure if it was just my unit or if this holds true for all of them, but it took a couple times looking at the battery pack to realize that I wasn't quite getting it in all the way. You are supposed to hear a click sound when you get it in right, but after pushing hard for a minute or so, it just wouldn't snap in. So, I said forget it because it seemed to be in all the way. Well, it turns out it wasn't, and I kept wondering why it was so easy for the battery to start falling out. It turns out that I did not have it installed all the way. I had to actually force the clips one at a time into their correct position where they finally made a click sound. In other words, it wasn't as much of a no-brainer for me as it should have been.
Installation is pretty straight forward and simple with the RipGO!. If you are using Windows Me, 2000 or XP, you will not have to install any hardware drivers for the device to function properly. On the other hand, Windows 98SE users will have to install the driver included on the CD. This process is very simple and quick. Basically, with my Win98SE box, I just plugged the USB cable into the RipGO! and then plugged it into one of my PC's USB ports. Then I powered up the RipGO!, and it went into USB mode. Next, Windows detected the new device's presence, and I simply completed the driver installation process by going through the Windows prompts. When it was finished, the RipGO! showed up as drive H in Windows Explorer since that was the next available drive letter.
In order to test the device more extensively, I also tried it out on a WinXP box. You gotta love XP when it comes to devices like this. I just plugged it in a USB port, and it was ready to go. Simple, clean, totally painless…what more could you ask for?
Of course installing Nero is just about as easy as the Win98SE driver install. I already had Nero installed so I didn't bother, but it is a simple install and a great program for those of you not familiar with it. I also installed the included Media Jukebox software, which is a useful application that you can use for ripping and playing different types of media files.
Impressions
The LCD displays a lot of info when playing audio tracks, including track length, time elapsed, battery power remaining, volume level, file type, bit rate and the track name/artist scrolls across the screen while tracks play. The buttons are responsive and usually only require a small amount of pressure before they respond. Another nice thing is that the RipGO! is supposed to remember the previous EQ and volume settings from the last time you used it.
As you can see from the package contents listed above, the RipGO! comes with everything you need to start using it. Imation made a wise decision when they included the ever popular Nero in the box, and headphones are pretty comfortable and sound decent. The only thing the package left me wanting was a carrying case for the RipGO!. A specially designed case would just make it that much more handy and portable. Speaking of portability, the unit is very easy to carry around and use on the go. Part of what makes it so easy to take with you wherever you go is the small CDs it uses. The mini CD-Rs are very convenient and can fit easily in most pockets, purses, bags and briefcases. I think that sacrificing some storage capacity by using these mini CDs is worth the tradeoff for increased portability.
While the printed Quick Setup guide may not contain much information describing the unit, the User's Guide on the included mini CD is thorough and easy to understand. This guide clearly explains how to use the RipGO! and should give you a much better understanding of what you can do with this cool little burner. Some of the things explained include how to search directories on a disc, how to play only certain songs in a directory, how to play tracks randomly and how to use the RipGO! as a storage device.
The RipGO! is designed to be used like any other CD-R burner. You can read files from the drive and copy them to other drives, execute files or write files to a mini CD-R in the device using Nero. It is very easy to connect the unit to a PC – you just hook up the included USB cable to the device and plug it into a free USB port on your PC. Then you make sure RipGO! is in USB mode, and it's ready to go. As long as you do everything correctly, it is very easy to use and shouldn't give you any problems.
Performance & Testing 
---
Test Box Specs:

Windows XP Pro SP1 
ECS K7VTA3 mobo 
1.2GHz Athlon T-bird
512MB PC2100 DDR RAM 
40GB IBM 60GXP 
Lite-On 16X DVD 
Audio Tests:
Before I get to the tests, here is a screenshot of recorder information reported by Nero about the RipGO!. As you can see, Nero reports that overburn and disc-at-once is supported, but there is no buffer underrun technology found in the RipGO!. Also, note that the recorder buffer is 512KB while most full-sized CD-R drives commonly have 4MB buffers.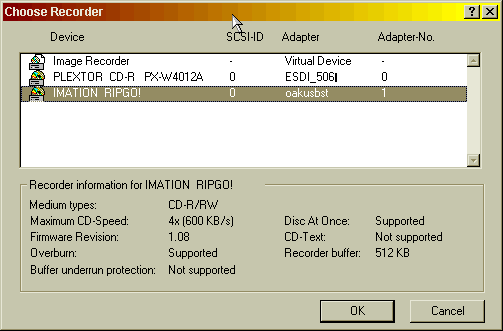 In all of the following tests, I used Imation brand mini CD-Rs and Nero Burning-ROM 5.5.8.0. Setting up and creating each CD was very simple, and each test finished without any errors.
The first test I did was to burn 197MB of MP3s (which was about 2 hours 40 seconds of music or almost 3 regular music CDs). About half of the MP3s were encoded at 192kbps, and the other half were 160kbps. Although Nero reported to be recording at 4X, it took 6 minutes 56 seconds to finish creating this disc, which is only about 474 KB/s and not the 600 KB/s that 4X would be. After recording the mini CD, I plugged in the headphones and tried it out. The sound quality of all the tracks seemed good, so I moved on to the next test.
In the second test, I basically repeated the previous test except that this time I added in some WMA files. In other words, this time I was burning a mix of MP3s and WMAs. It took 7 minutes 5 seconds to finish burning 201MB of files which varied in quality from 128-192kbps. The writing speed was about the same as my first test – 473 KB/s. All songs sounded very good.
Since the RipGO! is also designed to be used as a regular drive, I figured I better test how fast it could read files directly off of the mini CDs. So, for my final audio test, I started up Windows Media Player, opened up files directly from the mini CD inside the RipGO! and played them. When you want to open files that are on a disc in the RipGO!, you can just find the drive in your open file dialog box or Windows Explorer and select files listed on the CD in the drive like any other drive hooked up to your system. There was a short delay when opening a large set of WMA files as they were added to the playlist, but they all played fine with no noticeable pauses. The drive can read your mini CDs quickly enough to keep up and avoid irritating you.
Data Tests:
For the first data test, I wrote a 100MB Nero image of an application and supporting docs to a mini CD. The process completed in 4 minutes 4 seconds, which is equivalent to 410 KB/s. To see if it worked, I simply tried to install the program and opened several PDF files. It installed fine, and all the documents seemed to be in good shape.
In the second test, I just started putting a bunch of files that I wanted to backup into Nero's file list. I stopped at 163MB of game saves, Word documents, Excel files, JPEGs, GIFs, HTML files, and a couple apps. This time the RipGO! took 6 minutes (453 KB/s). I chose to have Nero verify the data after it finished burning, and it was all verified successfully, which means each file copied successfully to the CD-R.
Finally, I had to make sure that opening and running files from the RipGO! was tolerable. I opened several Word docs that were 40kb or larger, and they opened pretty quickly. Of course it was not as fast as accessing the same file on my hard drive, but it was quick enough to keep me from getting impatient. I also ran JNES (a Nintendo emulator) from it, and the access speed was decent. I opened up the Kung Fu ROM, and it was playable. Once again, it was not practically instantaneous as it is when accessing off the hard drive, but all that is required is a little patience since you can't expect hard drive speeds. Basically, I was neither surprised nor disappointed by the RipGO!'s speed. I expected it to be a little slow. It reminded me of older, slower CD-ROM drives, like 12X drives.
Well, the results of the testing are pretty good. Of course it would be nice if the RipGO! were faster, but I think it is no big deal to wait 5-7 minutes for 3-6 hours of music! It's a fair and reasonable tradeoff in my opinion.
In order to get a true sense of using the RipGO!, I took it to work with me for a week and tried it out. There were a couple times that the unit couldn't read a disc for some reason, but after restarting the device, it worked fine. I'm not sure what caused this, but it was only a minor annoyance that occurred 2 or 3 times out of about 20 times starting it, and it was easily remedied. You may be wondering if the rechargeable battery actually lasts 5 hours. I tried to pay particular attention to this, and the first time I tried to drain it completely, it lasted around 5.5 hours. I kept it running for about 1 hour during the first session of use and then 4.5 hours straight during the second. One thing I was surprised by and pleased about is that it actually pauses your CD when the battery is about to give out. This will get your attention when your music suddenly stops. Then you will have time to grab the power adapter if you have it handy, and you can resume playing your music. A nice little touch! The battery icon on the display also starts blinking.
I also tried to test how skip/shock proof the RipGO! actually is. I played a CD and then tried to make it skip. I hit it with my hand with considerable force, but I couldn't get it to skip. I dropped it from one hand to the other from about 6 inches up, and it didn't skip. I was a little doubtful at first, but that skip-free performance claim just might be true. 🙂 As long as you treat the RipGO! nicely, I doubt it will ever skip much, if at all, while using it.
Final Thoughts & Conclusion
---
Overall, the RipGO! is a nice product and the package includes everything you need to hook it up, rip, record and listen. The headphones, which are the wrap around the back of the head style, are cool and higher quality than I expected. The included apps are great and were smart choices by Imation. Nero is very popular and easy to use. Media Jukebox has many useful functions and is a decent media player. At around $170 (lowest price reported by Pricewatch.com is $167.50), you won't have to break the bank to obtain the smallest solution around for both recording on CDs and playing back high quality music. You really do get a lot of functionality and possibilities with the RipGO! in addition to how handy and easy to use it is.
Of course, not everything is great or appealing about the RipGO!. One of my biggest concerns is the battery pack. I really don't like how it is secured into place and think it could have been designed better to make it easier and less tedious to install. If you don't fit it in correctly, it could fall out with rough (or maybe even normal) handling, which could then result in losing it. True, it is easy enough to deal with by being careful and paying close attention when installing it, but it's just something you shouldn't have to worry that much about in my opinion. Other suggestions I have are probably already being addressed, such as using USB 2.0 interface, making the RipGO! faster, and increasing battery life.
Pros:
compact and sleek design
nice package with all necessities included
Nero Burning-ROM 5 included
no driver required for newer OSes
easy to use and very portable
Cons:
battery pack design – doesn't snap in as easily as it should; should be a no brainer but it may not be
no burn-proof technology – so buffer underruns could be an issue, but won't be if you do things right 😉
mini CDs can only hold 185MB of data
mini CDs aren't as cheap as their big brothers
With the RipGO!, you get a mini CD-burner, a discman and a digital audio player all in one. My final verdict is a score of 8.5, and I am awarding the RipGO! the Bjorn3d Seal of Approval for having such a cool, compact design that appeals to music lovers and business professionals on the go.