Introduction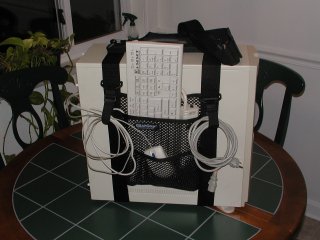 We recently reviewed CaseAce's GearGrip LCD shield harness used for hauling around your LCD monitor around, but what about hauling your PC itself? Well, CaseAce has got a solution for that as well with their GearGrip Pro computer harness.
Depending on what kind of case you have, carrying your PC can be almost as bad as lugging your monitor with you to your favorite frag fest. The GearGrip Pro is designed to make that a little easier and help you organize the rest of your LAN gear as well.
In the not so distant past I'd considered all sorts of schemes to make my PC easier to carry such as bolting handles onto it and I even considered adding backpack straps at one point! Compared to some of those ideas, the GearGrip Pro is rather elegant in it's simplicity. It's one of those things you see and ask yourself "why didn't I think of that!". Some of you may even have thought of of something of the sort but didn't have the wherewithal and resources to actually do it. Thankfully CaseAce did.
Description and Specs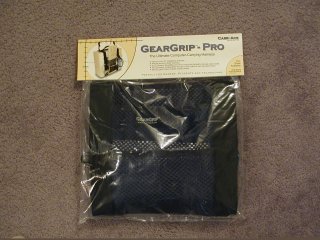 The GearGrip Pro computer harness comes in a pretty simple retail pack consisting of a plastic bag and cardboard tab providing product ID and information. Come on, it's a carry harness what more do you need?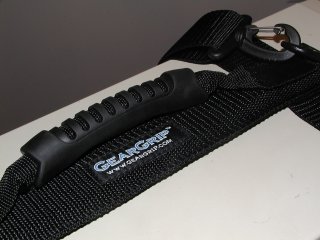 The GearGrip Pro is a sturdily constructed black nylon harness with mesh side pockets for storing your extra gear like mouse, mousepad, power cable etc. As I mentioned in my previous review of the GearGrip LCD, CaseAce does a great job of using quality materials. The wide web straps and heavy buckles should hold your rig securely while the nicely molded rubber grip and shoulder strap make it comfortable and easy to carry around and get in and out of the car.
Here's a look at the factory specs on the GearGrip Pro:
Standard size fits cases up to 52″ (132 cm) in circumference. (Most desktop, mini and mid-tower cases)
Large size fits cases up to 70″ (178 cm) in circumference (full-tower cases)
Case must be at least 13″
(33 cm) deep
Carrying capacity up to 70 lbs (32 kg).
Color: Black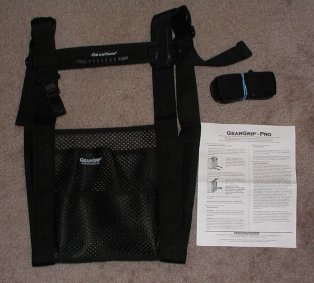 Testing and Comments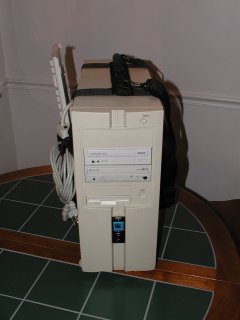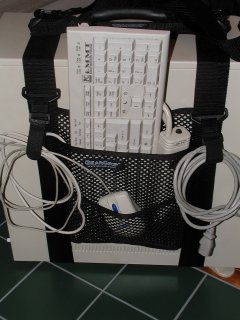 Any sort of testing on a product like this is going to be somewhat subjective but the first step is actually pulling it out of the package and hooking it up! CaseAce gives you an instruction sheet with the GearGrip Pro but it's really pretty self explanatory. The easiest way to hook this contraption up seems to be to lay the straps out flat on the floor and place you PC on top of them. From there just bring the rubber grip up and center it on the top of your case and then snug up and snap the buckles on the side of the case. Making sure the straps are tight is critical because that's the main thing keeping your case from sliding forward out of the restraints provided by the GearGrip. CaseAce recommends "gently lifting" your PC to make sure the harness is properly attached and then retightening the straps after doing this a few times to be sure they're snug. I got a bit lucky in this regard as my old case has feet on the bottom that provided a stop for the harness straps that kept them from being able to slide forward or backwards off of the case.
That's pretty much all there is to it. Once everything is snugged up either grab it by the handle, or snap on the shoulder strap and you're now ready to go!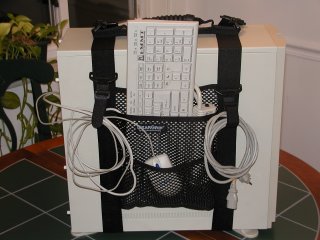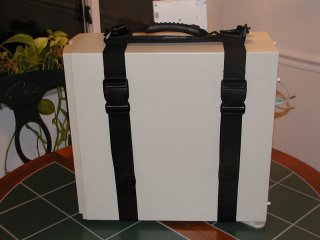 Once you have the harness fitted to your PC your ready to load up the GearBag. The GearBag is a unit consisting of a couple of mesh pockets on the GearGrip located on the opposite side of the buckles. The GearBag is actually adjustable up or down the length of the harness by peeling it off of it's velcro backing and shifting it to the proper spot for your rig. This let's you adjust it and the whole harness to fit a variety of tower cases.
Once you have it situated it's very easy to load up. You can see in the pics above that I utilized the larger rear pocket for my keyboard and a Belkin 4 plug SurgeStrip powerstrip. I dropped my mouse into the fornt pocket and I had room to spare for the addition of a mousepad, some CD's or other miscellaneous items.
The next thing you may note is the CableGrips. These are adjustable velcro loops designed to let you coil up your various cables and keep them out of the way while you're transporting your PC. I coiled up a power cable in one and my keyboard and mouse cables in the other. Notice that the keyboard and mouse are still plugged in. CaseAce advises that you can do it this way to make setup easier once you get to the Frag Fest location and it seems to work out pretty well. One less thing to worry about when you get there and it keeps your cables neatly out of the way. 
At this point I was really curious to see just how well the GearGrip would work. My case is a fair sized, all steel midtower and it's no lightweight. As a matter of fact it's just plain heavy and awkward to carry. I always end up sort of cradling it under one arm and then juggling it around as I try to balance it while I fight with either the front door to the house, or the car door. Every time I do it I'm dreading that day when it slips and I see my precious LAN rig crash to the hard, unforgiving Belgian block surface of my driveway.
Once everything was hooked up I first tried carrying my PC around by both the carry handle and the shoulder strap inside the house. I figured that ought to be pretty safe. Let me tell you, this was worlds better than trying to lug that case around on it's own! Even when I was just moving the case around inside my house it was much easier than before since I actually now had a good place to grab it solidly and give myself better leverage. I hauled it around a bit from room to room and used the comfortable rubber handle to heft the case up onto the kitchen table for some pics. I also used it to lift and move the case throughout my photo shoot being careful not to raise my wife's ire by scratching up the table surface. You don't know how many scrapes and scratches my desk has from shoving cases around on it while working on them. Thankfully, the GearGrip's rubber handle and harness provided ample gripping surface that made moving and shifting the case very easy to do without dragging it along the table surface.
With that out of the way, and everything holding up well so far, I decided to venture outside. I was pleased to see that navigating doors was much easier with the case simply slung over my shoulder and both hands free that it previously was while juggling the case under my arm. It was also much easier getting the case into and out of the car. As an added bonus I found I could thread my seatbelt through part of the harness strap and lock my case in place more securely while I transported it too!
The final part of my testing involved grabbing both my case with the the atached GearGrip Pro and my LCD monitor with CaseAce's Geargrip LCD shield on it and see how things worked carrying both at the same time. While there's a little bit of balancing that goes on with a PC slung over one should and an LCD slung over the other, I still found it quite manageable to do. You have to watch going through doors a bit but it still wasn't as bad as just trying to carry a loose midtower case or a CRT by itself. The nice thing about this set up was that, if you added a set of headphones to the GearBag, it lets you carry everything you needed for LAN party all in one trip. That means less setup time and less tear down time when you arrive and leave, and that translates to more actual time to play games!
Conclusion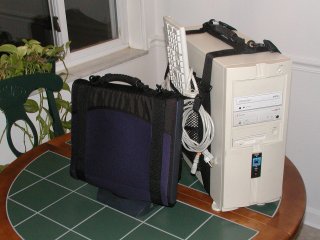 CaseAce has another winner here in their GearGrip Pro computer harness. It's a solidly constructed product that makes it much easier to carry your PC safely and securely to and from your favorite fragging location.  It keeps your stuff organized and assists in faster set up and tear down too which all translates to a better LAN experience. Match up one of these harnesses with an LCD monitor and a GearGrip LCD shield harness and you've a got a real winning combination for gaming on the go.
About the only gripe I had with the GearGrip Pro was that I could have probably used a little bit more space for all of my junk. I could get by with the space provided if I had too, but I do tend to haul around a pile of game CD's, a regular set of speakers, and a myriad of smaller gadgets like a multitool and the M-Systems DiskOnKey. At the very least a zippered pocket to keep the small items from getting lost might be appreciated. Overall though I was still very impressed and pleased with the GearGrip Pro from CaseAce. It's quite possibly the best solution out there for moving your tower PC to and from LAN parties.
For quality workmanship and an efficient design that goes a long way towards making getting your PC to and from LAN parties downright easy I'm giving the GearGrip Pro computer harness a 9 out of 10 and the Bjorn3d Seal of Approval!