Introduction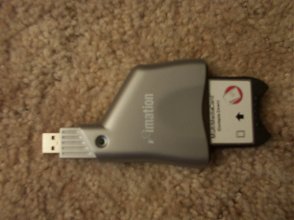 If you're into portable electronics gadgets, chances are you're starting to accumulate flash memory cards. Whether it's Smart Media or Compact Flash cards for your digital camera, SD/MMC cards for your PDA, or Memory Sticks for Sony's myriad of gadgets, you've got to have a way to connect them all to your PC to load and/or unload them. Most devices have serial or USB cables provided with them to allow you to connect them directly to your PC, but I've personally never been real happy with that solution. For one thing, you need a special cable for each piece of equipment, and for another it typically sucks off of the batteries of the device, and you either have to deal with the battery drain or connect them to an external power supply further adding to the nest of cables around your desk.
Well, it didn't take me long to discover that a flash reader/writer was a lot more efficient way to go about the business of uploading and downloading image and music files from my PC to my digital devices. I started off with a Compact Flash unit for my old camera but eventually grew out of it as I added other devices that used other forms of media to my collection. As you expand, you've basically got two options: either try and buy only items that use the type of memory cards you've already committed to or get a better flash device!
Well, Imation makes that second option easy with their FlashGO! flash reader/writer. This compact little gadget reads 6 different forms of flash media commonly used in digital devices today! It covers most all of the media options out there right now and lets you work with a variety of devices without worrying about whether you have the right tool to access the right kind of memory cards or not.
In this review, we'll take a look at what the FlashGO! has to offer and what it can do for you.
Packaging and Contents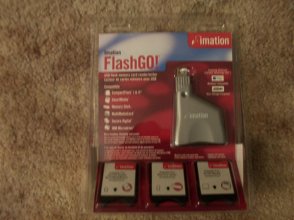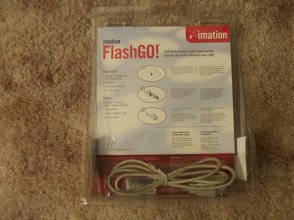 The FlashGO! comes packaged in a typical retail plastic bubblepack with rather basic instructions printed on the back side of the package in lieu of a manual.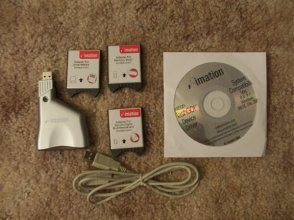 The package includes the FlashGO! reader/writer itself, 3 memory adapters for Smart Media cards, SD/MMC, cards and Memory Sticks, a USB extension cable and a driver CD.
Specifications
Let's take a quick look at factory specifications for this device.
Features:
Supports Compact Flash (Type I and II), SmartMedia, Multimedia Card, SecureDigital, Memory Stick, & IBM's Microdrive
USB port offers quick transfer & retrieval of any mix of photos, music, or data
Bus-powered to save battery life on personal hand-held devices
Easy plug & play convenience
System Requirements:
Windows® 98SE, ME, 2000, and XP
Macintosh® OS 8.6 through OS X
As you can see the FlashGO! accepts all of the commonly used forms of flash memory you're likely to see in PDAs, cameras and MP3 players today. It uses a USB connection either by plugging the device directly into a USB port via its integrated USB connector or by using the provided USB extension cable. Power is provided through the USB connection so you don't have to worry about external power sources or batteries like when you transfer files through your camera or MP3 player.
The FlashGO! supports most current Operating Systems although you're out of luck if you're using Linux or Windows NT (which lacks native USB support). Windows 98/SE requires the use of drivers provided on the enclosed CD. 


Installation & Testing
The instructions on the back of the Imation packaging for the FlashGO! are pretty spartan. Then again they can be, as it's really very simple to use this thing.
They first instruct you to insert the driver CD and inform you that Windows will automatically load your driver for you. If you've got a Mac, it says to click on the installer icon when it appears. Can't be much simpler than that huh? Actually it can. While they don't say it anywhere in their directions, one thing we've learned here in testing a variety of USB flash devices is that you shouldn't even need a driver when using Windows ME, 2000, XP or the newer Mac OS's. If you've still got 98 though, just follow the simple driver setup.
Once that's done, all that's needed is to insert a memory card into the device. If you're using a Compact Flash I or II card, all you do is plug it straight into the device. If you've got any of the other types of memory cards that the FlashGO! supports, you'll first need to insert the appropriate kind of adapter from Imation into the CF port and then insert the card. Still pretty simple so far.
Once the card is in the adapter, all that's left is to hook the FlashGO! to a free USB port either directly or using the provided extension cable. The cable is a really nice touch by the way for folks who only have rear mounted USB ports.
Once the device is plugged in, it'll show up as a new drive in Windows Explorer or My Computer. That's it! You've done gone and installed the FlashGO! to your PC. Trust me, it actually takes much less time to just do it than it does for me to explain it to you.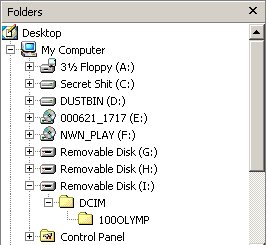 In the pic above you can see the FlashGO! showing up as my "I" drive, and as a "Removable Disk". It's loaded with a 32MB Smart Media card from my Olympus camera in that screenshot.
For testing purposes, I tried the FlashGO! with both Compact Flash and Smart Media cards of various brands and sizes. Moving files back and forth to these cards was simplicity itself. If you can drag and drop, cut and paste, or copy and paste files normally, you're ready to roll with the FlashGO!.
I started by transferring the pics from my digital camera's Smart Media cards to my harddrive. A full card holding 64 images and taking up 28.2MB of space took 33 seconds to transfer to my D drive for a speed of 1.17MB/s. Repeated tests showed that to be a consistent time for that size file from that particular flash medium.
Next I uploaded some MP3 tracks to a 32MB Compact Flash I card for use with the Frontier Labs NEX IIe MP3 player that I've been testing. I snagged 16 Ramones tracks off of the old All the Stuff (And More) album that I'd converted to MP3 format earlier that day and moved them over to my CF card using the FlashGO!. The 16 files took up 30MB of space and took 58 seconds to move for an upload speed of 0.52MB/s.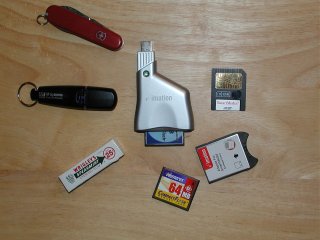 Aside from transferring files to and from my camera and MP3 player, I also tried using the FlashGO! as a sort of pendrive for transferring data files between my Win2k desktop PC and my WinME powered laptop. The flash memory cards don't really care what sort of files are being transported, so it worked fine in this role as well. While it is a bit larger than most pendrives, it's still very light and compact in the scheme of things and has the added benefit of being infinitely upgradeable by using multiple memory formats and capacities of flash cards up to and including the absolutely spacious 1GB IBM Microdrives. This flexibility and expandability certainly gives it an edge over any pendrive and may well make up for the somewhat larger size for some users. 
Conclusion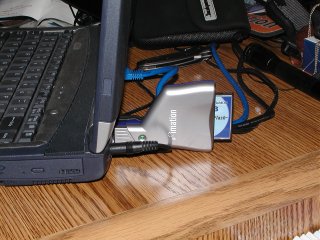 The FlashGO! runs for around $50-$60 online which is in line with the cost of other 6 in 1 flash readers on the market today. However, the FlashGO! offers a much more compact package than most of the other ones available that would lend itself well to being paired with a laptop computer or being used on it's own as a USB flash drive, in addition to a more sedintary role in the home and office. Imation does a great job of meeting consumer needs by providing all of the media card adapters bundled with the device rather than selling them as separate options as well as by providing the thoughtful USB extension cable right out of the box.
If you're dealing with multiple memory card formats from a variety of electronic gadgets and you'd like to settle on one compact device that'll let you work with them all, then Imation's FlashGO! may just be the solution for you. It's light, compact and mindlessly simple to use and saves you the hassle of having to use multiple transfer cables for each device and saves on their battery life as well. Add in the fact that with the memory card of your choice plugged into it the FlashGO! can double as a USB flash drive, and you've got the real Swiss Army Knife of flash drive designs.
For its compact form factor, great compatability, ease of use and consumer friendly package, I'm giving the Imation FlashGO! Flash Memory Reader/Writer a 9 out of 10 and the Bjorn3d Seal of Approval.