Today, Advanced Micro Devices (AMD) is announcing their latest of the 8th generation central processing units (CPU) based on AMD's QuantiSpeed architecture, still titled Athlon XP. This processor is taking the form of the Athlon XP 2700+ and 2800+. These are both evolutions of the lower voltage Thoroughbred core, which we first saw in the Athlon XP 2200+. AMD has sent a care package of an AMD XP 2700+ coupled with a complete barebones system consisting of a Asus Nforce2 motherboard (Asus A7N8X), 512MB CL2 Corsair PC2700, and the ATI Radeon 9700 Pro. Before we let Scott regain his 3Dmark champion title with this rig, we made sure to get some thorough system benchmarks and a review of the Athlon processor technology.
Technology
---
Considering that the Athlon XP 2600+ isn't even on the streets yet, it appears that AMD is having some significant success with it's 0.13 micron process at it's relatively new Dresden fabrication plant (Fab 30). On the contrary, AMD's roadmap from last fall suggested that the Barton core (512MB L2 cash, but also 0.13 micron) was to be released at this time.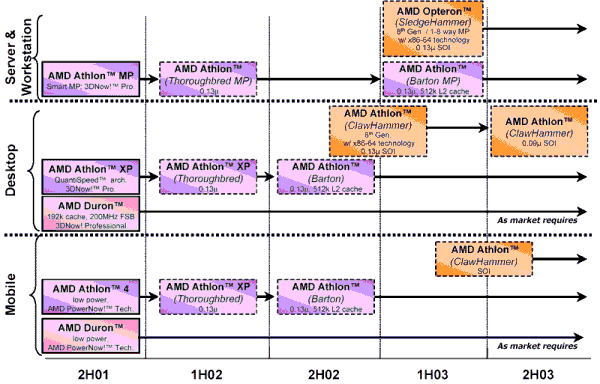 Also, Clawhammer , AMD's first x86-64bit processor, was to be released right around now.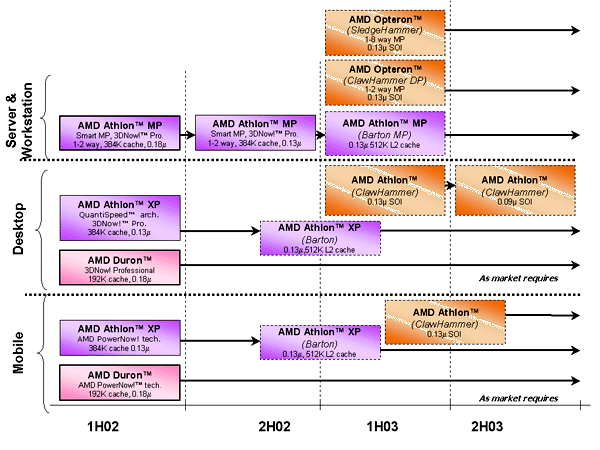 The new roadmap shows Barton slipping a quarter and Clawhammer slipping a month or so. The success of the 0.13 micron copper fab and the lack of the forthcoming CPUs suggests that AMD might be holding the big guns back. Not that Microsoft has released their 64-bit Windows, anyway.
But forget all of the horsey names, they're just AMD internal nicknames for the processor design. Some of which get talked about quite a bit and never get produced (Mustang). The naming is just a convention, exactly similar to NVIDIA's NVxx convention. Regardless of the apparent shift in the roadmap, AMD is implementing change in the evolution of the QuantiSpeed technology. The QuantiSpeed core can be described as a nine-issue, superscalar, fully-pipelined core. Permitting nine issues to the pipeline helps to keep the pipeline utilized during each clock cycle. Deeper pipelines have been found to not be the key to increased performance. AMD has taken strides with QuantiSpeed to simply utilize the existing XP pipeline (three independent integer pipelines, three address calculation pipelines, and a superscalar, fully pipelined, out-of-order, three-way floating-point engine.) more fully. Additional features of QuantiSpeed architecture include a superscalar, fully-pipelined floating point engine, hardware data prefetch, and exclusive, speculative Translation Look-aside Buffers (TLBs).
The specifications of AMD Athlon XP 2700+ and XP 2800+ include the following:
Speed:
Frequencies of the models are 2.17 GHz for the XP 2700+ and 2.25 GHz for the XP 2800+. These are the next steps in-line above the XP 2400+ (1.93 GHz) and XP 2600+ (2.133 GHz). You'll quickly note here that the XP 2700+ is only ~33 MHz faster than the XP 2600+!!!….read the next section to see why you should prefer the XP 2700+
Front Side Bus Speed:
The new XP 2700+ and XP 2800+ are based on a 333MHz FSB. A welcomed improvement as the latest boards can now run the processor synchronous with the PC2700 DDR SDRAM. Sure, overclocking the RAM will yield a performance boost. But synchronous operation has it's systemic benefits.
Cache:
Cache appears unchanged from the existing Athlon XP line-up. It has a dual-ported 128-Kbyte split level-one (L1) cache and, a 256-Kbyte L2 cache. 384 KB total.
Process Technology:
The original Athlon XPs were based on the older Palomino core, which was still 0.18 micron (many, including me, had hoped it would have migrated to 0.15 or even 0.13 at that time), while these new processors have been finally scaled down to a 0.13 micron copper process. These numbers vary little but it amounts to major size differences on the scale of CPUs. The 0.18 micron process yields a core size of 128 square mm for the older Athlon XPs, while the 0.13 micron process shrinks the core to 84 mm2. The primary benefit of the die shrink here, is that more real estate is available for added hardware on the core. Currently, the QuantiSpeed products aren't really utilizing the additional space (we'll have to wait for Barton with more cache). an indirect benefit is cost. Smaller die means more chips per wafer, which means a lower end cost to produce.
Infrastructure:
The common name is Socket A, but just about all of AMD's literature refers to the socket as OPGA, short for Organic Pin Grid Array. I think I'll stick with Socket-A.
Temperature and Voltages:
The temperature and voltage specs of the XP 2700+ and XP 2800+ are in line with what you'd expect, considering it's older brothers.
Processor
Core Voltage
Max Thermal Power
Nominal Thermal Power
Max Die Temp

---

XP 1700+ (1.467 GHz)
1.50V
49.4W
44.9W
90C
XP 1900+ (1.600 GHz)
1.50V
52.5W
47.7W
90C
XP 2000+ (1.667 GHz)
1.60V
60.3W
54.7W
90C
XP 2100+ (1.733 GHz)
1.60V
62.1W
56.4W
90C
XP 2200+ (1.800 GHz)
1.60V
62.8W
57.0W
90C
XP 2400+ (2.000 GHz)
1.60V
68.3W
62.0W
85C
XP 2600+ (2.133 GHz)
1.65V
68.3W
62.0W
85C
XP 2700+ (2.171 GHz)
1.65V
68.3W
62.0W
85C
XP 2800+ (2.250 GHz)
1.65V
74.3W
64.0W
85C
Power Management:
The model 8 AMD XP processors include power management features meeting the ACPI 1.0b and ACPI 2.0 requirements. If used, these features support low-power Halt and Stop Grant states of the CPU. ACPI uses these states for processor power management, reducing the load on the CPU when not used.
Additional Instruction Sets:
The Athlon XP processors include AMD's 3DNow!™ Professional Technology (72 instructions) as well as full, SSE compatibility.
Preliminary pricing (in lots of 1,000 units) is stated by AMD to be $397 for the Athlon XP 2800+ and $349 for the Athlon XP 2700+.
The Test
---
Scott added some drives to the bare bones set-up provided by AMD and put it through it's paces. The relevant specifications of the system are as follows:
AMD XP 2700+ CPU (it came premounted so we couldn't get core shots)
Asus A7N8X nForce2 motherboard (DDR333 and 333MHz CPU FSB compatability…look back at Bjorn3D for a full review of this motherboard)
Corsair 512MB PC2700 CL2 DDR SDRAM
Western Digital WD120 hard drive, 120GB, ATA100
Integrated 3Com 3C902B-EMB Ethernet MAC
Integrated nForce2 MCP Audio Processing Unit
ATI Radeon 9700 Pro
Windows XP Professional
WCPUID correcty reports the CPU model number and name. I half expected WCPUID to report it as an XP 2600+. It's also reporting the 333 MHz core and memory speeds as well as the correct Cache size. Note here that AMD is using dual 64 KB L1 caches.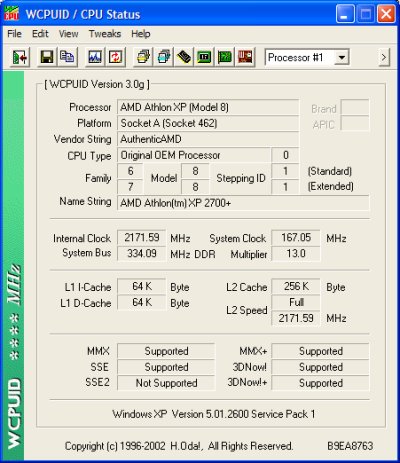 System Benchmarks
For system performance testing, Scott reviewed PC Mark 2002, Sisoft Sandra 2002, and ZDNet's Business Winstone.
PC Mark 2002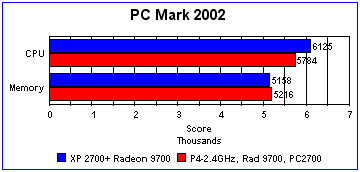 The Athlon XP 2700+ is about 5% faster than the Pentium 4 2.4 GHz processor under the PC Mark 2002 test. The memory test is very, very close with the two systems, both using identical CL2 PC2700 DDR SDRAM, scoring within 1% of each other.
Sisoft Sandra 2002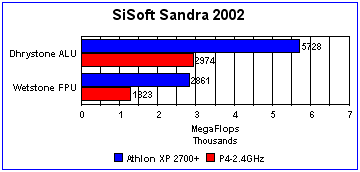 The Sisoft Sanda suite yielded some suprising results. The media is always talking about the fast FPU of the Athlon cores. Well, Sandra is stating that this AMD Athlon XP 2700+ is a full 27% faster than the Pentium4 2.4GHz, when it comes Drystone performance/Integer performance.
ZDNet's Business Winstone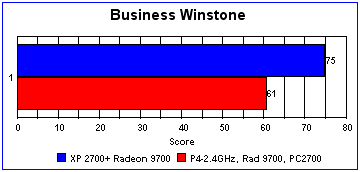 Business Winstone runs through a heap of Windows and MS Office style routines of opening, closing, copying, saving, etc. to attempt to mimic the performance of regular computer use. As you can see from the above graph, the Athlon XP 2700+ leads the Pentium 4 2.4GHz by a healthy 23%. This is likely directly related to the Drystone (integer performance) which we saw in the Sisoft Sandra benchmark. But this also shows that these Thoroughbred cores are well suited for the business world, which is one place AMD is definitely targetting.
Next up is gaming performance and our final thoughts.
Gaming Benchmarks
Scott scored the systems that were using identical RAM and identical video cards. Scott looked at 3DMark 2001 SE for DirectX8.1 performance and Quake 3 Arena for OpenGL performance.
3DMark 2001 SE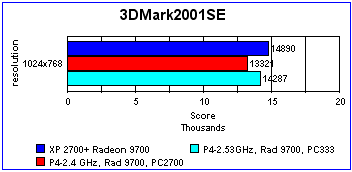 3DMark runs through a series of movies with different detail levels an different levels of dynamic effects. We here have always found 3DMark to be able to bring many systems to their knees under a few of it's tests. At the 1024×768, we're seeing all three systems running above 13,000 points! The XP 2700+ leads the pack by narrow margin of 4%.
Quake 3 Arena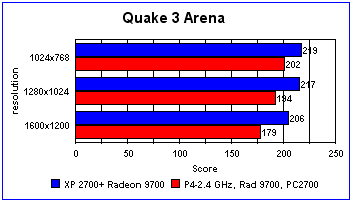 With maximum picture quality settings, Quake 3 is showing it's age on the these high performance rigs. The XP 2700+ sustains over 200 FPS in at all three resolutions, leading the P4 2.4 GHz system by an average of 12% over all three resolutions.
Conclusions
---
AMD has released two new processors which, from our testing, show an excellent level of performance when compared the competition that we had available. There are certainly features that we would have like to have seen, like more on-die cache and perhaps better i.e., lower) power and voltage characteristics, but this is an evolutionary product over the existing Athlon XP line.
| | |
| --- | --- |
| | For excellent performance and value, we're awarding the AMD Athlon XP 2700+ a score of 9.0 out of 10 and the Bjorn3D Seal of Approval. |