Let's be honest here. A few years ago any respectable gamer would have laughed at the idea of bringing a laptop to a LAN party or using a laptop to play a game like Quake3. Even today many laptops still use slow chipsets that definitely isn't made for gaming even at lower resolutions. My 1 year old Fujitsu-Siemens Lifebook S might be a great laptop in all sorts of areas however gaming isn't one of them. I tried to play Warcraft 3 on it this weekend at 640×480 … what an horrible experience.
Times are changing though. When NVIDIA released their GF2GO chipset 1 1/2 year ago laptops suddenly had the ability to play games faster than a few fps. Using a laptop for gaming suddenly became a bit more feasible than before. ATI of course didn't want to give NVIDIA an advantage on their own backyard and released their own set of chips. The Mobility Radeon was released and positioned against the GF2GO. Then ATI released the MR7500 which easily surpassed the GF2GO's performance. NVIDIA's repsonse was the GF4GO which is based on the GeForce 4 MX and not the GeForce4 and which in performance is on par with the Mobility Radeo 7500. ATI however isn't content of letting NVIDIA catch up. Their latest chipset plays in a leageu of their own: the Mobility Radeon 9000.
ATI gave me the opportunity to attend a press-event for the Mobility Radeon 9000 and this article aim to present the it and give you an idea why I think it will be a LAN gamers wet dream!
The laptop market
Radeon 9700 Pro, NV30, Ti4600 …. these are the high-end cards that everyone talks about and which generates the reviews and the 'buzz'. However – these are not necessarily the cards that bring in the dough to NVIDIA or ATI. In ATI's case the main money-maker actually is the laptop market. Even though NVIDIA has entered the market nothing can shake ATI's firm grip on the laptop market. ATI claim they still have the biggest market share and that it even is rising.
The Mobility Radeon 9000
ATI's goal is to bring last year's performance to the laptop with each chip. The Mobiliy Radeon 7500 thus had approximately the speed of a Radeon 7500 while the top desktop chip was the 8500. The Mobilty Radeon 9000 in turn is based on the Radeon 9000 and thus gives us Radeon 9000 performance at the same time they release their new hot chip on the desktop, the 9700.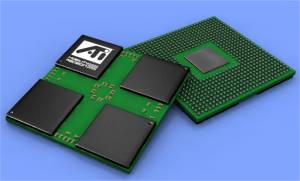 I won't go into to many details about the Mobility Radeon 9000 when it comes to specs. You can take a look at the specifications for the 8500 or the Radeon 9000 desktop chip here (http://mirror.ati.com/products/pc/radeon9000pro/index.html) to get an idea what this chip can do. Some of the highlights are:
Full DX8.1 support
Pixel and Vertex shaders via Smartshaders
4 rendering pipelines (compared to 2 in the Mobility Radeon 7500 and 1 in the Mobility Radeon)
10 AA settings via smoothvision
Dual display support via Hydravision
Fullstream video de-blocking
The Mobility Radeon 9000 can use either external or integrated memory or a mix of external and integrated memory.
I think the fact that we now have a fully Dx8.1 supporting chip in a laptop is the coolest feature. As John Carmak said at a ATI event – "Now you can play Doom 3 on a laptop ..". Until NVIDIA releases a new chipset that is based on the GF4 or even NV30,  ATI will have a lead here.
Fullstream technology
Before we look at the performance lets look at a cool technology to make low-quality video-streams look better. ATI has worked together with Real to develop a technology called Fullstream. What it does is to use the Pixel Shaders to recognise the edges in a video stream and smooth them.
Video demonstrating fullstream technology. 700 KB, WMV-format
Performance
To show the performance of the Mobility Radeon 9000 ATI used a OEM-branded notebook. Since the OEM hasn't announced their 9000 -based notebook yet I cannot tell you the name of the company.  This notebook has a nice feature. The gfx is added via a small daughter-card. This allows the OEM to quickly swap out the gfx in the notebook for another chip. All scores below have been taken from this notebook with a Mobility Radeon 7500, a Mobility Radeon 9000 and a GF4GO. Since everything else in this notebook stays the same the scores are directly comparable.
All scores were taken at 1024x768x32. The machine had a 1.7 GHz CPU.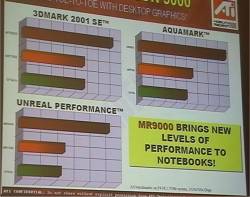 In 3DMark2001SE the Mobility Radeon 9000 yields around 7000 3Dmark. In comparison the Mobility Radeon 7500 and the GF4GO reaches around 5000 3Dmark.
ATI couldn't tell us the exact fps in Aquamark or Unreal Performance Test but as the chart shows the Mobility Radeon 9000 has almost double the performance of the Mobility Radeon 7500 and the GF4GO. These two benchmarks of course heavily use DX8.1 features which penalize the Mobility Radeon 7500 and the GF4GO.
I asked Scott to run 3DMark2001SE on his Dell which is an Inspiron 8×00 with a 1.6 GHz-M P4 and a GF4GO. He got around 5000 3Dmarks which validates the GF4GO scores above.
A Laptop isn't a desktop ..
A notebook/laptop has different requirements than a desktop. While a desktop always is on mains power a laptop/notebook often is run on battery. This means that power saving are important. Every extra minute you can work on your laptop is valuable.
ATI calls their power saving technology Powerplay. Here are a presentation on some of the stuff that helps reduce the power use of the laptop.
Hardware DVD compression.
On a desktop it really doesn't matter if playing a DVD sucks up 20 or 35% CPU. However since the CPU is one of the components in a notebook that eats power every % less CPU usage will result in longer battery life. The ATI implementation uses about 5% less CPU than the GF4GO.
Dynamic Clock and Voltage scaling
Another way ATI saves power is to make sure the 3D engine isn't working in full force when you are reading an e-mail. The chip can slow down from the maximum clockspeed which can be up to 250/230 MHz to 83/83 Mhz. It also can drop the voltage from 1.5V to 1.2V. You can of course turn this feature of if you want if you decide to play a game. If
Dropping to 83/83 and lowering the voltage will give you about 12-13% longer battery life.
Adjust refreshrate/colordepth
If you are showing a presentation or doing something which do not involve a lot of movement on the screen the Mobility Radeon 9000 can drop the refreshrate from 60 Hz down to 40-50 Hz depending on the LCD panel-manufactorour.. Since the LCD screen, together with the CPU, is one of the components that suck power this once again can increase the battery life. As all the other features this of course can be turned on/off.
According to an independent research firm called Inquest Research the Mobility Radeon 7500 overall saves more power than the GF4GO. The Mobility Radeon 9000 uses the same powersaving technology and ATI says the results for the Mobility Radeon 7500 thus is comparable to the results for the Mobility Radeon 9000. The test was use on the same OEM-branded notebook where they only switched the video-chip:
Windows idle Power Consumption: Mobility Radeon 7500 draws 9.7% less power than the GF4GO
Software DVD decode – Power&Performance – Mobility Radeon 7500  13.1% lower than GF4GO
Software DVD Decode – CPU Usage: – Mobility Radeon 7500  13.8% lower than GF4GO
3D Power consumption (1024x768x32):
Quake 3: Mobility Radeon 7500  9.1% lower than GF4GO
MDK2: Mobility Radeon 7500  13.6% lower than GF4GO
3Dmark: Mobility Radeon 7500  14.9% lower than GF4GO
In conclusion ATI continues to show that they know about how to save power. I'm sure NVIDIA will catch up eventually but right now it looks like ATI has the upper hand.
Drivers
ATI doesn't really have a good reputation when it comes to drivers. In fact I know many who have said that they won't touch an ATI card until they know the drivers are mature enough to use. ATI knows this and have been working hard to rectify this problem. When they changed from building their own cards to just designing the chips for OEM's they suddenly had a lot of engineers who either could start working as software engineers or be replaced with new software engineers. These guys have been working hard on the driver side and the result was announced about 2 months ago. The new Catalyst drivers are very similar to NVIDIA's approach with their unified drivers. The Catalyst drivers support a wide range of ATI's cards from the old Radeon VE to the 9700 pro just like NVIDIA's unified drivers.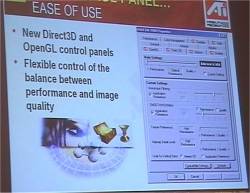 If the reports from 9700 users are anything to go on ATI's drivers have improved a lot. There still are problems (but as we NVIDIOTS know – first gen drivers usually have them…) but they don't seem as bad as in the old days. I just installed my 9700 and the only problem so far is in WWIIOnline. All other games so far have worked (knock on wood). If you read on any of the ATI fansites you'll still see a fair share of driver problems but I feel that they are far less serious than before.
All for one, one for all
To lower the Time-To-Market for their Mobile chips ATI has made sure that every Mobile Radeon from the original Mobility Radeon to the Mobility Radeon 9000 is exact the same size and use the same pin out. What this means is that an OEM can take his notebook that currently have a Mobility Radeon or a Mobility Radeon 7500 in it, remove the gfx chip and solder a new onto the same place. After a bios update the notebook are ready with a brand new up-to-date graphicschip. I'm sure this is something OEM's like.
Give me some memory ..
The Mobile Radeon  9000 will come in 3 different packages. You can either get it with no memory (discrete). In that case it will use 16 to 64 MB 64 to 128 bit DDR external memory). It can come with 32 MB integrated DDR memory. In that case it will support an additional 32 MB external memory. Last but not least it can come with 64 MB 128-bit integrated DDR memory.
The cool stuff ..
After the presentation ATI fired up a bunch of demos on the notebook to show of the Mobile Radeon 9000. I tried to film some of these demos to show you how good and fluid they work on the Mobile Radeon  9000.
We'll start with an image. I just want to show how good the nature test is running in 3Dmark2001SE on this machine. The fps ranges between 30 to 60 fps. Remember that we are talking about a laptop here!
(Setting: 1024x768x32 NoAA Z24 DXTC D3D Pure HW)
Next comes a video of a demo which shows of the shaders. Looks nice doesn't it? And it runs real smooth.
Video of ATI demo for shaders: 2 Mb, WMV-format
Last but not least we got Rachel. You shouldn't look as much on the animation as on the way her face and head looks. Very nice.
Video of Rachel: 900 Kb, WMV-format
Conclusion
Until I can get the opportunity to test-drive a laptop with a Mobility Radeon 9000 myself I have to trust ATI on the performance scores. However – nothing that I saw at the press meeting or read about the Mobility Radeon 9000 makes me doubt that ATI has a real winner on their hands. For normal business users the power-saving features probably are useful. However – I think that it is the gamers that will love the chip. Imagine being able to play some Doom 3 on the flight or why not some Warcraft 3 while sitting in the sofa. Or how about take the laptop to the next LAN session?
I'm quite interested in what NVIDIA's answer will be to this chipset. I have no doubt that NVIDIA will try to leapfrog the Mobility Radeon 9000 in 3-6 month. The GF4GO definitely isn't a bad chip itself but it sounds like ATI has the upper hand right now in the notebook market.
Last but not least a thank you to ATI and specifically Rubeena Hussein and Simon Raby for inviting me to the press event. I was pleasantly surprised to see that they looked beyond the fact that we are a site writing mainly about NVIDIA stuff and were interested in start working with us. Don't be surprised if you start seeing more ATI news on this site now that I am on their mailing list :). And don't be suprised if you will see more reviews of ATI based boards too. Ahhhh – competition is great for us gamers, isn't it?