Introduction
Broadband Internet connections are a blessing and a curse. They're blessings, obviously, because of the nearly instant access one gets to data. Video, music, and large application files are just minutes away. The curse comes when you try to find a place to keep all that stuff! A 20 GB hard drive seemed massive back when 56k dialup access kept file sizes small. But that 20 GB drive filled up quickly, didn't it? Then came 40, 60, 80, and even 120 GB drives to hold even more stuff. And do you remember back in the day when a single floppy was all you needed for sneakernet? Even CDs are becoming impractical for portable storage.
After your second or third hard drive upgrade you probably started wondering how to stop the data proliferation madness. That's the position I found myself in not too long ago. My original 6.4 GB drive gave way to a 30 GB drive, which in turn yielded to a 60 GB drive. Even with 90 GB of 7,200 RPM, ATA66 storage, I still kept running out of room. A careful analysis of the drives revealed the bulk of the space hogs weren't applications, but downloaded binaries. My MP3s, movies, patches, drivers, and installation execs were the guilty parties, but what could I do with them? I needed or wanted most of them, but copying them to CD would be time consuming and a nightmare to catalog and store the discs.
I found the answer to my storage problem in an external hard drive. USB or FireWire drives are now commonplace, relatively affordable, and readily compatible with Windows. We received a 20 GB, USB 2.0 FireLite external drive from SmartDisk Corp. and I used it to offload all of my drivers, MP3s, and installation files, freeing up room for application data.
Specs

3 1/4 inches x 5 inches x 3/4 inch
20 GB
USB 2.0 (also available as a FireWire model)
Windows or Macintosh compatible
Performance: Rotational speed 4200 RPM
Latency: 7.1 ms (Avg.)
Seek time: 13ms (Avg.)
Data transfer rates:
USB 2.0 Hi-Speed 18 MB/sec (average)
USB 1.1 Full-Speed 700 KB/sec (average)
Comes with USB cable, power adapter, vinyl carrying case, stacking tray (for multiple drives) and Retrospect Express Backup™.
I've never been one to equate sex with machinery, but the FireLite is, as Austin Powers might say, one sexy beast. It's small, very lightweight, and the case is contoured to easily slip into one's pocket. It resembles a radar detector more than a hard drive. Topping off the sex appeal is an Indiglo-blue (like the Timex watches) ready light; it looks really cool in a dark room!
Installation
I've taken more than my fair shots at Windows for the trouble it can cause when installing new hardware, but this was by far the easiest installation I've ever attempted on any machine or OS. All I did was plug in the low profile power adapter for the drive, then the USB plug into my USB hub. Windows XP immediately informed me I had added a Mass Storage Device, and it was available for use. That was it. No fussing, tweaking, or cussing. The drive was immediately recognized in Windows Explorer and all my applications.
We used two different USB 2.0 add-in PCI cards to test the new standard's capabilities. The first controller used was a Belkin 2-port USB model. Installation in an XP system is extremely simple; plug in the card, boot the system, and XP automatically installs the Windows USB 2.0 drivers. The ports are available for use immediately.
The second controller was a combination USB/FireWire card from SmartDisk. This controller features three external USB 2.0 ports and one internal. In addition, the card has an optional connector to your power supply for those power hungry peripherals down the line. As with the Belkin card, XP automatically installed the necessary drivers and it too was ready for use after the initial boot up.
The Windows 98 SE machine required the use of the included driver discs and the Windows installation CD. Once the necessary drivers were copied and installed, however, the ports were ready to go.
Testing
Test configuration
Primary PC
AMD Athlon XP 1800+
Leadtek Winfast K7N415DA motherboard (nForce with USB 1.1 support)
Maxtor 30 GB HD, ATA66, 7,200 RPM (master)
Maxtor 60 GB HD, ATA66, 7,200 RPM (slave)
256 MB Corsair PC2400 DDR RAM
Windows XP
Belkin USB 2.0 Dual-Port, Hi-Speed PCI Card
SmartDisk USB 2.0/FireWire PCI Card
Secondary PC
Intel PII450
Asus P2B motherboard (good ol' Intel 440BX)
Western Digital 20 GB HD, ATA66, 7,200 RPM
128 MB generic PC100 SDRAM
Windows 98SE
Belkin USB 2.0 Dual-Port, Hi-Speed PCI Card
SmartDisk USB 2.0/FireWire PCI Card
As you can tell from the specifications, the FireLite is not intended to replace an internal hard drive. We developed our tests around practicality, compatibility, and portability. Here's what we came up with:
Portability & compatibility: Killing two birds with one stone, we moved the FireLite from the original WinXP machine to a Windows 98 PC. Win98 and 98SE do not have native support for mass storage devices so the supplied drivers would get a workout as well.
Practicality: We knew within seconds of installation that the FireLite was capable of transferring data back and forth. But what we really wanted to know was if it was quick enough to make you want to use it. To test this we performed the following:

Time to transfer a large block of data vs. an internal drive
MP3 encoding and video playback results
Finally, we used SiSoft Sandra to perform benchmarks comparing the external drive to the two internal drives of the primary machine and the external drive using the two different USB buses..
But first, a word about the bus…
USB 2.0 is not supported on either of the test machines' motherboards. To test USB 2.0, we added the PCI 2.0 controllers. All tests were repeated exactly for both USB 1.1 and 2.0. The results sections below denote which bus the FireLite rode upon.
Test Results
SiSoft Sandra USB 1.1 & 2.0
As expected, the FireLite couldn't touch the internal drives in speed measurements with the USB 1.1 interface. The File System Benchmark in Sandra showed an immediate and huge performance boost from using the 2.0 interface, however. Benchmark scores raised considerably across all categories: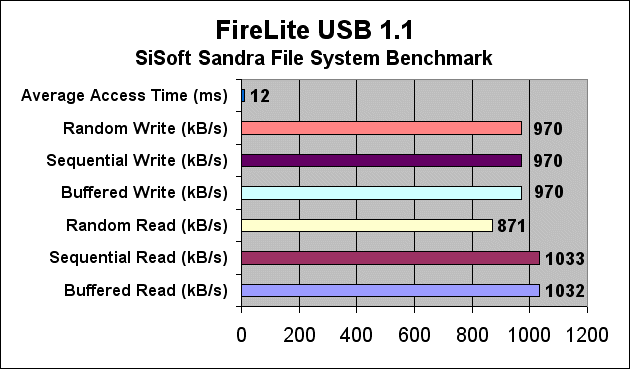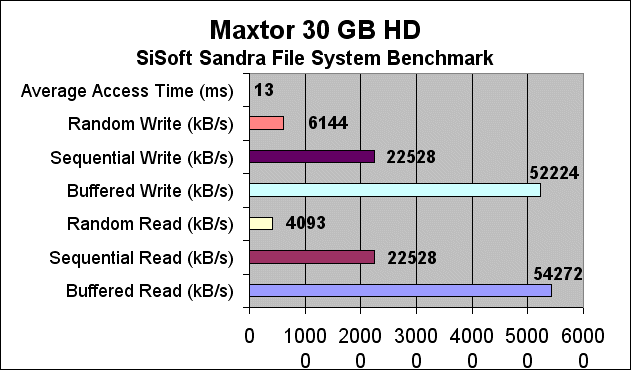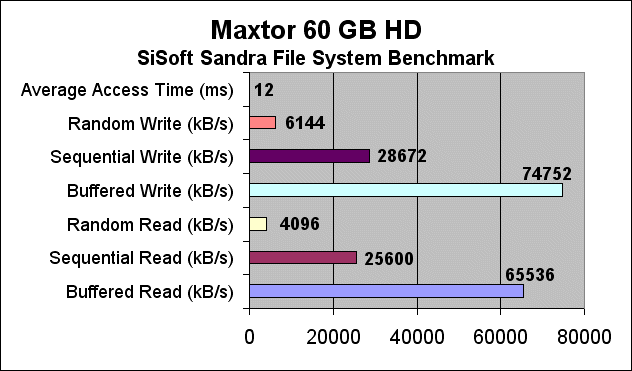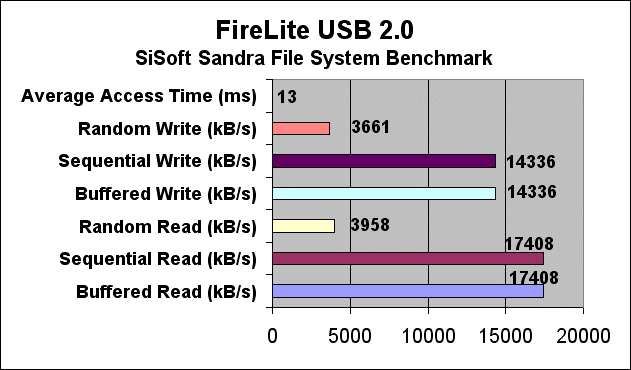 Now it's time for some real world tests!
The Real World: Compatibility and Portability USB 1.1 & 2.0
Windows 98 does not natively support Mass Storage Devices. SmartDisk, however, supplies drivers to get the job done in Win98 and 98SE. Following the instructions precisely, I plugged in the drive to my Win98SE machine and was greeted by news that Windows had found a new device. From there it was a simple matter of pointing to the driver file on the supplied CD-ROM. Once the drivers were installed the FireLite was immediately available for use. The drive was able to read and write without a reboot, and the existing files survived the sneakernet journey intact.
The return trip back to the XP machine was equally uneventful. Thus the FireLite gets a grade of A+ for both its compatibility and portability when used with the native 1.1 bus.
Other than a bug with one of the test machines (see below), the portability and ease of use also held true when using the USB 2.0 controllers.
The Real World: Large Data Transfers USB 1.1 & 2.0
For this test we copied a 96 MB folder from the 30 GB drive to the 60 GB drive, then performed the same test copying the file from the 30 GB drive to the FireLite.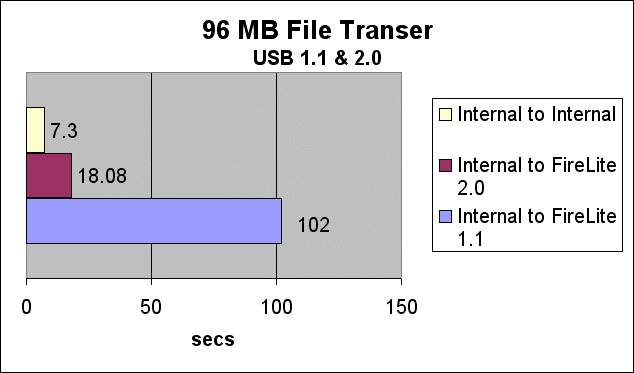 The results weren't particularly impressive for USB 1.1, as you can see. The internal drives barely blinked during the file transfer, but the FireLite had to chug like the Little Engine That Could just to get over the hill. There was trouble in paradise for the 2.0 test, however. The exact same files that were copied using USB 1.1 inexplicably failed to transfer with USB 2.0. The transfer would hang partially throught the process, requiring a system reset to free Windows. The same problem occurred with both controller cards. The copy process did work, however, with both of the 2.0 controllers in Windows 98 SE. After discussing the problem with both Belkin, it was agreed that the XP problem is with the testing PC itself and not with the drive, controllers, or drivers. Therefore, the test was only performed with the Win98 machine. Once a full reinstall of XP has been completed the test will be rerun and the review updated.
In the meantime, the score from the Win98 SE machine clearly shows the value of the 2.0 bus.
The Real World: Playing With Multimedia USB 1.1 & 2.0
My need for additional storage was spurred by all the downloaded MP3s and videos cluttering up my hard drive. I didn't feel like burning a bunch of CDs and I didn't want to get rid of the files, either. I prefer keeping them in their original downloaded format, but do convert the MP3s for transfer to CD (none of my CD players is MP3-ready). The utility of the FireLite would be largely dependent on how much additional time it took to perform these tasks.
For the MP3 test I took a complete album of 17 tracks and used Nero 5 to convert it from MP3 format to CD audio. The same test was performed using the 30 GB internal drive and the FireLite.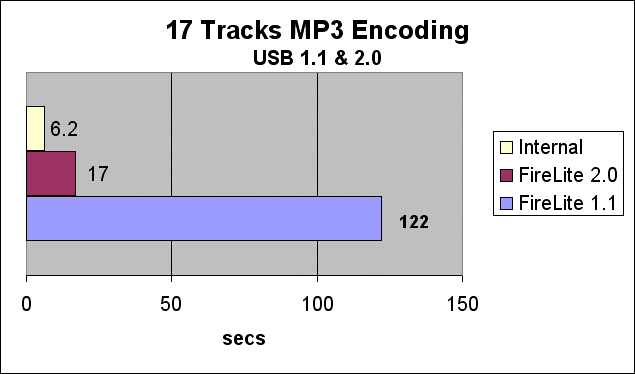 Once again, the internal drive made short work of the task while the FireLite seriously struggled to complete the task using USB 1.1.
Playback results, however, were just fine with 1.1. The FireLite played back the MP3 files without a skip or stutter and also managed to play the movie file without a hitch.
The final analysis of the USB 1.1 tests indicate that the drive is willing, but you may not be because of the lengthy data transfer times. MP3 encoding is MUCH better using USB 2.0.  The total time is much improved over the 1.1 results and also compares well to the internal drive. Video and MP3 playback, not a problem with the USB 1.1 interface, were no difficulty at all for 2.0.
Conclusion
The SmartDisk FireLite is a capable device using USB 1.1. Capable, but not particularly speedy. In fact, if you're planning on using an external drive with USB 1.1 you'd better be patient; you're going to be waiting a while for it to finish. Although USB 1.1 is still faster than copying to CD, I must admit. USB 2.0, however, changes everything. While not a match for internal IDE speeds, the new interface significantly reduces access times for the drive.
Overall, the FireLite is incredibly easy to use, transportable, and very functional. It met my additional storage needs perfectly. There is, however, the question of price. At $199.99 MSRP, the FireLite is not inexpensive. Especially since competing brands offer more storage for the same or less money. What is unknown is how much the small form factor plays in the cost equation. The FireLite is truly pocket-sized while many external drives are simply boxy internal drives with a plastic casing slapped on them. It's impossible for us to properly compare all the alternatives without having performed a hands-on evaluation, but it's important for potential buyers to know there are other external hard disk storage options available.
Price reservations aside, we highly recommend the FireLite and award it a 9 out of 10 and the Bjorn3d Seal of Approval.

Search for the best price for this item.