Introduction
---
One of the coolest devices around right now in my opinion is the USB flash hard drive. It is one of the most convenient and practical approaches to transporting documents and data I have ever seen. It will definitely contribute a lot to the final demise of the floppy drive, which is long over due. At Bjorn3d, we've looked at several different brands and models of USB flash drives, and we can't get over just how cool they are! Every tech geek I know wants to get their hands on one. Apart from being on a LAN with someone and sharing files, I can't think of an easier way to share MP3s, documents, pictures, etc.
Also, with USB flash drives, size does matter! The bigger, the better. Period! The more data you can conveniently carry around with you, the better. It's pretty simple logic. 🙂 Could you imagine taking one gigabyte of MP3s with you in your pocket!? Would be cool, eh? Well, the model I will be taking a look at in this review is only a 16MB EasyDisk, but it does still have plenty of uses and is still pretty cool.
Specifications & Features
---
Specifications:
Capacity: 16MB (also available in 32, 64, 128, 256 and 512MB)
OS: Windows 98Second Edition, Windows ME, Windows 2000, Windows XP, Mac OS 9.0 or higher, and Linux 2.4X
USB Host Interface: Universal Serial Bus 1.0/1.1 and USB 2.0
Data Retention: Over 10 years
LED Indicator Light: Light on = connected & working; Flashing = reading & writing data
Reading Speed: 950 kB/s (3 MB/s w/ Windows Disk Cache)
Writing Speed: 600 kB/s (2 MB/s w/ Windows Disk Cache)
Dimensions: 3.19″ x 0.91″ x 0.49″ LxWxH (81mm*23mm*12.5mm)
Weight: 15 grams (0.53 ounces)
One year warranty
Features:
Plug and play via USB port
Driverless with Windows ME, 2000, XP, Mac Os 9.0 & up, and Linux 2.4 and up (Win98SE requires driver)
Transfer 15MB in 17 seconds
No external power required
Compact and light in weight
Cross platform – transfer files between Mac and PC
Write-protection lock available
Password protection software for Windows users
Bootable software for Windows users
Package Contents:
16MB EasyDisk
3 foot USB extension cable
Leather carrying case
Neck strap
Manual
CD with Win98SE driver and manual
Notice in the specifications above that only Windows 98SE is supported and not the first edition of Windows 98. I didn't notice this at first so I figured I would point it out. I'm not sure why this is. Hopefully, most of you are at least at Win98SE by now anyway, so this shouldn't be much of an issue.
The EasyDisk is definitely one of the coolest designs of the Flash USB drives I've seen. It is very slim and light. This one would be a lot less noticeable in your pocket than many of the competitors' versions, which if you're like me and put too much stuff in your pants' pockets is a good thing. The password protection and bootable feature are very nice features for advanced users. Additionally, the write-protection switch will be welcomed by users opting for a simple way to protect their data.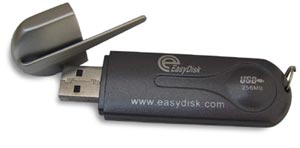 EasyDisk throws three nice extras into the box before shipping it out – the 3 foot USB extension cable, neck strap and carrying case. I doubt most people would end up using all three of them, but it is nice to see the range of options you have for carrying the EasyDisk around. The USB extension cable is one of the most important for users with USB ports in the back of their systems. Three feet should be long enough to make accessing those USB ports much more convenient. I have seen extension cables and cases offered in other companies' boxes, but this is a first for the neck strap. Throw in the clip on the cap that functions the same way a pen's clip would, and now you have five ways to transport the device if you also consider your pocket. So, no matter what you're wearing or not wearing (hey, a naked person could use the neck strap and still comfortably transport his/her data) and no matter how geeky you want to look (i.e. adding the EasyDisk to your pen collection in your pocket protector), you should be able to find an easy, comfortable and convenient way to carry around the EasyDisk that matches your personality. 🙂
Installation
---
As expected, installation on my Win98SE system was simple and quick. I just inserted the EasyDisk into my front USB port on my Lian-Li case, inserted the driver CD, and then double-clicked the setup.exe file. After about two minutes, the setup process was complete, and the EasyDisk was ready to use. One of the cool things I noticed about the EasyDisk is that the LED indicator light is red, which is a nice change from the typical green LEDs I've seen in most of these types of devices.
On my Windows XP system, using the EasyDisk was even easier. I just plugged it into the USB port, and then XP indicated that a new USB device was present. It doesn't get much easier than that.
Performance & Uses
---
Test System:
AMD Athlon XP 1800+
512MB VisionTek PC2100 DDR RAM
80GB Western Digital "Special Edition" HDD
Leadtek GeForce4 Ti4600
EPoX 8k7a+ motherboard
SB Live! 5.1 Platinum
Windows 98SE
Testing this device can be done just like any other disk – use SiSoft's Sandra File System benchmark. You can see a screenshot of the results of the Sandra test below. As you can see the EasyDisk scored a drive index of 565, which is about the same speed as a ZIP 100 drive.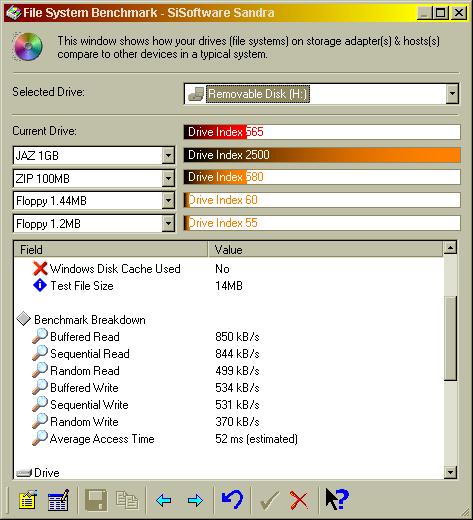 Next, to test out the drive, I just transferred some files to it and timed it to see how it performs during real world use. The first test I did was to transfer 11.2MB of MP3s from my hard drive to the EasyDisk. This task was completed in about 25 seconds, which is a speed of 0.44 MB/s. For the second test, I basically did the same thing, but with several different MP3s. It took 36 seconds to transfer 13.8MB (0.38MB/s) of MP3s to the EasyDisk. I did several more tests with different file types, and they were all right around 0.4 to 0.5 MB/s. While the performance might not blow you away, I think it is still acceptable, especially considering that speed really isn't the key factor involved with these devices. Convenience, ease of use and features will in many cases attract people to these much more often than how fast they can transfer data.
Features is one area where EasyDisk does a very nice job. With the extra features of making the EasyDisk bootable and the available password protection, the drive has several more sophisticated uses than just to store data. The included CD contains a "Media Format Utility" application that makes using these features very easy. In the screenshot below, you can see what this application looks like.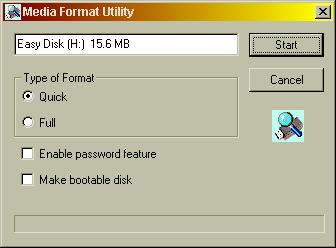 As you can see, the Media Format Utility also makes formatting the EasyDisk very quick and easy as well. In order to enable the bootable or password feature, you have to format the disk, which makes sense. The process is quite simple. Just click the options you want, and then click the start button. Several minutes later you have a bootable or password-protected EasyDisk. If you choose the password feature, you will notice that the Format Utility places a small Password app on your drive. Before being allowed to access files on the EasyDisk, you will have to double-click the executable file and enter your password. These features are great and work quite well. I didn't have any problems using them.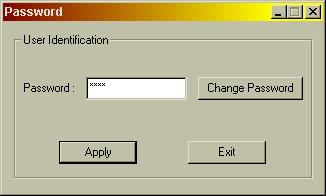 Conclusion
---
While this drive may not be as fast as some others out there, the nice features, packaging and price ($29.99 MSRP) more than make up for it not being the fastest kid on the block. I think it's great that the package includes everything you need plus a long extension cable, a carrying case and a neck strap. I also think people familiar with a floppy disk's write protection lock will appreciate the EasyDisk's similar feature. If you need to carry around documents that are too big for a floppy but aren't really big enough for a ZIP or CD, you really can't beat a drive like this. For these reasons, I'm awarding the EasyDisk an 8 out of 10.