Introduction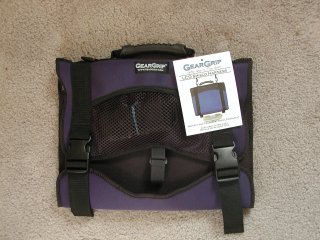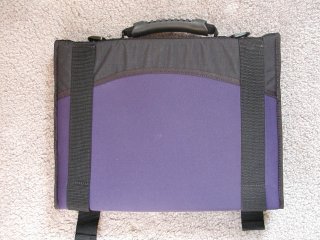 Once you start attending LAN parties one of the first things you notice is that it's a pain in the butt dragging your PC and monitor with you every time! I used to just keep an old 15″ monitor down at the FragShack we played in (Gene's grandfather's old garage) but it eventually gave up the ghost so I was stuck hauling around my 17″ CRT. Maybe I'm just getting old but I rapidly realized that this just plain sucked! There was a solution though.
With decent LCD monitors getting cheap I decided to make the jump and ended up getting a pretty nice NEC 15″ LCD with DVI in for under $330 recently.  It was certainly a lot lighter and more compact than my big old CRT but I was a little worried about protecting the screen while I transported it. I came up with my own solution (which I'll get to below) but then I found out that CaseAce products had a much better answer with their GearGrip LCD shield harness.
CaseAce is a relatively new company having been founded in 2000 to cater to the ever growing LAN market. Apparently I wasn't the only one sick of dragging around my PC and monitor and worried about protecting them during the move so they came up with a better way to do it.
Description and Specs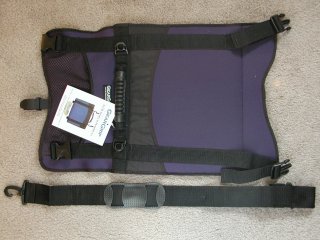 Let's get the technical details of the GearGrip LCD out of the way first and then I'll talk about it in a little more depth. Here's the list of product specs as provided by CaseAce:
1.5″ heavy duty webbing and buckles.
Premium soft-grip handle
Tame dangling cables with the CableGrip(TM) cable manager
Secure mesh pocket holds the display's power supply and cord
Adjustable shoulder strap with carabineer-style snaphooks
Available in two colors (Navy and Red)
Available in two sizes:
–15″ fits most 15″-16″ displays
–17+" fits most 17″ -19″ displays
When you first look at the GearGrip LCD shield harness it resembles a briefcase of sorts. It's got a very sturdy rubber grip handle at the top and attachment points for the included shoulder strap. The body of the shield is made up of a padded panel that goes over your LCD screen to protect it during transit. A quick look at the diagram below shows the makeup of the shield panel. It's basically a rigid inner panel with a soft lining that goes up against your screen and a tough outer shell that'll help protect it from bumps or knocks.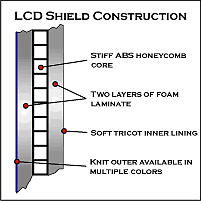 The LCD shield provides three layers of protection for the surface of your LCD's display.
Energy absorbing foam laminate outer layer for blunt impact protection.
A super stiff ABS honeycomb core to protect against sharp impact.
An additional inner foam layer for extra protection and soft contact with the surface of the display.
I was very impressed by the quality of the GearGrip product. I do some recreational backpacking and have learned the hard way that it pays to buy quality gear from the outset. There's a pretty wide spectrum of nylon's and other material used in this sort of gear as well as plastic buckles, fasteners, and clips. I was pleased to see that the GearGrip materials compared very favorably to that used by some of the better lines of backpacking gear. If that type of hardware has worked over time on the Appalachian Trial I suspect it's going to hold up quite well on trips back and forth to Game Day!
Old and New Screen Protection Solutions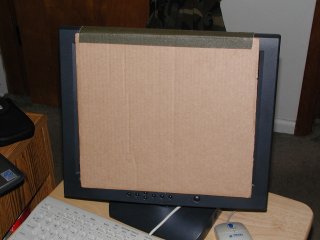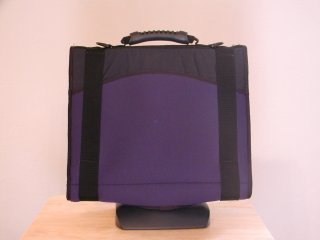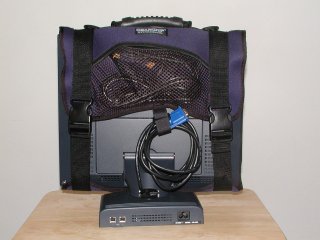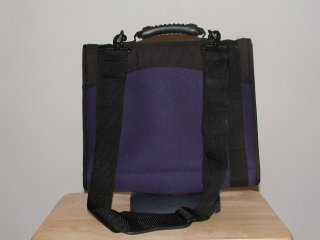 I mentioned earlier about my initial solution to protecting my LCD during travel. Well, you can take a look at it for yourself in my first pic! I used the tried and true method of duct taping a piece of cardboard over my LCD screen and then I put the whole monitor inside a plastic bin which I also used to carry my joystick, mouse, speakers, CD's etc. It worked okay and it did protect the LCD to some degree but let me tell you, the GearGrip LCD shield does a heck of a lot better job. Their solution is a bit more elegant and a lot less bulky anyway.
The GearGrip LCD shield comes with adjustable straps that wrap around the back side of your monitor. Basically you just center the padded panel over your screen and pull the straps under the edge of your monitor's shell and tighten the straps up to the point that they're snug when you buckle the together. Once you do that you can snap the shoulder strap into place and you're done, that's about all there is to setting it up.
Speaking of shoulder straps, I alluded to the quality of parts earlier in this review and the strap and buckles are one place where this is very evident. The snaphooks on the strap are a solid combination metal/plastic carabineer type unit that fasten onto rugged plastic D-rings sewn into the LCD shield itself. This is one place I've seen a lot of failures with both backpacking gear and with soft luggage and laptop bags. CaseAce has done a great job with these and their ultra-sturdy buckles to make sure one doesn't fail at an inopportune moment and dump your LCD onto the ground, or down the steps!
On the back side of the LCD shield is a mesh pocket for you to stuff your cables or accessories into. I had plenty of room to put my power cord in there as well as a USB cable (my NEC has a 4 port USB hub built into the base that requires a USB line be run to the PC's USB port). Additionally there's a velcro loop strap on the back that CaseAce calls the "CableGrip cable manager" which lets you coil up and stow your video cable out of the way without having to disconnect it from the monitor. It works very well and keeps the cable secure and out from under foot as sometimes happens when you're carrying a monitor around loose with it's cable dangling everywhere.
It all makes for a very neat, compact package that is easily carried with the attached shoulder strap.
Conclusion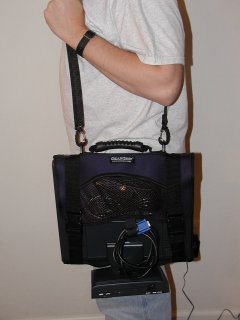 If dragging all your hardware back and forth to LAN parties is taking some of the fun out of gaming then you definitely need to look into the GearGrip LCD shield. I can easily say that CaseAce has come up with by far the best solution I've seen to date for toting an LCD monitor around. It helps manage and protect your LCD and associated cables and is comfortable and easy to carry as well, making it much less of a burden to transport your gear to your gaming destination.
I really couldn't think of anything else I could have asked for in this product and that's really a rarity these days. Usually no matter how much you like something there's something you'd change or something you'd like to see added or removed about a product. I can honestly say though that's not the case with the GearGrip LCD. It does everything it should do very well without adding anything extra that you don't need. 
For quality of manufacture and materials and an excellent design that takes into account both protection of your monitor as well as ease of transport I'm awarding the CaseAce GearGrip LCD shield harness a 10 out of 10 and the  Bjorn3d Golden Bear Award.