---
With Bjorn3D increased relationship with Antec, Inc. out of California, we were excited to receive the Antec Hard Drive Cooler for review and use.  Bjorn3D first reviewed the Antec Plus 1080 tower case, but, secretly, at least three of the Bjorn3D crew have been using the Antec SX830 case for a few years.  Antec cases are of a quality second to none, and we expected no less from Antec's Hard Drive Cooler.  With this review, we'll find out if we were right.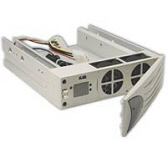 So what makes this Hard Drive Cooler special?  Two specific components are smart design ideas to better disipate heat than other options: an aluminum heatsink that rests against the hard drive, and two variable speed fans.  This hard drive cooler will certainly to appeal to the newer audience of modders who like their flash git, but it also appeals to anyone who is interested in a hard drive caddie with quality cooling (for a change).    I'm currently using a couple pretty high dollar removable caddie with ATA100 and 7200 RPM support.  They work well and have a fan similar to one of those included in the Antec, but  I learned quickly that I couldn't stack them in bays, one on top of the other.  They would quickly get overly hot.  The likely cause is poor ventilation design.  The caddie is simply a mass of vents, leaving no channeling for the single fan.  Antec has certainly put an effort into designing this device for the cooling it requires.  The specifications of the Hard Drive Cooler, as listed by Antec, are as follows (my notes are in parenthases):
Size:
Weight:
Material:

Fan:
Fan Speed:

Display:

7.25″ x 5.86″ x 1.65″ (This is fairly long for a 5-1/4″ device.  Older DVD-ROMs were up to 8″ deep.)
600g / 1.32lbs.
Aluminum alloy (6061) heatsink (The heat spreader is a good idea, when coupled with the fans)
ABS 94V0 fireproof front panel
Two 40 x 40 x 25mm fans (Most CD caddies only have one fan)
3500 RPM at 30°C (86°F)
5000 RPM at 45°C (113°F)  (more than 5000 RPM would get rather noisy)

0°C (32°F) ~ 70°C (158°F) +/-3%
70°C (158°F) ~ 90°C (194°F) +/-6%
LED blinks if temperature >45°C (113°F) (sensor warnings can definitely help prevent HD failure!)
Sensor indicators switch every 5 sec.
to indicate 2 different temperatures
monitored by each sensor.
Scott installed the Antec Hard Drive Cooler in his Antec Plus 1080 case.  The cooler comes with the standard 4-pin power connector with an extra female plug to pass the power through to another device, if cables are short in your system.  Scott's case has a nice rail system for easy drive swapping as you can see in the next picture.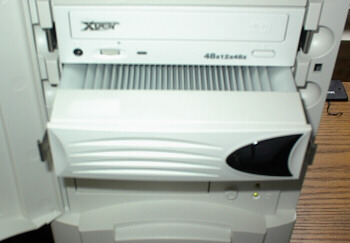 The front bezel of the cooler is fluted so that air can pass through with the door closed.  Unfortunately, the picture doesn't show the temperature display that can be scene through the grey tinted lense.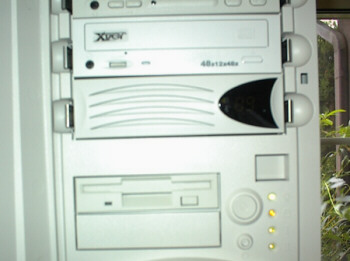 In person, you can read the thermometer.  Conveniently, the color of the color perfectly matches Scott's case. 
With the door opened, you can see a reading of 86 degreed F more clearly.  The thermometer is attached to a thermistor, on a cable.  Antec recommends that you place the thermistor on an IC chip of the hard drive. 
Opening the door doesn't interfere with the case edge.  Although, this arrangement isn't very convenient for cases with drive cover doors.
Testing
---
The Antec Plus 1080 has a convenient feature for testing this Hard Drive Cooler.  Adjacent to the normal, internal hard drive bay, you can install a normal case fan to blow across the hard drives.  In order to best evaluate the effeciency of the Hard Drive Cooler, Scott ran a three step test: (1) hard drive in internal bay without a case fan, (2) hard drive in internal bay with a case fan, and finally (3) in the Hard Drive Cooler.  Two other thermistors were laso used to verify the temperatures.  Scott used a Western Digital 120GB SE hard drive.  He also wasn't able to place the thermistor on an IC chip, as recommended by Antec.  Scott put it on the motor spindle.  
The results of the testing are a little suprising:
Internal mount without fan:    115 Degrees F
Internal Mount with case fan: 109 Degrees F
Hard Drive Cooler:  92 Degrees F
I would have thought that the larger case fan, which moves more air, would have yielded the lowest temperatures.  But, as I alluded to earlier, it appears that Antec's inclusion of two variable speed fans, aluminum heat spreader, and a properly designed case can achieve lower temperatures with less noise. 
Conclusions
---
We can see that the drive cooler heatsink, 2 fans, and specifically designed housing do make a big difference in cooling  An added bonus is the temperature monitor which, all make for a handy way to monitor your hard drive's health. The other very nice feature is the tempuature probes.   System probes are usually a little warmer than true case air temp.   Using two other tempature probes we found the Antec probes to be accurate within 1 Degree F of each other.
| | |
| --- | --- |
| | For exceeding our expectations in performance, we're awarding the Antec Hard Drive Cooler 8.5 out of 10, and the Bjorn3D Seal of Approval. |