Introduction
The Universal Serial Bus (USB) allowed the PC platform to attain true Plug-and-Play functionality. Beginning with Windows 98, PC users finally had an interface that was uniform, had built-in OS support, and supported the hot swapping of devices. The original USB specification allowed a maximum of 127 devices to share a single port at speeds up to 12 megabits per second (Mbps). But then we got greedy and wanted speed along with ease of use. Apple's IEEE-1394 (FireWire) specification moved into PC territory, offering the advantages of USB with speed (up to 400 Mbps). High speed devices such as digital still and video cameras adopted the FireWire spec, leaving USB far behind.
The PC is firing back with the new USB 2.0 specification. Offering the same features as USB 1.1, including backwards compatibility, USB 2.0 offers a maximum transfer rate of up to 480 Mbps. Peripheral makers are starting to rapidly churn out USB 2.0 products, and Microsoft has added support to the spec to its Windows XP operating system. Previously pokey devices, such as external hard and optical drives, can now operate at speeds close to their internal cousins. Sounds great, but how do you get it?
You could buy a new motherboard. Many, if not most, new motherboards have built-in USB 2.0 ports. But what if your current motherboard still holds its own and you aren't ready to upgrade? Belkin has the answer in the form of an add-in PCI Card.
Specs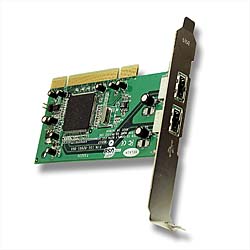 Belkin USB 2.0 Hi-Speed 2-Port PCI Card
Provides two 480Mbps USB ports
Installs easily into a free PCI 2.1 slot
Plug-and-Play setup and operation ease
Backward-compatibility with USB 1.1 devices
Compatible with Windows 98® SE operating system or higher
Includes User Manual and Driver Installation CD
Installation
To put it plainly, if you screw up this installation then you really have no business opening up a PC case. 🙂 Find an open PCI slot, plug in the card, and power up. Follow the instructions for your operating system and you're all done. Honest.
The Windows XP system already had the required drivers so the OS handled the installation without prompting. Once the drivers were installed the ports were immediately available for use.
The Windows 98 SE machine did require the driver disk. The supplied instructions were correct to a 't' and after the installation completed the ports were available without a re-boot.
Testing
Test configuration
Primary PC
AMD Athlon XP 1800+
Leadtek Winfast K7N415DA motherboard (nForce with USB 1.1 support)
256 MB Corsair PC2400 DDR RAM
Windows XP SP1
Secondary PC
Intel PII450
Asus P2B motherboard (good ol' Intel 440BX)
128 MB generic PC100 SDRAM
Windows 98SE
Test Results
Backwards Compatibility
Our first test was to ensure the new ports could truly run USB 1.1 devices without coughing, hiccuping, or BSODing. We plugged in a USB 1.1 mouse, gamepad, joystick, Web camera, and 8-port hub into the Belkin card without drama. All devices worked fine either directly in the card's ports or through the USB hub on both test machines.
USB 2.0
We used an external hard drive from SmartDisk to test the high speed capabilities of the Belkin card.  At only 4,200 RPM, the SmartDisk isn't really a speed demon.  However, testing it with the USB 1.1 spec and USB 2.0 spec should clearly show the speed differential between them.
SiSoft Sandra File System Benchmark
Sandra is a tuning and reporting tool that happens to include a benchmarking test for measuring disk drive performance.  The benchmark was performed on the XP system using the native USB 1.1 interface, then again with the Belkin port.  The results clearly demonstrate the performance differential between the 'old' and the 'new'.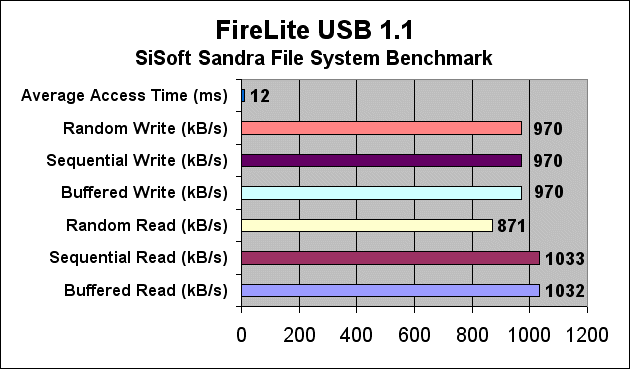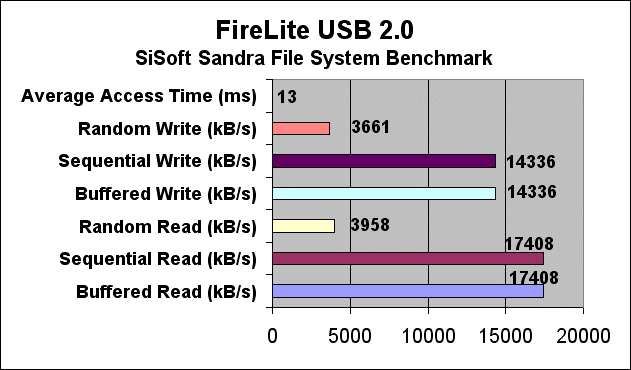 Transferring data
The comparatively slow transfer rates of USB 1.1 prohibited its use in portable storage devices requiring speedy throughput, such as digital cameras, in the homes of impatient PC users.  We copied a 96MB file folder to the USB drive using both interfaces and the results once again show that USB 2.0 has speed behind it.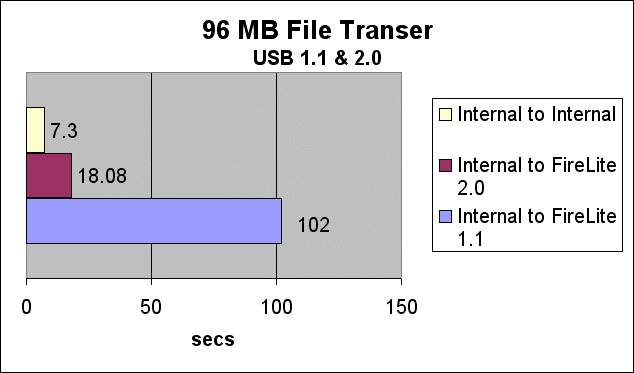 MP3 Encoding
MP3 encoding is a common PC task these days and many people own MP3 players.  And what do they do with their MP3 players?  They transfer data back and forth over the USB bus, of course.  Unfortunately, we didn't have an MP3 player handy so we used Nero 5 to encode files stored on the external USB drive.  Once again, unless you're the incredibly patient type you'll want the speed of USB 2.0 once you try it.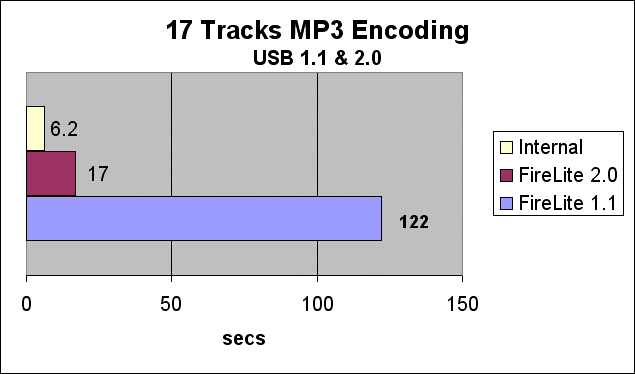 OS Compatibility
All tests were repeated on the Windows 98 SE machine with no difficulties encountered and similar results.  Other than the requirement to use the supplied USB driver during installation, there were no differences between the two PC platforms.
Conclusion
There is no question that USB 2.0 is a superior specification. It achieves its goals of compatibility, speed, and ease of use. Belkin's add-in controller performed flawlessly in our tests and our continued real-world experiences. The question for the potential buyer is whether he or she can wait for a motherboard upgrade and get built-in USB 2.0 support or if the need for fast USB is needed now. If the latter, we can unhesitatingly recommend the Belkin USB 2.0 Hi-Speed 2-Port PCI Card.
We highly recommend the Belkin USB 2.0 Hi-Speed 2-Port PCI Card and award it a 9 out of 10 and the Bjorn3D Seal of Approval.